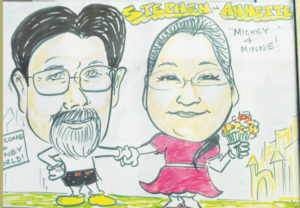 Annette's story of winding up at Cenikor is very different from Stephen's. While he brought trouble on himself, Annette had hers thrust on her. Born in Richmond, Texas, she says her childhood was tortured. She describes her father as a controlling man and a drinker and her mom as someone who did not like to be controlled. Her father, she said, began disappearing for months at a stretch when she was five or six, "leaving the bills unpaid, leaving my mother hanging. He wanted her to beg him to come home, but instead she got a job and started paying the bills.
"One time," she continued, "when he came home and they were arguing, I remember he picked me up and slammed me against the wall like a rag doll. My mother told him she'd kill him if he ever did that again. He didn't."
But the fights continued, and her mother finally left, promising Annette she would be back for her and her younger brother. But she never returned.
Annette said that when she was 8 she began to be sexually abused by a family member and that the abuse continued until she was 10 or 11. She was warned, she said, that she and her brother would be killed if she told anyone, so she kept silent. "The way I got through it was that I started to drink a little alcohol. I was just a little kid but didn't have a childhood. I was just trying to keep the pain and fear and shame away."
With her mother gone, Annette became the woman of the house. "I was taking care of my dad, my brother, doing the cooking, the cleaning, the washing. And then my dad started leaving on the weekends, every weekend, and I'd call [my grandmother] and have her pick me and my brother up."
When her parents divorced a couple of years later, the judge gave custody to her father and ordered her mother to pay child support. Her father, Annette said, claimed that her mother was often short on payments or entirely missed them. "And when she was short, he would deny us things. But he still had money to go out every weekend."
Annette got an abrupt wake-up call one day when she was putting some of her dad's things away. "There was a shoebox I'd never seen before, and I was a kid and curious, so I looked inside. And inside were all of the records of my mother's child support payments. She was never short, never late. He was just telling us the lie that she was, and I was pissed. When he came home, I followed him around, yelling at him, asking how he could lie to use like that. He finally got so red-faced angry, he threw a glass at me. He missed, but my brother got scared. He'd never seen dad act like that. I took my brother to his room and locked the door. [Dad] stormed around for what seemed like forever. When it was finally quiet, I left the room and called my mom and told her what happened."
Her mother made arrangements for her brother and Annette to live with her and her new husband, and on the last day of school that year — the end of Annette's eighth grade in 1980 — Mom picked them up, had them collect all of their things from their dad's house, and left.
Unfortunately, things weren't always great with her mother, Annette recalled. "So long as I was compliant, they were OK, but when I challenged her, things went bad. She wasn't the same woman I remembered at 5 or 6."
Annette started drinking "to keep the pain of the sexual abuse at bay. Well, by 14, I started smoking pot, too, and by 18, I was doing coke and pills. By 19, I was a full-blown addict to coke, alcohol, pills, pot. I had just given up on myself. I didn't know why I wanted to care. I felt like I was damaged goods, that no one would want me, and so I burned the candle at both ends very hard. And then I wound up in counseling."
The first exercise she was given by a therapist was to stand in front of a mirror, look into her own eyes, and say 10 nice things about herself.
"It took me months to look into my eyes and say just one thing," Annette remembered. "It took a year to get up to a few things and even longer than that to get to the point where I could actually say 10 nice things to myself about myself."
She had hidden so much from herself, she said, that when she first started dating Stephen, and even after they married, she could not even cuddle. "I just did not trust anyone," she said, "even Stephen."
She did finally break through, and they married in April 1994.
"We were both completely clean for 10 years," Stephen said. "I worked at Cenikor and then for a seafood place. I had good jobs. We had a house, car, a good life. And then I started using again, and Annette joined me, and a couple of years later we lost the house, the car, the money, and wound up living under a bridge on I-45 in Houston for about two-and-one-half-years, 2006 to 2008. We were smoking crack as often as we could get it."
Annette said the first year of living homeless was wild and free. "But after that," she said, "it got tiring. I just got tired and tried to figure out how to get off the street."
She cut back on crack use from daily to once every three or four days before finally leaving. "I had to leave Stephen," she recalled. "I knew if I didn't, we were going to die."
She moved to Spring, Texas, and into her mother and step-father's house, an arrangement that lasted only from August 2008 until February 2009, when her mother caught her talking with Stephen on the phone. "That was the one rule that they made for me staying there," Annette said. "No contact with Stephen. And when I broke it, that was it. They kicked me out."
With nowhere to go and with health issues becoming serious, Annette entered a residential rehabilitation facility, despite having been completely clean since moving out from under the bridge. "I just needed a place to stay, and they let me stay there for several months."
Stephen, tired of being alone under the bridge, had moved to Fort Worth by the end of 2008 –– his sister worked in a Fort Worth rehab facility and could have him admitted quickly. He spent 30 days at the facility (whose leaders requested anonymity) before becoming a resident at the Union Gospel Mission of Tarrant County, a nonprofit that has been providing food, overnight shelter, and permanent residency for the homeless in Fort Worth for 128 years, since 1888. While there he found a job matching seniors with work and landed an apartment on the East Side. Annette moved in with him following her rehab stint.
In 2010, Stephen was diagnosed with COPD, a chronic lung disease that makes breathing very difficult. He retired on Social Security Disability Insurance. It wasn't long after that, Annette remembered, when "Stephen came up with the idea of starting the newspaper. It's about homelessness, or rather, about giving hope to the homeless and hopeless. He really just wanted to give something back, to do something to help people who were down."
 ******