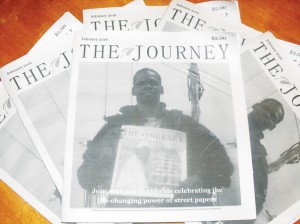 Published erratically during its first couple of years, The Journey has been bimonthly for about a year now. Editor Annette and publisher Stephen have been working to pump it out as regularly as possible over the last few years, particularly since the team was able to move into the stable and affordable Villages at Samaritan House in 2012.
Some of The Journey's articles are original, others scoured from the internet. A recent issue included articles on the rising number of homeless in Tarrant County (nearly 2,000 people per night); new approaches to homelessness in Dallas; a story by an Afghan War veteran coming to terms with his service; and a dozen others. There are also pages devoted to homeless services, food pantries, and shelters, plus pages of puzzles and, for homeless children, coloring.
"I collect the articles, choose the original material, keep listings up to date," Annette said. "I even design the puzzles. Stephen sees that it gets published and distributed."
Distribution for the paper follows the international street paper format: For The Journey, homeless people can ask for 10 copies of the $2 paper for free. The person who sells it can either keep the money or return it for more copies at only 50 cents each.
"The whole idea," Stephen said, "is to give people some hope. It's not hard to sell the paper. A lot of people don't mind giving a couple of bucks to someone if they see that person is trying to make a living, rather than just panhandling. So our vendors wind up with regular customers."
Seed money, Stephen said, came from "a couple of bucks" his father left him when he died.
"That's what I put it in," Stephen said. "It wasn't a good financial investment, but it was a good investment for the heart."
Stephen and Annette have seven regular distributors and several others who come by now and then for their 10 free copies. Annette estimates that The Journey has a monthly circulation of about 1,000. The couple's primary vendor — and recruiter for other vendors — has made up to a "couple hundred dollars a week," Stephen said.
But it isn't just the money that's important. "A lot of street people have no money management skills, and few people skills, so they wind up just begging," Stephen said. "Selling the paper gets them interacting with people they normally wouldn't interact with, and then they are also learning how to handle money, and they get a sense of accomplishment. You don't know what that means to people who have gotten so low that they're living on the street. Man, you feel like you're worth nothing. So this paper is a good deal all around. And Annette is a great writer, so it's all a natural. Plus, if I go, I want her to have something she can depend on to help her get through. That's important to me. I didn't always think that way, but then I didn't think I'd wind up with cancer, either."
As the only publication of its kind in Fort Worth, The Journey is a valuable part of the entire community, Stephen said. "The paper serves the homeless community by telling them where they can get the services they need," he said, "and by providing some of them with a way to earn money and earn the self-esteem that comes with it. But it also serves the general population by showing them the pitfalls and problems faced by the homeless community on a daily basis, which are enormous. We're really trying to make it clear to the average person that homeless people are just people. It's one thing to say that. It's another thing to get people to really understand that.
"And if I could," he continued, "I'd bring the circulation up to 3,000 or 5,000 or more. There's a lot of people who could get helped by being part of this."
 ******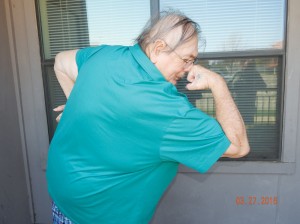 The hallway leading to the Karnes' one-bedroom apartment is drab. It has the feel of poverty. But the apartment is surprisingly bright. There is a lovely kitchen with modern appliances which leads through a large arch to a living room that opens up onto the porch. A bedroom is off to the left, and to its right is a large bathroom suitable for the two wheelchairs they use to get around.
The other day, several copies of The Journey sat on the kitchen table, with several bundles stacked in a corner of the living room.
Stephen and Annette sat in well-used recliners separated by a small table. "The cancer surprised me," he said.
"It surprised both of us," added Annette.
"It really shouldn't have, because I smoked for 40 years. I quit when I found out I had the COPD, but nobody saw the cancer until just a couple of weeks ago, and they tell me it's really late in the game for me. Now they're telling me it's at a point where they can use radiation and hope to get it. That's good. I try to stay optimistic."
"Optimism is a primary tool for us," Annette said. "I've already fought my way back from a negative place once, and it was a long, hard road. And so has Stephen. Now it's our turn to give what we can, while we can."