The King of Hemphill just got a job interview for a dishwasher position at a local restaurant. Today he's getting free food from a group of local activists at the parking lot next to Eddie's Fried Chicken & Beer, at the intersection of Hemphill Street and Baltimore Avenue, on the South Side. His real name is James, but he prefers to go by "King."
A local character, King likens himself to the Easy E or Jay Z of the South Side. He speaks like a poet.
"These are my stomping grounds, and with that you have a certain connection," he laments. "Ups and downs, smiles and frowns."
This particular neighborhood, the area surrounding John Peter Smith Hospital, is a big focus for the city's redevelopment efforts to revitalize the larger South Side.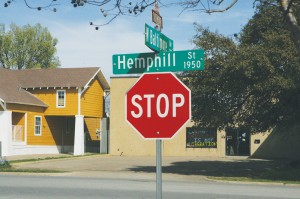 With various projects in the works, such as the Hemphill-Lamar connector tunnel and the Hemphill-Magnolia urban village, city officials, residents, and even corner regulars like King, all share a variety of perspectives on the area's future.
With the now well-to-do Fairmount neighborhood just a few miles away, the five-mile stretch of Hemphill is at the very intersection of old and new –– but there's an atypical factor here. What sets this neighborhood's story apart from your typical tale of gentrification is a strong underground arts and activism scene, perhaps the strongest of its kind in all of North Texas.
The action is anchored by three DIY venues: the nearly 14-year-old volunteer-run 1919 Hemphill, the relatively new and neighborhood-friendly Happi Haus, and the burgeoning 1912 Nite-Club across the street from both. A truly organic subculture flourishes within this old block that's become a central hub for the city's nightlife.
This also makes things much more interesting. Here, punks and bums, musicians and day laborers gather every day. The block is a virtual culture clash of activity –– where loud music and loitering are the norms.
******
Resident Louisa Gomez has lived in the neighborhood for about three years. For her, the pros and cons are definite. On one hand, the rent is cheap. On the other, the noise coming from the nearby venues is "just annoying." Many nights, concertgoers park their cars up and down her street. On top of that, she's bothered by the people hanging outside Eddie's. She claims they may be up to no good.
Now with a baby on the way, Gomez plans to move out of the neighborhood within the year. It's just not the best place to raise a child, she said.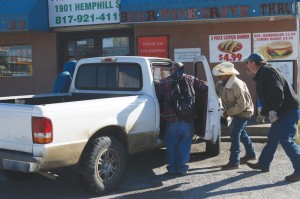 Juan Cantu, another resident, calls the same parking lot next to Eddie's the "work corner." On any given morning, it's crowded with day laborers. Some are migrant workers. Others, like Cantu, are locals who have lived in this neighborhood for generations.
That might change within a few years of the city's redevelopments exemplified by the fancy condos just up the street. Cantu said it's a plus that the city is fixing up homes in this part of town. However, there is a downside, particularly for the low-income residents.
"They're going to run the poor people out," Cantu said. "If they decide to sell, where are they moving to?"
For King, this will always be home. As he walks through the parking lot at Eddie's, he reminisces about the old days, riding his bike with friends from across the street about two decades ago.
King's life story is congruent to the neighborhood's. He grew up in a loving family and went to school, but he broke some laws and did some time. When King thinks of Hemphill, he sees all of the drugs and prostitution surrounding it. No doubt, it's a rough patch, like his life.
Now as he's trying to clean himself up, the city is trying to clean up his surroundings. But just like King, parts of Hemphill don't seem to want change.
 ******