Remember those parents who were so wealthy they spoiled their kid to the point of being blame-free for his actions?
The Ethan Couch "affluenza" case has hit another low. The Fort Worth Star-Telegram reports that taxpayers footed most of his $200,000 bill for residential care and support after his conviction.
Seems like a family rich enough to claim affluenza ought have a couple hundred grand lying around for rehab.
Couch was 16 and intoxicated when the truck he was driving crashed in 2013, killing four people and injuring others. District Judge Jean Boyd gave Couch probation (which he later broke) and ordered him to treatment to the tune of $20,000 a month. Couch's parents said they couldn't pay that much. No problem, you and I will foot the bill instead.
Boyd's name became mud in North Texas during and after the trial, with thousands of people demanding her resignation. Boyd is now retired after 20 years on the bench, and is difficult to track down.
Someone, probably not Boyd, set up a Facebook page under her name.
The profile says, "Hi! I'm Judge Jean Boyd, and I am for sale! Are you rich? You'll want my courtroom, as I won't punish you, even for murder!"
"I am so glad you are no longer a judge, you don't deserve the respect or title or position," someone wrote in the comments section on the Facebook page. "I have no doubt you were paid off, how dumb can you be with the evidence so overwhelming in front of you. You are a disgrace to the American public. Rot…and you know where… ."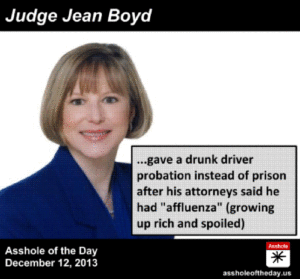 The meme makers of the world have been busy as well.