(Editor's Note) Larry Joe Taylor's 25th Anniversary Texas Music Festival & Chili Cookoff was every bit as great as Arlington native and Austin singer-songwriter Rob Grogan had hoped for. Grogan attended the event with Fort Worth luthier Mark Cigainero, who built a guitar shaped like a chili pepper and took it to the show, as reported earlier in Blotch. Here's what Grogan had to say about his four days spent camping at Melody Mountain Ranch in Stephenville, where tens of thousands of Texas Music fans gather each year:
Larry Joe Taylor. If you're not from around here, that might just sound like another good old boy's name from the country. And it is. But if you're from Texas or Oklahoma, Larry Joe Taylor is much more than a country boy. He's an awesome entertainer, entrepreneur, legend, sensei, and mentor to singer/songwriters across the red dirt region of Texas and Oklahoma. Larry Joe Taylor is also a state of mind in our Lone Star State. It is a happening rivaled only by Woodstock or Bonnaroo. It is 5 days of music, camping, drinking, smoking, titties, beer, pickin' and a' grinnin, flashing, fighting, fellowship, and just about anything else you could imagine happening when 50,000 of your closest friends get together for an annual, extra long weekend.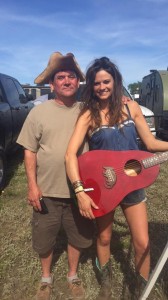 LJT 2016 started off on a great note. I picked up my wingman Mark Cigainero and his antique Airstream trailer on Thursday at his house in East Fort Worth where I roomed with him 30-plus years ago. My old high school buddy Jeff Prince was taking pictures of the brand-spanking new Cigainero guitar that Larry Joe would end up playing later that day!
After the photo shoot, we headed to Stephenville and managed to make it all the way without getting pulled over. We parked the rig and headed to the stages. I am more into the acoustic stage but Mark and his signature pirate hat had other plans –– titties, beer, and the craziness of the main stage. We ventured into the fray and were immediately greeted with a beer shower. I'll never understand the alcohol abuse (wasted beer) that goes on but it seems to be a tradition. Randy Rogers actually stopped his set when a young lady was hit in the head with a full can of beer. At least drink your beer before you start throwing the cans … just a suggestion.
My 2016 campfire picking started out great! Perfect weather. Cool, clear, no wind. Everything was great until I was handed a pipe. More than 10 years had passed since I last took a puff of legal, medicinal herb but I figured WTH it's LJT. My buddy warned me "it's hydro" but I figured what could one little hit hurt? Five songs later I had to excuse myself and managed to find the Airstream in the nick of time. I figure it will be another 10 years at least before I let that happen again. I am a lightweight.
The next night I redeemed myself. I met a new pickin' partner, Mitch, who had sung with the Texas boy's choir. He sang Vince Gill and Bob Seger tunes like Vince Gill and Bob Segar. Magic. We finally shut it down at 4:30 a.m. since we had to get up at 7 to break down the camp and head back to Fort Worth and Austin.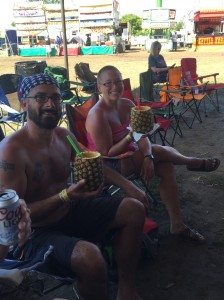 There were a few new sideshows. An IV tent for those who overindulged. Great idea. Why didn't I think of that? A nipple painting station –– another really great idea! And the tattoo trailer. A young man who I had never met came up to me and said, "You gotta get a tat!" "Did you? I asked. He showed me the brand new camel on his big toe. His mama must be proud.
Without a doubt, the music is what keeps me coming back to LJT but it's also a freak show, car wreck, tittie bar that you just can't help but going back to see what will happen the next year.
It's amazing how many of the same bands were there this year that were there for my first LJT trip years ago. Walt, Davin, Keith, Reckless, Randy, Wade, Double D … yep, I'm on a first name basis with most of 'em, now.
I first experienced the magic of LJT in 2004. I was living in Denver at the time and had broken my ankle snow skiing right before the festival. The 2004 event was very rainy and I was on crutches. That was quite a challenge getting from the camp to the shows and back with an ice chest full of beer. I got through it with a little help from my friends. The highlight for me that year was hearing and meeting Walt and Tina Wilkins and Chuck Pyle. I remember it like it was yesterday. Walt doing "Texas Trilogy" by Steven Fromholtz. I distinctly remember Chuck's set because the downpour on the tent was the perfect background for his one-of-a-kind guitar picking. Since then I've probably seen Walt and his band at least 30 times and was very fortunate to catch Chuck in Austin before he passed unexpectedly. I've also had the honor of hosting a house show with Walt and Tina and had talked to Chuck about doing one as well just two weeks before he died doing what he loved when he wasn't playing –– fishing.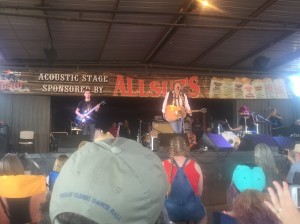 For me and I'm sure most of the other fans, much of the festival is a blur, kind of a feeling like Randy Rogers describes so well in his tune "Fuzzy." But LJT is definitely an experience not to be missed. Meeting with and jamming with some of my favorite songwriters on the planet has been and is still my favorite part of the festival. Playing "Jaded Lover" with Chuck Pyle around the campfire and talking Michael Hearne into playing Shake Russell's "You've Got A Lover" with me at 3a.m. are memories that won't be fuzzy for a long, long time.