A somber, melancholic portrait anchors Riley Holloway's solo exhibit at Fort Works Art. Its crisscrossed brushstrokes and deep, earthy tones convey the solemnity of the figure, an older African-American male, the artist's uncle, as I later discovered, suggesting Holloway's intimate knowledge of his subject. Measuring 72-by-48 inches, "Uncle Babe (Don't Sweat the Small Stuff)" is monumental in both scale and depth, echoing the skill and style of the old masters, who placed their royal subjects higher than the viewer, making them appear larger than life, nigh mythical.
I was immediately drawn to the piece. And I soon knew why. It reminded me of my father. "Uncle Babe's half-cracked smile, his downcast gaze, his blank watch –– he could be anyone's father, actually. After losing another mythical paternal character, this one to scandal (Cliff Huxtable), Holloway's portrait of his Uncle Babe feels oddly at home in that void.
Hanging now through Saturday, May 28, The People I've Come to Know is Holloway's first solo exhibit in Fort Worth. His 33 paintings form a comprehensive survey of the 27-year-old artist's oeuvre so far, and as Fort Worth begins to flex its young-artists muscle, it's a good place to begin.
After chatting briefly with Holloway at his opening in April, I reconnected with him for drinks the following week. One thing he said that stuck with me concerned the symbolism of Uncle Babe's unfinished watch. Holloway said it was a way of marking time, of freeze-framing that moment in honor of his uncle.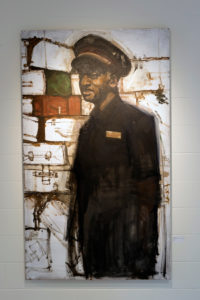 Overall, Holloway is simply a really cool cat, soft-spoken, focused, and intelligent. We talked for hours about his history with painting and the professional relationships (as both mentor and mentoree) that he has developed over the years. He started out as most of us do: by copying illustrations. Here, at his mother's urging.
"We used to draw over portraits in magazines with tracing paper and then read the Bible before I would go to bed," Holloway recalled. "I was around 8 years old."
The 24-by-20-inch portrait "Jackie" reflects every bit of the bond between mother and son. Her piercing gaze is reserved but also warm. Holloway has sculpted her features carefully, brushing away any mystery and embracing the sentimental relationship that such a connection reveals. Her eyes, in projecting that gaze, are recessed and pulled back as her face beams with a quality of light that can be seen as one of the most distinguishing features of Holloway's portraits.
He attributes his style to his three-month portrait studio workshop at Italy's Florence Academy of Art in 2011.
"The experience was really a conformation that fine art was the correct route for me," he said. "I had a chance to meet likeminded artists who were in love with painting the figure."
Based on his sympathetic brush, it's easy to see why Holloway's time at the Art Institute of Dallas made him want something more. He started the program in 2006 but left a year later, leaving behind a possible degree in the lucrative field of motion graphics, although traces of pure design elements linger in his work. They're highlighted in FWA's description of his work, linking him to Alphonse Mucha and Norman Rockwell. Indeed it's hard to ignore those references in the stylized approach that permeates The People I've Come to Know.
For example, while doing a three-month residency at the Fairmont Hotel in Dallas, he painted one of the show's most striking pieces titled Tony Bennett: Guest Service Champion.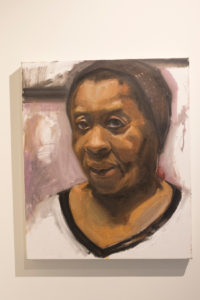 "I remember being a little caught off guard when I first met him," Holloway recalled. "He had a way of making you feel as though he'd met you on a personal level plenty of times before. He was also beloved by a lot of the guests, and they would send gifts and letters thanking him for his service. I watched this man work extremely hard during my three-month stay. I've seen him exhausted in the break room but always [smiling]. He also let me in on a book he was working on titled Tony Bennett: Guest Service Champion. So I wanted to honor him with that title."
Holloway employs a framing device that thrusts Bennett and some of the painter's other figures into the foreground over an unfinished background. Although this somewhat flattens the canvas, it also allows for a connection between his subjects and the iconography of his painting lexicon, reflecting a young artist's internal conflict between influences and self-expression.
His approach to resolving these mental battles already shows his progression toward maturity as an artist, something that undoubtedly led FWA co-owners Lauren Childs and J.W. Wilson to sign Holloway to a two-year representation contract.
[box_info]The People I've Come to Know
Thru Sat., May 28, at Fort Works Art, 2100 Montgomery St, FW. 817-759-9475. Free. • Artist talk w/Riley Holloway 6-8pm Fri at Fort Works Art. Free.[/box_info]
Over drinks, Holloway and I discussed the benefits and drawbacks of such a commitment, and I was left with the sense that the artist is very engaged. He was eager to get feedback about his practice, and he talked about the importance of his relationships with artists/mentors Sedrick Huckaby and Trenton Doyle Hancock.
"I met [Hancock] a few years back," Holloway said. "His work and advice have had a pretty big impact on me. I've been able to call him for advice and share concepts. His concept of Torpedo Boy [an anti-hero character avatar in Hancock's paintings] helped me feel unafraid of my creativity or how people may take to it or me."
FWA's first solo exhibit, The People I've Come to Know, opened to little fanfare but was impressive. The curatorial choices were spot on in places, creating dialogues between pieces that really helped to break up the space in ways that complemented the paintings, showing how precision placement can enhance already great works. Some of them, though, seemed only to show the artist's range and how great he is at what he does. Which might be a problem in lesser hands.