UTA's Fort Worth campus' Gallery 76102 has selected Fabiola Valenzuela as the winner of its 6th annual juried art competition. She is a 2015 graduate of UTA's painting program with a minor in Art History, and works at the Fort Worth Modern Art Museum. The contest is open to artists living and working in the 897 square miles of Tarrant County, and awards winners the opportunity to exhibit in a solo or group show within the 12 months that follow the award.
The winning pieces were multifaceted assemblages that nearly covered the walls they occupied. Installation 2012-2015 was constructed using the popular crime drama trope of connecting images between strings held to the wall with push pins. It contained journal entries, hand written notes, and watercolor paintings of some of the artist's other works.
In the installation Things We Learned From My Mom, Valenzuela suspends a hand-sewn quilt that drapes down from the wall and over a table setting for two. The quilt is embedded with photographs and text creating a tapestry of history and memory. The table is topped with tortillas, yarn, a candle, and a potted plant –– all symbols of family life.
"As the youngest in my family, I reflect on the many stories that my parents talk about," she writes. "Their Journey here to the United States plays an important role in many of my pieces."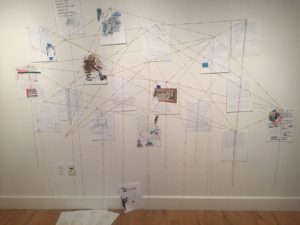 This year's juror Stephen Lapthisophon lives and works in Dallas and is a visiting assistant professor of drawing at UTA . He also has an extensive exhibition portfolio that includes a solo show at the Dallas Museum of Art.
Lapthisophon has put together a sparse but engaging exhibition from the artists who entered the contest, including Chris Cunningham, Eric Hess, Alex Kang, James Lassen, John Rossman, Olivia Themudo, and Valenzuela.
The works in the show range from Lassen's pop observational works around cell phone culture to Alex Kang's soft vignettes of autobiographical photographs on paper.
There has also been at least one critic of the show from the tainted rabbit hole that is the comment section of anything posted on the internet. It is from someone posting as Judy Kristoff-Huebener and reads: "Why didn't you just call this exhibit 'Friends and Former Students of Stephen Lapthisophon'? I see out of seven artists selected, five attended UTA where he teaches. Doesn't seem very fair to those of us who paid money to enter this competition."
The gallery response, also posted on its page, defends its dedication to fairness and a diverse representation of area artists. They go on to state: "We feel this group of artists is consistent with both our mission and the current direction of our highlighted exhibitions."
The nuances of writing, judging, and curating in such a small community of artists often has overlaps that read as conflicts of interest, but are the unavoidable consequence of artists engaged in North Texas taking on multiple roles.
Perhaps as more voices are added to the professional ranks, those overlaps might fall farther apart.
As Fort Worth galleries approach the middle of the art contest season, there are a couple of other exhibitions on the horizon. Artspace 111 hosts its annual juried show next Friday, with Eric Lee, director of the Kimball Art Museum, as juror. He has selected the 93 artists participating and will present the $2,000 prize. TCU's Art in the Metroplex happens in early fall.
Valenzuela's work, along with the others in 897 Square, will be on view through July 31.
Gallery 76102
1401 Jones St, FW. 817-272- 0365