As the sweltering doldrums of summer settle in, there's a natural shift for many people from heavier beer styles (porters, stouts, barley wines, etc.) to thirst quenching, citrusy ales and lagers. Distributors and brewpubs know this all too well and adjust their offerings accordingly. To celebrate the changing beer seasons, I reached out to several local musicians/artists/personalities to see which suds they reach for to take the edge off the Texas heat. Not surprisingly, most of their favorites are brewed in and around Fort Worth.
"In the winter, I love a good stout or pale ale. But as soon as summer hits, I like my beers a little sweeter and smoother. Nothing is better than a Rahr Blonde. It's light and refreshing and has a tasty, smooth sweetness to it. It doesn't get much better than drinking one of those at an outdoor show. I also love the Martin House Daybreak on a hot summer day. It has a wheat and honey finish that really hits the spot. Another tasty summer brew is the Panther Island Brewing Allergeez, which is a favorite up at BREWED. That beer is made for patio weather! It's golden refreshing unfiltered wheat at its finest!"
Jamey Ice, singer/guitarist for Green River Ordinance and co-founder/co-owner of BREWED.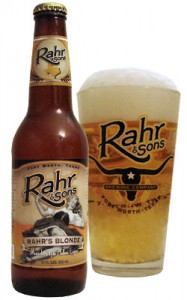 "My absolute favorite beer, hands down without question, is the Golden Petite Sour from Collective Brewing Project. I'm a big fan of sour drinks in general, and this brew does not disappoint. I've introduced it to several friends, and I either get a response that they LOVE it or that they're not really into sours. I am. Did I already mention that?  If I can't get my hands on the GPS, I gravitate toward Revolver Brewing's Blood and Honey. I prefer it on tap rather than bottled, and I've noticed that more places are serving it, which is fantastic. And lastly, if I'm in a hurry and at the corner grocery, I'll snag a pack of Shiner's Ruby Redbird. Are you seeing a theme here? These are all super refreshing for summer and pair nicely with my husband's masterful grilling."
Victoria Wise, founder of Tanglewood Moms.
"My favorite local swigs right now are the Funkhouse Saison and Citra Citrus by The Collective Brewing Project, always the Blood and Honey by Revolver, and the Ruby Redbird by Shiner. All are good summer drinks. These are all great for beermosas!"
James Zametz, founder of Keep Fort Worth Funky  .
"I have a few favorites. Wild Acre Brewing's Soul Pleasure Stout is great!  Blood and Honey from Revolver and Rahr's Storm Cloud are too."
JW Wilson, co-owner of Fort Works Art, a contemporary art gallery.
My favorite summer beers include "Rahr Blonde, Martin House Salty Lady,
Collective Brewing Project Tropic Thunder, and Wild Acre Brewing Moonlight Shine."
Jeff Dazey, saxophonist and Leon Bridges bandmate.
"Well, I am no beer connoisseur, so when it comes to my favorite summer beers I had to call on my buddy Dustin Schneider from The Jerry Jonestown Massacre podcast. I asked him, 'Hey, what's that beer I like a Lola's Saloon?' He quickly responded with Crackberry Cider by Bishop Cider Company. That's it! It's delicious with a great color and texture. It's not too sweet or bitter. I recently discovered Prickly Pear by Shiner. What an interesting experience that is. It's almost like drinking beer while eating sweet tarts. I know that doesn't sound too appealing, but it's pretty tasty. Another new one I like is Dallas Blonde by Deep Ellum Brewing Company. I stopped in at the local 7-Eleven on Hemphill and Allen Street to pick up some beer for the podcast that night. Now I always like a good blonde, and the can says 'Goes Down Easy' so how could I refuse? I think it would go well with chips and salsa. Revolver's Blood and Honey isn't one of my favorites, but I have to give it a shout out. I know it's summertime when the Fort Worth Weekly Music Awards are happening, and Dustin is drinking Blood and Honey. Honorable mention goes to Stiegl Radler. I was told the next time I visit the Boiled Owl I have to try this beer. Supposedly it's life changing. I have had a few life changing events at the Owl and look forward to another. Cheers!"
Jeffrey Lord, founder/host of Funkytown Podcast.
"A cold pint of The Salty Lady by Martin House has a refreshing tartness and renewing electrolytes (salt) that pair well with the summer heat. Newcomer USS Fort Worth (pale ale) by Rahr & Sons has nice citrus notes and a decent hop kick that's highly drinkable. Revolver's Blood and Honey is another go-to summer beer for me along with Collective Brewing's Urban Funkhouse, Panther Island's Allergeez, Rabbit Hole's 561 Kolsch-style beer, Chimera's We are Hellfire!, and Shannon's All American Blonde."
On Tap this Week:
Martin House Brewing's Hell Below/Stars Above cans now out
From Martin House: Last Sunday, we debuted our newest collaboration beers with The Toadies. Now you can enjoy Hell Below and Stars Above at your favorite bar or in four-pack form.
Hell Below is a deceiving new brew that spawned from the depths of the dark mind of head brewer Cody Martin. This strong black ale is brewed with black barley malts and Columbus hops. The malts gives it that pitch black appearance and a dark, ominous flavor.
Stars Above is a refreshing sour ale brewed with raspberries. It pours a nice hazy yellow with a slight purple hue. With just one sip of Stars Above, the sweet raspberry flavor will hit you right off the bat. That sweetness is balanced by the tartness that kicks on the back-end, culminating in the perfect summertime beer.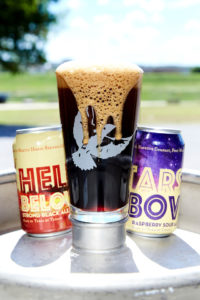 Wild Acre Brewing Company grand opening
We've all been waiting for it, and it's finally here. The good folks at Wild Acre Brewing Company are ready to pull the trigger on Fort Worth's newest brewery. This July 4th from 12:30 to 4pm, $20 gets you into one helluva party that includes three pints of Wild Acre beer and music from Phil Pritchett & the Full Band.
Wild Acre Brewing Company, 1734 E. El Paso St, Suite 190, Fort Worth, TX 76102, 817- 882-9453.