The next time you order a pint of beer, take a minute to reflect on the glass you are holding. The shaker pint, easily stackable and durable, has become the glassware of choice for brewpubs, bars, and breweries across the country. But for all its merits, the cup's design slips easily and is generally hard for people with small hands to grasp. Worse yet, gripping the glass directly warms the beer.
The less-than-ideal setup has been on the minds of Zachary Levesque and Will Pine lately. Both are veterans using the G.I. bill to attend Texas Christian University. Last April, they submitted a patent for a wrap-around handle that clips over shaker pints and allows the glassware to be held like a beer stein. That invention by itself would be impressive for two undergrads, but the real innovation comes from the material they plan to manufacture the handles with one day, bioplastics.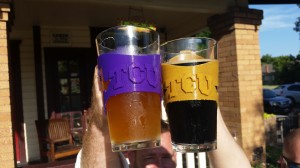 As the name infers, bioplastics are made from organic materials instead of traditional petrochemicals (oil). Mass producing an all-bioplastic product won't be easy, Levesque said. By its nature, bioplastics tend to be more expensive to produce and vulnerable to heat deformation than traditional plastics. Those are problems Levesque and Pine plan to tackle in the coming years. Until then, one promising intermediary step uses biofillers (spent grains) in conjunction with traditional plastics, usually with a 30 percent biofiller to 70 percent petro-based plastics ratio by volume. The compromise has the benefit of using less oil while making use of a byproduct that has few uses today.
"Any organic byproducts could potentially work" as a biofiller, Pine said. "The proven ones so far are hemp, spent brewer's grain, and spent coffee grain. After you've steamed the nutrients out, what you have left is cellulose, stuff that by itself doesn't break down that fast. So we're extending the life cycle of grain before it goes back into the ground."
A handful of local breweries have expressed interest in ordering tap handles made partly from their spent grain. One day, Levesque and Pine envision breweries using the technology to repurpose spent grain to build a wide range of items traditionally made from oil-based plastics.
The pint handle prototype was a finalist in the Bill Shaddock Venture Capital Fund last April. The entrepreneurial contest is open to any TCU student. Participants pitch their ideas to a student review committee whose members determine if and how much of the project will get funded. Levesque and Pine were one of three business models chosen as winners.
With a custom plastic molding machine coming online soon, the duo are planning a road trip across the West Coast and Rocky Mountain states later this summer. Besides placing pint handle orders at breweries, Levesque and Pine plan to spread some Fort Worth love.
"The Fort Worth brew scene has been very supportive of us," Levesque said. "We want to do our tour wearing Fort Worth brewery t-shirts."
Rahr & Sons Brewing Company has been especially supportive of the venture, he added.
What began as an exploration of new uses for bioplastics has, for the moment, led to an innovation that may one day change how craft brews are hoisted across the country. The fact that Levesque, Pine, and their new partner Ben Vasquez' business model also aims to support local businesses while lowering demand for oil is no accident.
This whole project is designed to "close the sustainability loop on byproducts," Levesque said. "The plastic production process is already in place. What needs to change is the plastic material itself. Hopefully, we can get local companies working together on this. This is a community endeavor."
Levesque, Vasquez, and Pine can be reached via: zachary@handleholdingsllc.com
will.pine@handleholdingsllc.com
On Tap This Week:
The Fort Worth Ale Trail
The Fort Worth Convention & Visitors Bureau recently launched a project that's the perfect cure for curious craft beer fans stricken with wanderlust. The Ale Trail is a passport book with spaces allocated to nine brewery destinations (The Collective Brewing Project, Martin House Brewing, Panther Island Brewing, Rahr & Sons Brewing, Revolver Brewing, Rabbit Hole Brewing, Shannon Brewing, Chimera Brewing, and HopFusion Ale Works).

Passports can be picked up directly from participating breweries, Fort Worth Visitor Centers (130 E. Exchange Ave., 508 Main St.), or downloaded here.
From there, you can participate by getting your book stamped at each location while sipping brews and meeting the folks who made the beer. You can also go Off the Trail by checking out local wineries and distilleries that are making a name for themselves here and abroad. As always, the CVB encourages everyone to drink responsibly, and even provides a list of alternative transportation options.