Our trip started to feel more practical than adventurous at this point, negotiating sleeping arrangements (who gets the comfy bed, who gets the La-Z-Boy) and where we could eat that allowed dogs. It was also a way for me to escape my looming separation anxiety. But as with all bottled-up feelings that eventually boil to the surface, I couldn't hold mine in. But instead of facing them, I found myself getting irritated with and snapping at everyone. I was annoyed that Kera was taking too long to rendezvous with us and that Santa Fe became really dull after Meow Wolf. We eventually met up in the parking lot near the giant robot and headed to Gallup.
When we arrived at 10 p.m., the Airbnb looked kind of haunted, and the neighbors were weird. It was bad enough that we were staring at what looked eerily like the Munster's' mansion, but then Neighbor No. 1 came out and paced the sidewalk as we unloaded our bags. "Are you moving in?" she asked us. "I just like to get a good look at who's moving in."
Ignoring her wouldn't be sufficient to allow us to enter the House on Haunted Hill and get a good night's sleep. Neighbor No. 2 stepped onto her porch to complain about the noise and tell us that we didn't belong in her neighborhood. After that friendly welcome and a late-night food run, I tried to sleep off my irritation on the La-Z-Boy in the living room.
The next leg of the trip proved a little less stressful. Debra drove the U-Haul to Phoenix to visit a friend, and the girls and I took turns driving the Yaris to L.A. We drove through the Petrified Forest and stopped to visit Puerco Pueblo and its petroglyphs. That was on Kera's list of things to see, and we got to check that off. What wasn't on her list was my recoding her and her sister belting out songs from Lemonade. We kept driving and detoured for gas. As we did, we noticed a haze in the distance, which we thought was rain. We had stopped and taken pictures next to an old "Route 66" sign at the gas station when we realized that the haze was actually smoke from wildfires. We hopped back onto the freeway, and it was on to L.A., driving all evening and arriving close to midnight. Debra met us at the Airbnb after a frustrating spate of navigational errors on both our parts.
It was an exhausting stretch of driving, and when we finally arrived, I couldn't keep my eyes open long enough to enjoy the view of L.A. at night from our living room window. So I decided to go to bed early. But this time Kera had the couch. We were in Los Angeles, and I could finally see some art. There was so much on my list to see but only a day to see everything, which was fine because Kera and Christie wanted to explore Hollywood. We all had breakfast together, and I left in the U-Haul. I parked at the Omni where we would spend the next night and walked to the Broad Museum to check out the Cindy Sherman retrospective. I would save my tour of the Los Angeles Museum of Contemporary Art (LA MoCA) for later.
The organic, nest-like architecture of the Broad reminded me of a cross-section of sponge or coral. Its bone-pale exterior stood in stark contrast to the blue noon sky of downtown Los Angeles. I crossed the street from the parking lot only to be faced with long lines and a long wait for standby tickets to the show. As I contemplated whether to continue standing in line, shaded by the tunnel separating the building's façade from its glass paneled exterior wall, I caught a break. A complete stranger with an extra ticket asked me if I could use one, since her husband decided to stay and do business in their hotel room. I realized then that I was in L.A. This sort of business doesn't happen in Fort Worth.
I would run into her twice as I explored the galleries, but for the most part I was seeing this exhibit for free and at my own pace. I've seen only a few of Sherman's photographs in person, but I became a fan when I studied photography at Tarrant County College in the late 1990s. Her early images are carefully constructed scenes that read as film stills, alluding to some off-frame narrative. A few of her works are in the permanent collection at the Modern Art Museum of Fort Worth, including "Untitled #207," which was part of this L.A. show. The work is part of a larger body of images dubbed "The History Portrait" series, in which Sherman employs props and prosthetics to create gender-bending characters, recreating European portraits from the 15th-19th centuries. In "Untitled #207," the artist is a mostly bald and seated monastic figure cloaked in a green robe, staring straight at the viewer.
Even with 120 photographs, Cindy Sherman: Imitation of Life still felt pretty small. I think it was because it was somewhat chronologically separated into print series. I had seen only one or two of her large color pieces from the mid '80s, which were chromogenic salvos hurled from the art world against Republican Senator Jesse Helms on behalf of artists like Robert Mapplethorpe, Andres Serrano, and others. Some of Sherman's photographs from this period, including series on fairy tales, disasters, and sex, tethered on the grotesque and the macabre –– "Untitled #190" is a 96-and-a-half-by-73-inch photograph of a decaying face crawling with trash and maggots. Knowing that these images were created at the peak of the conflict, it was hard to imagine that they weren't responses to Helms and his followers, who did not want the National Endowment for the Arts to extend grants to any artist dabbling in "obscene" work.
The exhibit also featured some of Sherman's Hollywood/Hamptons series. The artist's caricatures of actresses and society ladies are as sad as they are sympathetic. The viewer is tempted to snicker at these heavily made-up characters, but in some ways these images portray our own unreasonable expectations for these women to remain eternally youthful to be relevant, a perspective I was keenly aware of as I traveled cross-country with the two most important women in my life.
I'd already spent two hours at the Broad, and there was still so much left to see. My plans to sort of zip through the rest of the museum and cross the street to the LA MoCA came to a grinding halt when I stepped into a small upstairs gallery and stumbled upon a focus exhibit featuring Joseph Beuys and Anselm Kiefer. Kiefer's pieces "Book with Wings" and "Aschenblume" are mostly on permanent display at the Modern, and I find myself in front of them on each visit there. I've been connected to his work since the first American survey of his pieces was shown there in 2005. And to have his former teacher Beuys in the same gallery was enough to keep me there for another hour.
I texted Christie after I left the Broad to see how their afternoon was going. They were at the Griffith Observatory and were headed to Hollywood, so I used the time to walk across the street to the Museum of Contemporary Art, Los Angeles. I have to admit that after spending so long at the Broad, I felt myself skimming through the MoCA, stopping only to look at works I couldn't walk away from.
Hito Steyerl's "Factory of the Sun" was one of those pieces. The immersive science-fiction work filled an entire gallery with a glowing LED grid straight out of Tron. There was a large screen attached to scaffolding in one corner and a semi-circle of lawn chairs for viewing. The screen projected an elaborate narrative of a viral YouTube video of a guy dancing in his basement in the not-too-distant future. Somehow society devolves from that point to people donning motion-capture suits and being forced to dance to generate power for cellphones worldwide. If a person stopped dancing, he or she was shot by drones. I was mesmerized.
I stopped to talk to a gallery attendant about the piece, and during the conversation she mentioned an all-women sculpture exhibit at a space a few miles away. Though what she described sounded like a local pop-up show, it turned out to be Revolution in the Making: Abstract Sculptures by Women, 1947-2016. Most of the artists in this show have played a crucial role in the history of contemporary sculpture, and it was pretty awesome to see them all at once. Lynda Benglis, Eva Hesse, Louise Bourgeois, Jackie Winsor, and so many others were all here at Hauser Wirth & Schimmel, a gallery with a museum-scale mission. The spaces are part of the Globe Mills complex in downtown L.A., a collection of interconnected buildings over a century old. Benglis' cast aluminum "Wing, 1970" was one of the pieces I kept returning to. It's a small departure from her piece in the Fort Worth Modern's collection but is still recognizable as part of Benglis' signature style. The cast aluminum sculpture seemed to ooze out from the wall and freeze into a fluid wave of metal, suspended in mid-pour. To say that the gallery attendant at the MoCA diminished the earthshaking significance of this show, curated by Jenni Sorkin, would be an understatement. I almost brushed it off to go to the Getty Museum, and I'm so glad that I didn't.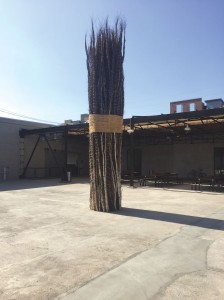 A large group photo taken at the gallery on August 30 underscored this point. More than 700 female artists showed up to be photographed in the courtyard, next to the Jackie Winsor piece "30 to 1 Bound Trees."
I took an Uber back to the Omni, and we went to dinner near the hotel. Maybe it was because we had such a full day running around, but we were all thinking the same thing: They'd be leaving for Sacramento in the morning, and I'd be headed to San Francisco for the week before reconnecting with them afterward. The movers would get their things in, and I'd help with the small stuff after Kera flew back to Austin, where she is theater director at the Round Rock school district. Christie and I returned to the hotel, my arms around my baby girl and maybe a few tears rolling between us.
******