At 10 a.m. we went to breakfast at the Pitchoun Bakery & Café down the street from the Omni, and I had the best French toast I've ever had. It came with whipped cream and fresh berries, and it really hit the spot. After that, Debra took the U-Haul, and Christie and Kera drove me to the car rental place for the final leg of my trip.
Even though I'd be seeing her in less than a week, I couldn't hold back the goodbye sniffles. And neither could she. I reassured her that I would indeed be seeing her for the weekend before my flight back to D/FW, but her embrace felt like it needed to last longer than the few days ahead of us. I caught a glimpse of Christie as she put on her seatbelt before Kera drove them away. I tried not to think about the weight of it all as they drove off.
In my Toyota Camry, I navigated back onto I-5 for the six-hour drive to San Francisco after soon escaping L.A. traffic. The drive through waves of orchards and small farms along the freeway led me past large rumbling trucks full of potatoes. There were also a lot of small billboards touting the value of the American farmer to the U.S. economy, which may have been in response to California's tight water restrictions during the state's worse drought in years. Signs reading "Farmers for Trump" darted the landscape. It seems that farmers believe that those water restrictions would be eased under a Trump presidency.
With L.A. now hours behind me, I began to feel cool breezes and a temperature drop as I descended from the mountainous sections of freeway about an hour east of Oakland. Before too long, I was crossing the Oakland Bay Bridge. I was close to San Francisco and more art, and I was looking forward to Ed Ruscha's exhibit at the de Young Museum in Golden Gate Park. Situated less than a mile away from the Pacific Coast, the museum is about as far west as a traveler can go on the continent to see art.
On my previous visit to San Francisco a couple of years ago, I hung out with sculptor and furniture maker Yvonne Mouser. She had studied sculpture at TCU in the early 2000s before transferring to California College of the Arts. I called her up, and we met at her studio, where we talked about her move from Fort Worth to California to study sculpture and furniture making.
"I ran into a girlfriend who had moved to New York to study art," she said, "and at one point I was like, 'What am I still doing here?' "
She'd always loved sculpture and design, and after applying to some other schools and being accepted to CCA, her choice was easy. After graduation, Mouser cofounded New Factory with Adam Reineck and earlier this year launched YMSF, a collaboration with the Bay Area design company Stella Fluorescent. She showed me some of her production designs for short-run furniture and jewelry, and I also got a demonstration on running a lathe.
I stayed with my friend Lila for the rest of my vacation. Her really awesome place is on the northern tip of the city, and the guest bedroom overlooks the Golden Gate Bridge and Alcatraz. After trading turns on couches and La-Z-Boys all week, it felt great to have such a posh retreat, and it would be a great base camp for my art pilgrimage.
My first foray into the Bay Area art scene was a trip to the San Francisco Museum of Modern Art. The museum reopened earlier this spring in a 10-floor space, and one of the things I wanted to check out was the famous Richard Serra sculpture. The half-million-pound behemoth was the first work installed in the new space and had to be partially installed before the walls of the museum were finished around it. Part of my curiosity on this trip was how the art I would encounter along the way connected to Fort Worth. I'd already seen a few works at the L.A. museums that all pointed to pieces previously on view at the Amon Carter Museum of American Art and the Modern. "Sequence" and the Modern's "Vortex" shared that relationship.
I stood at the top of the Roman forum-style staircase that descended toward the corten steel sculpture. From that vantage point, I could discern the circular maze that the pieces of steel created, coiling toward and away from one another. Walking through the corridors of steel that created narrow and open caverns within the folds of the sculpture made me feel like a piece of metal passing through two magnetic walls. I felt propelled in the direction of the leans and bulges as the piece rose from the floor toward the ceiling.
It became apparent to me that I'd have to come back another day to fully experience the volume of work in this really huge space. But I didn't leave without checking out California and the West, an exhibition of photographs by Imogene Cunningham, Dorothea Lange, Edward Weston, and others, including Ed Ruscha.
His "Every Building on the Sunset Strip," a series of photographs of the landmark West Hollywood street, recalled that leg of our trip. The girls had gone out there while I visited the museums, and now I wish I'd gone with them. I probably would've been bored from stopping at every store and running into so many tourists, but still it would've been fun and would've given me a way to compare these photographs with what I experienced. That was one of the things I discovered, that it was really interesting to see the works of Californian artists in California. Looking at a Wayne Thiebaud painting of the hills of San Francisco and leaving the museum to see those very hills in the foggy Bay Area haze brought the works to life in a way not possible outside of the state.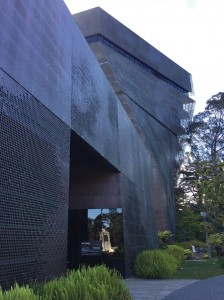 I chewed on that feeling a bit as I hopped a bus to the de Young fine arts museum for the final leg of my art tour, a beautiful segue into Ed Ruscha and the Great American West.
I arrived too late to hike to the museum's 144-foot-high observation deck, so I descended the stairs to the basement-floor gallery for Ruscha's show.
Here I was, standing in front of "The Final End," one in a handful of paintings by the artist as part of his "The End" series. It seemed an appropriate punctuation to my road trip.
In 1956, an 18-year-old Ruscha had driven his 1950 Ford Sedan from Oklahoma City along Route 66 all the way to Los Angeles, through Texas, New Mexico, and Arizona. This trip and his affinity for Hollywood films from that period would become the subject matter for most of his paintings and photographs, producing such iconic works as "Standard Station" (1966) and "Hollywood Sign" (1968). The experience, though, is what led me here, thinking about artists and photographers driving west and how different that experience would be for white men, women, and people of color.
The words "The Final End" are painted in black, bold gothic font and are obscured by tall painted grass, suggesting a sign overpowered by nature and fading away. The surface is also covered in scratches, alluding to the faded movie film that the artist uses as inspiration for some of his paintings.
For me, the movie was close to the end, and the trip was winding down. The next day, I would be driving up to Sacramento and helping send my kiddo off on her own path of discovery. I don't think it was this hard when I dropped Kera off at Saint Edward's University in Austin eight years ago. Being a theater major at Paschal High School and going directly into on-campus housing probably made her more excited about the transition. And being only three hours away from Austin wasn't too hard of an adjustment for me. But the thought of Christie being 1,700 miles away over the next four years is something I didn't completely prepare myself for.
I left San Francisco early Friday morning and drove to Sacramento. The two-hour drive was uneventful, and I got to their apartment at mid-morning. Christie had already gotten a head start in figuring out the lay of the land, so after a quick tour of their apartment, we went downtown for lunch at Pizza Rock Café. It felt like we were at the Taco Bueno in North Richland Hills. We talked about the differences between Sacramento State College and TCC –– the former has a football program, and the campus is as big as TCU's –– and how surreal it felt to her to be living in a different state.
We went shopping at Walmart and then drove back to their place. I helped put her bed together and put away a few things, and the rest of the day we watched movies on Netflix and ate leftover pizza.
The next day, Christie drove us to the closest Starbucks, and we had coffee and breakfast. After that we took a long walk in a park nearby, and I resisted giving her too much sage advice. As hard as it was to drive to the airport, I managed to remember what a necessary thing it is for a young person to figure out college and life away from the security and familiarity of home.
We patted out our goodbye hug and looked forward to seeing each other in Funkytown in October, when she makes her first visit back. In the time since I've been back, we've talked on the phone almost every day. We've both gotten into the full swing of the fall semester, her with new classes in a new city and me looking forward to art in North Texas with fresh eyes.
Christopher Blay is an art critic for the Fort Worth Weekly and the curator of the Art Corridor II gallery at Tarrant County College Southeast. His artwork includes "Dindi (for Annibel)," a public art sculpture being installed now in Coombs Creek Park, for the City of Dallas.