Critic's Top 5 Exhibitions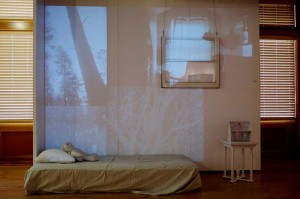 A solo exhibition, Jessica Fuentes' Tree House Dividedat Gallery 76102 featured work in which the Fort Worth native explored the ethereal nature of dreams and memory via photographs, photo transparencies, and installations combining both sculpture and projections. Fuentes has said that much of her work is informed by her daughter Julia, which helps explain the powerful, communicative honesty in Fuentes' work. The centerpiece of the exhibit was "the longest memory," a child's bed in a corner of the gallery illuminated by a flickering slide projection of trees through a window. In the artist's statement, Fuentes recounts asking her daughter for her longest memory. "Well," Julia responded. "Loving you. It's the longest memory I have since the day I was born."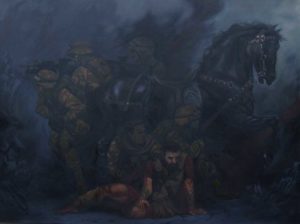 Jesse Sierra Hernandez' Inside the Lines revealed the breadth of his work over the past few years. His last solo exhibit, Schlankin' It, was about a decade ago, and it revolved around the bacchanalian Wreck Room/West 7th bar scene of the early 2000s, placing the Fort Worth painter dead center in neo-Texas regionalism. In Inside the Lines, he brought together the bulk of his current large-scale paintings in which he tackled politics and social injustice. One of the most powerful pieces, "The Conversion of St. Paul" (hat tip, Caravaggio), is a dialogue between the artist and the classic paintings he's surrounded by every day as an art preparator at the Kimbell Art Museum. Hernandez depicts a military unit protecting Saul as a giant horse stirs above. It's as gloomy as it is glorious.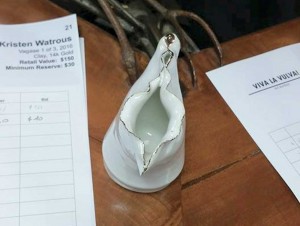 Viva la Vulva! wasn't your typical art exhibit, but it was a blast. And full of quality work. Taking place at the Fairmount Community Library, this springtime benefit for the Texas Equal Access Fund, a nonprofit providing financial assistance to low-income people who want an abortion but cannot afford one, was part auction, part concert. The vulva theme was everywhere in the many works by many artists, including Erika Duque, Shasta Haubrich, and Brittany Ward Tucker. Based on the recent spike in maternal deaths in Texas, it couldn't have been timelier.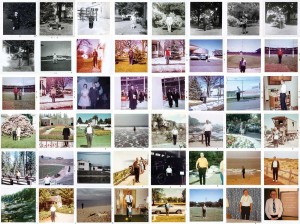 Arguably, the best pieces in Artspace 111's Third Regional Juried Exhibition didn't receive any awards. There's always hope that you'll discover something new at a group show –– even in Fort Worth, where you'll see a lot of works that look alike or that you've already seen 20 times before. And while this show seemed familiar –– winners Marilyn Waligore and Nancy Lamb could almost be seen as confirmation of what to expect at Artspace 111 –– there was enough newness to earn our favor. One of the best was "Dad Standing in Front of Things 1943-1990," a composite photograph of scanned Polaroids of the father of artist Chris Ireland which was subtly conceptual and eerily compelling.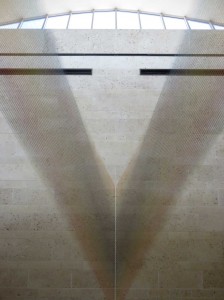 Dr. Seuss' Great Day for Up has nothing to do with Gabriel Dawe's "Plexus No. 34." But this new installation at the Amon Carter Museum of American Art is an ode to all things above, which is the best way to view this piece. Suspended two stories above the atrium, a rainbow of thread beams across the space, creating a burst of color that reverberates in the material and through the surrounding space. Dawe's work is an opus in light that achieves a dream we imagine all minimalists have: finding a way to combine color, form, and space into a nothingness that itself has volume. The work is as much there as it is not, and reflecting on it, it can become a spiritual experience.
Art Exhibit
Readers' choice: Frank Stella: A Retrospective, the Modern Art Museum of Fort Worth
Art Gallery
Critic's choice: Artspace 111, 111 Hampton St, 817-692-3228
The gallery landscape in Fort Worth is woefully inadequate, with only a handful to speak of. Maybe it merely reflects the size of our tiny Fort, or maybe it's hard to get a brick-and-mortar art biz going here. Indeed, Dallas galleries and art spaces seem to be under attack by the fire marshal every other weekend. To Artspace 111's credit, it has emerged over the past few years as one of the best places to see art, and the curators occasionally put on a great show. Now if they could only step up their snack game!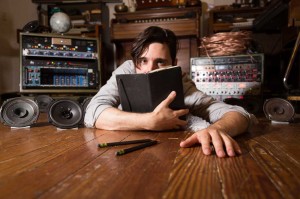 Visual Artist
Readers' choice: Jay Wilkinson
Critic's choice: James Talambas
A musician, composer, record producer, and DJ, Talambas is also a strong installation artist. His technological expertise is matched only by his creative sense to combine sound and visuals in ways that are both ambitious and grand in execution. Talambas' most recent piece, "Architectural Influence," at Art7 Gallery in Fort Worth, was an interactive sound-and-video storefront installation anchored theoretically by architectural elements in urban spaces. And as the latest ArtSouth artist-in-residence, Talambas will present a similarly intricate installation in the Near Southside's micro-park art container in November.
Contemporary Museum Show
Critic's choice: Kehinde Wiley: A New Republic, the Modern Art Museum of Fort Worth
A beautiful, dazzling spectacle of a show, A New Republic took a decidedly brown brush to the whitewashing of art history. In his portraits, Wiley replaced the subjects of paintings from European masters with the everyday people he invited into his studio to serve as models. The pieces succeeded because they nodded to art history while also celebrating all of us, the combination exposing glaring social disparities in our era of flashlights glaring at the 1 percent. A New Republic was a further introduction to Wiley, whose inaugural appearance in town was in 2008 as the subject of one of the Modern's FOCUS exhibitions. A New Republic included a recent Modern purchase, "Colonel Platoff on his Charger," offering a strong example of how a museum can expand beyond its walls to confront the world.
Public Art
Critic's choice: "here she stood," Chris Powell, Capps Park, 907 W Berry St
It's hard to resist calling this work of art monumental. Although all three of the carved limestone elements are human-scale, and organic and soft-looking, they still feel heavy and pronounced. Located at a park, they even seem like placeholders for perhaps sculptures of parents casting protective gazes toward young ones just out of reach. We drive by this park a lot and must have seen it a hundred times, but "here she stood" still seems fresh and shows only subtle signs of wear, which is impressive, considering it's been here for nearly 30 years. By evoking a strong and timeless connection to its space, "here she stood" is that rare work of art in a public area which most cities dream of.
Performing Arts Organization
Readers' choice: Casa Mañana, 3101 W Lancaster Av, 817-332-2272
Critic's choice: Artes de la Rosa, 1440 N Main St, 817-624-8333
The staff of Artes de la Rosa has faithfully served Fort Worth's North Side for 17 years, providing arts-based educational programs, cinema, theater, and more at the historic Rose Marine Theater. This year marks the end of the seven-year tenor of Artes de la Rosa director Adam Adolfo, who with his staff has grown the group's budget by an impressive 50 percent over that period. Fort Worth Weekly critic at large Kristian Lin described Adolfo as a "great talent" whose "legacy is something for our theater scene to live up to and build on." The future looks brighter than ever for this community-minded arts group.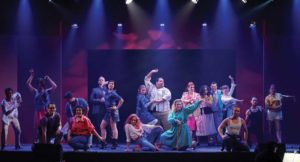 Theater Troupe
Critic's choice: Artes de la Rosa
Oh, how we'll miss Adam Adolfo. The artistic director moved heaven and earth to turn this ensemble into a serious player in the city's theater scene and the North Side into a destination for drama lovers. Stellar productions of Welcome to Arroyo's and Women on the Verge of a Nervous Breakdown highlighted this past season. Whoever takes Adolfo's place will have a challenge on his or her hands.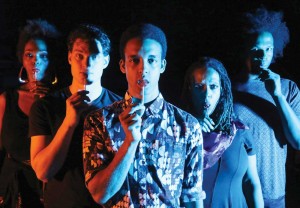 Male Actor Performance
Critic's choice: Aaron Green, bootycandy
Amid the profane and fragmented whirl of Stage West's coming-of-age sketch show, Green occupied the center of the action and did sterling work portraying his character's evolution from naive youth to self-assured man navigating the treacherous waters of being African-American and homosexual. Doing that while reacting to the outrageous character types around him helped anchor this wildly funny show in place.
Female Actor Performance
Critic's choice: Lisa Fairchild, Lauren Ferebee, and Liz J. Millea, The Taming
We couldn't choose among the three cast members of Circle Theatre's brash, timely political satire about one ultraconservative Congressional aide, one ultraliberal blogger, and one beauty queen who tries to broker peace between them. As the three attempted to rebuild America's government from the ground up, the comic interplay among them made our unfunny politics into a hilarious place.
Production Staged by Local Theater
Critic's choice: Welcome to Arroyo's, Artes de la Rosa
Well, it's hard to top a hip-hop musical that references Edward Said and unearths the Nuyorican roots of rap music. Artes de la Rosa gave an explosive account of Kristoffer Diaz' play last May that featured committed performances, energetic dancing, and a smooth unpacking of what is a knotty show. It all added up to an unforgettable experience.
Place to Take Your Kids
Readers' choice: Texas Star Dinner Theater
Critic's choice: Montgomery Street Antique Mall, 2601 Montgomery St, 817-735-9685
Assuming your child isn't a complete hell-raiser, you can squeeze in a lot of entertaining and educational exercise by ambling around the enormous Montgomery Street Antique Mall. There's just so much to look at and feel up, though make sure you hit the high points: That awesome functional saddle is a possible point of departure into some Fort Worth history, that massive antique cash register is an opportunity to explain the concept of money to little Tanner or Abigail ("earn it, don't blow it"), and a copy of Phil Collins' Face Value is a great chance to expound upon rock's greatest singing-drumming double-threat. (Sorry, Don Henley.) Conveniently, the mall is only a short drive to the Cultural District, where you can really do some 'splainin'. "Connor, I don't understand what you don't understand about the socio-aesthetic dynamics being engaged by Bacon's visual language in the context of post-postmodernism!"
Classical Music Performance
Critic's choice: JFK, Fort Worth Opera
The nation's classical music critics were divided on the merits of Fort Worth Opera's world premiere, but nobody could doubt its audacity. David Little and Royce Vavrek's rendition of John F. Kennedy's last night alive in a Fort Worth hotel room could have taken a dutiful and patriotic look at the president and his first lady, but instead it swung into surreal interludes, dream sequences, and wild humor. It wasn't to everyone's taste, but it affirmed the troupe's willingness to take risks with new material.
Day Trip
Critic's choice: Glen Rose
A sentimental favorite, the picturesque town of Glen Rose is only an hour's drive from downtown Fort Worth, and it has enough attractions to wear out the entire family. Dinosaur Valley State Park is a rite of passage for area children, and the safari-style Fossil Rim Wildlife Center lets you get up close (and awfully personal) with more than 50 species of exotic animals. Grown folks might enjoy the 36 holes of the acclaimed Squaw Valley Golf Club or one of the several local wineries. Or maybe you'd rather spend your day at the Creation Evidence Museum before catching an evening performance of The Promise, a musical experience of the life of … well, whatever. We aren't trying to tell you how to spend your time in Glen Rose. We just recommend you give it a try.
Green Space
Critic's choice: Fort Worth Nature Center & Refuge, 9601 Fossil Ridge Rd, 817-392-7410
Fewer than 30 minutes from Sundance Square are the 3,600 acres of award-winning wildlife sanctuary and nature preserve that make up the Fort Worth Nature Center & Refuge. Dedicated to protecting the native flora and fauna of North Texas, the center has 20 miles of hiking trails in addition to educational events and, of course, a bison herd.
Outdoor Fitness Area/Running Trail
Critic's choice: Art Cowsen Trailhead, 6400 Pecan Valley Dr
Named in honor of the late Art Cowsen Sr., granddaddy of the Fort Worth bicycling scene, this trailhead furnishes cyclists, runners, and walkers with plenty of parking, clean water fountains, and an upgraded, well-maintained port-a-potty. Beyond the favorable facilities, though, exercisers congregate at Art's oasis for ease of access to other paths along the Trinity Trails. Beginning in Pecan Valley Park, the northeast trails meander along the river, coming across bridges, winding through fields and forests, and loping past a small waterfall before connecting with the River Park Trailhead a few miles down the road. Head west on rolling hills to see Dutch Branch Park and Benbrook Stables and end in Holiday Park for an expansive view of Benbrook Lake.
Golf Course
Readers' choice: Colonial Country Club, 3735 Country Club Cir, 817-927-4201
Critic's choice: Rockwood Golf Course, 1851 Jacksboro Hwy, 817-624-1771
Rockwood opened at its highly visible location just off Jacksboro Highway in 1938 and pretty much stayed the same for the next 75 years. But late last year, city officials closed the municipal course and embarked on a yearlong $5 million renovation and redesign. New grass, tee boxes, greens, and cart paths are expected to make this vaunted old course more popular among locals –– particularly the new 625-yard Hole 4.
Dance Production
Critic's choice: Cinderella, Texas Ballet Theater
TBT artistic director Ben Stevenson first choreographed Prokofiev's engaging score of the children's classic in 1970 for the Washington National Ballet. It has since become a favorite among major dance companies around the world, capturing the drama and joy of a young girl's journey from rags to riches with brilliant dances for the whole cast.
Solo Female Dance Performance
Critic's choice: Leticia Oliveira, Cinderella, Texas Ballet Theater
The Brazilian ballerina continued her dominance as Texas Ballet Theater's leading bravura dancer with a captivating portrayal of the title character, as well as sparkling solos in shorter repertory pieces throughout the season.
Solo Male Dance Performance
Critic's choice: Andre Silva, Cinderella, Texas Ballet Theater
After returning to TBT this season following a several-year absence, Silva lost no time regaining his position as one the company's most impressive dancers. An admirable Prince in Cinderella, his remarkable leaps, splits, and turns were also a knockout in shorter repertory works.
Show at Bass Hall of Last 12 Months
Critic's choice: JFK, Fort Worth Opera
What really happened the night the president and his first lady stayed in Fort Worth at the Hotel Texas before their fateful trip to Dallas? It's anybody's guess. The Kennedys' rooms were furnished with privately owned art from local politicians and the Fort's community mavens, but if JFK composer David T. Little, librettist Royce Vavrek, and the Fort Worth Opera are to be believed, the two never noticed the art. Instead, Kennedy embarked on a morphine-fueled hallucinogenic nightmare of a trip featuring appearances by Morpheus, the god of dreams; Kennedy's developmentally delayed sister, Rose; Vice-President Lyndon B. Johnson and his crew of Texas cronies; and others. All that's left to us are snippets of Kennedy's speeches (including his breakfast stop in front of the convention and visitors' bureau, dramatized here with The Texas Boys Choir singing). Co-commissioned also by Opéra de Montréal and American Lyric Theatre, JFK kicked off FWO's 70th season. Brilliantly.
Book by a Texas Author Published in Last 12 Months
Critic's choice: The Midnight Assassin: Panic, Scandal, and the Hunt for America's First Serial Killer by Skip Hollandsworth
In 1884-85 the population of Austin was a mere 17,000 plus one iron bar-, knife-, and axe-wielding serial killer of women. Texas Monthly columnist Skip Hollandsworth's first book, The Midnight Assassin: Panic, Scandal, and the Hunt for America's First Serial Killer, unearths this still-unsolved mystery that gripped our fledgling state capital in terror and divided its residents along race, class, and gender lines. Fans of true-crime will devour this tale of law enforcement searching for a killer who was groundbreaking in both motive and deviousness. As with today's Austin, politicians dueled while the citizens devolved into panic and hysteria. Hollandsworth successfully combines meticulous research with a thrilling narrative, covering a sliver of Texas' horrifying history almost buried by time.
Locally Made/Shot Film
Critic's choice: Parthenon
Frank Mosley's experimental short about empathy run amok isn't for all tastes, but it is to ours. The Arlington filmmaker created the film in 2015 using money earned as the first recipient of the Oak Cliff Film Festival Filmmakers Grant. Mosley moved to Austin recently, but we still love him and his unique take on Greek tragedy in a modern and perhaps supernatural world.
Urban Digs
Critic's choice: The Supreme Golf Warehouse, 201 S Calhoun St, 817-887-9313
Longtime real estate developer Eddie Vanston has been creating apartment units on the Near Southside for years, but few are cooler than his "lofts above a saloon" concept at a 103-year old building that was renovated several years ago. The apartments tend to attract musicians, who enjoy the central city location, quick access to the adjacent Shipping and Receiving Bar, open floor plans, old fixtures, concrete floors, and exposed brick walls. Live bands are featured inside the bar and at the beer garden, while various cultural shows are held regularly in the building's event spaces. And now the building boasts Niles City Studio, a retro recording enterprise built on the spot where Leon Bridges recorded his star-making debut album, Coming Home, in 2015.
Example of New Architecture
Critic's choice: Hunter Plaza, 600 W 1st St
It's not new, but it's the next best thing. Hunter Plaza (formerly the Fortune Arms Hotel) fell into disrepair over the decades after being built in 1954, resulting in a case of the bedbugs in 2010 that forced the 11-story building to close and the 200 elderly or disabled folks who called Hunter home to evacuate. Now, $29 million and zero critters later, Hunter is once again open, offering a mix of public housing and regular rental units, plus 10,000 square feet in ground-level space for retail or commercial use.
Rebirth/Relocation/Re-opening
Critic's choice: Melt Ice Creams, 1201 W Magnolia Av, 817-886-8365
For all of the (deserved) ballyhoo and acclaim showered on Heim Barbecue & Catering's relocation to Magnolia, Melt's own move to the Fort's hippest restaurant row has received little notice. There's finally an ice cream shop on the Near Southside's main hub. This is a big deal, people! Owner Kari Crowe-Seher's scratch kitchen is guided by socially responsible principles. The ice cream is delicious and fresh, and it's perfect on a hot summer day.
Arcade/Bowling Alley
Critic's choice: Brunswick Zone Westcreek Bowl, 3025 Altamesa Blvd, 817-294-0501
With 40 perfect lanes, an onsite pro shop, an arcade to keep the kids busy, decent food at affordable prices, good drinks, and ice cold beer, what else do you want in a bowling alley? Oh, yeah. Good balls, great shoes, and, again, those lanes. Open 'til 11 most nights and 1am on Saturdays, Brunswick Zone offers games that will run you either $3.99 or $5.29 per person, depending on the time of day, with a $2.50 special from 6pm 'til close Sundays.
Festival
Readers' choice: Main Street Arts Festival
Critic's choice: ArtsGoggle
The Near Southside's 13th annual celebration of all things artsy once again lined West Magnolia Avenue with live music, food, and, most importantly, booths filled with every kind of art imaginable. Local bars, restaurants, and retail establishments transformed into art galleries, bands performed on pop-up stages all along the street, and thousands of locals flocked to soak it all in. This year's ArtsGoggle is Sat, Oct 8, and could be the biggest party yet.