Cheap Buzz
Critic's Top 5: Planning your weekday evenings around drinks specials? No? Well, you should be. Start with $2 domestic drafts at Boomerjacks (2600 W 7th St, 817-810-2666) on Monday. On Tuesday, head to Arlington for happy hour at Caves Lounge (900 W Division St, 817-460-5510) for $1.75 PBRs, Lone Stars, and well drinks 3-7pm. Live Oak Music Hall (1311 Lipscomb St, 817-926-0968) pairs a free concert with select drafts for 50 cents on Wednesdays, and on Thursdays, the Sunshine Bar (902 W Division St, 817-277-6252) in Arlington has dollar PBRs, $2 wells, and free pool. Finish out your weekday bargain buzz quest on Friday evening at Blue Sushi (3131 W 7th St, 817-332-2583), where Sapporo sake bombs are only $3.50.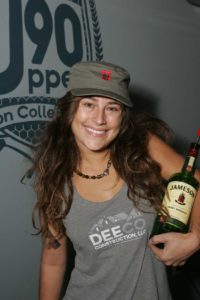 Overall Drinking Establishment
Critic's choice: Lola's Saloon, 2736 W 6th St, 817-877-0666; Lola's Trailer Park, 2737 W 5th St, 817-759-9100
The best indie-rock spot in town has a little something for everyone even when the stage is empty. You can cop a hang inside version 1.0 and enjoy the dark, smoky dive feel or head outside to enjoy the spacious, nonsmoking Trailer Park –– an outdoor beer garden and music venue –– and play some cornhole while snacking on grub from one of the food trucks stationed there. The staff is friendly (mostly), the drinks are cheap (often enough), and the vibe is relaxed and fun.
Bartender
Readers' choice: Corey Mobley, Whiskey Garden, 2800 Bledsoe St, ste 150, 682-312-77080
Critic's choice: Alex Dickens, Upper 90 on College, 961 W Magnolia Av, 817-882-6614
There are bartenders and then there are cult leaders. Dickens has a rowdy following that makes The Beyhive look like a book club for bored grandparents. Sit at Dickens' bar over the course of one of U90's insanely cheap happy hours, and you too will succumb to her sincere, goofy, quick-witted charm. She's a pro's pro who radiates charisma.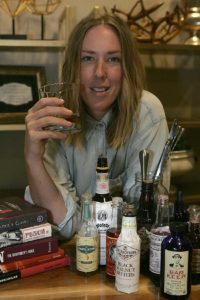 Mixologist
Readers' choice: Evan Williams, The Usual, 1408 W Magnolia Av, 817-810-0114
Critic's choice: Pam Moncrief, Spirits by Sedona/Cendera Center
Currently the Spirit Director at Westside event space Cendera Center, Pam Moncrief has over a decade in the service industry, having trained in the art of mixology under The Usual's Brad Hensarling and Brooklyn-based Cuffs and Buttons' Chad Thompson and Christy Pope. Of course she can make you a really great Old Fashioned, but she can also whip up something new and inventive (or an entire cocktail menu) for your party. If you want a classic drink made to perfection or need to knock the socks off your events' cocktail-savvy guests, she's the gal to go to.
Happy Hour
Readers' choice: Kona Grill, 3028 Crockett St, 817-210-4216
Critic's choice: Lola's Trailer Park, 2737 W 5th St, 817-759-9100
While it seems most of the West 7th corridor has been reliving their sloppy college days, Lola's Saloon opened Lola's Trailer Park to cater to less wild and crazy crowds. The new space is perfect for post-work decompression, especially if you're with a small party or want some alone time, because it's never wheels-off or ever really crowded. There is indoor seating when the summer swelter or winter weather comes to town, but you also can grab a spot on the pup-friendly patio by the outdoor stage. During happy hour, $3 earns you a domestic or well-drink and $6 a "lavish pour" of vino. Lavish, to Lola's, is 8 ounces, which will wipe out whatever your boss did to make libations a life requirement.
Cocktail Lounge
Readers' choice: The Usual, 1408 W Magnolia Av, 817-810-0114
Critic's choice: Thompson's, 900 Houston St, 817-882-8003
It's hard to top Thompson's. The former bookstore-turned-luxuriant speakeasy not only has an expansive "library" of literature-themed house-designed cocktails crafted with house-made infusions, a cozy, elegant atmosphere of leather armchairs and walls of books, and a staff of top-notch mixologists, but the stairwell to Thompson's underground bar is hidden behind a secret door disguised as a bookshelf. Pushing through that thing with one hand while brandishing a Killing Pablo (Tequila Cabeza, maraschino liqueur, fresh lime juice, house-made jalapeño simple syrup) with the other never gets old.
Pub
Readers' choice: The Abbey Pub, 2710 W 7th St, 817-810-9930
Critic's choice: The Abbey Pub
Think the bars in the West 7th corridor are nothing but glitzy holding pens for drunk bros? Cross the street to the Abbey and toss your assumptions in the trash. Popular among the service industry crowd, this Irish-y joint holds lots of people, but most of them are there to chill and maybe throw some darts or shoot some pool. It's simply hard not to feel welcome in a pub with such a cozy, friendly, low-key kind of vibe.
Craft Cocktail
Readers' choice:  Thompson's, 900 Houston St, 817-882-8003
Critic's choice: Thompson's
This downtown watering hole's menu features both the classics and inventive new creations like the Strawberry Fields Forever (based on bourbon with a squeeze of lime) and the unusual chocolate-orangey Bittersweet Life. With cases full of old books that double as covers for the bill, this place does not scream hipness, but it has some creative minds behind the bar.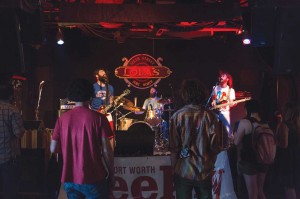 Bar-Bar
Readers' choice: The Boiled Owl Tavern, 909 W Magnolia Av, 817-920-9616
Critic's choice: The Boiled Owl Tavern
What are you looking for in a bar? Cold beer? Stiff Drinks? A place to unwind after a long day at work? A location to catch the game on a Sunday afternoon? A venue for wild-ass indie-rock or crazy electronica on a Saturday night? A spot where you can sit alone at the bar, rip though half a pack of cigs, and stare at your phone? The Owl's got you covered. There's also an old-fashioned jukebox loaded with indie-rock goodness and bartenders who will remember your name and your go-to drink.
Gay or Lesbian Bar
Readers' choice: Rainbow Lounge, 651 S Jennings Av, 817-744-7723Critic's choice: Rainbow Lounge
History buffs know the Rainbow Lounge as "Fort Worth's Stonewall" due to the infamous police raid on the establishment back in 2009. These days you can bask in improved community relations as you sample a variety of in-house entertainment, from drag shows on weekends to Tuesday night strip contests hosted by the incomparable Kiana Lee. Or enjoy a quiet cocktail on the patio while scoping out some of our town's best scenery. Whatever you're looking for, Rainbow Lounge will probably have something — or someone — that hits the spot. Or comes close enough.
Brewery
Readers' choice: Rahr & Sons Brewing Company, 701 Galveston Av, 817-810-9226
Critic's choice: Martin House Brewing Company, 220 S Sylvania Av, 817-222-0177
"Martin House makes sissy beers," said no one ever. If bold, adventurous brews are your thing, then this brewery has what you're looking for. Take the Salty Lady. Adding salt to a beer might sound like commercial suicide, but the sour ale tastes great and has become explosively popular here and across the region. How about a smoked, oaked, black rye IPA with raspberries? That would be Martin House's Kafkaesque. Head brewer Cody Martin doesn't do predicable.
Distillery
Readers' choice: Acre Distillery, 1309 Calhoun St, 817-632-7722
Critic's choice: Acre Distillery
Located in that part of downtown long-ago known as Hell's Half Acre, Acre Distillery is steeped in history. Even owner Tony Formby and head distiller JB Flowers have colorful backgrounds. Formby is a former investor in Rahr & Sons Brewing Company, where Flowers was once head brewer. The duo is putting its experience to work in the craft spirits world with cocktail blends made in-house along with small-batch vodka, gin, bourbon, and whiskey. Acre also offers full barista service, light food, and pastries made by a staff baker. With the small batch liquor craze steadily catching on in Fort Worth, Flowers and Formby should be in high spirits.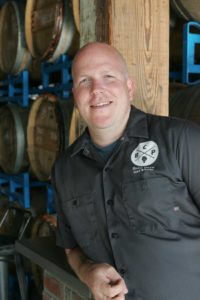 Brewmaster
Readers' choice: Cody Martin, Rahr & Sons Brewing Company, 701 Galveston Av, 817-810-9266
Critic's choice: Ryan Deyo, The Collective Brewing Project, 112 St Louis Av, 817-708-2914
"Sour Ale" isn't a category in this year's Best Ofs, but if it were, Collective Brewing's Golden Petite would sweep the votes, thanks to its funky, tart, clean profile. The wild ale's recipe is the brainchild of head brewer Ryan Deyo, whose roster of brews also features creative uses of green tea, brett yeast, and even ramen noodles. And he hasn't stopped there. Urban Funkhouse, Mustache Rye'd, and a seemingly never-ending line of firkins, bottle-conditioned beers, and barrel-aged releases have made this brewpub's beers the funkiest in town.
Wine Bar
Critic's choice: 44Bootlegger, 1411 W Magnolia Av, Ste 101, 817-887-9089
With 44 wines and 44 beers to choose from on any given day, this rustic Near Southside hangout is just what your life needs to go from humdrum to happy. Co-owners Tammy and Tommy Brown have recently extended the bar's happy hour to 3-6pm Tue-Fri, which includes a great merlot, all for just $4 a glass. Of course there are other wine bars close by that are just fine, but 44Bootlegger doesn't have the crowds, making it a grape escape with excellent service and fast WiFi. There's no kitchen yet (that's coming next year), but guests can order delivery from nearby Nonna Tata.
Sports Bar
Readers' choice: Reservoir, 1001 Foch St, 817-334-0560
Critic's choice: Buffalo Bros, 3015 S University Dr, 817-386-9601
Buffalo Bros might not be one of those gigantic caverns of giant-screen TVs and armies of short-shorted servers, but it packs its comparatively smaller square footage with good times (and, yes, also TVs). When football season is in full swing, don't sleep on getting a seat here — especially when TCU has a home game — because it fills up fast. When you throw in sports-tastic grub like pizza, hoagies, and (wait for it) buffalo wings, plus great happy hour specials and a good selection of draft beers, Buffalo Bros should be your go-to spot for hanging out and cheering on.
Casual Hotel Bar
Critic's choice: Booger Red's Saloon, 105 E Exchange Av, 817-624-1246
Part of the fun of visiting hotel bars in your hometown is both anonymity and being able to play tourist. Hotel social hour options are usually quiet, with traditional décor and drink selections. Booger Red's Saloon at the Stockyards Hotel is the antithesis of that standard. It's fairly loud and may get a touch rowdy on the weekends. Half the stools are horse saddles, all perched under the massive butt of a taxidermied buffalo. Even Booger Red's signature cocktail, the Anita-Rita, is a potent concoction that gets dropped out of a galvanized still into an 18-ounce schooner and involves serrano peppers and secret spices. Go for the Western ambiance, sustain yourself with an order of the 9 Miles of Dirt Road (layered bean dip), and trade some tall tales with Cowtown visitors. And real Cowtowners.
Fancy Hotel Bar
Critic's choice: Whiskey & Rye, Omni Fort Worth Hotel, 1300 Houston St, 817-350-4068
Anything can happen at a hotel bar with 140 different whiskeys and 746 drink possibilities. And you never know who's going to walk in the door, making this bar prime real estate for watching people and sports. There are billiard tables and, hanging against exposed brick and wood paneling, 10 flat-screen televisions. It's classy for a sports bar, with green granite tabletops and a long marble bar. Guests can order food from an expansive menu to boot. But we'd skip that and hit the $5 weekly whiskey special. "Always take it neat," a bartender recently told us, "so you can taste the flavor. The flavor comes first."
Gentleman's Club
Readers' choice: Rick's Cabaret, 7101 Calmont Av, 817-732-0000
Critic's choice: Bucks Cabaret, 2345 Meacham Blvd, 817-740-0026
Bucks is the answer to the $64,000 question "Where can I ogle good-looking, nearly naked, talented young women, drink cheap beer, eat cheap but tasty food, and not pay a cover that will leave a massive dent in my wallet?" Of course you can toss all of that out the window — except for the good-looking ladies part — if you talk yourself into the VIP treatment and/or bottle service. But you knew that going in, right? And you were gonna leave after just three beers. But, boy, this beer is tasting so good, and the babes at Bucks are so friendly, one more beer isn't gonna hurt anyone. Let's see. Where did my credit card go?
Put simply: Bucks may also be the answer to the question "Is there a lotus land in Fort Worth?"
Margarita
Readers' choice: Joe T. Garcia's Mexican Restaurant, 2201 N Commerce St, 817-626-4356
Critic's choice: El Gabacho Tex-Mex Grill, 2408 W Abram St, Arl, 817-276-8160
Blame global warming. When it's 106 degrees in the shade, a good margarita can make or break an evening. El Gabacho has two new ones for your imbibing pleasure: A skinny, top-shelf spicy-cucumber and a mango join the already good original frozen and sangria swirl. And if you make it to the restaurant before 7pm on weekdays, your original or swirl is only $5.
Martini
Critic's choice: MK's Sushi, 2901 Fair Dr, 817-306-0003; 2400 Airport Fwy, Bedford, 817-545-4149
The great thing about the Asian restaurants is that you can get martinis made out of sake or soju as well as the traditional gin or vodka. The old ring-a-ding martini crowd might cavil at the fruit- and coconut-laced specialty martinis at this sushi place, but at $5 happy hour prices, we're loath to complain.
Bar Décor
Critic's choice: 44Bootlegger, 1411 W Magnolia Av, 817-887-9089
Tucked away in a nondescript strip mall, this chic, quaint wine and craft beer bar is as cozy as it is cool. Antique doors line the walls, an inviting bar welcomes guests, and the lounge is furnished by striking furniture made of reclaimed wood. This unpretentious gem works for when you want a little something nicer for your after-work hang or a dressed-up date night.
Bar Games
Critic's choice: Varsity Tavern, 1005 Norwood St, 817-882-6699
Varsity Tavern has an upstairs game room with some vintage arcade classics, and the patio has giant Jenga, itself a staple of most places that have patios. But what sets Varsity apart from other bars is the giant beer pong. Whether you're watching someone toss four-square balls across the patio into Solo-cup red, 50-gallon trashcans, or making tosses yourself, it's a hilarious test of drunken skill.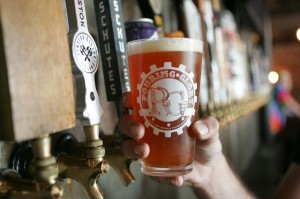 Beer Selection
Critic's choice: Pouring Glory Growler Fill Station & Grill, 1001 Bryan Av, 682-707-5441
Sure, lots of Fort Worth bars and restaurants now serve hundreds of beers, but when taking into account ambiance, customer service, food, and, sure, a certain je ne sais quoi, Pouring Glory is the tops, doing a lot more than simply cramming piles of cans into fridges. First, there are the choice brews on tap — 54 to be exact. (Many locally produced suds make their public debuts in this Near Southside growler fill station and restaurant.) Then there's the creative food menu that features beer-infused items from Panther Island Brewing Company, Wild Acre Brewing Company, and The Collective Brewing Project. Add cold-brew coffee from Avoca and kombucha, and you have a fabulous overall drink selection.
Rooftop Patio
Critic's choice: Bird Café, 155 E 4th St, 817-332-2473
Bird Café is known for a lot of things in the culinary department already: great food, craft cocktails, and an astounding wine list. Even the downstairs patio has been well-documented. But fewer people talk about the patio upstairs — probably because they're not fond of sharing. Gather up your bar goodies and small plates and head on up to the exclusive-feeling veranda to enjoy the spectacular view of Sundance Square in a comfy setting of cushioned couches situated around a large fire pit. You'll want to take plenty of selfies with the square's inverted umbrellas, clock tower, and Chisholm Trail mural in the background. Whether you come here for a drink after a Bass Hall show or just to watch the sunset over downtown after a long Monday, you'll find this a splendid place to perch.
Bouncer
Critic's choice: Andy Pickett, The Chat Room Pub, 1263 W Magnolia Av, 817-922-8319
The gentle giant is equal parts ambassador and bouncer for the Near Southside's touchstone dive bar. You're just as likely to find this previous best bouncer winner engaged in a match of chess as you are gently escorting some belligerent frat boy to Uberville. The fact that he's an outstanding pianistic singer-songwriter also gives him major street cred. And a little star power.
Biker Bar
Critic's choice: Last Call, 3109 Alta Mere Dr, 817-735-8006
Last Call caters to true bikers, not weekend warriors. Club patches hold more credibility than any Harley or Honda trademark. The interior takes on a dive bar look and feel, with dartboards and pool tables. Old Southern rockers light up the small stage, except on the occasional Wednesday when the bar's Pick'n and Sing'n events take the jam session outside around a fire pit.
Bar Bathroom
Critic's choice: Lola's Trailer Park, 2737 W 5th St, 817-759-9100
Lola's Trailer Park keeps one heck of a clean commode. Consider for a second how many sweaty music fans spill in and out of Lola's Saloon to use the Trailer Park's bathroom, and yet the restroom shines like a fortress of cleanliness. The magic of good management makes every sink spigot and knob sparkle. The lavatory floor is clearly looked after and is relatively free of mildew and other microbial unknowns. Foot flushers, keep your dogs on the ground. There's no need to lift a leg in this latrine.
Country Music Bar
Critic's choice: Stagecoach Ballroom, 2516 E Belknap St, 817-831-2261
Our hearts were broken when the large, outdoor neon sign depicting a Western couple dancing was removed from the building several years ago, apparently a victim of vandalism. That sign was a favorite East Fort Worth landmark. But one missing neon sign doesn't change the fact that Stagecoach has remained one of the city's most authentic country bars for half a century, with a massive dance floor, lots of retro mojo, and a rotating cast of classic country artists, ranging from national stars such as Johnny Rodriguez and Gene Watson to local honkytonk heroes like Tommy Hooker.
Open-Mic Night (Music)
Critic's choice: Lola's Saloon, 2736 W 6th St, 817-877-0666
Hosted by Fort Worth singer-songwriter Luke McGlathery, Monday nights at Lola's Saloon have become a destination for young musicians looking for their first taste of playing a real music venue and established veterans ready to test out new material. McGlathery has been running open-mic nights around town for years, and it is not uncommon for the scene at Lola's on Monday nights to go from a relative unknown covering Zeppelin to a full-on jam session with the likes of Leon Bridges, Vincent Neil Emerson, or Joe Savage in no time at all.
Karaoke
Readers' choice: The Boiled Owl Tavern, 909 W Magnolia Av, 817-920-9616
Critic's choice: Sam's Saloon, 2456 N Houston St, 817-378-8956
Sam's may make you think you're anywhere but the year 2016. A cigar-store Indian greets customers at the door, and you won't hear any hip-hop (because they don't have any Biggie — we checked). But looking to BYOB and chill while belting out the hits (nothing but the hits) among some bona fide Texans? Sam's is the spot. We've been more than a few times with some arty-farty, learned folks, and we weren't weirded out at all. And we sang our faces off.
Concert of the Last 12 Months
Readers' choice: Leon Bridges at Shipping and Receiving
Critic's choice: Leon Russell at The Live Oak Music Hall
Sure, the 73-year-old legend tours on a nearly nonstop basis, but for the writer of such classics as "Tightrope" and "A Song for You" to route his tour through Fort Worth for a stop at The Live Oak signaled a change in the level of act that would be willing to visit the four-year-old venue. A truly special night that is still being talked about among those lucky enough to attend, the 60-year veteran of the music business spent time between songs telling stories about everything from meeting Elvis to performing with George Harrison. And the sound was on point.
Club DJ
Critic's choice: DJ R. Kelley
Before spinning tracks, this surgical tech by day was a mere spectator at various clubs. Over time, he started to feel that most DJs were dull and couldn't work the crowd. Inspired, he taught himself how to work the table. Within six months, he was in the scene. The Durty Crow, The Whiskey Garden, and Dallas' Trophy Room are just a few spots where you can find him turning parties out via his unique blends of '80s pop-heavy material.
BYOB
Critic's choice: Nonna Tata, 1400 W Magnolia Av, 817-332-0250
In the absence of another DIY party zone/concert venue (*sniff* R.I.P. The Where House), the best BYOB spots tend to be mom 'n' pop restaurants where you can bring in a bottle of vino or some beers to go with your dinner. Not only is Nonna Tata's vibe convivial and charming, its Northern Italian menu is basically a local legend. What beer or wine goes good with tiramisu? Bring it with you after you find out.
Party Patio
Readers' choice:  Varsity Tavern, 1005 Norwood St, 817-882-6699
Critic's choice: Varsity Tavern
Nestled in an already bustling West 7th corridor, Varsity knows how to throw one helluva party. Giant Jenga and oversized beer pong might leave you feeling like Alice in Wonderland — if Alice crashed a frat party. Add never-ending drink specials and theme nights ('80s party, anyone?), and you have the makings of Fort Worth's wildest outdoor throwdown.
Seat for People-Watching
Critic's choice: Globe Life Park, 1000 Ballpark Way, Arl, 817-273-5222
Nine innings would seem like nine years if not for all the interesting people in the stands during lulls in Rangers games. The fans come in all shapes and sizes, wear silly hats, dribble nacho cheese down the fronts of their $100 replica jerseys, scream at players, and fall out of their seats while trying to nab foul balls and earn facetime on the fan cam, all while watching young men being paid millions of dollars hit a ball with a stick.
Place to:
Get Sidetracked
Critic's choice: Ozzie Rabbit Lodge, 6463 E Lancaster Av, 817-446-9010
Like a Land of Oz circa 1962, Ozzie's has always been enshrined in John F. Kennedy memorabilia and the conspiracy stories connected to Lee Harvey Oswald. Head a mile east down Lancaster Avenue, and you can find Oswald's grave in Rose Hill Park. Step into Ozzie's, and you can read about the incident on the walls, see the Ozzie Rabbit mural housed within this unpretentious dive bar, and ask the bartenders about the story behind the name Ozzie Rabbit. Ozzie's has been a living trivia game for far longer than most other bars have been hosting trivia nights.
Have a Conversation
Critic's choice: Thompson's, 900 Houston St, 817-882-8003
Whether it's solidifying the take-over of a small foreign principality, plotting like Russia faced with a Napoleonic enemy, or sliding words borrowed from Baudelaire into your beloved's ear, Thompson's is the perfect place for intense conversation. The outer bar area has rich leather, velvet, and brocade-covered couches and chairs that guide you into close quarters. The dimly lit space naturally encourages more hushed tones, so utterances of love or war may come forth unobserved by other patrons. Perhaps most essential, Thompson's perfectly executed libations provide liquid courage to end an affair or passionately discuss themes of jealousy and obsession in Graham Greene's The End of the Affair. Poorly kept secrets, like the password for the speakeasy downstairs, are part of the ambiance at this haunt of erudite Fort Worthians. And the rest of you.
Meet Someone of the Opposite Sex
Critic's choice: Just drop a lure on any PokéStop in town
Pokémon Go has been a phenomenon since its release in early July, and the location-based augmented reality game has grown into way more than just a bunch of people walking around staring at their phones. Bars around town are filled with patrons discussing their latest catches, and PokéStop crawls have given groups of strangers reason to get out of the house and learn more about the city. The Cultural District, the Near Southside, and the Sundance Square-to-Burnett-Plaza-to-JFK-statue triangle downtown are just three examples of great places to test out lines like "I saw a Squirtle over there, buy you a drink?" or "I've heard Jigglypuff is spawning at the Modern later, wanna head over and walk the gallery for a bit beforehand?"
Meet Someone of the Same Sex
Critic's choice: Trinity Trails
Tired of standing around in bars, posing and looking bored? Get your glutes out on the Trinity Trails, where more than 40 miles of excellent cycling paths connect 21 area parks along the (mostly) scenic Trinity River. In bar lighting, just about anyone can look good with the right wardrobe and enough foundation, but sunlight and spandex keep everyone a little more honest. Besides, a shared healthy hobby is a much more auspicious start to any type of relationship than via beer goggles and desperation. After all, the couple that plays together stays together.
Break Up
Critic's choice: Varsity Tavern, 1005 Norwood St, 817-882-6699
If your soon-to-be ex happens to be emotionally explosive, evacuate that relationship at the safest end-it-all location. In this sports bar, everything's an opportunity to metaphorize about underdogs, overcoming adversity, and new beginnings. For starters, the dozens of televisions flashing games, goals, and talking-head sports predictions can be incredibly motivating –– or distracting, which also benefits you. Varsity is loud, so wailing, whining, and catastrophizing can't win many sympathy points. The specials on Bacardi buckets and beeritas bandage pain and suffering until former beloveds are ready to call it a "building year." For a colder, harsher effect, break the bad news on the bleachers, and be sure to reference "the game of life" as one in which we all must lose in love.
Take a First Date to Impress
Readers' choice: Del Frisco's Double Eagle Steak House, 812 Main St, 817-877-3999
Critic's choice: La Perla, 910 Houston St, 817-882-8108
After the beloved Zambrano's Wine Bar sort of imploded a couple of years ago, your choices for where to really impress a first date dwindled. Never fear. Out of Zambrano's ashes rose La Perla Negra, a sophisticated, sexy, beautiful spot to grab a cocktail and some hors d'oeuvres or a nightcap if things are going well. The tequila menu features loving descriptions of the flavors of the reposado, añejo, and mescal –– almost like a wine menu. The wine menu itself is small but well-curated and covers all bases. There are glorious grown-up drinks, including a Caipirinha, a pisco sour, and La Perla (tequila, sherry, pear, and lemon). And if you need a little more cachet, after La Perla closes you can take your date next door to Thompson's, a delicious cocktail lounge that's open until 2am. You will not find any Coors Lights or Coronas, only grownup drinks –– whiskey, gin, rum, a few tequila offerings, and vodka in combos you may not have even heard of.
Take a First Date to Go Crazy
Readers' choice: Whiskey Garden, 2800 Bledsoe St, Ste150, 682-312-7708
Critic's choice: Bull riding at Billy Bob's Texas, 2520 Rodeo Dr, 817-624-7117
OK, so you (probably) won't be riding the bulls, but every Friday and Saturday night at 9 and 10pm, local competitors head to The World's Largest Honky Tonk ® to hang on for dear life and rodeo glory. Getting some drinks at Billy Bob's and watching riders test their mettle at one of the rowdiest and most dangerous sports in existence is arguably wild, and it could be a fun prelude to stepping out for more of the Stockyards' weekend craziness.
Drink with Real Fort Worthians
Readers' choice: The Chat Room Pub, 1263 W Magnolia Av, 817-922-8319
Critic's choice: The Usual, 1408 W Magnolia Av, 817-810-0114
Decades ago, a "real" Fort Worthian probably worked in meat packing or oil and gas. Today, with our world-class museums and vibrant underground arts scene, coupled with the strong, perhaps overly persistent presence of our past, he or she probably hangs out at "the yoozh." Though not "cheap" by any means, this elegant Near Southside spot has enough cool, blue-collar cachet to be equally welcoming to arty types and fancy folk. What are "real" Fort Worthians drinking? Along with select craft brews and perhaps the occasional Old Fashioned, these multifaceted people are most likely enjoying a Dark Passenger (a Cynar snooter served with a cold can of Imperial Lager), a Don't Ask, Don't Tell (vodka, Akvavit, lime, lavender, ginger beer), or a Maximillian-aire (Reposado tequila, Cynar, agave, grapefruit bitters, Ouzo), all available only at The Usual.
Day Drink
Critic's choice: Lola's Trailer Park, 2737 W 5th St, 817-795-9100
During the soft-opening at Lola's Trailer Park this past rain-soaked spring, chatter was heard all over about how perfect the new bar/music venue tucked behind longtime Fort Worth staple Lola's Saloon was going to be once the weather began to cooperate. A full-service non-smoking bar, with garage doors and bar top windows that open up to to the yard filled with picnic tables and party games, is stocked with draft beer taps, coolers full of craft cans and bottles, and a liquor selection ready for any shot request you may have. Nursing a hangover? Trailer Park has you covered with food trucks ready to soak up last night's bad decisions so you can get on with today's.
Drink Alone
Critic's choice: Del Frisco's Double Eagle Steak House, 812 Main St, 817-877-3999
No disrespect to friends, but sometimes the best drinking partner at the end of a long day is yourself. When imbibing solo, Del Frisco's steakhouse is an ideal selection, especially at the quaint upstairs bar on a weekday evening. Staffers commonly serve travelers and know when to leave a guest to her thoughts, maybe a good book, and always a beautifully executed cocktail. Locals usually patronize Del Frisco's for special occasions with companions, so the pressure of folding into a raucous group is less likely here than at other, casual watering holes downtown. A lovely bonus to taking yourself on a date is not being forced to compromise on your order. Spring for the good stuff.
Have an Eye-Opener
Critic's choice: Upper 90 on College, 961 W Magnolia Av, 817-882-6614
Though no longer opening at 7am, Magnolia's only sports bar still starts slinging drinks early: 10am daily and sometimes even earlier on Saturdays if there's a particularly interesting soccer game on the telly. An ice cold pint from U90 and a breakfast taco or burrito from next-door Tina's Cocina isn't a bad way to kick off a beautiful weekend or day off. With the recent acquisition of the adjacent Laundromat, Upper 90's square footage will jump to 1,600. The remodeling should be done by October, just in time for football, the Fall Classic, and the launch of the NHL's 2016-17 campaign.
Have a Nightcap
Critic's choice: The Chat Room Pub, 1263 W Magnolia Av, 817-922-8319
There are plenty of drinking establishments along Magnolia, but only one is known as the go-to for that last drink of the night. The Chat Room's clock is a little slow, and, armed with this knowledge, wily patrons from other bars know to close out their tabs and flock to the spot that has been dishing out one last beer and a shot to Near Southsiders for the past 15 years.
Nurse a Hangover
Critic's choice: Esperanza's Restaurant & Bakery, 2122 N Main St, 817-626-5770
If a perfect breakfast taco is part of your hangover recovery method, Esperanza's is the place to go. Not only do they have perfected morning fare, but they also make some of the best margaritas in the world. That's right. The worrrllld!
Shoot Pool
Critic's choice: JJ Dakota's, 9112 Camp Bowie West, 817-244-9000
If you're a true aficionado of pool and need absolute quiet and perfect felt, well, this isn't the place. But if you like to grab a few beers and listen to everything from country to Tejano to rock while trying to sink impossible shots on a table surrounded by other tables — in other words, if you like dimly lit, friendly places that may get a little rowdy — then JJ Dakota's is your spot. There are 12 tables at $5.50 an hour. You can play solo, play with friends, or challenge. The tables and cues are well used but serviceable.