Tour of Fort Worth Institutions
Despite the seemingly endless revolving doors on West 7th and the slick come-lately joints headed for the new Waterside development, you can find some of our town's best stories in the restaurants that have been turning out a range of culinary greatness for nearly a century. While this list is not comprehensive, it does include places that have made it to or have come near the 50-year mark –– and are still cookin'.
      Paris Coffee Shop (704 W Magnolia Av, 817-335-2041), the Original Mexican Eats Café (4713 Camp Bowie Blvd, 817-738-6226), and Carshon's Delicatessen (3133 Cleburne Rd, 817-923-1907) began slinging their unique kinds of home-cooking (diner-style, Mexican, and Jewish, respectively) in the roaring '20s, although Paris and Carshon's have both since moved from their original locations.
It seems inconceivable that Joe T. Garcia's Mexican Restaurant (2201 N Commerce St, 817-626-4356) once had seating capacity for only 16, but that's how it was when Joe and wife Jessie set up shop in the 1930s.
Legend has it that calf fries, a.k.a. mountain oysters, were invented at the original Riscky's Steakhouse –– the doors of the restaurant at 120 Exchange Av in the Stockyards (817-624-4800) also opened in the '30s.  Cattlemen's Steakhouse (2458 N Main St, 817-624-3945) arrived to keep Riscky's company in the 1940s. Barbecue moved away from the Stockyards when Angelo George opened his eponymously named restaurant at 2533 White Settlement Rd (817-332-0357) on St. Patrick's Day, 1958.
Ol' South Pancake House (1509 S University Dr, 817-336-0311) has been serving up its regionally famous lemony German pancakes since the 1960s. Later that decade, in 1968, Ed Stebbins, the original owner of Mama's Pizza (multiple locations), opened his first pizzeria, near Texas Wesleyan University. In the 1970s, Stebbins sold his restaurant to the Farkas family, and the restaurant became a local franchise, expanding and contracting until the brand was redeemed by current owner Jordan Scott in the early part of this century. Who says Houston is the only Texas city with culinary pedigree?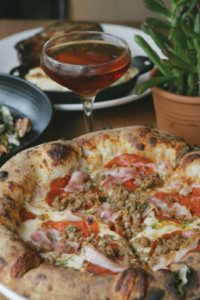 New Restaurant
Readers' choice: Pouring Glory Growler Fill Station & Grill, 1001 Bryan Av, 682-707-5441
Critic's choice: Cork & Pig Tavern, 2869 Crockett St, 817-759-9280
Move over, Jon Bonnell, Tim Love, Grady Spears, and all of the city's other culinary icons. Fort Worth is Chef Felipe Armenta's world –– the rest of us just live in it. We're still smarting from the sudden shuttering of AF&B, but Cork & Pig, which took over the space in West 7th, is more than a mere consolation prize. Armenta's menu of gourmet pizzas, upscale comfort food, and fresh seafood more than fills the void.
Appetizers
Critic's choice: Avanti Fort Worth, 150 Throckmorton St, Ste 140, 817-991-6455
The appetizer list on Avanti's dinner menu is so lush and decadent, it reads like an exhibit in a corruption trial: scallop carpaccio with ginger and sherry, shellfish ceviche in vodka, escargot Chablisian, and Pernod steamed mussels. Appetizers at Avanti have an old-world sophistication that sets them apart from hip culinary trends.
Salad
Critic's choice: Snappy Salads, 6115 Camp Bowie Blvd, 817-616-0616
The Dallas-based chain finally opened a restaurant in Fort Worth this past winter, and salad lovers have been flocking there ever since. Why not, with the buffet specializing in seasonal produce for maximum flavor? You can order menu salads with meat fresh off the grill or customize your own plate to your preferences. The microbrewed sodas and recycled furniture are a nice touch.
Hot Dog
Readers' choice: Bentley's, 1515 W Magnolia Av, 817-715-4533
Critic's choice: Bentley's
As any drunk guy at a backyard barbecue will tell you, you can top a hot dog with anything. But Bentley's isn't just dropping a scoop of salsa or potato salad on a burned frank and proclaiming, "Voila!" Their dogs and brats are of top-notch quality, and every condiment pairing is carefully kitchen-tested for maximum taste-bud impact. The chef is always coming up with something inventive to put on special, but you can't go wrong with the Bent-Mi, a banh mi-inspired creation: an all-beef farm dog topped with pickled onion, pulled pork, cucumber, cilantro, and zig-zags of red curry mayo.
Italian
Readers' choice: Nonna Tata, 1400 W Magnolia Av, 817-332-0250
Critic's choice: Aventino's Italian Restaurant, 5800 Lowell Av, 817-570-7940
Set a block back from Camp Bowie Boulevard on the West Side, Aventino's is the kind of cozy neighborhood gathering spot that would have Billy Joel ordering up another bottle of Chianti. When the kitchen sells out of its slow-cooked chicken cacciatore, try a bubbling order of baked cannelloni or the peppery shrimp al fresco. Whether it's an intimate dinner with old friends or a foolproof first date, this joint has the quiet, relaxed confidence of a restaurant that's doing everything right.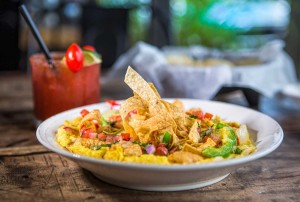 Tex-Mex (upscale)
Readers' choice: Mi Cocina, 509 Main St (with other locations in Tarrant County), 817-877-3600
Critic's choice: Mariposa's Latin Kitchen, 5724 Locke Av, 817-570-9555
Mariposa's Latin Kitchen elevates Tex-Mex favorites into beautifully plated, savory masterpieces that leave an indelible impression on your memory, served in a cheery, buoyant atmosphere. The tamales, tacos, and enchiladas are an upscale comfort foodie's dream, and the brunch menu's frittata is a must-try.
Food Truck
Readers' choice: Salsa Limón
Critic's choice: Gorgonzilla
There's nothing subtle about the grub being served at this rolling kitchen by the self-acclaimed king of the grilled cheese. Gorgonzilla's filling sandwiches could knock a rampaging Ghidorah out of the sky and into a six-hour food coma. Here, classic comfort food is transformed into a gooey weapon of decadence, loaded with your choice of steak, mac 'n' cheese, pulled pork, or one of several other goodies.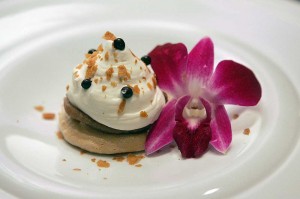 French Restaurant
Critic's choice: Le Cep Restaurant, 3324 W 7th St, 817-900-2468
Chef Sandra Avila's menu is in a class of its own in this town. She challenges her diners' palates with innovative takes on classic French bistro fare. Le Cep is true big-city dining, and, now that the kitchen offers its modern Parisian cuisine a la carte, the price tag shouldn't scare away adventurous foodies.
Vietnamese
Critic's choice: Nha Trang Vietnamese Cuisine, 1508 W Magnolia Av, 817-810-0438
It's an exciting time for Vietnamese food in our part of the world, as the cuisine moves outward from bargain pho shops in the 'burbs to take on a more diversified role in our dining experience. Leading the way is the Near Southside's Nha Trang, a bistro that folds into the traditional such eccentricities as soft shell crabs, sautéed clams with green apples, and homemade macarons. Chargrilled meats and banh mi sandwiches with pâté share the menu with crepes and bowls of rice vermicelli. The com ga, a fried Cornish hen served simply with rice and pickled vegetables, is deceptively elegant.
Chicken-Fried Steak
Readers' choice: Lucile's Stateside Bistro, 4700 Camp Bowie Blvd, 817-738-4761
Critic's choice: Horseshoe Hill Café, 204 W Exchange Av, 817-882-6405
Bigger isn't always better, but the gargantuan breaded cutlets at Horseshoe Hill are packed with enough flavor to keep you savoring every gut-busting bite. One option, the Cowboy Way, showcases Chef Grady Spears' mastery of this classic Texas dish. The football-sized cut of meat is succulent and tender, and the peppery cream gravy and lightly spiced fried coating complement the beef without detracting from it. There's also: The Vaquero (with an enchilada), Farmer's (topped with a fried egg), Matt's (covered with chili and queso), and Frontera (with a chili cheese relleno).
Greasy Spoon
Critic's choice: Jesus BBQ, 810 S Main St, 817-332-0168
The name says barbecue, but grease is the ingredient through which all orders are dressed and prepared with care at Jesus BBQ. The insanely delicious sirloin steaks aim to impress, but the chicken-fried steaks are a thing of legend –– large and lovingly coated in grease and gravy. The Tex-Mex menu boasts big portions of barbacoa, burritos, and tacos. Then there's the fried fish, fried chicken, fried pies, and probably some fried fare you can't even tell is fried. Don't bring your friend who's on a perpetual diet. Do slide in as soon as you can. Don't let the never-ending construction on South Main stop you from experiencing a Jesus BBQ food coma.
Lunch Bargain
Critic's choice: DayBreak Café & Grill, 2720 White Settlement Rd, 817-335-0805
It's an oldie but a goodie –– much of the menu at DayBreak Café still runs under $5. A full Tex-Mex breakfast any time of day costs less than the price of two tacos at any of our fancier Tex-Mex or Mex-Mex joints. A lunch combo choice of a smallish chicken-fried steak, three tacos, two pork chops, three enchiladas, and more with two sides is cheaper than an appetizer at any outwardly mainstream establishment. DayBreak is nothing fancy, but the folks who go there know that the food is plentiful. DayBreak is pretty much open only for breakfast and lunch (closing time is 4pm most days), but you'll leave early, full, and happy –– and with some folding money in your pocket.
Burger
Readers' choice: Kincaid's Hamburgers, 4901 Camp Bowie Blvd, 817-732-2881
Critic's Top 5: The most underrated burger in town (until now) has to be the juicy, organic, grass-fed ambrosia between a bun at Burgundy Pasture Beef (2336 W 7th St, 817-878-2722). Some member of Burgundy's Taggart family probably delivered and named the cow that gave its life for your meal. The veggies on the meatwich are all organic, crisp, and delicious. The only drawback is that the place turns into an eatery only on weekends.
Maybe it's because the house burger at Papa's Smokehouse & Cantina (300 W Central Av, 817-945-2010) is the shiny, new burger on the block, but, man, is it tasty. The generously portioned slab of succulent, well-seasoned beef is served with grilled onions, lettuce, tomatoes, American cheese, avocado slices, and a gooey cheese enchilada slathered in a flavorful green chile sauce, all crammed between two buckling toasted buns.
Roy Pope Grocery (2300 Merrick St, 817-732-2863) may not strike the average person as a burger-lover's outpost. But true burger snobs know all about the gourmet grocer's Kobe beef sandwich. The patty is accompanied by delicious house-butchered bacon, fresh tomatoes and lettuce, mushrooms, caramelized onions, cheddar cheese, and a chipotle barbecue sauce.
The Vaquero Burger at Dutch's Legendary Hamburgers (3009 S University Dr, 817-927-5522) has received its share of praise lately. But just because we're not the first magazine to brag on Lou Lambert's TCU-area joint doesn't mean the Vaquero should get snubbed. The shredded cheddar cheese, bacon, tangy barbecue sauce, and fried jalapeño and onion strings combine for a salty, rich, spicy, tangy, crispy one-way ticket to burger nirvana.
OK, confession time. We didn't even think to try the L.U.S.T. burger at The Bearded Lady (1229 7th Av, 817-349-9832) until it was named one of the Top 5 burgers in Texas by Texas Monthly. We're glad we got around to the Magnolia-area gastropub, because that burger is worthy of the hype. The half-pound goliath on a brioche bun is a total meatgasm, and it's stacked with avocado slices, sautéed onions, and creamy Gouda cheese.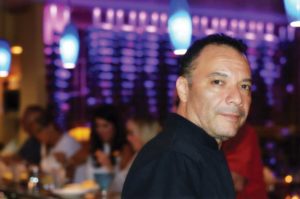 Chef
Readers' choice: Jon Bonnell, Bonnell's Fine Texas Cuisine, 4259 Bryant Irvin Rd, 817-738-5489; Waters Fine Coastal Cuisine (reopening 2017)
Critic's choice: Gabriel Ochoa, Next Wood Fired Bistro & Vino Bar, 5003 Colleyville Blvd, Colleyville, 682-325-4046
Gabriel Ochoa has been in more kitchens than a Vulcan stainless steel range. From a stint at Kalamata's in the Worthington Hotel downtown to his turn at Sundance Square's now-defunct The Vault (where he made possibly the best paella on this side of the Atlantic Ocean), to his time at the Ridglea Country Club and dearly departed Bistro Louise, the self-effacing culinary chameleon can cook many things, but he seems to gravitate toward Mediterranean cuisine. Back in 2008, he was a fan of using fresh, seasonally available meat and produce, long before those became watchwords on the local food scene. Ochoa, currently the chef at Next Wood Fired Bistro and Vino Bar, hasn't become a restaurateur like Bonnell. And he doesn't shill for mayonnaise like Tim Love. The man wore a t-shirt that read, "Food, Not Fame" to the Weekly's chili cook-off this spring, for Pete's sake. Instead of building empires, he simply does what he loves to do: cook.
Sandwich
Readers' choice: Great Outdoors Sub Shop, 3204 Camp Bowie Blvd, 817-877-4400
Critic's choice: BLT, Dagwood's Grinders and Growlers, 1736 Mall Cir, 817-570-7924
It's 9 bucks and worth every cent. A mess of crispy bacon, a gooey slab of burrata mozzarella cheese, and fresh lettuce (or arugula) and tomato, all stuffed between two slices of scrumptious sourdough bread (complete with grill marks), Dagwood's BLT comes topped with a fried egg that provides a bright kick with every bite.
Sushi
Readers' choice: Blue Sushi Sake Grill, 3131 W 7th St, 817-332-2583
Critic's choice: Shinjuku Station, 711 W Magnolia Av, 817-923-2695
Not only is the now well-established Shinjuku Station perfect for a date, with either a potential paramour or a client, but it's also casual enough for a sushi fix anytime. One option that's wonderful and traditionally Fort Worthian is the ishiyaki: slices of raw ribeye cooked at table on hot stone, resulting in a treat that hits some solid pleasure points: juiciness, saltiness, and chewiness. Start your meal with the can't-miss Tok fries, a union of the humble Western spud with Japanese spices and preparation.
Taqueria
Critic's choice: Tacos Ernesto, 3778 McCart Av, 817-922-8072
Fort Worth's South Side has an undeniably rich variety of taquerias, and you could eat well every day for about a week without dining in the same place twice. But the selection of meats for the tacos and enchiladas sets Tacos Ernesto apart. Sure, you have the buche (belly), the chicharrón (the deliciously crispy pork skin), lengua (tongue), barbacoa, and asada. But the menu also includes suadero, a brisket-like cut of beef that's pan-fried to crisp deliciousness, along with pork and chicken in red, green, or chipotle sauces. The food isn't just spicy –– the depth of flavor in any of the sauces will surprise and delight even the most jaded taco aficionado. Daily specials include menudo on weekends and molé con pollo, rellenos, and enchiladas during the week. Add to the mix a clean dining room, friendly service, horchata and other refrescos, and you have yourself a winner.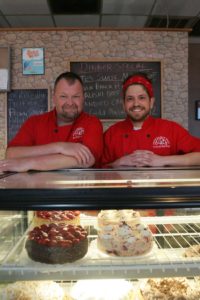 Nontraditional Burger
Readers' choice: Rodeo Goat, 2836 Bledsoe St, 817-877-4628
Critic's choice: Swiss Pastry Shop, 3936 W Vickery Blvd, 817-732-5661
Fittingly, our pick for best nontraditional burger comes from a place you might not even know has da beef. Swiss Pastry Shop, along with its wonderful baked goodies like its Black Forest Cake, serves up some of the most creative burgers around. Along with the expected, the shop offers a weekly special that always involves interesting and delicious fixins. Some past gems include the Heim burger, topped with the bacon burnt ends that made Heim BBQ famous, along with jalapeño and mustard coleslaw; the Dork a L'orange, with a duck and pork sausage patty, goat cheese, and champagne vinaigrette; and the Killer Bee, with Sriracha-onion-honey jam and spicy aioli. The Bee was so popular it's now on the menu for good. The beef — all Texas Akaushi — is juicy and usually cooked medium. And since this is a bakery, after all, the buttery brioche buns are house-baked.
Seafood
Readers' choice: Waters Fine Coastal Cuisine (reopening 2017)
Critic's choice: Pacific Table, 1600 S University Dr, Ste 601, 817-887-9995
Chef Felipe Armenta's menu strikes a balance between elegant simplicity and bold, nuanced flavors. His elevated Pacific Northwest-inspired cuisine leans heavily on superior, fresh ingredients and a tastefully restrained hand in the kitchen. The bill of fare includes some of the city's most underrated sushi, glistening East and West coast oysters, fresh ocean fish, and maybe the best cioppino on the planet.
Barbecue
Readers' choice: Heim Barbecue & Catering, 1109 W Magnolia Av, 817-882-6970
Critic's choice: Jambo's BBQ Shack, 2502 Little Rd, Arl, 682-213-2780
"Best" barbecue in these parts is a contentious subject to discuss in polite company, but the phenomenon that is Jambo's in South Arlington is as close to a consensus candidate as you're likely to find. With lines snaking out the door and diners holding impromptu tailgate parties in the parking lot (some nights, there just aren't enough tables inside to meet the demand), it is clear the place is doing something right. Perhaps customers are queued up for the Jambo Texan, a $15 "all-meats" sandwich that has already won the joint an honorable mention in Texas Monthly. Or maybe they're there for the giant baked potatoes stuffed with chopped brisket and beans. Personally, we can't get enough of the fried okra. Whatever gets you lined up in the waiting crowd, you're sure to leave happy. Unless they sell out.
Indian Food
Readers' choice: Bombay Grill Indian Food, 4625 Donnelly Av, 817-377-9395
Critic's choice: Route 66, 100 E Altamesa Blvd, 469-605-9684
Yes, you read that right: This year's critic's choice for best Indian food is named after an iconic American highway, and the winner is located in the lobby of a Radisson hotel. Don't let that keep you from paying Route 66 a visit — a team of international cooks under the steerage of the enigmatic Chef Q have made the young restaurant an instant favorite among local foodies. The fresh, vibrant cuisine spans the Indian subcontinent, from the sturdy halal lamb of the north to the delicate seafood curries of the south. And the naan bread, a sensual display of contrasting textures wreathed in the smoke of the kitchen's tandoor oven, is a revelation.
Soul Food
Critic's choice: Rosako's Soul Food and BBQ, 2816 Brown Tr, Bedford, 817-785-3393
Indiana native Rosako Bailey cooks Southern soul favorites with a Midwestern accent, and we're lucky to have him in the neighborhood. His namesake Bedford restaurant churns out the home-style favorites we know and love — fried green tomatoes, black-eyed pea salad, mac 'n' cheese — while also leaving room for innovation and fresh approaches. Chef's "Thanksgiving 365" dinner features tender smoked turkey with a cornbread-stuffing waffle, and his homemade banana pudding is full of chessmen cookies instead of vanilla wafers. We can't even type these words without salivating.
Desserts
Readers' choice: My Little Pies, PO Box 16402, 682-552-7666
Critic's choice: Twelve Stones Restaurant, 1221 Flower Mound Rd, Ste 100, Flower Mound, 972-539-0200
Chef-owner David Burdick chased his dream for two decades, leaving a career in the IT industry to acquire some on-the-job training in restaurants in Dallas before opening his own eatery. Twelve Stones' dessert menu lists some standard sweet diversions, but they all have a little twist. The flourless chocolate cake is a fudgy bit of heaven, like a plate of very firm ganache, garnished with caramel and peanut brittle. The black pepper-infused cheesecake with Oreo cookie crust definitely didn't come from Sysco. But the pièce de résistance is the salted caramel pot du crème. Served in a dainty Mason jar, the caramel-flavored custard is magnificent with the oversized crystals of sea salt on top. It's a good thing for your waistline that Burdick puts the treat in a small container.
Tex-Mex (bargain)
Readers' choice: Salsa Limón, multiple locations
Critic's choice: Los Paisanos Restaurante y Taqueria, 1446 N Main St, 817-625-8226
If you really try, you can pay more than $6 for lunch at this Northside institution. A fajita plate will run you a couple more bucks. Starving diners might add an a la carte taco for another $1.50. For the most part, though, luncheon portions of home-style enchiladas served with rice and beans cost $5.99 here. Tuck in the corners with fresh corn chips and the fiery house salsa, and you'll leave full and happy, ready to skip work and take a siesta.
Pizza (bargain)
Readers' choice: Mama's Pizza, 1813 W Berry St (with multiple locations in Tarrant County), 817-923-3541
Critic's choice: The American Pub, 2800 Bledsoe St, Ste 200, 817-439-9443
Though The American Pub is new and, by virtue of its location in the heart of all that hot, sweaty, boozy West 7th action, appears to be geared toward the late-night crowd, don't dismiss the pie here outright. Pillowy crust, loads of perfectly melted mozzarella, and a bright red sauce that's just the right amount of zesty and sweet, Da Pub's pizza hits the spot any time of day. The walkup window is open until 4am Thu-Sun.
Late-Night Dining
Remember back in 2007 when we were amazed that Fort Worth finally had a couple of late-night dining options outside of botulism omelets at 24-hour greasy spoons or fast food? Oh, how far we've come. The newest hot spot in the after-hours eats scene is Oni Ramen (2801 W 7th St, 817-882-65554). Chef Jesus Garcia's outstanding haute ramen endeavor keeps noodling until 4am on weekends. Neighbor The American Pub (2800 Bledsoe St, Ste 200, 817-439-9443) slings gourmet pizza by the slice through a walkup window until 4am, too. Nearby Velvet Taco (2700 W 7th St, 817-887-9810) may be a little gimmicky, but it's also delish and open until 3am on Thursdays and 'til 4am Fri-Sat. If you're near TCU after hours, you have plenty of beer-o'clock options. Perennial Best Of winner Salsa Limón (3005 S University Dr, 817-923-2377) is open 'til 3am on Saturdays. Neighbor Buffalo Bros (3015 S University Dr, 817-386-9601) dishes up outstanding pub fare until 2am nightly. And you can always fight the line at the original Fuzzy's Tacos (2917 W Berry St, 817-924-7943), open until 1am on Thursdays and 3am on weekends. The Near Southside's Black Market Bakery & Café (1400 W Magnolia Av, 817-223-6909) is the most intriguing entrant here. The eclectic after-hours café, owned by Chef Even William and Head Baker Giovanna White, slides into Nonna Tata's space after Nonna and company slide out. The kitchen churns out gourmet booze-soaking cuisine from 11:59pm to 6am Wed-Sat. Your best bet for excellent authentic Mexican grub on the North Side is Los Paisanos (1446 N Main St, 817-625-8226), serving until 2am on Fridays and 3am on Saturdays. If you're not in the mood for Mexican, grab some pizza and pasta at downtown staple Picchi Pacchi (512 Main St, Ste 106, 817-870-2222), open until 3am on weekends.
Restaurant
Readers' choice: Waters Fine Coastal Cuisine (reopening 2017)
Critic's choice: Le Cep, 3324 W 7th St, 817-900-2468
Chef Sandra Avila made le splash on the restaurant scene two years ago by offering her Parisian cuisine in a prix fixe menu of four or eight courses. The Paris-trained chef's offerings change every six weeks. As an almost stand-alone in the field, the restaurant Avila co-owns with husband David Avila received rave reviews from local, state, and national press. This summer, Avila added the flexibility of an a la carte menu, which includes single servings of whatever goodies are on the menu. So it's not just for a special occasion anymore –– go have all eight courses or just dessert, but make sure you sample the goods on the fromage cart.
Tamales
Readers' choice: Hot Damn, Tamales!, 713 W Magnolia Av, 817-523-1836
Critic's choice: Reata Restaurant, 310 Houston St, 817-336-1009
A regular ol' pork or beef tamale is a tongue-pleasing treat. But if you want to experience tamales as a culinary artform, drop by Reata, where the cooks stuff the torpedoes with tenderloin, boost the flavor with a pecan mash, corn kernels, and secret sauce, and top 'em with pico de gallo and a sour cream drizzle.
View
Critic's choice: The Buffet Restaurant, the Kimbell Art Museum, 3333 Camp Bowie Blvd, 817-332-8451
This category tends to get awarded to restaurants with broad views of the city skyline over the Trinity River, but the interior space of architect Louis Kahn's masterpiece should not be overlooked. The Buffet's excellent (and affordable) luncheon is served under Kahn's iconic cycloid concrete vaults, within arm's reach of ancient Syrian mosaics. Sculptor Aristide Maillol's reclining nude "L'Air" graces the adjacent courtyard. Perhaps more than any other experience, enjoying a casual meal in our greatest building captures what it means to love living in Fort Worth.
Fried Chicken
Readers' choice: Lisa's Fried Chicken, 500 University Dr (with multiple locations in Tarrant County), 817-332-9192
Critics choice: Button's Restaurant 4701 W Fwy, 817-735-4900
Button's fried chicken is a Fort Worth staple. Hand-battered and served with a homemade Belgian waffle, the upscale comfort food restaurant's signature dish is perfect for breakfast, lunch, or dinner. In fact, we would be lying if we said we haven't had it for at least two of those mealtimes in the same day. The real trick is dipping the chicken in the blueberry-infused butter that comes on the side and then smearing on some of the accompanying fresh berry compote to create the perfect bite.
Brisket
Critic's choice: Kipz BBQ, 1509 Evans Av, 817-877-5479
Pitmaster Charles "Kipz" Stone has resurrected his namesake barbecue restaurant off East Rosedale Street, and his pecan-and-hickory-smoked brisket can hold its own against anything in town. Lean, fall-apart tender, and with a campfire esthesis that will leave a ring around your collar, Kipz' brisket is best enjoyed with dill pickles, white bread, and an ice cold Big Red. Sauce is optional — meat this tender hardly needs to get dressed up to have a good time. Get there early, because when it's gone, it's gone.
Kids' Dining Venue
Readers' choice: Sweet Tomatoes, 2901 W 7th St, 817-348-8533
Critic's choice: Chimera Brewing Company, 1001 W Magnolia Av, 817-923-8000
The pizza's great, but we already knew that: perfect Neapolitan style with lots of gooey cheese, zesty red sauce, and a crust that strikes the perfect balance between crunchy and chewy. And while Chimera isn't in any way geared toward tots (save for some old toys and board games lying around), this well-established Near Southside pizzeria/brewery is ideal for the fam. The cavernous space swallows sound, which comes in handy if someone, someone special, is having a conniption. The wait is never too long, and little ones typically abound, which is simply comforting for other parents and young ones. For an awesome complement to Daddy's or Mommy's pie, try the brewery's Smoke Wheat Erryday. As a Grodziskie, this bright gold Polish-style beer made from oak-smoked wheat malt has a strong smoke flavor but low alcohol content, perfect in case you want to relax a little but also be able to escort the family safely home.
Wine List
Readers' choice: Kent and Co. Wines, 1101 W Magnolia Av, 817-632-6070
Critic's choice: Grace, 777 Main St, 817-877-3388
The scene for oenophiles in Fort Worth has improved dramatically as of late, but even our illustrious wine bars can't match the cellar of this fine restaurant. Hundreds of bottles are on hand to match any sort of food you might order here, and the list of dessert wines is unparalleled. The setting may be a bit more intimidating than at other places, but the helpful sommeliers will quickly vanquish that once you're here.
Steaks
Readers' choice: Del Frisco's Double Eagle Steak House, 812 Main St, 817-877-3999
Critic's Top 5: Enjoying a perfect steak is all about relishing one's place at the top of the food chain, and there's no place in town that encourages a delicious, shameless wallow in gilded-age opulence quite like Del Frisco's Double Eagle Steak House (812 Main St, 817-877-3999). For a more regional bent, Bonnell's Fine Texas Cuisine (4259 Bryant Irvin Rd, 817-738-5489) pairs its cold-smoked beef tenderloin with bacon-jalapeño grits for a refined kind of chuck-wagon cuisine. The prime New York sirloin at Avanti Fort Worth (150 Throckmorton St, Ste, 140, 817-991-6455) leans Mediterranean with Portobello mushrooms and a pomegranate demi-glace. Rounding out our list are two Stockyards favorites: H3 Ranch (1059 E Exchange Av, 817-624-1246), where you can order wood-fired steaks with all the trimmings; and Cattlemen's Steak House (2458 N Main St, 817-624-3945), serving classic Cowtown cuts, with available upgrades, from lobster tails to calf fries.
Field of One
Critic's choice: Ahi Poke Bowl, 3701 S Cooper St, Ste 139, Arlington, 817-200-6418
Before Ahi, the closest thing we had to Hawaiian cuisine in Tarrant County was a couple of gimmicky joints serving grease-laden, haole-friendly tourist food. But Ahi's simple menu of immaculately fresh, gorgeously presented seafood would knock the grass skirt off a resort hula dancer. It's also reasonably priced and unpretentious, and the staff is one of the friendliest around.
Pizza (gourmet)
Readers' choice: Cane Rosso, 815 W Magnolia Av, 817-922-9222
Critic's choice: Thirteen Pies, 2949 Crockett St, 817-769-3590
The eatery formerly known as Fireside Pies sure has a lot of competition in the Fort these days, with its most recent rival, Chef Felipe Armenta's Cork & Pig, opening right next door. But the original gourmet pizza spot in town is still on top. The rotating namesake Thirteenth Pie almost never disappoints, no matter how many times you order it in a year. But the mainstay array of always-available pies make Thirteen worthier of a once-a-week routine — particularly the near-perfect Iberian, with its cheese board-esque toppings of salami, provolone, Manchego, and salty, mild olives.
Bakery
Readers' choice: CC's Cupcake Heaven, Ridgmar Mall, 1956 Green Oaks Rd, 817-732-2993
Critic's choice: Swiss Pastry Shop, 3936 W Vickery Blvd, 817-732-5661
The no-frills West Vickery favorite has undergone a bit of a renaissance of late, but don't fear — the quality of the baked goods has only improved. Swiss' famous ("infamous"?) Black Forest Cake (or Uncake) still gets all the glory, but don't forget about the decadent éclairs, cream pies, and, when it's in season, the Texas Peach Pie, topped with a cobbler-like crumble that'll have you licking your plate.
Place to Buy Ethnic Food
Critic's choice: Hiep Thai Food Store, 2430 E Pioneer Pkwy, Arl, 817-459-1310
Whatever you saw Anthony Bourdain eating on TV last night, chances are you can find the fixins for it at Hiep Thai. From India to Japan, China to Thailand and Vietnam, the South Arlington megastore has what you're looking for. Brave cooks can scour the produce section for exotic eggplants or skim the tanks of live seafood for a main course. Rookies can experiment with the green-curry seasoning pouches and frozen dumplings. Whatever your level of skill or interest, Hiep Thai is stocked to let you choose your own adventure — without breaking the bank.
Place to Dine al Fresco
Readers' choice: Joe T. Garcia's Mexican Restaurant, 2201 N Commerce St, 817-626-4356
Critic's choice: Ellerbe Fine Foods, 1501 W Magnolia Av, 817-926-3663
Outdoor seating may not usually come to mind when you think about fine dining, but in Cowtown it's basically a requirement. Some of the best and nicest restaurants here — Grace, Reata, The Woodshed — are known for their patios. But Ellerbe, a charming Southern bistro that's nearly unrecognizable as a former gas station, has a way of making al fresco dining feel as special as any opulent French fine-dining room. There's just something so damn charming about sitting under the twinkling globe lights that spruce up the former filling station's canopy as you overlook always bustling West Magnolia Avenue and enjoy the seasonal farm-to-table (or farm-to-patio) fare that Ellerbe is well known for.
Spicy Dish
Critic's choice: Spice, 411 Magnolia Av, 817-984-1800
Yes, we know you can order anything spicy at a Thai restaurant –– a level 5 is a level 5, after all –– but Spice's Pad Ped starts at a 3, which is already hot enough to put some sweat on your brow. But even when the traditional flat noodle dish is modified to near-combustibility, you can't mistake the piquant seasoning simmering underneath. Each bite is a thrilling, sensory explosion. Your eyes will water with happiness.
Menudo
Critic's choice: Los Asaderos, 1535 N Main, 817-626-3399
Feeling a little crudo from Friday or Saturday night? Make the trek to Los Asaderos the next morning for a big ol' bowl of beef menudo, where the fiery tripe soup will help you sweat off your hangover and fill you up with comforting, caloric goodness. It's even better with a cold beer!
Thai
Readers' choice: Spice, 411 W Magnolia Av, 817-984-1800
Critic's choice: Thai Charm Cuisine, 4023 E Belknap St, Ste A, Haltom City, 682-708-8921
One of the joys of ethnic cuisine is experiencing all of the choices –– the good, bad, and the weird. Thai Charm Cuisine produces possibly the best Pad Thai and freshest spring rolls in the county. You'll also find noodle soups with blood broth, tendon, fermented tofu, and cuttlefish along with Tom Kha, noodle dishes, and fried rice. Splurge on dessert here –– the mango sticky rice with fresh, tart mango and sweet coconut cream over "broken" rice is a simple, hearty pleasure.
Latin/Caribbean
Readers' choice: Gloria's Latin Cuisine, 2600 W 7th St, 817-332-8800
Critic's choice: Peru Gourmet, 2425 NE Green Oaks Blvd, Arl, 682-706-3860
At this North Arlington spot, you'll find food you've never heard of, like the lomo saltado, a sort of Spanish-influenced fried rice. Peru Gourmet stops at being 100 percent authentic, though: Guinea pig isn't on the menu. But that's as close as the owners come to pulling their punches. The sauces and salsa are made with Peruvian peppers that are hotter than hell, so don't take a big bite without a Cerveza Cusqueña nearby.
Coffee
Critic's choice: Buon Giorno Coffee, 915 Florence St, 817-698-9888
French-pressed tastes best from Buon Giorno. The traditional cafetiére-style of coffee happens to be one of the house specialties, but the roasters and baristas also make a mean espresso in a variety of styles. For picky sippers or anyone with a sweet tooth, the signature drinks can't be beat: mochas and mints, carmelitos and a blueberry cobbler latte that's as good as any dessert. Buon Giorno keeps its style discretely cosmopolitan, grinding beans from Africa, Asia, and Central and South America. Even the regular drip tastes artisanal.
Coffeehouse
Readers' choice: Avoca, 1311 W Magnolia Av, 682-233-0957
Critic's choice: Qana Café and Hookah, 7860 Chapin Rd, 817-862-9768
And now for something completely different. Qana's main deal is Middle Eastern food, but it also serves java in a variety of styles, so you know the Turkish or Arabic coffee is coming from servers who know their stuff. Take your joe with baklava, pastry triangles, or a session at a hookah for a relaxing afternoon.
Brunch
Readers' choice: The Bearded Lady, 1229 7th Av, 817-349-9832
Critic's choice: Magnolia Motor Lounge, 3005 Morton St, 817-332-3344
The mornings after at Magnolia Motor Lounge rock just as much as the nights, thanks to a bomb brunch menu with rotating weekly specials. Sample small bites of the brunch taco, sopapilla chips, and the breakfast eggrolls, or go straight for the big bites. Savor the flakiness of the Green Eggs & Ham Croissant for a pesto-dressed breakfast experience. Knife into a perfect mess of flavors in the Texas Wellington, a deep-fried 4-ounce filet decked out in mushrooms and a blue cheese cream sauce. Be sure to try the selection of juices available for Magmosas or the sweet lemon gelato in the '65 Malibu SS cocktail.
Burrito
Critic's choice: Los Alberto's Mexican Food, 804 W Pipeline Rd, Hurst, 817-282-6699
Meat, meat, and more perfectly cooked, mouthwatering meat. That's essentially the entire contents of Los Alberto's carne asada burrito. Wrapped in a sprawling, freshly grilled flour tortilla smeared inside with hot guac, this brick o' beef runs only $5.40 (!!!) and will have you rethinking rice-and-beans versions. The newish eatery is a bright yellow hut in the parking lot of a small strip mall –– be prepared to wait a little, especially if driving through, but wait, you must. Open 7am-11pm daily and serving every kind of Mex-Mex staple you can imagine, including scrumptious SoCal-style tacos and breakfast burritos, Los Alberto's is worth the trip.
Wait Staffer
Readers' choice: Veronica Reuter, The Bearded Lady, 1229 7th Av, 817-349-9832
Critic's choice: Monica Wright, Thirteen Pies, 2949 Crockett St, 817-769-3590
A server and a bartender at the best gourmet pizza joint in town, Wright has an upbeat attitude that's as refreshing as one of the restaurant's superb cocktails, whether she's behind the bar or taking care of a party of 12. If you're lucky, she'll be there when you come in, and she'll be happy to offer suggestions or just shoot the breeze if you've both got the time. (Suggested topics: Russian literature, the local art scene, early-2000s emo bands.)
Host/Hostess
Readers' choice: Raysha Ingle, Silver Fox Steakhouse, 1651 S University Dr, 817-332-9060
Critic's choice: Lindsey Crawford, WineHaus, 1628 Park Pl Av, 817-887-9101
With only one other employee, Lindsey Crawford of WineHaus is not just a hostess –– she's basically a one-woman show. She's also the bartender, proprietor, interior designer, and all-around wine guru. Some may remember that this gem of Park Place Avenue closed for more than a year after storm damage caused the roof to collapse, but the book club-friendly wine bar has really hit its stride since reopening last September. Beyond serving wine from kegs (wine kept fresh with argon! better living through chemistry!), Crawford also hosts tastings, a monthly club, and, upstairs, private events. She always greets everyone with a bright smile and plenty of anecdotes if you're in the mood for chatting.
Ice Cream:
Readers' choice: Melt Ice Creams,  1201 W Magnolia Av, 817-886-8365
Critic's choice: Gypsy Scoops, 2905 Race St, 817-357-6730
This food truck-turned-parlor churns out quality ice cream that whispers sweet nothings into your pleasure sensors: mocha fudge, Mexican vanilla, chocolate-peanut butter, coconut, red velvet, or the unexpectedly good wedding-cake flavor, Gypsy Bride. The tart and tasty favorite of many regulars is the Lemon Cookie, when in stock. Those indulging without guilt have the choice of a sorbet du jour. Savor awhile in the airy vintage embrace of Gypsy Scoop's antique seating and grab a board game to play in this former house on the East Side.
Tacos
Readers' choice: Salsa Limón (multiple locations)
Critic's Top 5: In a town like Fort Worth, where there are so many tacos and so little time, it's impossible to pick the best. So. We hedge a little. At Revolver Taco Lounge (2418 Forest Park Blvd, 817-820-0122) abuela's hand-made tortillas meet haute cuisine in taco de pulpo: Michoacán-style octopus with pan-fried leeks and jalapeño salsa. If you want less pulpo with your taco, the adobada at Juanito's Taqueria (4150 Hemphill St, 817-924-3636) is a combination of melt-in-your-mouth chunks of beef with a scorch-your-tongue red sauce that has a surprising depth of flavor. La Antojeria Jalisco (2720 Pearl Av, 682-708-3505) sits slightly awkwardly atop a hill on Fort Worth's North Side, but there's nothing awkward about their birria taco: tender shredded beef in a flavorful chile-laden sauce, wrapped in a fried outer shell and a plain inner tortilla to try to contain the spicy juices. Finally, there are two taco trucks turned brick-and-mortar restaurants that are worth mentioning. Perennial favorite Salsa Limón (three locations) offers a lengua taco so buttery-tender you'd swear it was brisket. And at Taco Heads (1812 Montgomery St, 817- 615-9899), you won't necessarily find the odd parts of the cow, but you will find unusual goodies, including the veggie, the charred avocado, or the roasted corn with queso fresco on a corn tortilla.
Chinese
Readers' choice: Cannon Chinese Kitchen, 304 W Cannon St, 817-238-3726
Critic's choice: Cannon Chinese Kitchen
Yes, this is the predictable choice. So what? Who cares when this place makes a tofu fried rice that'll make your knees go weak. Ever since this mom-and-pop restaurant opened on the Near Southside, it's been solidly ensconced at the top of our city's Asian dining scene courtesy mainly of dishes like maple leaf duck stir-fry and to knowledgeable wait staffers that go the extra mile.
Pasta
Critic's choice: Margie's Italian Kitchen, 9805 Camp Bowie West, 817-244-4301
Margie's has been around since 1953. You bet your bocce balls her Italian kitchen knows how to do pasta. From the kind of spaghetti with meatballs that wouldn't offend the chef from Big Night to semi-experimental items –– linguini with shrimp, prosciutto, and mushrooms; penne with sausage, onion, mushrooms, and feta cheese; penne with grilled chicken, spinach, onion, and mushrooms –– Margie's is masterful. And nothing's over 15 bucks.
Soup
Critic's choice: Lobster bisque, Lucile's Stateside Bistro, 4700 Camp Bowie Blvd, 817-738-4761
A critic's choice from years ago, this mind-blowing blend of lobster and cream sherry — and lots of butter and cream — is still as smooth and hearty as ever. At the right price of $5.95/cup or $7.95/bowl and paired with one of Lucile's warm, downy rolls (smothered with table butter, natch), this soup from this Arlington Heights staple is a light meal in itself.
Vegetarian Selection
Readers' choice: Spiral Diner & Bakery, 1314 W Magnolia Av, 817-332-8834
Critic's choice: Hot Damn, Tamales!, 713 W Magnolia Av, 817-523-1836
We retired the "Vegetarian" category because Spiral Diner & Bakery is just hard to beat. Congrats to them. And congrats to Fort Worth's food scene, because vegetarian options are all over the place now. Our critic's 2016 fave, though, is Hot Damn, Tamales!, whose all-you-can-eat tamale buffet (11am-3pm Mon-Fri) is loaded with moist, scrumptious vegetarian delights, including black bean and Oaxaca cheese, wild mushroom and Texas goat cheese, and spinach, feta, and roasted pine nuts.
Sausage
Readers' choice: Edelweiss German Restaurant, 3801 SW Blvd, 817-738-5934
Critic's choice: Greenwood's German & European Restaurant, 3522 Bluebonnet Cir, 817-921-6777
The sausages at Greenwood's are of the wurst variety: bratwurst, nürnberger, and weisswurst, that is. For too long, we've distracted ourselves with barbecued equivalents, so this year the torch will be passed to an authentic family-operated German restaurant nestled in Bluebonnet Circle. The casing on these links is almost a thing of art, and the seasoning of the meat builds with each bite. Unlike a lot of heavy German fare, Greenwood's sausages don't overwhelm the senses, but they also don't disappoint. Don't spoil your appetite by gobbling up all of Chef Peter's thick wheat bread, but do expect to wait a bit for your food. The mom and pop of this establishment put a lot of love and care into each link, but it's well worth the wait.
Queso
Critic's choice: Torchy's Tacos, 928 Norton St, 817-289-8226
Sometimes it's hard to gauge how many of Torchy's tacos is enough to fill you up, which is why you should always start with chips, salsa, and a bowl of the Austin-based taqueria's gooey, cheesy, guac-tastic queso.
Kolaches
Readers' choice: Pearl Snap Kolaches, 4006 White Settlement Rd, 817-233-8899
Critic's choice: Pearl Snap Kolaches
No matter your preference, sweet or savory, Pearl Snap Kolaches has you covered. Frustrated by an overall dissatisfaction with local kolache choices, co-owners Wade and Greg decided to take matters into their own hands. The result of their hard work is the best damn kolaches you can find north of Hillsboro. The crew even sets up a pop-up drive-through for morning commuters, featuring two kolaches and a cup of Joe for only 5 bucks.
Ribs
Critic's choice: Heim Barbecue & Catering, 1109 W Magnolia Av, 817-882-6970
By now, it is no secret that Fort Worth's premier craft barbecue purveyors have moved out of the trailer that helped them make a name for themselves and into brick-and-mortar digs on West Magnolia. Sure, the lines are still long, but now that the family-owned shop is open six days a week, you have ample opportunity to get your fix. Heim's beyond-fork-tender pork ribs practically melt in your mouth. The smoky salt rub is reason enough to wait, but if standing in a queue isn't your style, hit them up around 4pm to beat the after-work dinner rush.
Homecooking
Readers' choice: Vickery Café, 4120 Vickery Blvd, 817-731-9933
Critic's choice: West Side Café, 7950 Camp Bowie Blvd, 817-560-1996
Best known for its extensive breakfast menu, West Side Cafe is more than just your run-of-the-mill greasy spoon. Sure, you can sit at the bar, diner-style, and watch the cooks crank out plate after heaping plate of massive omelets, pancakes, and breakfast burritos. But the real treat is plopping down at a table for dinner service. Grandma's favorites, like chicken and dumplings, fried catfish, and chicken-fried steak, are served with generous portions of classic sides such as mashed potatoes and turnip greens, all at prices that will transport you back decades.
Breakfast
Readers' choice: Ol' South Pancake House, 1509 S University Dr, 817-336-0311
Critic's choice: Our Place, 915 W Debbie Ln, Mansfield, 817-473-9996
Our Place isn't open past late lunch, but odds are, with the size of the portions, you won't want or need dinner. Along with your breakfast of pancakes, French toast (traditional or made with giant sliced cinnamon rolls), or omelets, you'll have your choice of hash browns, home fries, or grits, plus "bread" –– tortillas, biscuits, toast, or more pancakes. You can even order chicken-fried steak three different ways to start your day: as an accompaniment to your eggs, in an omelet, or as a sandwich. On weekends, the place is crowded from morning until afternoon, and even at 2pm on a random Tuesday, there may be a wait. It's worth sitting a minute –– you can check out the fresh, homemade pies in the glass cases by the register.
Quesadillas
Critic's choice: Tina's Cocina, 961 W Magnolia Av, Ste D, 817-367-9807
At Tina's Cocina, owner Juan Solis uses the recipes originated by his Mama Faustina at her taco stand in San Felipe, Mexico. You can order your quesadilla stuffed with bistec, pollo, asada, or several other meat offerings. Or order veggie-style, and you'll find a farm's worth of seasonal goodies grilled in Mexican oregano and other spices, sandwiched between gooey cheese and perfectly grilled flour tortillas. There's just something comforting about a well-executed version of Mexican grilled cheese, and Tina's does it right.
Wings
Readers' choice: Buffalo Bros Pizza, Wings & Subs, 3015 S University Dr, 817-386-9601
Critic's choice: Buffalo Bros
It might have seemed like a gamble back in the day: Would people in Fort Worth want a Buffalo, NY-themed restaurant? Now nearly 10 years in, the answer is, Yes, we like Buffalo Bros. There are only six wing flavors from which to choose –– no Hawaiian pineapple or lemon pepper foolishness here, just varying degrees of heat, Cajun, and barbecue. The juicy little drummettes and flats are fresh, flash-cooked in canola oil, and loaded with flavor. During happy hour, boneless wings are two for a buck, and the place has daily specials that include pizza, wings, and beer combos. Buffalo Bros is probably as close as most of us will get to Buffalo's Anchor Bar, where legend has it that Buffalo wings were invented.
Carb Loading
Critic's choice: Grain & Dairy Gourmet Grilled Cheese, 1222 W Hurst Blvd, Hurst, 817-616-3062
Although you'll find fruit and salad at Owner/Chef Josh Roger's new café in Hurst, the carbs overwhelm any other food choice. There are 10 grilled cheese menu items at Grain & Dairy Gourmet Grilled Cheese, including the carb-on-carb mac 'n' cheese grilled cheese sammich. The variety of bread is stunning –– from a sweet, light brioche to sourdough to Italian Milano to a hearty honey wheat, you can pick your favorite way to carb-out. Save room for the mascarpone and Nutella grilled cheese dessert or the classic bread pudding. (Because how else would you end a bread meal?)
Boozy Brunch
Critic's choice: Winslow's Wine Cafe, 4101 Camp Bowie Blvd, 817-546-6843
Roaring laughter and not having to ask for refills are the two most important signs of a strong brunch following, found every Saturday and Sunday at Winslow's. Order the bottomless mimosa special, and your glass won't stay dry for long. Silver pitchers of Wycliff Champagne –– with a splash of orange juice, for color, of course –– are always nearby. Sip on the mimosa's saltier sister, Bloody Mary, and you might catch a strip of bacon snaggled between your olives. Soak up the spirits you can't handle in the doughiness of jalapeño biscuits or a brunch-style pizza.
Cajun
Readers' choice: Boo Ray's of New Orleans, 7255 Boat Club Rd, 817-236-6149
Critic's choice: King Crab Tap House, 2600 W 7th St, Ste 153, 817-332-0033
In the Montgomery Plaza location where so many other restaurants have failed over the years, this eatery seems to be hanging on, thanks to its sumptuous seafood boils and jambalaya dishes to feast on while you're watching the big game. The wide selection of craft beer and the dog-friendly patio also seem to bode well for this brewpub.
Caterer
Readers' choice: Lettuce Cook, 5101 White Settlement Rd, 817-989-2665
Critic's choice: Triumph Catering & Events, 512 W 4th St, 817-484-1544
Good catering tastes even better when the proceeds benefit a good cause. Supported by The Center for Transforming Lives, Triumph Catering & Events employs women in poverty to prepare, deliver, and serve delightful menus of fresh foods with interesting flavor profiles. Antipasto skewers and sliders, baked brie and bacon brochettes, endive cups and empanadas demonstrate the center's mastery of the hor d'oeuvre. Just looking at the culinary themes of the organization's party packages will make you salilvate. Schedule a sampling to see for yourself, and be sure to ask the coordinators for an explanation of how this catering service empowers impoverished women, children, and families in Tarrant County.
Buffet
Readers' choice: Terra Mediterranean Grill, 2973 Crockett St, 817-744-7485
Critic's choice: Ninja Sushi & Grill, 4714 SW Loop 820, 817-377-0960
What happens when you take an overpriced food trend — sushi — and serve it buffet style for $12.99? Your mark of true business genius earns you a dedicated customer following. The Ninja Sushi that opened near Hulen Street offers clean, quality sushi rolls, a ramen station, a hot food bar, a small salad bar, and a chocolate fountain. The servers are attentive and friendly, and they won't judge you if your fork flies wildly through a plate of seconds, thirds, and fourths. The eel roll has that effect on people.
Atmosphere
Critic's choice: Café Modern, the Modern Art Museum of Fort Worth, 3200 Darnell St, 817-840-2157
The best atmospheres bring light and inspiration into form. With floor-to-ceiling windows radiating light from the sun, across a reflecting pool, into a gallery and back out again, Café Modern's aesthetic takes flight with light, so the dining conversation feels naturally inspired. The art makes the atmosphere here, and it's carried through in everything, from the shape of the cutlery to the presentation of plates.
Farmers Market
Critic's choice: Cowtown Farmers Market, 3821 Southwest Blvd
A dozen artisans do not a farmers market make. The Cowtown Farmers Market remains the truest representation of the farm-to-table foodway tradition because you'll see more hard-working farmers at this market than anywhere else. Known widely as "The Weatherford Traffic Circle Farmers Market," this place gets hopping 8am-12pm every Saturday in front of Texas Outdoors. Local farmers bring last week's harvest. Some sellers back up trucks to the tents and sell off tailgates. Others bring laminated pictures of their goats, who you can thank for fresh feta, or their bees, who supply the honey. Everyone carts along an enthusiasm for what they're selling.
Middle Eastern
Readers' choice: Terra Mediterranean Grill, 2973 Crockett St, 817-744-7485
Critic's choice: Qana Café and Hookah, 786- Chapin Rd, 817-862-9728
This eatery does staples like kafta and kibbeh perfectly well, while a selection of soups that rotate daily provide some variety and unusual combinations. Even if you don't care for the cuisine of the Levant, you can still come here for superlative sandwiches and delicious desserts. We don't know anyone who doesn't like a good baklava.
Fast Food
Critic's choice: Taco Casa, 8725 Camp Bowie West, 817-560-9077
Ordering Mexican at a fast food restaurant can assault the taste buds as well as the world's methane levels. But this Taco Casa offers great-tasting tacos, burritos, and nachos and provides friendly service and a bright, colorful dining area where the tables are quickly cleaned, and the condiment table is always fully stocked. And the bathrooms are spotless.
Mac 'n' Cheese
Critic's choice: Horseshoe Hill Café, 204 W Exchange Av, 817-882-6405
This ain't your kid's mac 'n' cheese. The generously portioned appetizer at Horseshoe Hill comes topped with tender chunks of spare-rib meat. It's enough to feed a small posse of cowboys. Elbow pasta gets the boot in favor of al dente penne. Gobs of sharp Monterrey Jack coat every noodle, and Horseshoe Hill's house-made barbecue sauce adds a subtle chipotle smokiness. The only downside is that this addictive dish just might leave you struggling to save room for the main course.
Meat/Seafood Market
Readers' choice: Central Market, 4651 W Fwy, 817-989-4700
Critic's choice: La Michoacana Meat Market, 4117 Denton Hwy, Ste 120, Haltom City, 817-281-4401
Selling fresh beef, chicken, pork, and fish, all cut to order, as well as marinated meats and hard-to-find items like espinazo (pork neck bones) and fajita norteña (pre-seasoned skirt steak), La Michoacana also houses a taqueria, meaning you don't have to wait until you're home to taste the auténtico Michoacana experience.
Ramen
Critic's choice: Oni Ramen, 2801 W 7th St, 817-882-6554
Oni Ramen co-owner and chef Jesus Garcia is really on to something. The richly sublime noodle soup was woefully underrepresented in Cowtown. Garcia recently opened up Fort Worth's second ramen-dedicated brick-and-mortar shop, this one in the West 7th area. Traditional offerings come with a nuanced French influence (mirepoix, thyme, and bay leaves) that reflect Garcia's formal culinary training. With offerings such as Salt Ramen and Straight Outta Kyushu, Garcia is noodling his way into the hearts and stomachs of local foodies.
Red Salsa
Critic's choice: Mariposa's Latin Kitchen, 5724 Locke Av, 817-570-9555
Mariposa's Latin Kitchen has been providing its Westside fanbase with inspired dishes since 2012, but it's the ubiquitous salsa rojo that draws some of us back. In a sea of thick, bland, ketchup-like concoctions served on tables across North Texas, Mariposa's offers an alternative mix of fresh tomatoes, peppers, tart lime juice, and finely minced spices that is both memorable and addictive. Not searingly spicy, slightly delicate, and bright in flavor, this salsa is the perfect topping to the flaky corn chips, grilled fish tacos, and Cuban-style rice or as a sidekick to the jalapeño margarita.
Deli
Readers' choice: Carshon's Delicatessen, 3133 Cleburne Rd, 817-923-1907
Critic's choice: Oliver's Fine Foods, 415 Throckmorton St, 817-744-7980
Whether you're looking for a quick lunch during a busy workday or a hearty Sunday brunch following church, this venerable downtown eatery is perfectly situated to serve you. Omelets, pancake platters, sandwiches — this place excels at all of them and also includes a nice wine selection and a grocery store so you can pick up supplies for dinner as well.
Green Salsa
Critic's choice: Salsa Limón, multiple locations
The ever-expanding Salsa Limón empire's spicy, creamy avocado salsa is loaded with jalapeño flavor, but it doesn't drown out the other components with heat. Like everything at "Milo" Ramirez's outstanding taquerias, the salsa is a carefully constructed work of art that has more in common with a delicate beurre blanc than a run-of-the-mill hot sauce.
Pan-Asian
Critic's choice: Pan Asia Cuisine, 5913 Donnelly Av, 817-615-9188
This emporium on the corner of Bryant Irvin Road and Camp Bowie Boulevard offers up so much variety that ordering from here can be nerve-racking. The Chinese, Japanese, Thai, and Vietnamese entrée selections are enough to make your head spin, but there are gems to be found in the voluminous menu, like the chicken Pad Thai and the wonton soup. The cheap prices make it easy to go back.
Donuts
Critic's choice: Funky Town Donuts, 1000 8th Av, 817-862-9750.
The way bakeries went during the cupcake craze, that's how this shop does its donuts. You never know what kind of wacky artisanal flavors you'll find here, whether it's a donut topped with barbecue glaze and brisket or a stinging one with ghost pepper chile in its minty chocolate frosting. The shop is nestled away in the same building as a Jimmy John's, but it deserves the same reputation among donut-heads that Melt has among ice cream lovers.
Fries
Critic's choice: Rodeo Goat, 2836 Bledsoe St, 817-877-4628
Although Rodeo Goat is best known for its well-adorned burgers, don't pass on the fries. The crispy hand-punched morsels stand up well on their own as a side, but the cheese fries are definitely the way to go, particularly if you're dining with a crowd or trying to impress out-of-towners. The massive plate of spuds comes topped with cheddar cheese, bacon, and house-pickled jalapeños. If you're feeling lucky, order the Cheese Fries Surprise. Surprise! Your fries are now topped with everything that's on the normal cheese fries, plus a ton of homemade brisket chili. Be warned though: If you're eating this alone, you will not have a room for a hamburger. Yes, that's a dare.
Presentation
Critic's choice: Le Cep Restaurant, 3324 W 7th St, 817-900-2469
Chef Sandra Avila's gorgeously presented bites showcase the kitchen's equal parts whimsy and care. Edible flowers are tastefully propped up against perfectly cooked foie gras; colorful sauces are artfully drizzled over dessert; entrées are composed with the geometric precision of a Tibetan monk's Sand Mandala. Avila's attention detail is breathtaking.
Best-Kept Secret
Critic's choice: Black Market Bakery & Cafe, 1400 W Magnolia Av, 817-223-6909
When most kitchens in the Near Southside are closing for the night, Black Market Bakery & Café is just getting started. Open 12-6am Wed-Sat, Black Market is in a timeshare agreement with Nonna Tata, and the after-hours café offers vegan-friendly options, cookies, cakes, and fun dishes like sweet potato hash and goetta (a meat and oats mashup that's popular in Cincinnati). Still new, it's already become a popular destination for customers with the late-night munchies.