This year's Homebrew Throwdown (November 20 at Panther Island Pavilion's Shack) is bigger, better, and boozier than ever. At the heart of our event is the homebrew competition, judged by several of Fort Worth's professional brewers. (For rules on how to enter visit our event page.) This year, we're crowning several winners. Another perk for entrants is direct judge feedback via comment cards.
That's only part of the Homebrew Throwdown experience. The Sunday event runs 12 to 6pm as part of North Texas Beer Week. The $20 cover ($15 in advance) gives you a tasting card, live entertainment, Dallas Cowboys on the Big Screen, games, and access to food and retail vendors. Last year, our panel discussion with Fritz Rahr (Rahr & Sons Brewing), Adam Gonzales (Chimera Brewing Company), Grant Wood (Revolver Brewing Company), and other professional brewers and beer personalities proved popular, so we're bringing it back. Tickets are available here.
North Texas Beer Week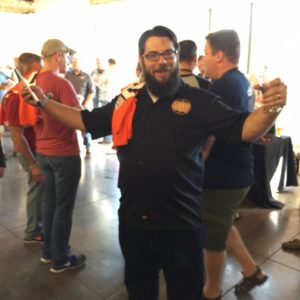 North Texas' biggest beer event (November 11-20) is only weeks away. If it's brew-related (beer dinners, bottle shares, homebrew competitions, festivals, meet the brewer events, and tap takeovers) then it'll be part of this 10-day extravaganza. To see what's new, I chatted up NTX BeerWeek executive director Matt Dixon.
Brown: Let's get down to business. What's new about this year's North Texas Beer Week?
Dixon: This year, we're looking to have around 250 events. There's a good mixture of rare tappings planned. LUCK (in Dallas) has a Martin House and gummy bear paring with [a beer called] Queen of the Mist. This is the third year of our Brewer's Ball, and this year we're moving it to the Omni Hotel. The side of the hotel will be lit up with the words "North Texas Beer Week," so that should make for some cool pictures. And we added a silent auction benefiting North Texas Food Bank.
Brown: For those who don't know, what's the Brewers Ball?
Dixon: It's an intimate, laid-back, very VIP experience. This year, 45 breweries and 12 beer-centric restaurants will be represented. There's no tasting card. You sign in, get a glass, and walk around for three hours and drink some great beers. There are very few lines. In previous years, we've had Adam Avery and David Walker come. (Tickets can be purchased here.)
Brown: Which North Texas Beer Week events do you think will be the most popular?
Dixon: It's been cool to see people make beer specifically for beer week. Tait Lifto from Founders [Brewing Company] has done a great job setting up events with that brewery's founder, Dave Engbers. You can have lunch with him at one event. That's pretty cool for our scene to have the owner of somebody as big as Founders come in. The other ones that are always popular are beer dinners and food pairings that flex the muscles of how beer and food can go together.
Brown: Which Fort Worth events are you looking forward to the most?
Dixon:  Fort Worth really steps it up each year. I know Wild Acre is doing their second broadcast with The Ticket. You guys are doing the Homebrew Throwdown. I'm going to try and make it this year. It looked great and it sounds great on paper this year. Pour Glory is doing a beer-lympics. They have brunches planned with Collective Brewing and a HopFusion-paired dinner. Rodeo Goat is doing a burger battle, I want to say with Martin House and Rahr, where burgers made with those beers will be voted on by tallying orders. Martin House is releasing Cheer Wine, a tart cherry wheat wine. Cheer Wine is gonna be at the brewer's ball as well.
Brown: On a side note, what do you think of the battle to free breweries and brewpubs from restrictive TABC laws?
Dixon: The big one I think is the brewpub stuff, specifically breweries being able to do what brewpubs do. I'll use Lakewood as an example. Say I discovered Temptress and I want to buy a case. Lakewood can't sell it to me directly. Making the laws more accessible is imperative to continued growth.
Real Ale Brewing Company's AXIS IPA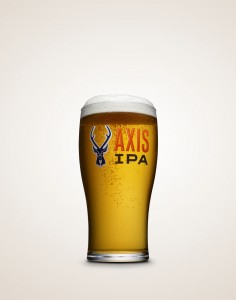 Christmas came a little early this year. Last night, I hoisted an Axis IPA, a new draught-only release by Austin-based Real Ale Brewing Company. The brewery makes two of my favorite beers, Hans Pils and Gose. The West Coast-style IPA is adventurous in its profile and nuanced in its follow-through. I wouldn't describe the results as exceedingly bitter, but all the characteristics traditionally associated with hops (citrus, pine, floral notes) are boldly present. The light-bodied ale really hits you in the palate with its hop-forward flavor but leaves behind fragrant grapefruit aromas. Axis is a fresh take on a popular style that imitates none without shying away from exploring the outer limits of American-style IPAs.
On Tap this Week:
Pride of Southside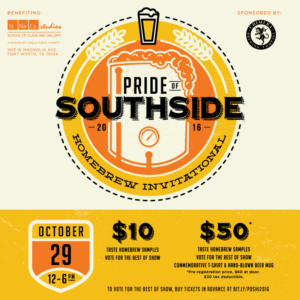 Martin House Boo-ery Tour featuring beer and barbecue samples from Cowtown Brewing Company.