With pundits predicting a turbulent year, I decided to begin 2017 with a comforting, familiar ritual.
I watched sports.
This was not, however, my father's New Year's GameDay (although I can assure you my Pops did watch sports on January 1). Since I can remember, the first day of the year has consisted of remaining couchbound while watching college football from morning until deep into the evening.
I attended a collegiate sporting event on NYD, but it wasn't the Goodyear Cotton Bowl. In fact, it wasn't football at all. I drove to Denton to watch the University of North Texas Eagles host a women's basketball game against Old Dominion University. I went because I needed footage for a project on which I'm working, but the game had plenty to recommend it anyway. Old Dominion's Jennie Sims has been one of the nation's top scorers this season and the game turned out to be an entertaining one. North Texas' defensive scheme held Simms in check and the Mean Green pulled away late for their first conference win of the year (well, you know, by "year," in this case, we mean "season").
So I was glad I went, but it occurred to me how the sports routine has changed from the days of the Wake-Up-Late, Blearily-Heat-Up-Velveeta/Chips/Black-Eyed-Peas, Watch-Minor-Bowls-Cotton-Bowl-Rose-Bowl-Sugar-Bowl/Orange-Bowl sequence we repeated year after year.
For one thing, there were no college football games on New Year's Day 2017. That had more to do with the day of the week than any structural changes. The New Year's Six Bowls have traditionally avoided Sundays, moving their games to Mondays when the calendar flipped on the Sabbath. If you didn't join me at the hoops game, you still had plenty of football to occupy yourself on whomever's sofa you woke up on, as the NFL played a full slate of games.
This whole New Year's Six thing is a recent concept, with a half dozen preferred bowls rotating in hosting national semi-finals. The last couple of years, however, those highly important games haven't happened in the new year at all. They've actually been the Old Year's Two, with the semis staged on New Year's Eve. And the Capital One Orange Bowl happened on December 30 this year (or, um, last year), the earliest it's ever been played. And, of course, neither the Cotton Bowl nor the Orange Bowl are actually played any more in the stadiums called the Cotton Bowl (which instead hosts the Zaxby's Heart of Dallas Bowl) and the Orange Bowl (which instead hosts the Marlins baseball stadium that replaced it).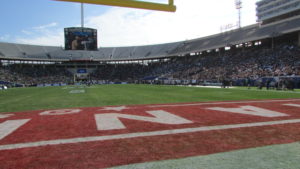 On January 2, I did manage to watch some college football, including a compelling Rose Bowl (still played in a stadium called the Rose Bowl) decided on a last-second field goal following a last-minute interception. Only four bowl games spread across the waking hours made for a somewhat skimpy football menu compared to years gone by, but other sports have stepped in to fill the void. I also spent part of my Bowl Day watching the St. Louis Blues defeat the Chicago Blackhawks in an ice hockey game played in a baseball stadium. I also took an interest other televised football that morning, specifically association football from England. Growing up, I wouldn't have been able to anguish over the draw between Liverpool and Sunderland, but the same expansion of cable TV that gave ESPN dominion over most bowl game telecasts enabled me to get my morning soccer fix, too.
If you did want to watch women's college basketball on January 1, but didn't want to go to a game with me (totally understandable), the NCAA had 37 other Division 1 contests scheduled that day, with another 41 on January 2. They also had 60 D-1 men's hoops games available over the year's first 48 hours, plus a handful of ice hockey games.
Speaking of stick and puck, the Dallas Stars have traditionally played on New Year's Eve (a really fun night out – if you've never done it, give it a try some year). Their league played a bunch of games that night, plus another half dozen over January 1-2, including their aforementioned signature Winter Classic outdoor game. The NBA had plenty of games all three days, too.
I'm not being curmudgeonly here. Things weren't necessarily better when I was a kid. Having this many sports choices rocks. So if your misgivings about 2017 have focused more on the Electoral College than collegiate athletics, take heart. At least sports has made progress since the days of Wallace, Nixon, and McGovern.