One of my favorite regular features is this one that I do around this time every year. It's my way of writing about a selection of films that I couldn't cover in either the Film section or Film Shorts, and which don't seem headed for an awards-season release in the new year. (I'm saving up my reviews of 2016 movies like Julieta or Toni Erdmann that might come out here later on.) Get ready for a parade of the odd and the treasurable little films, most of which are available on disc or via streaming video.
Always Shine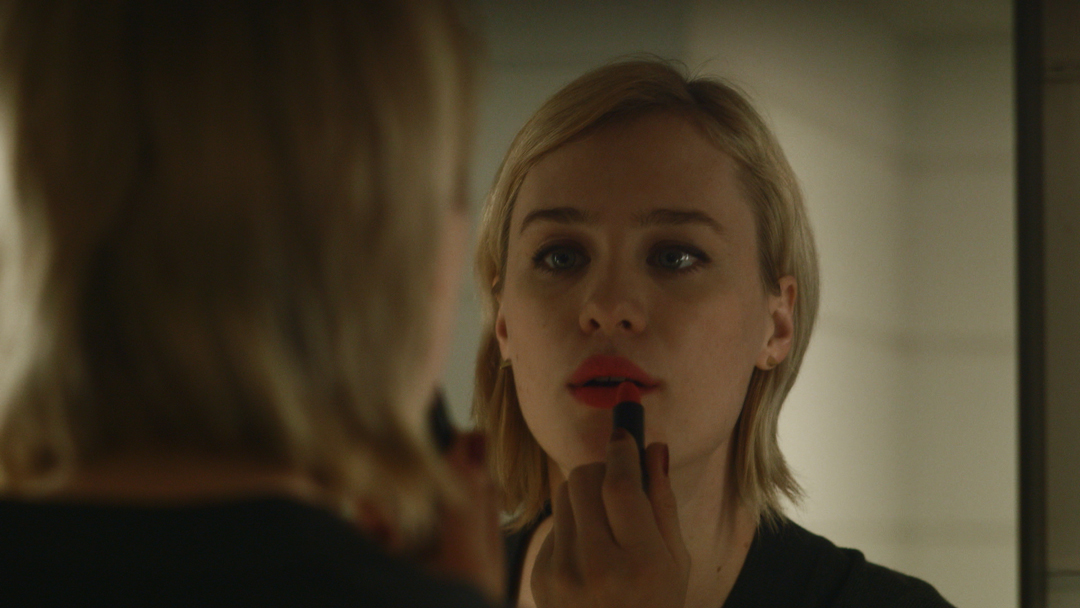 You've probably heard me mention this movie in some of my year-end best lists. This feminist psychological horror flick reminded some critics of Ingmar Bergman's Persona and me of Sam Shepard's play True West, with its two characters' personalities start to bleed into each other's. Whatever it's taking its cue from, Sophia Takal's film is definitely unsettling, telling the story of Hollywood actresses Anna and Beth (Mackenzie Davis and Caitlin FitzGerald) taking a weekend at a friend's summer house in Big Sur to renew their friendship. Instead, it unravels violently over Anna's jealousy of Beth's success, even though that's mostly built on Beth getting naked in cheap horror flicks. Takal keeps teasing us with the possibility that one or both of these blonde actresses with similar height and build will get naked for us, but that's just to draw us into this twisted tale about the corrosive effects of jealousy, anchored by two terrific, symbiotic performances. If you're looking for an antidote to La La Land's sunny view of Hollywood, this works very well.
Belladonna of Sadness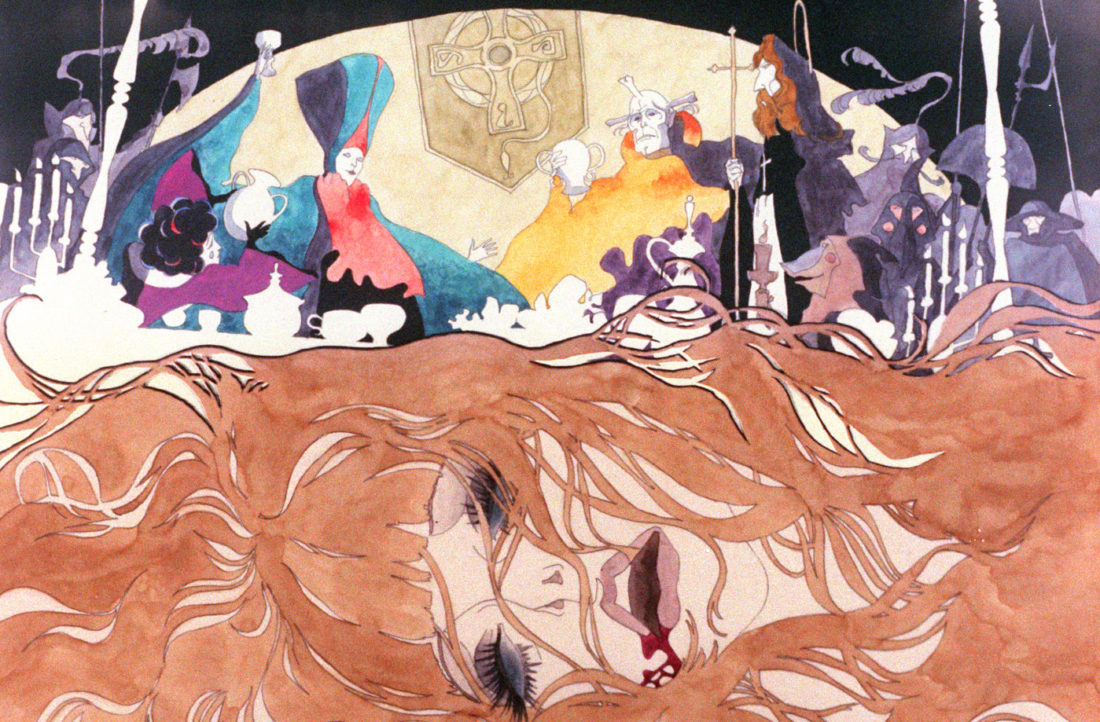 Eiichi Yamamoto's anime cult classic from 1973 wasn't released in America until this past summer. Based on Jules Michelet's nonfiction book La Sorcière, the movie invents a fable about a medieval Frenchwoman who's raped by the local lord and makes a pact with the Devil to revenge herself on him. The movie is known for its outrageous psychedelic visuals and rioting colors borrowed heavily from Gustav Klimt's paintings. The legendary actor Tatsuya Nakadai (Ran) provides the voice of the Devil, and the whole thing makes a fascinating companion piece to The Witch. Still, it's the movie's graphic and highly stylized violence that still has the power to shock even four decades later. The image of a woman being repeatedly ripped in half at the crotch is one of the most powerful depictions of rape I've ever seen in a movie, all the stronger for being abstracted.
The Club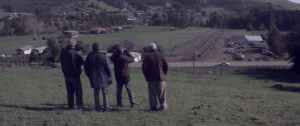 Three of Pablo Larraín's films came out in American theaters this past year, and while Jackie made other critics' Top 10 lists and Neruda comes out in Dallas this week, this one is the best one. It mostly takes place at a beach house in Chile located well away from the town. Supposedly it's a spiritual retreat for retired priests, but actually it's where the Church has exiled its pedophiles. There's a great scene early on when a newly arrived priest (José Soza) is tormented by one of his victims (Roberto Farías), who has followed him to the house and stands outside screaming an incoherent but detailed account of what the priest did to him. You won't soon forget the way that one ends. As a Vatican bureaucrat (Marcelo Alonso) visits the house and determines whether or not to shut it down, the movie becomes a moving account of how these priests maintain faith in their God when their own church and most people in general want nothing to do with them.
Cosmos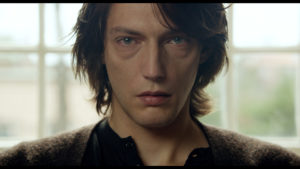 Dear Lord! The last film by Andrzej Żuławski (pronounce that last name zhu-WAHV-ski) is a typical entry into this Polish director's world of madness. Nominally, the story is about a French law student (Jonathan Genet) who returns to his family's home in Portugal while taking a break from school. In reality, plot and character motivation go by the wayside for another Żuławski extravaganza of overacting as the hero comes upon the hanged body of another character and immediately turns to the character to narrate the effect that the man's suicide has on his overheated psyche. Elsewhere, he looks like he's staring the hounds of hell in the face as he writes a diary entry about an uneventful country walk: "A string, an axe, a piece of wood! Darkness! Unfathomable!" Meanwhile, his gay best friend (Johan Libéreau) keeps showing up with new, unexplained bruises and wounds, and at one point the entire family drops to its knees to frantically pick up a dropped bowl of peas. This metaphysical meditation on life's meaningless theatricality is topped off by an outtakes reel over the end credits, like you'd find in a Jackie Chan movie.
Demon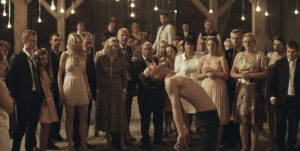 I mentioned this movie in my obituary of Andrzej Wajda. The late Polish director didn't make this horror film, but his spirit hangs over it as it tells the story of Piotr (Itay Tiran), an English-speaking Pole who returns to his small hometown to get married. That's where he becomes possessed by the spirit of a Jewish girl who died in that village during World War II. This is surprisingly funny, as the man lies writhing naked on a bed screaming in Hebrew while the village priest and doctor (Cezary Kosiński and Adam Woronowicz) launch into an Abbott-and-Costello routine while trying to foist the trouble off on each other. Meanwhile, the bride's father (Andrzej Grabowski) tries to get the guests as drunk as possible so they'll forget what's happening. This is all a big allegory about how so many Poles would rather see their country as victims of the Nazis and Soviets than acknowledge that they did many of the country's atrocities to themselves. (Indeed, the country's current government was elected on just such a history-erasing platform.) If you do a vodka shot every time someone in the film does one, you'll be dead before the end credits.
Don't Think Twice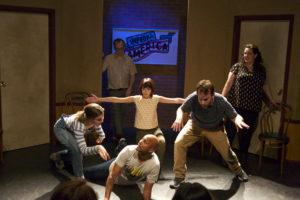 I don't look forward to Mike Birbiglia's films, but whenever I see them, I find I like them. That goes for this lacerating comedy about comedians, specifically a New York-based improv troupe spearheaded by its aging founder (played by Birbiglia himself). This tightly knit group of performers implodes when one of its members, Jack (Keegan-Michael Key), catches a big break by getting on the cast of a national TV show that's clearly meant to be Saturday Night Live. Jack is only mildly an asshole, and success doesn't make him appreciably more of one, but his former colleagues react in different and believable ways. It's all surprisingly moving, especially the climactic scene when Jack's ex-girlfriend and fellow troupe member (Gillian Jacobs) does the group's last improv set by herself, knowing that her relationship and her troupe are over and she needs to find the next thing.
The Invitation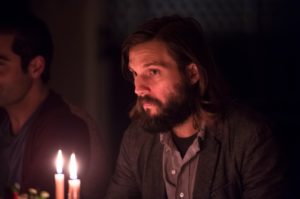 Karyn Kusama's hard-to-categorize movie starts out as a serious drama about a man going to an L.A. dinner party while mourning his dead child, only to turn into something much more horrifying. Logan Marshall-Green gives the best performance of his career in the lead role here, as his fellow dinner guests think his character is acting weird and distant because he still hasn't gotten over his bereavement more than a year ago. He hasn't, but his strange behavior is because he detects something isn't right about this little get-together. The final shot of this thing is a step too far, but otherwise Kusama (reuniting with the writers of her fantasy-adventure flop Aeon Flux, a far different movie) does an expert job of unspooling the suspense until havoc breaks out in the climax. This movie never even played the Dallas theaters. Tell us why, Drafthouse Films.
Right Now, Wrong Then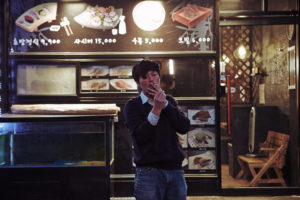 Hong Sang-soo made headlines for the wrong reasons with this movie. The Korean director left his wife of 35 years for its younger-than-35 lead actress, Kim Min-hee, who also co-starred in The Handmaiden. It was the most press coverage Hong ever had, as a filmmaker whose deeply intellectual cinematic exercises have won him far more fans in France than in his own country. I'm not one of Hong's diehard followers, but this movie's likely a great place to start if you've never seen one of his films. It stars Jeong Jae-yeong as a married film director who meets a young woman (Kim) while visiting the city of Suwon for a screening of one of his films. Distinctively, the movie is divided in two halves so it can tell the same story twice over, as the protagonist does different things in his encounter. Hong's artistry is always subtle, but here you can see in stark terms how fine the line can be between a great day and a bad one.
Under the Shadow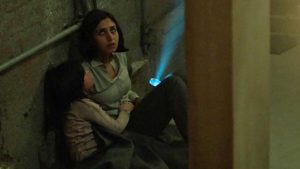 The Iranian government won't let filmmakers deal with supernatural elements or anything politically sensitive, so this Farsi-language movie had to be made in Britain. Set during the Iran-Iraq war of the 1980s, the movie stars Narges Rashidi as a Tehran medical student-turned-housewife raising her young daughter (Avin Manshadi) by herself while her doctor husband is at the front treating wounded soldiers. When an Iraqi missile hits her apartment building but fails to explode, her neighbors flee and her home becomes haunted by a djinn, which isn't a friendly bearded fellow who pops out of a lamp and grants wishes but an evil spirit that wants to possess them. Director Babak Anvari makes great spooky use of the deserted building and ties the evil spirit to the war and the theocratic government outside — when the heroine flees her home, a passing cop yells at her for being outside without her head covered and forces her back in. Committed performances by the two actresses help make this uniquely unnerving.
The Wailing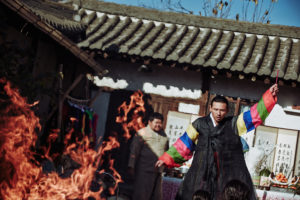 One of the lessons in this Korean horror movie is: Never trust a shaman who shows up in a shiny new Range Rover while wearing a shiny new Nike tracksuit and a ponytail. Na Hong-jin's 156-minute (!) movie boasts a top-notch performance by Kwak Do-won as a rural cop whose daughter becomes possessed by a demon. The movie gets into subjects of Korean xenophobia (as mysterious murders start happening after a Japanese man moves into the area) and has a funny riff by the hero about male incontinence. Still, the reasons to see this are Na's expert buildup of sickening dread in this setting and his faithful depiction of an exorcism ritual in the Korean shamanic religions, which involve a huge bonfire, a percussion group, sacrifices of live chickens and goats, and the shaman dancing around sides of beef. Who knew an exorcism would need so much meat?