An already sizable crowd was milling around Lola's Saloon (2736 W 6th St, 817-877-0666), waiting for some fun on a cold, foggy night in Fort Worth. I got to the 6th Street club just in time to catch the show's openers, Cut Throat Finches.
Normally a five-piece outfit, The Finches were down to four, because lead guitarist and producer Taylor Tatsch was on the road with another fellow Fort Worthian, Luke Wade. The absence of the lead guitar forced them to play a more reserved set with just an acoustic guitar, harmonium, bass, and drums. This laid-back vibe worked really well for the uptempo folksy-rock band –– lead singer Sean Russel's soaring voice was in the forefront more than ever.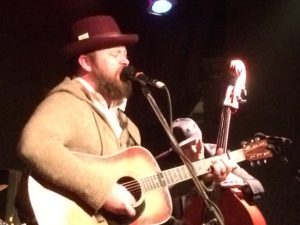 War Party hit the stage just as the main room at Lola's was starting to get really packed. The quintet powered through its set of pop/punk/surf rock, and got the crowd moving and dancing. The band's cover of the Ramone's "My Brain is Hanging Upside Down" kicked up the energy in the room and it blended with the rest of War Party's up-tempo, punk-lilted, sometimes doo-wop-y tunage. The further the band got into its set, the more they and the crowd both really loosened up and started to party.
Un Chien was celebrating the release of its second album, Where We Belong, released on Hand Drawn Records. The five-piece, consisting of Stephen Beatty on guitar and vocals, Rachel Gollay on lead guitar and backing vocals, Kris Knight on synth and backing vocals, Jerrett Lyday on drums and Taylor Craig Mills on bass, played the whole record from front to back.
The band exploded into the first track on the album, "Slow," and just soared through the entire album. The guitars were loud, the bass was heavy, the drums were pounding and mixed so high in the PA the deaf could have heard it. What really stuck out the most was the three-part harmonies between Beatty, Gollay and Knight. Every time all three sang together, it sounded polished and sublime.
Beatty had a surprise for fan Claire Burden Crocker, who was there celebrating her 5th wedding anniversary with her husband Andy. Beatty invited her onstage to play tambourine (ala Joel Gion from Brian Jonestown Massacre) for one song. Claire was obviously having such a good time that Beatty invited her to rock the tambo for the remainder of the set, which she did with much enthusiasm.
The crowd slowly fizzled outside as the band's respective merch tables had crowds around to buy shirts and vinyl. Then it was back off into the fog.
UN CHIEN ALBUM RELEASE
w/ War Party, Cut Throat Finches
Lola's Saloon. Jan 14.