The offerings at The Brass Tap have grown over the past three years to include food and, later this year, liquor, but the craft suds have always come first. I recently visited the downtown gastropub to meet Brass Tap co-owner Ron Jankowski.
The pub's layout is cozy with large booths lining the sides of a long rectangular room. On the back wall, 60 draught taps and 190 bottles and cans offer a wide array of local, regional, and national craft beer choices. Roughly half the beers on the tapwall come from Texas breweries. Two of the most popular brews are by Panther Island Brewing and Revolver Brewing.
Jankowski, a Milwaukee-native, moved here in 2006 following his wife's job transfer. A few years later, the pharmaceutical company he worked at began downsizing. The resulting severance package left Jankowski with time to plan the next chapter of his career. He began discussing small business ventures with Jay Thompson, a friend who had also left the pharmaceutical industry for similar reasons.
"Hey, let's see do something different," Jankowski recalled telling his friend.
An online search for possible businesses brought up The Brass Tap, a new Florida-based franchise geared toward the casual beer and wine drinker. Brass Tap's model gave Jankowski and Thompson freedom to operate the pub largely how they wanted. The business also gave the duo the opportunity to be part of Fort Worth's blossoming craft beer scene.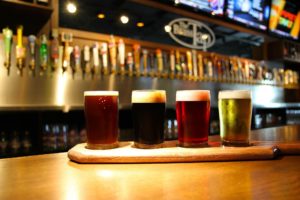 In 2014, the Fort Worth pub added food service. Jankowski knows what a bummer it can be to hear "the kitchen is closed."
"As long as our bar is open the kitchen is open," he said, meaning on certain nights patrons can order food up until 2am.
Brass Tap's owners know they can't please everyone, but they are trying to meet customer needs where they can. One unexpected and recurring request has been for liquor. Adding spirits to the bar also brings the possibility of exploring beer cocktails. A Moscow Mule made with ginger beer is one popular example, but there's a whole world of beer cocktail recipes Jankowski plans to explore.
For fans wanting more than the occasional beer fling, Brass Tap offers a membership club called the Brew Crew. After an initial fee, members are given a card. Each new beer imbibed at Brass Tap adds a point. Benefits include free t-shirts, discounts, and gift cards as high as $200.
Craft beer will always be the centerpiece of the Brass Tap experience, Jankowski said.
"We have a good mix of beer, but we try to focus on local beers," he said. "We try to make sure there are as many styles represented as possible to satisfy our diverse customer base."
The Brass Tap, 901 Houston Street, FW, 76102, 817-870-3838
Don't forget to follow On Tap in Fort Worth's Facebook page.
On Tap this Week:
Fort Worth Opera presents Opera Unfiltered
From FWO: Say hello to Opera Unfiltered! FWO is heading to Wild Acre Brewing Company to give you an exclusive sneak peek of our 2014 Frontiers showcase winner 'VOIR DIRE.' Written by composer Matthew Peterson and librettist Jason Zencka, the explosive new work receives its world premiere during the 2017 Festival and features firsthand accounts of the brutal world of legal drama.
Opera Unfiltered runs Jan 26 at Wild Acre Brewing Company, 1734 East El Paso St, FW. Free (not including drinks). Call 817-731-0726.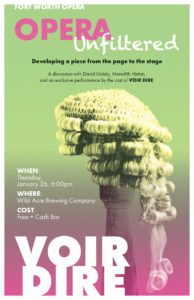 Martin House Brewing Company releases its Hibiscus Saison
An old favorite returns Jan 28, 2-5pm at Martin House. Entry is $10 and includes three beers and limited luau-themed glassware. Food from Islanders Food Truck will be available for sale as well as merch from Thesoulfulgypsy Boutique.