North Texas' brewery founders come from all walks of life, and David Clark's journey fits that trend. The former civil engineer and Arlington resident is hard at work, renovating a 8,100-square-foot building in Pantego. If everything goes to plan (Clark expects some setbacks) the brewpub will open late this year, offering a Belgian saison, Belgian wit, American pale ale, IPA, porter, and stout.
In the months following New Main Brewing Company's opening, the brewpub will release four variants (wood-aged, spiced, fruited, and barrel-aged) of each of the six flagship styles. The New Main concept has evolved over the past several years as Clark searched for greater challenges in his career and mastery over his passion for homebrewing.
After graduating from Texas A&M University in 2009, the Brownsville native took a job in North Texas working for a highway construction company. He was grateful to find employment in the midst of a deep recession, but the monotonous work basically left him "babysitting concrete trucks," he said.
"I was doing scheduling, budgets, that type of thing," he said. "After a couple of years, I realized I wasn't challenging myself."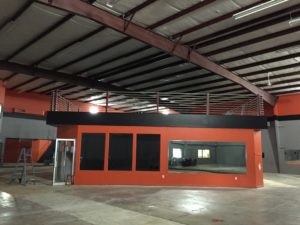 In late 2012, his brothers got him interested in homebrewing. He admits his first attempt resulted in lackluster beer, but he was hooked. Compared to the monotony of his day job, homebrewing was a welcome relief. While scouring online homebrew forums, Clark developed his current brewing ethos.
"I've always been a fan of straight-forward styles," he said. "There are published guidelines for every style. If someone is making a porter, I know the flavors I'm looking for are slightly roasty, a good chocolate flavor, and somewhere between four and 7.5 percent ABV."
Creativity plays a big role in making beer, even for purists like Clark. Soon after he learned the ropes of basic recipes, he started toying with them. Two early experiments, a hatch chili porter and blueberry pale ale, were encouraging.
To share his homebrew recipes and experiences he started a blog, newmainbrewing.blogspot.com. As new breweries began coming online around him, Clark decided someone needed to chronicle the openings. He began interviewing brewers and blogging about their journey. While he was telling the stories of other brewers, his own beers were getting good feedback from friends and homebrew competition judges.
Early last year, Clark, with the help of his wife Amanda, began researching the possibility of opening a brewery near their home. He felt a sense of urgency. North Texas' craft beer scene, while young, wouldn't experience record growth forever. As he put it, he didn't want to be five years in the future wishing he had opened a brewery. He'd much rather be celebrating his brewery's anniversary. Clark's friend Kyle Nelson, who'll be head brewer, recently became a partner in the venture along with Amanda's mother Rita.
You can be a part of New Main Brewing Company's journey by supporting its Indiegogo campaign. Contributors will have the opportunity to make suggestions and guide the design features of New Main Brewing's taproom.
"We want this taproom to be a cool, interesting experience," he said. "We're turning this over to our fans."
Don't forget to follow On Tap in Fort Worth's Facebook page.
On Tap this Week:
New Main Brewing Company Pourings
Meet Clark and the New Main gang this Saturday at What's on Tap in Highland Village from 2 to 4pm and Sunday at LUCKapalooza in Dallas.
Saint Patrick's Day at Shannon Brewing Company
From Shannon: Music, fun, and revelry all day. Join us March 18 from 11am-7pm as we celebrate St. Patrick's Day here at the brewery! We will be tapping some of our beloved seasonal beers. VIPs and early registrants will receive six 12-ounce pours. See ticket information here.
Martin House Brewing Anniversary Party
Time flies when you're making beer. The brewery known for big, bold brews is throwing an equally big anniversary shindig later this month. The March 25 event runs from 1 to 5pm (VIP tickets get you in at 12pm) and includes core, barrel-aged, seasonal, and new beers on tap. It'll be a fun, family friendly event. Cheers to the good folks at Martin House. Purchase your tickets here.