One of North Texas' most popular craft beer events was first pitched to celebrity investors on ABC's Shark Tank several years ago. The concept of a comedy series in craft beer breweries was the brainchild of local actor and comedian Tyson Faifer, who subsequently made his idea a reality four years ago.
"They loved the idea," he recalled of his time working with Shark Tank's producers. "They cut us because they didn't know how they could put a spin on the concept that would be good for TV."
Faifer said the comedy series was the first of its kind, combining four professional stand-up comedians with traditional taproom tours. Three beers are included in the ticket price. (Having been to one of these shows, I can attest to the top-notch talent he hires.)

Faifer recently made a career-minded move to Los Angeles, but he visits Dallas and Fort Worth frequently. He is currently working on a dating show concept based on the Brew-HaHa Comedy Series that blends reality television with stand-up comedy. The idea is that dating contestants will hear a comic's stand-up routine before going on a "mini date" with the comedian immediately afterward.
The contestants don't get to see the comedians, Faifer said. "They have to pick their date based solely on the comedy they hear. Then they're going to come back and talk about it. We want to find out if laughter is the real way to find love or if it's about good looks and money."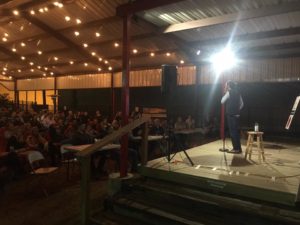 With the help of Dallas Brew Scene, Haüs of Growlers, craft breweries, and countless fans, the Brew-HaHa Comedy Series is here to stay, Faifer said. When the young actor isn't organizing events, he's training for a possible return appearance on American Ninja Warrior. He regularly tests Ninja Warrior courses to ensure they are safe and ready for prime time. (Hint: Faifer said that if you want to raise the next Ninja Warrior champion, start your kid on gymnastics and rock climbing lessons.) See, you get all kinds of good advice from this column.
Brew-HaHa resumes August 4 at Rabbit Hole Brewing.
Don't forget to follow On Tap in Fort Worth's Facebook page.
On Tap this Week:
Brew-HaHa Comedy Series
The 2017 series continues with Rabbit Hole Brewing (8/4), Oak Highlands Brewery (8/11), TUPPS Brewery (8/17), Legal Draft Beer Co. (8/18), Intrinsic Smokehouse and Brewery (8/24), Lakewood Brewing Company (8/25), Franconia Brewing Company (8/31), and Community Beer Company (9/1). Purchase tickets here.
Dallas Brew Scene Brew Bus

From Dallas Brew Scene: You're invited to a very special Dallas Brew Bus tour. This is the first time we've ever started from Fort Worth and headed east. We'll be visiting three breweries: Peticolas, Community Beer Co, and HopFusion Ale Works. Arrive at HopFusion Ale Works (200 E Broadway Ave, Fort Worth) no later than 12:15pm. $55 gets you a seat on the bus, complimentary samples at each brewery, a snack from the culinary wizards at LUCK, and a commemorative snifter style glass.

Email: Info@DallasBrewBus.com with any questions.
IPA Day at Flying Saucer Fort Worth August 3
From Flying Sacuer: Come celebrate the dankest of days at Flying Saucer Fort Worth! We'll tap rare IPAs throughout the day, and we're also offering a special "choose your own" IPA flight so you and your friends can taste and compare different variations and nuances of the beloved style. We'll see you there!"