Thursday night, someone asked a group of noted play-by-play men about the most difficult venues in which to call a game. New York City native Chuck Cooperstein of the Mavericks, the subject of this post's video interview, reluctantly cited his beloved Madison Square Garden's subpar sightlines. The Rangers' Eric Nadel noted that he loved Chicago's venerable Wrigley Field in general, but not its lilliputian broadcast booth. (He observed that early broadcasters "apparently were very small people.") Brad Sham from the Cowboys placed Washington, D.C. first. He also named them second, third, and on up through number 32. Sham explained that the visiting radio booth is low and in the corner and he has to call certain distant plays using the monitors in the instant replay booth next door.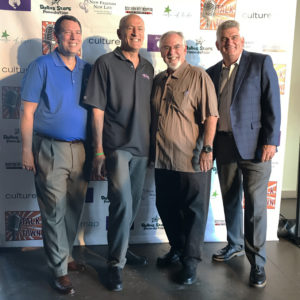 At the Talk of the Town event, radio announcers for North Texas's top four pro sports teams assembled to swap inside stories about their profession. The audience could submit queries on note cards and the venues question was one of the first moderator John Rhadigan read. Dave Strader wasn't on stage at that point and we didn't find out his answer to it. The Stars' announcer had planned to attend, but a recent complication in his cancer treatment prevented him from being physically onsite. It didn't stop him from participating, however. A few minutes after the broadcast booth discussion, Rhadigan introduced a classic call of a Steve Yzerman playoff overtime goal, one Strader had made as the voice of the Detroit Red Wings. As it ended, the skinny but energetic hockey broadcaster appeared on the video screen via Skype and described how they had just watched his final call as a Red Wings team broadcaster.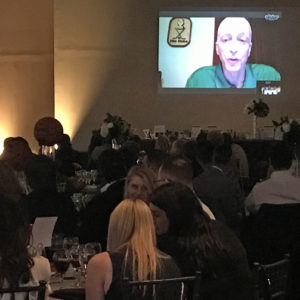 Strader then stuck around virtually, contributing his viewpoint to every question and clearly enjoying the night. After the event, he tweeted "Thank you for having me! It meant a lot." I'm sure the experience raised his spirits, and it lifted the room up a lot, too. Perhaps my most enduring memory of a fully enjoyable evening will be of the occupants of the Dallas Stars' table, including former Stars forward Vern Fiddler, watching their colleague on the screen and clearly being moved by the sight.
In addition to serving as a pick-me-up for Strader and his Stars colleagues, the event also benefited five charities dedicated to serving less-fortunate children. Earlier in the evening, after Sham had described the challenges of having no depth perception when calling a Cowboys-Redskins game, he had added a caveat.
"The one thing you won't hear us do is complain about it. Because one of the things I think we all understand," explained the longtime announcer, "Is there's a line of people three times around the stadium who would do it for free."
Sham and the rest clearly appreciate what they have. In a night filled with great stories, that message was truly a lasting one.
Disclosure: The events company charged with putting on the event paid me to help with audio-visual content