New Restaurant
Readers' choice: Piattello Italian Kitchen, 5924 Convair Dr, Ste 412,817-349-0484
Critic's choice: 44 Bootlegger, 1411 W Magnolia Av, Ste 101, 817-887-9089. When word got out that this West Magnolia boutique-turned-wine-bar was starting a dinner service, we expected it would be a fun add-on to a place that had already cemented a solid reputation as a great hideaway for Fort Worth's cognoscenti to enjoy an exceptional wine list. Nobody was expecting that Chef Jaime Fernandez would manage an end-run around some other very worthy contenders to win Best New Restaurant for 44 Bootlegger. Fort Worth had a good year in restaurant openings, but 44's small, seasonal menu of expertly balanced dishes sets the place apart from the pack. French and Spanish sensibilities pair with the best in local produce for a result that causes grateful diners to start plotting a return visit before they even pay their check. Seared scallops and asparagus with sauce gribiche won the summer, and we're looking forward to see what Chef Fernandez has to say about autumn in North Texas — all over a great glass of wine, of course.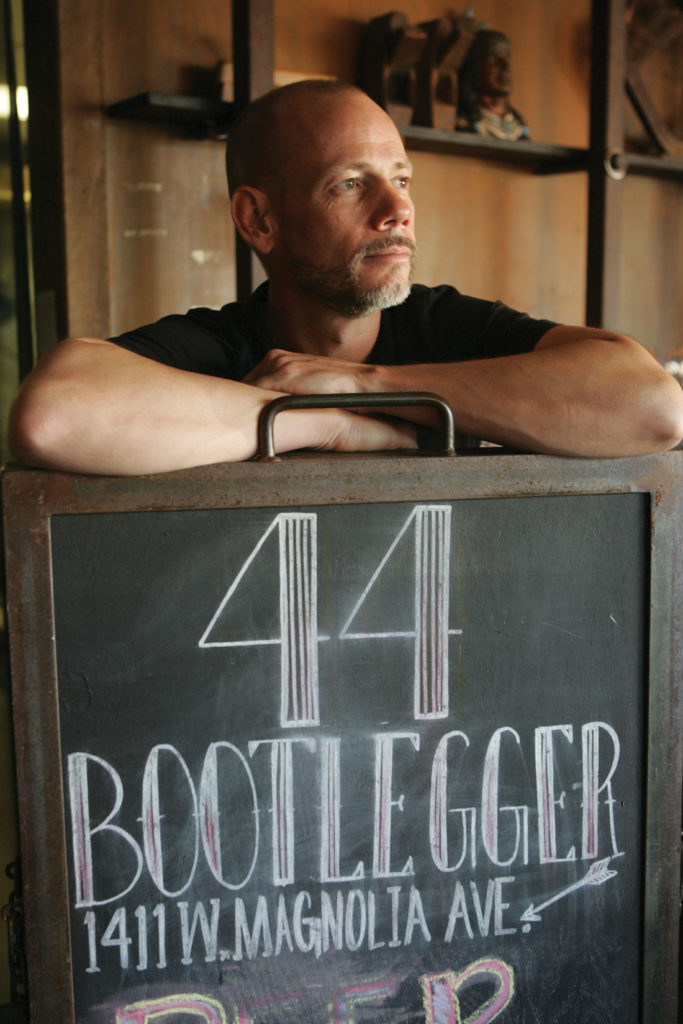 Pop-Up Restaurant
Critic's choice: Hot Box Biscuit Club, various locations . Chefs Sarah Hooton and Matt Mobley's bi-monthly Southern-themed brunches usually sell out in less than 20 minutes. The pair usually sets up shop in the dining room of Magdalena's Catering & Events (another standout pop-up), but they've also taken their menu of decadent, gussied-up comfort food on the road to places like Wild Acre Brewery and Tokyo Cafe. Go to its Facebook page to get on the mailing list, and check your email compulsively until you get a seat. You'll never look at biscuits the same.
Menudo
Critic's choice: El Tapatio Durango Mexican Food, 2714 Azle Av, 817-439-9577. There are only eight tables at this Northside taqueria –– and half that many parking spaces –– but once you grab a seat and settle inside, you will enjoy digging into a big, hot bowl of menudo. Authentic, colorful, and flavorful with just the right amount of grease, El Tapatio's comes with fresh-cut onions, parsley, lime, and fresh tortillas. Any self-respecting cow would be honored to sacrifice its tripe for such a treat.
Atmosphere
Critic's choice: Press Cafe, 4801 Edwards Ranch Rd, 817-570-6002. For any food mood you're in, Press Cafe can match you in exterior ambiance. Sit indoors if you're planning a meal with a formal, sit-down feel. For fast, casual dining, local cyclists and other Trinity Trails trekkers climb onto the sturdy high-top chairs on the first-floor patio –– most often for a quick bowl of gourmet spiced oatmeal or homemade banana walnut waffles at breakfast or brunch. Even when the heat index rises, the outdoor ventilation units help keep diners cool and comfortable.
Best-Kept Secret
Critic's choice: Madea's Down Home Cooking, 1019 W Enon Av, Everman, 817-551-9295. This soul food restaurant could add "Delicious" and "Decadent" to the "Down Home" in its name without ever being accused of false advertising. The country cooking is prepared with love (read: lard and butter), meaning that even the vegetables are sinfully flavorsome. People living in far South Fort Worth have long been hip to the giant portions of tasty oxtail, turnip greens, and peach cobbler being dished out at Madea's for years. The rest of our fair city's hungry bellies might find a delightful surprise awaiting them.
Taqueria
Critic's choice: Tako Chihuas, 2408 W Seminary Dr, 817-841-0160. You might have driven by the orange-hued restaurant on Seminary Drive a few times and thought, "I should try that place some day." Follow your instinct and order from their expansive menu of traditional Mexican tacos prepared with an uncommon attention to detail. You'll find pastor (pork) swimming in a red stew of ground chiles that's just the right balance of spicy and greasy, lean asada meat that's fork-tender and not at all overcooked –– a common taqueria foible –– and some of the best green salsa ever slathered on a taco.
Tamales
Readers' choice: Hot Damn, Tamales! 713 W Magnolia Av, 817-523-1836
Critic's choice: Mariposa's Latin Kitchen, 5724 Locke Av, 817-570-9555 . The single tamale served on the lunch and dinner plates is called a "grande" for a reason. Imagine a small throw pillow wrapped in a cornhusk. Despite their large size, the tamales at Mariposa's are stuffed with fresh fixings and taste light, airy, and sophisticated. Makes sense –– the owner, Chef Irma Gamez, has been cooking in high-end kitchens since she was 16.
Cajun
Readers' choice: Boo Ray's of New Orleans, 7255 Boat Club Rd, 817-236-6149
Critic's choice: Tributary Café, 2813 Race St, 817-744-8255. Of all the new restaurants to open in Fort Worth this past year, Tributary Café is among the best. Casual but refined, the tiny spot east of downtown doesn't go overboard with the zydeco kitsch, either in the decor or in the kitchen. Market seafood makes up the heart of the menu, punctuated by vibrant etouffées and remoulades. Fried green tomatoes, red beans and rice, and green peas with pancetta round out the side dishes. And the kitchen cooks a pretty good steak — but as the name suggests, seafood is always king.
Home Cooking
Readers' choice: Dixie House Cafe (multiple locations)
Critic's choice: Paris Coffee Shop, 704 W Magnolia Av, 817-335-2041. Most people would stay home and cook if they wanted home cooking. Going out to eat is sort of a treat, when you get to order things you would never bother to make at home. There are exceptions, of course, and the Paris Coffee Shop is one of them. It just feels like home when you enter the 91-year-old eatery. The food is great, and the menu is extensive enough that you'll always find some good comfort –– and the homemade pies are excellent.
Pasta
Critic's choice: Piattello Italian Kitchen, 5924 Convair Dr, Ste 412, 817-349-0484. The triumph of Piattello's made-from-scratch pasta is twofold. The noodles themselves — bouncy, plump, tender to the tooth, and full of personality — are a joy to tease around the fork and the tongue. Then the pairing of shapes to sauces elevates the experience yet again. A tagliatelle beds a hearty Bolognese. Twisted strozzapreti languish in cacio e pepe. Linguine flirts with shrimp under a white wine glaze. Any place that can make pasta this sexy clearly has its business well in hand.
Pizza (Gourmet)
Readers' choice: Cane Rosso, 815 W Magnolia Av, 817-922-9222
Critic's choice: Fireside Pies, 2949 Crockett St, 817-769-3590. It seems like the Fort's bounty of fancy pizza blew up over the past year, but none of the newcomers (or existing places) even comes close to Fireside (formerly 13 Pies –– and Fireside Pies before that). The kitchen's offerings are always creatively conceived, fresh tasting, and served hot. The Seville, with fennel salami, smoked provolone, castelvetrano olives, soffritto (Italian mirepoix), yellow tomato, and old manchego cheese atop a crispy, bubbly crust, is high art in the pizza world.
Queso
Critic's choice: Torchy's Tacos, 928 Northton St, 817-289-8226. Yeah, we know it's a chain. So what? When you order the green chile queso, you're getting a thick puddle of steaming hot cheese packed with veggies and flavor, with just enough spice. The homemade chips are excellent, but when you get toward the bottom of that puddle, they're no match for the thick, gooey cheese. You'll be forced to use your digits to soak up the last of that good stuff.
Ramen
Critic's choice: Oni Ramen, 2801 W 7th St, 817-882-6554. Oni, like Blue Oyster Cult, does not fear the reaper and has no qualms about using the famously fiery pepper's demonic heat to flavor a bowl of miso broth that still leaves room on your palate to taste delicately grilled pork belly, bamboo shoots, parmesan-buttered corn kernels, bean sprouts, leeks, green onion, and boiled egg. But besides the hot stuff, Oni also offers lots of other noodle bowls that won't turn your tongue into a nuclear meltdown zone.
Buffet
Readers' choice: Terra Mediterranean Grill, 2973 Crockett St, 817-744-7485
Critic's choice: Boi Na Braza, 4025 William D. Tate Av, Grapevine, 817-251-9881. Boi Na Braza is not your average six-buck buffet. Everything is so rich, so good, that you might not be able to eat too much of the mouth-watering meats that will be brought to your table continuously until you beg them to stop. The salad bar is stocked with hot foods, fresh fruits, greens, a wonderful selection of veggies, and a fine assortment of cheeses. This is a first-class buffet that comes with a full dinner or can be ordered as a standalone.
Lunch Bargain
Critic's choice: The Lunch Box, 6333 Camp Bowie Blvd, 817-738-2181. The Lunch Box has been serving up classic tuna, egg, and pimento cheese sandwiches for 44 years. All the delectable sammies, including the famous chicken salad, are $7.75 and served with a pickle and your choice of bread and chips. It's a throwback to your childhood years, when lunchtime was the happiest part of the day.
Top 5 Burgers:
Critic's choice: Are burgers political? They've gotten downright competitive here in the Fort. The folks at Rodeo Goat (2836 Bledsoe St, 817-877-4628) are having a little fun with current events: The Bad Hombre includes maple bacon, sautéed onions, mango pico, and Rahr Brewery Buffalo Butt Burn hot sauce on a Hawaiian roll. In the spicy category, Chef Hans Peter Mueller's offering at the Swiss Pastry Shop (3936 W Vickery Blvd, 817-732-5661) is a nod to the hatch chile phenomenon every day with his green chile bacon cheeseburger, loaded with green chiles, smothered in pepper jack cheese, and topped with applewood-smoked bacon, all resting on a homemade bun. While it's a little pricey, the gorgonzola-and-black truffle Waygu burger at Capital Grille (800 Main St, 817-348-9200) will ruin you on all others, with its pungent gorgonzola black truffle butter and heaping pile of sautéed onions. If you like secret menu selections, ask your server at Little Red Wasp (808 Main St, 817-877-3111) for Chef Blaine Staniford's patty melt: two quarter-pound burgers with grilled onions, Swiss cheese, and Wasp sauce on toasted Empire Bakery rye bread. And Cat City Grill (1208 W Magnolia Av, 817-916-5333) takes the trophy for the most unusual in class with the waffle burger: a half-pound patty topped with a fried egg, cheese, bacon, and all the fixings, served between two waffles. Maple syrup is optional on the side.
Greasy Spoon
Critic's choice: Old Neighborhood Grill, 1633 Park Place Av, 817-923-2282. The staff is always upbeat and kindly at this 20-year-old eatery. The Grill serves dozens of unique dishes that fall under the heading of comfort food. Local favorites include the belt-busting chicken-fried steak and juicy slabs of meatloaf. Stay a while –– your cup of coffee will always be topped off while you relax amid the pleasant buzz of the always-packed dining room.
Chili
Critic's choice: Chili Parlor at the White Elephant Saloon, 106 E Exchange Av, 817-624-8273. Finally, Fort Worth has a chili parlor worthy of its Old West image. Tucked inside the White Elephant Saloon is one of Tim Love's newest ventures. Beef- or pork-based options can be piled with cilantro, freshly grated cheddar cheese, crème fraîche, and so much more. A side of cornbread finishes the experience. And in case you forgot which state you live in, beans are not an option.
Sandwich
Readers' choice: Great Outdoors Sub Shop, 3204 Camp Bowie Blvd, 817-877-4400
Critic's choice: Crispy Chicken, The Tavern, 2755 S Hulen Dr, 817-923-6200. Many restaurants serve a commendable fried chicken sandwich that checks all of the obligatory boxes: deep-fried chicken fillet, tangy sauce, and buns. But The Tavern's version takes the pub-inspired sammy to another level with a perfectly seasoned and lightly battered cut of bird, tangy topping of crisp hand-cut slaw, and crisp slices of pickles. The amalgam of rich flavors and textures will leave you content, full, and planning your next visit.
Korean
Critic's choice: Sam Won Garden Restaurant, 5201 McCart Av, 817-926-1515. Fort Worth's culinary scene doesn't offer much by way of "Seoul food," but don't fret: A tradition-minded restaurant covers the gamut of popular Korean dishes here in the 817. Sam Won Garden cooks up succulent Korean barbecue along with all the fresh banchan (side dishes) your heart could desire. And if East Asian 'cue isn't your thing, the place serves several soups, lunchboxes, and noodle-based dishes too.
Boozy Brunch
Critic's choice: Barcadia Bar & Grill, 816 Matisse Dr, 817-348-8606. A boozy brunch at Barcadia might be the perfect pick-me-up after a late night of drinking at, well, Barcadia. The cures for over-imbibing range from fluffy cinnamon rolls to mammoth servings of migas and rich pozole soups. And the bar serves endless $1 mimosas, just in case you were considering being productive on a Sunday.
Breakfast
Readers' choice: Ol' South, 1509 S University Dr, 817-336-0311
Critic's choice: Old Neighborhood Grill, 1633 Park Pl Av, 817-923-2282. If you haven't heard of the Old Neighborhood Grill, it might be because its legions of devotees are doing their best to keep it a secret. Tucked off 8th Avenue in the Hospital District, the Grill does a brisk business serving breakfast straight up. From custom omelets (always get the Hatch green chile) to homemade beer biscuits with cream gravy, the Grill has what you need to get through a working day, whether it's at the lumberyard or the ER. The staff will treat you like family — after all, you may be — and they're known all over Mistletoe Heights for serving a pretty darn good cup of coffee.
Seafood
Readers' choice: Flying Fish, 2913 Montgomery St, 817-989-2277
Critic's choice: Waters –– Bonnell's Coastal Cuisine, 301 Main St, 817-984-1110. Chef Jon Bonnell may have sailed due east from the West 7th area, but Waters' new Sundance Square location continues to provide the prime dining experience fans expect from anything that bears his mark. The sleek decor and muted color palette complement such delicate fare as Santa Barbara stone crab claws, Maine lobster tail, and crisp glasses of Cakebread chardonnay. Bonnell's slight bent to the Acadian in preparations like sea scallops with corn and black bean salsa, smoked Serrano pepper puree, and avocado crema further distance Waters from local large chain competitors.
Deli
Readers' choice: Carshon's Delicatessen, 3133 Cleburne Rd, 817-923-1907
Critic's choice: Carshon's Delicatessen. While it's true enough that Carshon's doesn't really have much in the way of competition in Cowtown, it would be sheer folly to suggest that the place doesn't deserve every accolade it has coming. With a 90-year history serving tongue sandwiches and homemade split pea soup, there are dishes served here you just can't get anywhere else in town — and wouldn't want to. We have it on pretty good authority that more diet cheat-days are spent on a Carshon's Reuben and a slice of warm chocolate pie than any other meal in Fort Worth. And if it's not strictly kosher, well, your secret is safe with us.
Vietnamese
Readers' choice: Pho Hung, 6399 Camp Bowie Blvd, 817-887-9808
Critic's choice: Pho & Grill 2, 6220 Camp Bowie Blvd, 817-349-0460. We're singling out the second location of Pho & Grill only because we love all the green-hued space in its dining room (though the atmo at its older sibling on Overton Ridge is bright and lively to be sure). Whatever magic they put in that broth, it's alive and well at both locations, as are its other offerings, like grilled salmon on crispy rice, lobster tail and fried rice, and a savory seafood egg noodle soup.
Chinese
Readers' choice: Cannon Chinese Kitchen, 304 W Cannon St, 817-238-3726
Critic's choice: Cannon Chinese Kitchen. Cannon Chinese Kitchen keeps winning because it keeps kicking ass. For variety, quality, and sophistication, a gauntlet has yet to be thrown in challenge that deserves to be taken seriously. Offerings range from dim sum-style dumplings to noodle and rice dishes, maple leaf Peking duck, Taiwanese fried chicken, and salt and pepper squid. Do you want steamed pork buns? Do you want a nine-layer scallion pancake? What about fried rice with Chinese sausage and leeks? You want all of this and more, and you can't get it anywhere else. Besides, the place is cute af.
Black-Eyed Peas
Critic's choice: Ginger Brown's Old Tyme Restaurant & Bakery, 6312 Jacksboro Hwy, 817-237-2114. The way this restaurant spells "tyme" isn't the only clue that it's an old-fashioned culinary treasure. The mini jukeboxes attached to the wall at every booth are another giveaway. But the best clue is the way the cooks can take a standard food item –– the lowly black-eye pea, once considered little more than cow chow –– and with the proper application of bacon fat, seasoning, and slow cooking, render them spectacularly delicious. You'll be glad you gave peas a chance.
Italian
Readers' choice: Mamma Mia Italian Grill & Pizza, 1000 W Magnolia Av, 817-878-2400
Critic's choice: Piattello Italian Kitchen, 5924 Convair Dr, Ste 412, 817-349-0484. Chef Marcus Paslay opened Piattello less than a year ago with a simple idea: Make it from scratch, and make it in plain sight. The result: a lively open kitchen with a giant prep table practically in the middle of the dining room, making for an experience that is as close as any of us will ever get to being a guest on Molto Mario. Fresh breads and pastas, crackling pizzas, and slow-cooked sauces are all scratch-made in the sunny Waterside location. Carnivores and vegetarians alike sing the praises of the kitchen's eggplant parmigiana, layered with house mozzarella and a red sauce so delicate you'll wonder if the tomatoes aren't still on the vine. It's quite a feat for a new project to claim this prize in its first year, but Piattello came to win.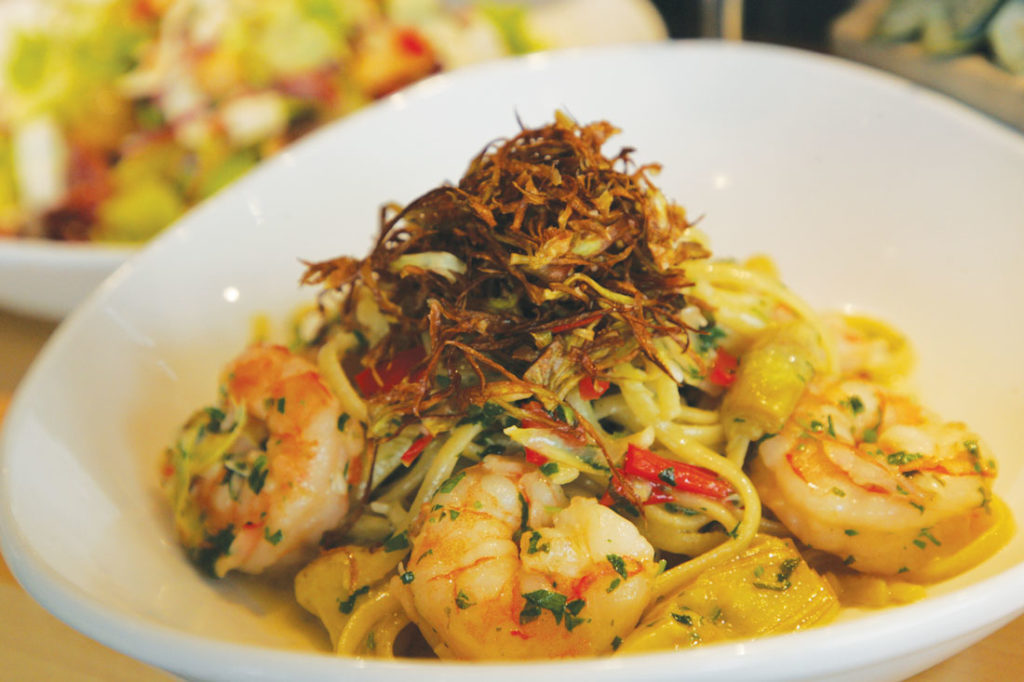 Thai
Readers' choice: Spice, 411 W Magnolia Av, 817-984-1800
Critic's choice: Thai Select, 4630 SW Loop 820, 817-731-0455. Part of the family of restaurants that includes West Magnolia's Spice and Thailicious at Chapel Hill, Thai Select can sometimes get overlooked — but its modest location in Overton Park Plaza is a destination favorite for those in the know. Food here has a freshness and a vibrancy that can outshine even its sister locations, and the kitchen is noted for its exceptional vegetable preparations — with or without meat. Eggplant stir-fried with basil and baby corn is top-notch, and the fried rice with lump crab and scallions will haunt your dreams.
Vegetarian Selection
Readers' choice: Spiral Diner & Bakery, 1314 W Magnolia Av, 817-332-8834
Critic's choice: Samson's Market Bistro, 4307 Camp Bowie Blvd, 214-966-4446. There are two criteria by which we judge a vegetarian selection. Can we bring our vegetarian friends to eat here time after time without them getting bored? And can we keep eating vegetarian food with them time after time without getting bored? Samson's Market Bistro gets a check-plus on both counts. Fort Worth's first and finest Ethiopian restaurant took long enough to get here, but we're glad it did. From the spicy lentil sambosas to chickpeas in berbere sauce and the brilliant collard greens stewed with ginger and cardamom, there is a rich tapestry of meatless delights to splay out on endless rolls of spongy injera bread — all eaten by hand, of course. There are some excellent meat stews as well, but even the most ardent carnivore will hardly miss them when she lets herself be seduced by the sultry spices of the African horn.
Sushi
Readers' choice: Blue Sushi Sake Grill, 3131 W 7th St, 817-332-2583
Critic's choice: Little Lilly Sushi, 6100 Camp Bowie Blvd, Ste12, 817-989-8886. A neighborhood spot with a focus on exceptional fish, this cozy Camp Bowie location has an eye for presentation and a taste for quality. Owner Danny Liu covers all the standard bases — nigiri of Chilean salmon and Thai cuttlefish, thick-cut sashimi of sea bream and Arctic surf clam — but his kitchen is also keen on innovation, featuring a surprising number of creative starters and inspired vegetarian options. Try the Lilly Roll, with pickled plums and asparagus, or the shishito peppers tossed in soy sauce and brown sugar pecans, before settling in to savor the decadence of Hokkaido scallops over rice. Little Lilly never fails to surprise and delight.
Caterer
Readers' choice: Oliver Fine Foods, 2751 E Broad St, Mansfield, 682-518-6339
Critic's choice: Magdalena's Catering and Events, 502 Grand Av, 817-740-8085. It's a warm, fuzzy story: At age 9, Juan Rodriguez learned to cook with his abuelita Magdalena in her kitchen in Monterrey, Mexico. Rodriguez grew up to work in some of the area's most recognizable restaurants, ultimately becoming executive chef at Reata Restaurant in 2009. When he opened his now two-year-old catering operation, he named it after her. Whether it's passed appetizers at a casual event or a multi-course wedding dinner, Rodriguez and his team, which includes his wife Paige, offer a little extra love to their clients. In addition to the kitchen, Magdalena's has space for up to 80 people. Several times a month, he hosts a supper club, where he makes the traditional Monterrey cuisine Magdalena taught him. The giant paella in a pan stretches a good four feet around.
Tex-Mex (Bargain)
Readers' choice: Pulido's (multiple locations)
Critic's choice: Papaya Mexican Grill, 100 W Pioneer Pkwy, Ste 120, Arl, 682-238-3073 . There's not a lot of glamour at Papaya Mexican Grill, but the Tex-Mex food here is inexpensive, filling, and surprisingly tasty. For $10, you can order four street tacos stuffed into doubled-up, palm-sized soft corn tortillas with fresh-tasting cilantro rice and refried beans or five tacos without the accoutrements. The taco plates will easily serve two diners. If you need breakfast tacos, Papaya will do you right –– five kinds of breakfast tacos, ranging from the traditional (bean and cheese) to the slightly bizarre (weenies and egg), all for a buck apiece.
Latin/Caribbean
Readers' choice: Gloria's Latin Cuisine, 2600 W 7th St, 817-332-8800
Critic's choice: Angie's Bikkles Caribbean Restaurant, 1704 Galveston Av, 817-443-5757. Angie's Bikkles is owned and run by the lovely Maureen Hucey, an immigrant from Jamaica, who gets the job done sharing a little love and good food with the folk in the Hospital District. Jamaica's cuisine incorporates African accents with waste-not, want-not products, spices from other parts of the former British Empire, and seafood. The jerk chicken is basically barbecue chicken coated in a Scotch bonnet pepper-kissed sauce. There's curried goat, a tasty, flaky empanada-like beef patty, and a whole escoveitched Spanish-style fish. Callalou tastes like traditional Southern greens simmered for hours, and the dirty rice is comfortingly familiar. Save room for the fruitcake, but be advised: This isn't the doorstop Christmas variety, and there's a lot of rum in it.
Mac 'n' Cheese
Critic's choice: The Bearded Lady, 1229 7th Av, 817-349-9832. This isn't your average side. The Lady's take on the traditional comfort classic is loaded with additional goodies, especially green onions and bits of bona fide bacon (not those little pellets you get at Luby's), making it a fit-for-a-king meal all in itself.
Potato
Critic's choice: Heim BBQ & Catering, 1109 W Magnolia Av, 817-882-6970. Love baked potatoes? With cheese and sour cream and chives and thick chunks of bacon and all that? Don't ya just want to dive into a barrel of them sometime and maybe rub 'em all over your hair belly while you're devouring them with your face? No? OK. Um. Anyway, Heim's potato salad rules. Why no one thought of putting together loaded baked potatoes and barbecue before is beyond us. Heim's is a creamy, tummy-filling, salty delight, and it goes so well with the Near Southside joint's award-winning 'cue that the dopamine avalanching into your body might make you levitate a little.
French Cuisine:
Critic's choice: Saint-Emilion, 3617 W 7th St, 817-737-2781. With the September demise of Le Cep Restaurant, it's fair to say the honor goes Saint-Emilion, which started its fourth decade in a very un-crowded field last year. The restaurant's cuisine comes from the southwest Provence region of France. You'll find escargot, duck and goose pâté, onion soup served Parisian style, and more meat, fowl, and seafood than you can reasonably consume in one sitting. In addition, the plateau de fromages (traditional cheese course) can be served as a starter, but it's probably best enjoyed after the desserts (perhaps the trio des crèmes or the tarte tatin) in the French style. If you want to experiment with French cuisine, the prix fixe menus will give you a little taste of elegance without breaking your budget.
Grits
Critic's choice: Cat City Grill, 1208 W Magnolia Av, 817-916-5333. Grits are weird. The ground corn staple can be breakfast food. If you solidify them, grits become polenta, which is a whole different category. But in general, they tend to be a vehicle to carry something else –– and unless you're eating at a breakfast place, that something is usually shrimp. Cat City Grill's jalapeño cheese grits are loaded with baby shrimp and then topped with grilled jumbo shrimp. The slightly spicy, cheesy grits are served only during brunch –– but brunch at Cat City means your choice of $2 mimosas, screwdrivers, or Bloody Marys.
Gluten-Free Dish
Critic's choice: The entire menu at HG Sply Co., 1621 River Run, Ste 126, 682-730-6070. The vegan, clean-food friendly HG Sply Co. menu gives Spiral Diner a run for its money. HG Sply can make all of its dishes gluten-free (and vegan if your little heart desires). Although there are multiple menu options already free of pesky gluten (like ginger garlic hummus, mussels, and the chopped salad, to name a few), you can also have your burger on a gluten-free bun and eat it like, well, a burger instead of a meat patty over a salad. There are a host of gluten-free dessert options, too, including cake, cheesecake, and bread pudding.
Decadent Dish
Critic's choice: Shellfish Tower, Waters –– Bonnell's Coastal Cuisine, 301 Main St, 817-984-1110. If there's one thing that Chef Jon Bonnell is passionate about, it's serving impeccably fresh, sustainable seafood (in season when possible). Waters' Shellfish Tower includes boiled shrimp from the Texas Gulf coast, sweet Alaskan king crab, stone crab claws from Santa Barbara, Calif, and a rotating variety of oysters on the half shell. The list of oysters varies, but the menu's loving descriptions of the bivalves rival that of a wine list, which is also excellent. All of this shellfish-y goodness comes piled on ice and presented in a manner that's guaranteed to make other diners have plate envy.
Appetizers
Critic's choice:
The Lazy Moose, 1404 W Magnolia Av, 682-708-3822. Although it's a new addition to the heart of West Magnolia Avenue, The Lazy Moose is no gentrified trust-fund-baby bar. The laid-back, rustic space is a collaborative effort between Vance Martin, chef/owner of nearby Lili's Bistro, and David Shaw of Shaw's Patio Bar & Grill. A good chunk of the menu is tapas-style appetizers: a warm, melty brie cheese topped with cherry-rosemary compote and served with focaccia slices, mac 'n' cheese bites, or hot tots –– a nacho-like concoction with tater tots as the base for the melting cheese, bacon, and jalapeños. If you're in the mood for standard bar food, try the loaded potato skins or the fried pickles.
Farmers' Market
Critic's choice: Cold Spring Farm CSA, Weatherford
Cold Springs Farm is community-sponsored agriculture (CSA) –– a mobile farmers' market, featuring products grown by local farmers. For an eight-week commitment, you get to pick your choice of the best of local fruits and vegetables along with ethically raised heritage eggs, pork, poultry, beef, and lamb. The CSA's Veggie Van also makes the farmers' market mobile, with weekly produce deliveries from the farm throughout Tarrant County. Along with the groceries, you'll get menu suggestions and preparation tips. While you can't reach them by phone, the folks at CSA are very responsive through their social media. When you're ready to commit to a few more veggies, sign up on their website.
Presentation
Critic's choice: Sai Fine Bistro, 5500 Colleyville Rd, Ste 240, Colleyville, 817-592-0202. The demise of Chef Eddy Thretipthuangsin's twin restaurants (the divine Kin Kin Urban Thai and Bite City Grill) in Fort Worth two years ago broke some foodie hearts. But with Sai Fine Asian Bistro, the James Beard-recognized chef picks up where he left off. The menu is a combination of classic Thai cuisine and flavor mash-ups from all over the world. Chef Eddy doesn't use edible flowers here, just precise plating with food or herbs that complement the flavors of the dish.
Carb Loading
Critic's choice: Pearl Snap Kolaches, 4006 White Settlement Rd, 817-233-8899. The menu at Pearl Snap Kolaches (arguably the best kolaches north of West, Texas) is pretty much only carbohydrates. Sure, there's a little protein in the sausage kolaches (the beef and pork sausage comes from Ponder, Texas) and pulled pork. Just for fun, Pearl Snap offers a kolache burger, nestled in a kolache dough bun. But the best versions of the Texas treat are the ones with fruit in them, and you'll need at least two of the housemade cherry, apricot, or apple cinnamon varieties for breakfast. Three will put you into a carb coma. Get a dozen, and we can't promise you'll see the light of day for a week.
Donuts
Critic's choice: Funkytown Donuts, 1000 8th Av, 817-862-9750. If you follow Funkytown Donuts on Instagram, you already know the eye candy of sweet rounds are baked and frosted fresh each morning (except for Mondays). You'll find all the classics –– like glazed, vanilla, chocolate, and sprinkle varieties –– and some hometown favorites, such as the Texan, Maple Bacon, Samoa, and Sopapilla. Visitors see that this establishment really lives up to its namesake, however, with its funkiest flavors. Remember when they offered the Watermelon Chile donut? Matcha (green tea) and the Grilled Cheese Donut? Vegan and gluten-free loops are baked on Wednesdays and Sundays. Holidays are made special with festive glazes, sprinkling patterns, and fresh fruit, but don't dawdle in just before work. They're gone just as fast as they're made.
Burrito
Critic's choice: sushiritto, Whole Foods, 3720 Vision Dr, 682-316-8040. It's not your tio's burrito. It's a sushirrito, and it's to blame for many Fort Worthians cheating on their usual favorite knife-and-fork burrito places. When Whole Foods unveiled this nori-wrapped roll, we rolled our eyes (at first), but then we tasted something so smart we started seeing all our other favorite dishes as potential 'ritos.
Quesadilla
Critic's choice: Spiral Diner & Bakery, 1314 W Magnolia Av, 817-332-8834. Spiral Diner's quesadilla plates pack the most unexpectedly rich flavor, using memorably melty Daiya cheeses that are free of dairy, gluten, and soy. The Spinach Quesadilla Plate is balanced by the subtle savoriness of corn, tomatoes, green onions, and perfectly wilted spinach, of course, and your choice of protein, which includes grilled seitan, tofu, mushrooms, or crisp chunks of a cashew-quinoa patty. The grilled portobello quesadilla plate is similar in style but includes grilled veggies. Flour and corn tortillas are both available. Dip your 'dilla in creamy chipotle dressing and slather it in vegan sour cream, guacamole, and pickled jalapeños, served on the side.
Indian Food
Readers' choice: Bombay Grill Indian Restaurant, 4625 Donnelly Av, 817-377-9395
Critic's choice: Mughlai Fine Indian Cuisine, 3311 E Hwy 114, Southlake, 817-251-0663. Upscale Indian food feels as weird to us as upscale burgers or upscale Mexican — the essence of the food is its simplicity. Still, this unassuming place on Highway 114 puts it over in grand style, with its spacious, sunny interior and a Goan-style shrimp curry that feels like a decadent warm bath in coconut milk and Indian spices. With a small army of solicitous waiters clad all in black, this place will treat you like an emperor of old.
Kids' Dining Venue
Readers' choice: Tom's Burgers and Grill, 1530 N Cooper St, Arl, 817-459-9000
Critic's choice: Waterside, Bryant Irvin Rd and Arborlawn Dr, 817-509-4170. Let's face it: Most kids' palates are distinctly tuned to high-carb food like chicken nuggets, pizza, and French fries. Deciding where to take the family when the adults want something more sophisticated with less ketchup became easier with the opening of the Waterside Development's 63-acre property. Between Blaze Fast Fire'd Pizza, Zoë's Kitchen, and Whole Foods Market's grab-and-go section, even the pickiest eater is going to find something he or she likes. Grownups can grab a real plate of food from Piatello Italian Kitchen or Taco Diner to-go, and everyone can meet in the middle at one of the outside tables for al fresco dining. Save some room for dessert at Steel City Pops. Because Popsicles are cool no matter how old you are.
Pan-Asian
Critic's choice: Sai Fine Bistro, 5005 Colleyville Blvd, Colleyville, 817-592-0202. Here in Fort Worth, we were sad to lose Chef Eddy Thretipthuangsin, but at least he didn't go too far away. In his new venture in Colleyville, his traditional Thai dishes sit side by side with Chinese five-spice duck, Japanese edamame, Malaysian curries, and Vietnamese coffee paired with chocolate mousse. For meals this good, we're more than willing to make the trip up Highway 26.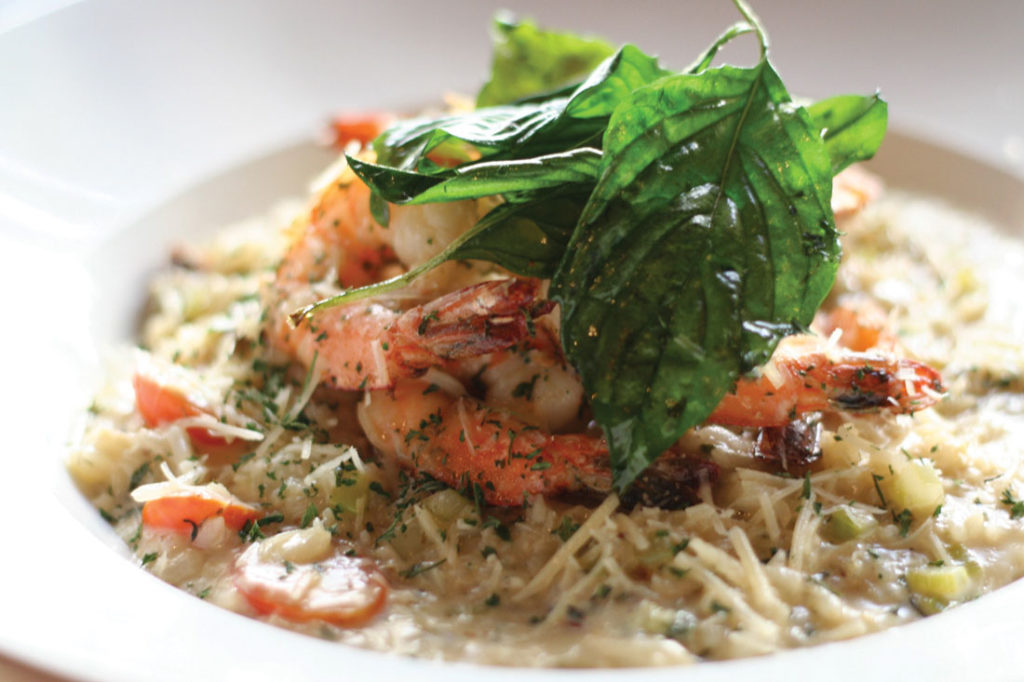 Soup
Critic's choice: Pho Hung Restaurant, 6399 Camp Bowie Blvd, 817-887-9808. Beef pho is one of nature's perfect foods, and the noodle broth at this place earns plaudits from locals as well as newcomers from Vietnam. Pho Hung's soups are uniformly bursting with flavor, while the non-pho dishes are done with just as much care. Best of all, the delicious soup comes at prices that aren't inflated by a trendy neighborhood or gaudy décor but are as unpretentious as the food itself.
Fried Chicken
Readers' choice: Lisa's Fried Chicken, 500 University Dr (with multiple locations in Tarrant County), 817-332-9192
Critic's choice: Gus's World Famous Hot & Spicy Fried Chicken, 1067 W Magnolia Av, 817-927-4693. The Tennessee style of yardbird has finally come to Fort Worth, and we couldn't be happier. This Near Southside eatery serves up chicken with a crust tinged red from all the spices in its secret recipe, and it tastes just as good as it looks. This stuff is so good that even the non-breaded chicken breasts come out flavorful and juicy. For the crunchy, fatty goodness that is fried chicken, Gus's makes a zippy change of pace.
Bakery
Readers' choice: Swiss Pastry Shop, 3936 W Vickery Blvd, 817-732-5661
Critic's choice: Eatzi's, 1540 S University Dr, 817-945-9095. The bakery is just one of many parts of this upscale market in the TCU neighborhood, but with more than 40 different types of bread being baked fresh every day, it's a pretty big part. Choose from five types of baguettes, three types of cheese bread, sourdough, Jewish rye, challah, pain au lait, cornbread, garlic bread, Italian muffins (if you come in on Sunday), or that white chocolate apricot boule that you've had your eye on. Eatzi's is one of the city's better sandwich shops, and its bakery is a big reason why.
Wine List
Readers' choice: Del Frisco's Double Eagle Steak House, 812 Main St, 817-877-3999
Critic's choice: Winewood Grill, 1265 S Main St, Grapevine, 817-421-0200. The mere sight of the "wine wall," the huge wine rack behind the bar area, breeds confidence about this restaurant along the main drag. A look at the actual wine list proves that this isn't just an impressive piece of furniture. It's holding Stag's Leap cabernet, Chilean carménère, Mosel riesling, and other choices from all over America and the world. To top it all off, the food is really good, so even non-drinkers can drive up here, have a great meal, and stare at that wine wall.
Top 5 Steaks
Critic's choices: Some people like their steaks well done, slathered in ketchup, possibly served on a gold-plated platter –– if that's you, Waffle House or this place at 725 5th Av in New York City will be happy to help. For the rest of us, try one of these. For filet mignon, you can't beat the one at Del Frisco's Double Eagle Steak House (812 Main St, 817-377-3999). The charbroiled ribeye at Reata Restaurant (310 Houston St, 817-336-1009) is a deliciously marbled, buttery slab of perfection. If you're looking for a more casual environment, the rib-eye at Chef Point in Watauga (5901 Watauga Rd, 817-646-0080) holds its own against Fort Worth's tonier dining rooms. Lucile's Stateside Bistro (4700 Camp Bowie Blvd, 817-738-4761) serves a prime rib that practically melts in your mouth. When you're in the mood for a different sort of steak, the pepper-crusted buffalo tenderloin at Bonnell's Fine Texas Cuisine (4259 Bryant Irvin Rd, 817-738-5489) is a mouthwatering departure from beef.
Tex-Mex (Upscale)
Readers' choice: Mi Cocina, 509 Main St, 817-877-3600
Critic's choice: Mariposa's Latin Kitchen, 5724 Locke Av, 817-570-9555. Mariposa's Latin Kitchen gives your favorite Tex-Mex dishes an elegant touch, plating tamales, tacos, enchiladas, and an excellent brunch menu with an eye for presentation in a vivacious atmosphere. It's Mexican comfort food that will warm your heart and excite your palate.
Hot Dog
Readers' choice: Bentley's, 1515 W Magnolia Av, 817-715-4533
Critic's choice: Bentley's. Bentley's inventive approach to America's favorite tubular meat is inspired, slathering top-quality dogs and sausages with exciting sauces and garnishes like sriracha mayo and house-pickled slaw. On top of that, Bentley's has a delicious breakfast menu, as well as a selection of silky, decadent crepes.
Middle Eastern
Readers' choice: Terra Mediterranean Grill, 2973 Crockett St, 817-744-7485
Critic's choice: Gyro Kabob & Grill, 7660 McCart Av, 817-346-7303. Vegetarians take note: You have another option! While you won't be surprised to find that Gyro Kabob's vegetarian fare is stuff like lentil soup, hummus, dolmas, and falafel, you'll be wowed by the fresh flavor. And, of course, there are plenty of authentic Middle Eastern meat plates like arayes (charbroiled ground lamb over pita bread and served with yogurt), shish kafta (lamb), and shish tawook (chicken) for carnivores, baked or grilled salmon or swai (white fish) if you're a pescatarian, and its namesake gyros.
Barbecue
Readers' choice: Heim BBQ & Catering, 1109 W Magnolia Av, 817-882-6970
Critic's choice: Heim BBQ & Catering. Everyone with an opinion on barbecue has his or her own spot for specific cuts (as do we), but Heim wins for best barbecue overall. Go for the sliced brisket, come back for the pork ribs. Then come back again for the jalapeño sausage. The next time, give the chopped beef sandwich a try. And while you're at it, don't skip on stuff like green chile mac 'n' cheese, twice baked potato salad, and, of course, Heim's legendary bacon burnt ends –– if they haven't run out already. There's a reason why the line is usually long, and it's because Heim really is as good as you've heard.
Wings
Readers' choice: Buffalo Bro's, 3015 S University Dr, 817-386-9601
Critic's choice: Duff's Famous Wings, 2787 E Southlake Blvd, Southlake, 817-421-8181. If someone is quick to derisively remind you that Duff's is a chain, tell them to put a sock in it or better yet to stuff into their traps one of Duff's Near Death, Death, or After Life wings. If they survive, they'll know why the Amherst, NY-based wing emporium's flappers are the best around. Because even when Duff's sauce is at its hottest, it's still subtly flavorful, and when you tone it down with flavors like barbecue (which comes in four varieties), teriyaki, or mango chipotle, that's when their wings really soar.
Pizza (Bargain)
Readers' choice: Nizza Pizza, 401 University Dr, 817-877-3900
Critic's choice: Fort Worth Pizzeria, 2800 Bledsoe St, Ste 200, 817-439-9443. Fort Worth Pizzeria has exceptional pies that'll run you about $15 for a 10-inch and $23 for a 14-inch, and they're open 'til 2am on the weekends, making them the perfect wind-down for your West 7th Street adventure. Meat lovers will swoon over the American (pepperoni, meatballs, Italian sausage, pulled pork, bacon, red onion, mushrooms, and jalapeños), and the vegeriffic Green Peace (basil mascarpone pesto, cherry tomatoes, roasted Brussels sprouts, mushrooms, spinach, roasted peppers, artichoke hearts, and olives) will make you (and your wallet, since a large is only $18) feel a little better about cramming late-night pie.
Food Truck
Readers' choice: Chile Pepper Grill
Critic's choice: Delicias, various locations, 817-333-9499. Delicias' cuisine is a Latin-centric mélange of Cuban sandwiches, empanadas, and tacos, plus a tasty handheld treat called an arepa, described as a "grilled corn flour" patty stuffed with awesomeness." There are also Delicias' delicious "pastes," which are a Spanish version of a Cornish pasty, filled with chicken mole (verde or rojo), ground beef and potato, chicken and potato, or the Hot Pocket-esque beans and chorizo, salchicha, jamón, and queso. Hopefully they're parked where you're partying, because Delicias is delicious.
Ribs
Critic's choice: Smokey Mae's Pit BBQ, 8120 Rendon Bloodworth Rd, Mansfield, 817-592-0202. Whether it's beef or pork, a primary test of a good rib is how easily the meat slides off the bone. And in that regard, Smokey Mae's are pretty much perfect –– a careless whisper will almost do it –– and all that tender goodness comes with some truly memorable wood-smoked flavor. Your first taste of that spicy-sweet, exquisitely darkened crust will practically make your eyes roll back in your head.
Brisket
Critic's choice: Heim BBQ & Catering, 1109 W Magnolia Av, 817-882-6970. At the risk of hyperbole, to sample Heim's buttery, peppery, oak-smoked brisket is to experience the sublime. From its thick, black bark to the melt-in-your-mouth fatty decadence at the end of every bite, Heim's sliced brisket is a symphony of flavors. It's a true taste of Texas, the sort of experience that will make out-of-state visitors go, "Ohhhh, I get it now." If brisket got more perfect than this, you'd probably be eating it in heaven.
Sausage
Readers' choice: Little Germany, 703 N Henderson St, 682-224-2601
Critic's choice: Longoria's BBQ, 100 Christopher Dr, Everman, 817-568-9494. There's a reason why an out-of-the-way barbecue joint like Longoria's is TV-famous (it's been on the Travel Channel's BBQ Crawl with Diva Q) –– their sausage is kinda legendary. Made with brisket and seasoned with a tried-and-true family recipe, Longoria's savory sausage is juicy, spicy, and well worth the trip.
Red Salsa
Critic's choice: Mariposa's Latin Kitchen, 5724 Locke Av, 817-570-9555. Many Tex-Mex places go too chunky with the ubiquitous tomato-based condiment, leaving the chip-to-chunk ratio too high. But Mariposa's conquers all comers with a red salsa that is not too chunky or watery and is the perfect balance between the two. Each taste packs a metric ton of spice and flavor without being overpoweringly hot. Small herbs and peppers swirl perfectly into every bright, fresh bite and make it difficult to not ask for a second and a third bowl, which Mariposa's staff always accommodates with a smile.
Coffeehouse
Readers' choice: Avoca, 1311 W Magnolia Av, 682-233-0957; 835 Foch St, 682-233-0957
Critic's choice: Mudsmith, 817 Matisse Dr, Ste 445, 817-878-4313. Some coffeehouses serve as an extension of the office, and others are perfect for tipping back a cup of joe while socializing. But Mudsmith, located just off W 7th Street, manages to satisfy both of those needs. It is the ideal combination of traditional coffeehouse, light bites meal stop, peaceful place to get some work done, and a wine and beer bar for a chill night out with friends. The daily brew and pour-over coffee options are reasonably priced and flavorful, and specialty choices like the Van Gogh Spritzer or Iced Mint Mocha will kick big chain coffee places to the curb.
Frozen Yogurt or Ice Cream
Readers' choice: Melt Ice Creams, 1201 W Magnolia Av, 817-866-8365
Critic's choice: Melt Ice Creams. Everything about Melt Ice Creams screams "happy." The now iconic sunshine-yellow sign and striped black-and-white building on West Magnolia Avenue reminds you to treat yourself to a dose of creamy positivity. This isn't the place to go safe with plain ol' vanilla, however. Melt is as adventurous with its flavors as it is with paint colors, boasting scoops like fresh pineapple-infused Boozy Buccaneer and the cracked crust of Crème Brûlée. Every week there's something new to draw you back into these very cheery and tasty environs.
Kolaches
Readers' choice: Pearl Snap Kolaches, 4006 White Settlement Rd, 817-233-8899
Critic's choice: Pearl Snap Kolaches. Fort Worthians no longer need to brave the traffic nightmare of I-35 south to West, Texas, to snag our favorite Czech treats. This White Settlement Road breakfast and lunch spot serves up traditional style versions of these pastries, filled with fruit or cream cheese, and Klobasniky with sausage and cheese tucked inside. But don't think Pearl Snap is a one-trick pony. Snag one of the kitchen's burgers sandwiched between classic Kolache dough and crowned with gooey cheese and feel the line between sweet and savory melt deliciously away.
Waitstaffer
Readers' choice: Lulu at Ginger Brown's Old Tyme Restaurant & Bakery, 6312 Jacksboro Hwy, 817-237-2114
Critic's choice: Homer Clemons, Bird Café, 155 E 4th St, 817-332-2473. If you have ventured into the Flying Saucer or Bird Café in the last decade, you've probably met Homer Clemons. A true Renaissance man of the food and beverage world, you can trust his recommendations for the perfect craft brew to complement a Texas Rosewood Wagyu Strip or which single-malt Scotch will set off a celebratory Cuban cigar. He's whip-smart and a consummate professional, but he knows when to let his wicked sense of humor fly and introduce a little much needed levity to a evening out.
Top 5 Tacos
Critic's choices: There are only three things certain in the life of a Fort Worthian: death, taxes, and your choice of great tacos. Taco Heads (1812 Montgomery St, 817-615-9899) is expanding again, and it's easy to see why the demand is so high. The food truck-turned-brick-and-mortar eatery serves juicy, spicy pastor (pork) and tender carnitas. Speaking of growing empires, Salsa Limón (multiple locations) is riding its El Capitan taco –– the meat of your choice, gooey white cheese, onions, cilantro, and fresh cabbage stuffed into a buttery flour tortilla –– all the way to Dallas. Though North Side gets all the pub for its Mexican joints, the South Side is where two of the best gems are hidden: Tacos la Banqueta (2621 Hemphill St, 817-923-8846) and Ernesto's Taqueria (4050 Hemphill St, 817-921-3147) both purvey authentic, abuela-inspired fare. The West Side isn't known for its Mexican grub, but Mi Cocula Mexican Grill (6550 Camp Bowie Blvd, Ste 130, 817-708-2895) might put the posh area on the taco map with its fresh, delicious smoked brisket taco.
Fried Pickles
Critic's choice: Fred's Texas Café, 915 Currie St, 817-332-0083. The best fried pickles share three key qualities: crunch, size, and salt. The appetizer dish at Fred's hits the mark on all three points. The silver dollar-sized pickles are coated in a crispy batter and perfectly seasoned. The kitchen also adds a ramekin of Sriracha mayo on the side.
Host or Hostess
Readers' choice: Mackenzie Willems, Cane Rosso, 815 W Magnolia Av, 817-922-9222
Critic's choice: Tammy and Tommy Brown, 44 Bootlegger, 1411 W Magnolia Av, 817-887-9089. The husband-and-wife co-owners lead one of the friendliest staffs in town. The tiny dining room/bar tucked away on Magnolia feels like an extension of your living room, and the charismatic duo is one of the biggest reasons its guests feel so comfortable and welcome.
Chef
Readers' choice: Lanny Lancarte, Righteous Foods, 3405 W 7th St, 8147-850-9996
Critic's choice: Felipe Armenta, The Tavern, Pacific Table, Press Café, and Cork & Pig Tavern . Chef Felipe Armenta is probably a really good listener. Every single one of his four (four!) restaurants is routinely packed –– and for good reason. His food is, as chefs say, served clean, allowing the freshness of the ingredients to shine through. Maybe you won't find anything that belongs on the cover of Food & Wine Magazine, but Armenta isn't trying to wow diners with 17 sauces on the plate. He's more interested in giving the people what they want –– not telling them.
Fries
Critic's choice: Chop House Burger, 300 Throckmorton St, 682-312-8477. Maybe we'll lose some street cred for giving this nod to a Dallas-based chain, but we challenge you to go sample the crispy, delicious truffle fries specked with Parmesan cheese and chopped parsley and tell us you've had better. You won't need ketchup, but the Chop House's outstanding milkshakes make a great dip for the thin-cut spuds.
Salad
Critic's choice: Fireside Pies, 2949 Crockett St, 817-769-3590. With apologies to Snappy Salads or any of the whole-meal salad places, there's nothing better in town than Fireside's greens game. What's so great? Lettuce tell you. The Texas Bibb with bacon, hearts of palm, avocado, cherry tomatoes, goat cheese, and red wine vinaigrette dressing is a meal unto itself. Better still is the chopped salad of romaine hearts, fennel salami, smoked provolone, castelvetrano olives, pickled peppers, tomatoes, cucumbers, Parmesan cheese, and an herb vinaigrette. All of the leafy brilliance is big enough to split or throw on some chicken and call it dinner.
Nontraditional Burger
Critic's choice: Papa's Burger, Tacos del Norte, 300 W Central Av, 817-945-2010. Can't decide between a burger or Mexican food? The gluttonous, heart attack of a house sandwich at Tacos del Norte is crammed with one-third pound of beef, guacamole, grilled onions, tomatoes, pickles, American cheese, and –– wait for it –– a gooey cheese enchilada slathered in a flavorful green chile sauce right between the buns. It's the best of both worlds, and you won't need to eat for another day or two.
Green Salsa
Critic's choice: Los Paisanos Restaurante y Taqueria, 1446 N Main St, 817-625-8226 . A few Weekly staffers are salsa verde fanatics. Every day, they are on the hunt for lip-smacking, eye-watering, tummy-taming spicy green salsa to slather on tacos or, gosh, anything else handy. They know they've stumbled onto a great recipe somewhere when it comes close to the fantastic, jalapeño-heavy salsa at Paisanos, which is the bar by which all other green salsas are measured around these parts.
Soul Food
Critic's choice: Button's Restaurant, 4701 W Fwy, 817-735-4900. This isn't exactly a crowded field, but Button's isn't just the best soul food joint –– it's one our town's culinary treasures. Whether you're in the mood for perfectly fried chicken and waffles or a fork-tender ox tail, chef Keith Hicks' fare is nearly flawless. Check out its gospel brunch and feel the spirit while you fill on spirits.
Lobster Roll
Critic's choice: America Gardens, 2829 Morton St, 817-439-9660. Though America Gardens' excellent version of the seafood sandwich errs on the side of minimalism, it's anything but simple. The tender, sweet mix of knuckle, claw, and tail poached in tarragon butter, served in a split-top bun, and accompanied by drawn butter is elegantly straightforward. You get to taste the lobster instead of some gimmicky sauce or unnecessary addition –– the way it should be.
Fast Food
Critic's choice: Daybreak Cafe & Grill, 2720 White Settlement Rd, 817-335-0805. Though small, Daybreak does a sizzlin' dine-in/takeout/drive-through business, which has kept the doors open for two decades-plus. Everything from breakfast tacos to juicy burgers and pork chops is done right, fast, and at a scandalously cheap price. A 6-oz steak and two eggs with hashbrowns and toast or a chicken-friend steak with any two sides for $4.69 each? Breakfast tacos for a dollar a pop? Four bucks and change for a kickass cheeseburger with everything? If you're not #Daybreaking for breakfast and/or lunch, you're doing it wrong.
View
Critic's choice: Press Cafe, 4801 Edwards Ranch Rd, Ste 105, 817-570-6002. Located at the Trailhead at Clearfork, this relatively new American-cuisine spot offers a bucolic setting interrupted only by the occasional biker or jogger (or outdoor yoga class). For a slice of Colorado Springs or even a little Austin, Press Café is the place to be. The aggressively healthy yet always tasty food is a definite plus. The Café Burger made Texas Monthly's list of 50 Greatest Burgers.
Spicy Dish
Critic's choice: Oni Ramen, 2801 W 7th St, 817-882-6554. Though the Demon level will certainly set your shorts aflame (ask about the Oni Reaper challenge), occasional ramen fans are recommended to go with Oni Ramen's Fire setting: spicy that isn't a fast burn but carries enough heat to get your tastebuds cracklin' and your nose running. Goes just as well with the signature miso (light chicken broth seasoned with sweet-and-nutty soybean paste, topped with pork belly, bamboo shoots, buttered corn kernels, bean sprouts, and green onions) as with the fish poke (tuna, salmon, or both with rice, sauce, and green and sweet onions, ogo seaweed, cucumber, and sesame seeds).
Desserts
Readers' choice: Sweet Sammies, 825 Currie St, 817-332-0022
Critic's choice: Bread Winners Café, 1612 S University Dr, 817-984-8710. One look at Bread Winners' dessert case is enough to make your sweet tooth tingle, and one taste of their caramel pecan roll will make you feel grateful to be alive. Their extensive homemade pie selection, full of delights like bourbon pecan, lemon gingersnap cream, and salted caramel custard, is simply incredible. The same goes for their cakes –– the chocolate strawberry malt must be sampled to be believed. They even bake some scrumptious gluten-free treats: The blueberry almond muffins, petite mocha mud bundt cakes, and petite zucchini apple spice loaf prove there's plenty of flavor without wheat flour.
Brunch
Readers' choice: The Bearded Lady, 1229 7th Av, 817-349-9832
Critic's choice: Cork & Pig Tavern, 2869 Crockett St, 817-759-9280. Maybe the best thing about CPT's brunch is that it's served 9am-3pm on the weekends to accommodate a wide range of schedules and (a'hem) priorities. Some of us need our West Texas biscuits and molasses gravy at first light, while others need their fix of blackberry-walnut French toast (crusted with Fruity Pebbles and topped with cinnamon ice cream) when we finally roll out of bed at 2 in the afternoon. There's no judgment at the Cork & Pig — just a finely honed menu of brunch classics with a strong Texas accent.
Restaurant
Readers' choice: Reata Restaurant, 310 Houston St, 817-336-1009
Critic's choice: Piattello Italian Kitchen, 5924 Convair Dr, Ste 412, 817-349-0484. Chef Marcus Paslay's new Piattello Italian Kitchen was initially hyped on the success of his Clay Pigeon, which opened in 2014. The success or failure of a second (or third, or fourth) chef-owned restaurant usually rests on who's actually running the kitchen when said chef is at "the other restaurant." Paslay chose wisely with chefs Scott Lewis, Jen Williams (Magnolia Cheese Co., Sera Fine Dining & Wine), and Bria Downey (Bird Café). The pasta is housemade, exceptional, and occasionally descriptive ––strozzapreti cacio e pepe is "priest-strangler" –– and the narrow, tube-like Casarecce pasta in a peppery, cheese-topped butter sauce is something you won't see on the menu at most other Italian restaurants in the Fort. Half a dozen pizza options, antipasti boards overloaded with house-cured meats, cheeses, luscious figs, and Calabrian honey, salads, and fresh desserts and pastries make this piattello (Italian for "plate") a joy.
Place to:
Pig Out
Critic's choice: Jambo's BBQ Shack, 2502 Little Rd, Arl, 682-213-2780. Jambo's BBQ Shack is taking over the world — or at least taking over Arlington, where the Burleson original has launched two new locations in recent years. The 'cue is solid, and the side dishes are top-notch. But Jambo's is winning the Pig Out category thanks to two signature items that ought to come with warning labels. On the lighter side, the Sadie is a giant baked potato stuffed with butter, sour cream, and cheddar cheese — then stuffed again with brisket and sausage before being smothered in baked beans. For a truly revelatory experience, though, you'll want to go with the award-winning Jambo Texan sandwich — smoked brisket, bologna, pulled pork, sausage, and ribs piled between several utterly useless slices of Texas toast. Mammoth, gargantuan, and darkly beautiful, this tower of unapologetic predation is born of a primal hunger that strains the thin scrim of our civilized selves.
Buy Ethnic Food
Critic's choice: Fiesta Mart, 2700 8th Av, 817-920-1900. Pardon us a moment while we pause to acknowledge our Anglocentrism by putting "ethnic" here in quotes. After all, you'd be hard-pressed to find a grocery as quintessentially Texan as Fort Worth's Fiesta Mart, where pre-marinated taco meats and still-animate seafood shares the floor with some of the best value produce in town. Whether you're laying out a spread of backyard fajitas or a high-end Bobby Flay sangria brunch, the Near Southside location has got you covered, and the in-house bakery and tortilleria will give your home kitchen full-on Norteño authenticity.
Dine al Fresco
Readers' choice: Joe T Garcia's, 2201 N Commerce St, 817-626-4356
Critic's choice: HG Sply Co.,1621 River Run, 682-730-6070. On the modernized wrap-around porch overlooking the Trinity River, sit outside to people-watch, pooch-watch, or count how many times the Zoo train ambles down the tracks (if you're on a really bad date). Sleek, glossed picnic benches are nestled under bright red umbrellas before a step takes you down a level to the long row of half-booth seating built into the building's exterior. His-and-hers Adirondack chairs line the rest of the perimeter, just around the corner from a turfed cornhole nook. Plenty of high tops float around a bright red outdoor bar with two televisions for anyone needing to catch the big game.