City Councilmember
Readers' choice: Ann Zadeh, District 9
Critic's choice: Ann Zadeh. No other elected official in town champions the issues that matter like District 9's voice on the council. Most recently, Zadeh publicly supported allocating tax dollars to support The T's master plan, which would cut into a widely discussed tax decrease. It took guts, leadership, and tremendous foresight to suggest using public money to tackle our city's most urgent need –– transportation –– in light of our current political climate of anti-tax, anti-bus, anti-train, anti-poor, anti-engineering study, and anything else that requires more than a bumper sticker's-worth of acumen. Thank goodness someone on the council is looking farther ahead than just the next election.
Journalist
Critic's choice: Mitch Mitchell, Fort Worth Star-Telegram . Mitch Mitchell's crime and justice beat covers the typical stuff like accidents, road rage, gang trials, and bank robberies. But Mitchell has an affinity for writing about crimes against women and children and manages to shine a light on human trafficking and child abuse stories that might otherwise be buried in the chaos. Mitchell's beat also includes social justice issues like the ugly brown water coming out of taps in River Oaks, the sanctuary cities protests, and allegations of police brutality. But it's his tenacity in covering issues affecting the poor, sick, and disabled in the county –– like the series on the closing of Westchester Plaza, the state's largest residential group home for people on Medicare and Medicaid –– that reminds us of the best in journalism.
Sportscaster/Sportswriter
Critic's choice: Mac Engel, Fort Worth Star-Telegram. Radio is lousy with blowhards, shallow frat bros, and boring nerds. And TV? Those poor souls are the cops-and-courts reporters of sports. No depth. No personality. Just blah. Anyway, as purveyors of the printed word, we feel somewhat obligated to go with a fellow scribe. Congrats, Mac Engel. While you certainly aren't the most literary or dogged, you like to tackle (pun intended) sacred cows and credit unsung heroes. Now if only we could teach you and the rest of North Texas' sports pundits something, anything, about ice hockey …
Radio Personality
Readers' choice: Elena Davies, Kidd Nation, 106.1 Kiss FM
Critic's choice: Mark Schectman, The Local Ticket. Who'd have guessed the biggest sports radio station in town would also become one of the most fervent supporters of local music? While we're grateful that KXT squeezes local artists into its playlist every couple of hours, we want to give a much-deserved shout out to DJ Mark Schectman, whose Sunday night show on 1310 and 96.7 focuses on the area's unsung songwriters, guitar heroes, and aspiring pop stars. Schectman is a man of many talents, and we're glad he's got his ear to the local music underground.
Hottest Local Celebrity (Female)
Readers' choice: Shannon Osbakken, co-owner, The Bearded Lady
Critic's choice: Lauren Nevitt, News 8 Daybreak. Traffic jams never looked this good. Nevitt hired on at WFAA late last year after short stints at news stations in Midland and Oklahoma City. The Oklahoma University graduate (class of 2014) is smart, sexy, and –– what's this? –– married. Damn it! Oh, well. We love her so much, we're just glad she's happy.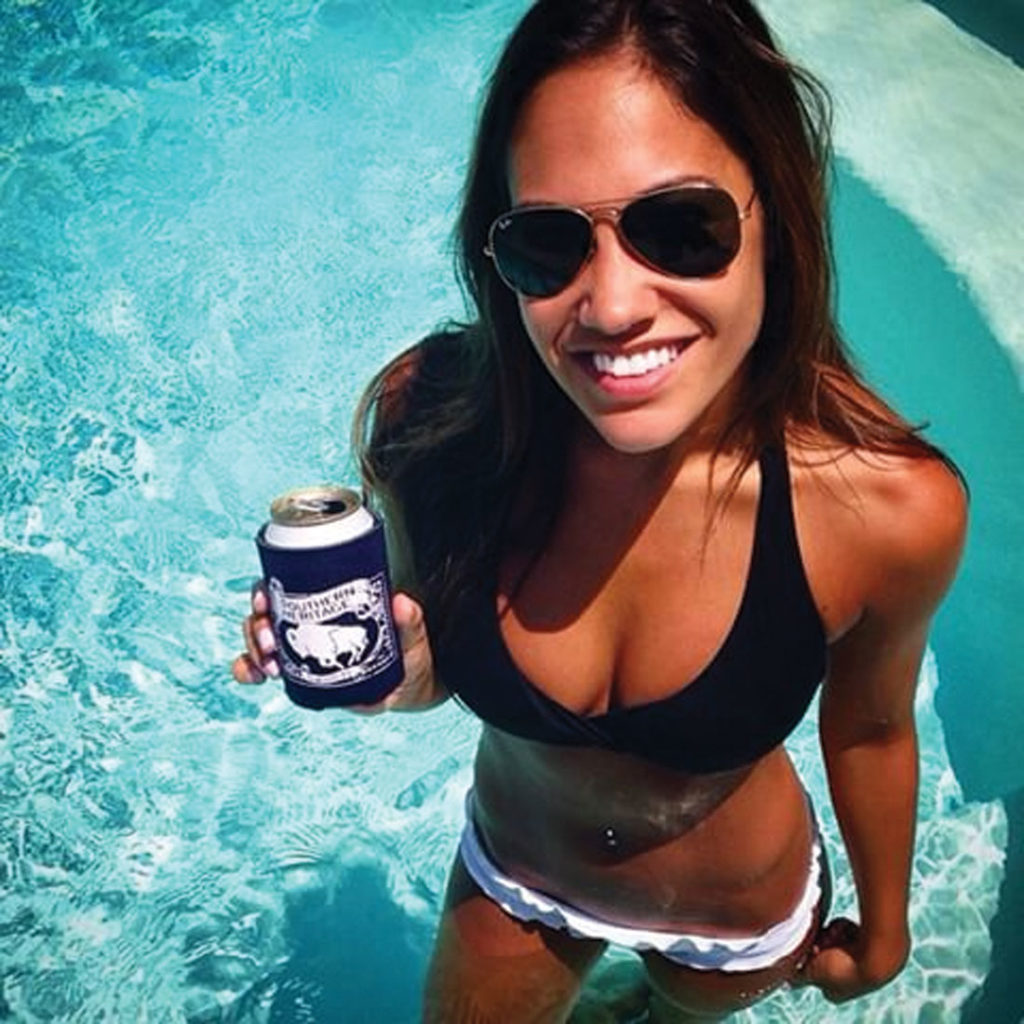 Hottest Local Celebrity (Male)
Readers' choice: Trent Shelton
Critic's choice: Jeff Dazey. Is there anything sexier than a man who clearly loves everything about his chosen profession? Jeff Dazey may be a hometown guy, but he and his scorching saxophone appear worldwide backing Leon Bridges. Fame hasn't dampened Jeff's smile or let his head outgrow his hat size. He remains loyal to his Fort Worth friends and connected to the local music scene. Equal parts humble and handsome, accessible and intelligent, he makes it easy to get a little starry eyed watching him on SNL or at S&R.
Local Political Development
Critic's choice: United Fort Worth. The passage of Senate Bill 4, the so-called "sanctuary cities" law, split our community and Fort Worth City Council. Supporters of the law say SB 4 will aid in the detention of undocumented criminals. But vagueness in the bill's wording, and the very real possibility it will encourage racial profiling, led to the formation of a new civil rights-focused coalition. United Fort Worth confronts racial discrimination and recently called out Fort Worth city councilmembers and asked for a public vote on whether the city should join an ongoing lawsuit against SB 4. The final tally left Fort Worth on the sidelines as every other major Texas city marched onward to oppose the bill. The setback has reportedly only reinvigorated the resolve of United Fort Worth's members.
Nonprofit Organization
Readers' choice: Food Not Bombs, 1919 Hemphill St, 817-920-7233
Critic's choice: The Welman Project, 817-809-6389 . Vanessa Barker and Taylor Willis co-founded The Welman Project two years ago to provide supplies to bootstrapped public schools. Along with a brigade of local volunteers, The Welman Project diverts dumpsters' worth of cast-off business materials away from local landfills and then matches and delivers the items at no cost to schools and nonprofits. The good folks at Welman also identify ways repurposed items can be used in projects to enhance current curriculum and learning. At the start of the school year, the nonprofit sponsored a Teacher Tailgate party, where educators could show up to eat pizza and snag supplies for their classrooms for free. Helping to conserve, contribute, and foster creativity out of cast-offs makes The Welman Project a much-needed resource in our community and the classroom.
Musical Fundraiser for Harvey Victims
Critic's choice: Big Mike's Led Zeppelin Tribute, Lola's Trailer Park, Aug 29. Though Big Mike and company had just performed their Zep tribute that Tuesday, they rallied to do it again three nights later to raise funds for the victims of Hurricane Harvey. From a $10 minimum suggested donation at the door plus $1,000 in bar sales from the venue, the living jukebox was able to generate more than $5,000. "It felt really good to do something like that," Big Mike said, and we know he was also speaking on behalf of his bandmates: bassist Sam Damask, multi-instrumentalists Chris Holt and Kris Luther, drummer Matt Mabe, keyboardist Justin Pate, and several guest artists, including Quaker City Night Hawks' Sam Andersonn and Dead Vinyl's Hayden Miller.
Place to Adopt a Pet
Critic's choice: Humane Society of North Texas, 1840 E Lancaster Av, 817-332-4768. People sometimes find the staff at HSNT to be a bit abrupt and demanding, but we find that refreshing, because rather than catering to humans, employees are always taking care of their real business, which is looking after animals. The future pets up for adoption are kept clean and healthy, and the employees try to ensure that the home you take your new pet to is going to be a good fit for the animal. At times, the shelter offers deals for getting your animal spayed and neutered, and they include a free examination to make certain your new pet is healthy. We've heard staff referred to as "ridiculously responsible," and that makes for a great place to adopt a pet.
Place to Meet Locals
Readers' choice: Sundance Square, 420 Main St, 817-255-5700
Critic's choice: Trinity Trails. Go to the Stockyards if'n it's cowboy boots, big hair, and half-assed two-steppers that you seek. But if you want to meet a wide, diverse sampling of genuine yokels who truly represent our city, you will find all types traversing the miles and miles of walking and biking trails meandering around Fort Worth near the Trinity River.
Underrated Pro Athlete
Readers' choice: Dak Prescott, Dallas Cowboys
Critic's choice: Jason Spezza, Dallas Stars. A victim of inflated expectations, the 34-year-old Spezza was drafted second overall by the Ottawa Senators back in 2001 and touted as the next great dominant center. It didn't work out that way, but the native of Mississauga, Ont., has consistently produced goals and assists both in Ottawa and during his last three seasons here, providing steady offense and taking pressure off the Stars' starrier players. It would be nice if the Stars were to find their groove again and put Spezza back in the spotlight for big games.
Athlete (Almost) Worth His/Her Salary
Readers' choice: Adrian Beltre, Texas Rangers
Critic's choice: Skylar Diggins-Smith, Dallas Wings. We're not the biggest fans of scoring-first point guards, but the local WNBA team would be in deep trouble without Diggins-Smith. The 5'9" native of South Bend, Ind. (and Notre Dame alum), has recovered nicely from the ACL tear that scuttled her 2016 season and now leads the team both in points and in assists. With the Wings making a late push for the playoffs, her play has been key.
College Athlete
Readers' choice: Kenny Hill, TCU football
Critic's choice: Cameron Norrie, TCU men's tennis. Norrie finished his junior year and his TCU career as the No. 1 ranked men's singles tennis player in the country. He carried the TCU men's tennis team to a second-consecutive regular season sweep and a conference championship in the Big 12, all while helping the Frogs crack the Elite Eight in the NCAA team tournament. Having won 21 of his 22 matches in the 2016-17 season, Norrie can brag that 19 of those matches were against nationally ranked opponents. Add to that stat the fact that this rangy junior from New Zealand won 11 consecutive matches, beating out the No. 2 and 3 nationally ranked opponents to earn the first seed in the NCAA singles tournament. Competitors likely breathed a sigh of relief when this kiwi announced his decision to ultimately forgo the tournament in favor of an earned wild-card spot in the main draw at Wimbledon this year, bringing a little Texas heat to the other side of the pond.
Tailgating Spot
Readers' choice: TCU football games
Critic's choice: Lupton Baseball Stadium & Williams-Reilly Field, Parking Lot 13, 3700 W Berry St. This pristine TCU baseball stadium parking lot might humble even master tailgaters. You will see trucks with custom team wraps, school buses with aftermarket rooftop patios, and maybe even a one-of-a-kind TCU team garbage truck. The setups are serious, but the fans are inviting. If you wear rival colors, just be sure to wear a smile, and you'll meet jovial Frog fans willing to break down their team's strengths and weaknesses. Cornhole, washer toss, and lots of kids tossing footballs make it family friendly. The university provides plenty of portable restroom facilities, and the lot is clean and safe. You'll have to shell out for a reserved spot, but luckily the neighborhood south of Berry Street provides plenty of parking and a reasonably short walk for the have-nots.
Sporting Event Bargain
Readers' choice: Texas Rangers
Critic's choice: Dallas Derby Devils, NYTEX Sports Center, 8851 Ice House Dr, NRH. For $13, you get to see two games of roller derby, where roller-skating women race around a track to get one of their players, the "jammer," to score points by lapping the other team's members. It's a contact sport, so there are lots of flare-ups and a lot of emotion out on the flat track, which naturally spreads to the fans. Who can't get behind adults punching one another, grappling, and racing on skates? It's the sports bargain of North Texas. Don't laugh. Roller derby was under consideration for the 2020 Olympics and will probably be included by 2024.
Sporting Event for Family
Readers' choice: Texas Rangers
Critic's choice: Fort Worth Vaqueros. The best thing about soccer (other than the fact that it's low impact): Everyone can play it. Pretty much anywhere. All you need is a ball and some feet. The best thing about the Fort Worth Vaqueros, only some talented dudes can play for them. And the best thing about their skillful footwork is the way affordable price. A family of four can get out of a home game at Texas Wesleyan University with money left over to order a pizza when they get home. Goaaaal!
Podcast
Readers' choice: Jerry Jonestown Massacre
Critic's choice: Funkytown Podcast. Remember that old song "Wildwood Weed" about the country boy who likes getting high because he can take trips while never leaving the farm? Funkytown Podcast is kind of like that, allowing listeners to check out Fort Worth's coolest shit via headphones. Why venture into the world when theater of the mind and a bong provide such a near facsimile? All local and always interesting, this joint has rolled out almost 200 episodes in the past few years, mostly spotlighting musicians and creative types.
Sporting Event for Bachelors/Bachelorettes
Readers' choice: Dallas Cowboys game
Critic's choice: Lone Star Park, 1000 Lone Star Pkwy, Grand Prairie, 972-263-7223. A day at the horse track should be a no-brainer option for a bachelor or bachelorette party. Drinking? Check. Gambling? Check. Dressed like Col. Sanders? Absolutely. Lone Star Park is a grand and modern facility located off I-30, just a reasonably priced Uber XL or limo ride away. The track features simulcast betting at the Bar & Book and live racing on the weekends in September, October, and November. The glass-enclosed grandstand section ensures your party can stay comfortable even on the hottest days. Head to the outside seats for a more traditional experience.
Palm to the Face
Critic's choice: Richard J. Gonzales to Cynthia M. Allen. First, kudos to the Star-Telegram's right-wing apologist for recently taking the time (and column inches) to criticize President Tiny Hands and his diehard supporters for vacillating on racism post-Charlottesville. Good on Cynthia M. Allen. Second, that's as far as we'll go with the praise. On just about every other issue, Allen is wrong. She is so wrong that if right were a pair of black shoes she'd go out of her way to put on a brown tuxedo. As obtusely incorrect as she is on just about everything, she was especially off the mark (and contrary to her editorial board, natch) on SB 4. In response to her wishy-washy, expectedly relativist Aug 4 excuse for the "sanctuary cities" bill –– gee, Cynthia M., maybe there is a microscopic chance that cops won't start asking Hispanics for their papers like it's 1933 Germany all over again –– local activist/speaker/author Richard J. Gonzales offered a stiff, "Face."
Allen effectively says that most of our life problems are just a mere matter of perspective. Gonzales counters with facts. That he and his Hispanic wife were told they couldn't afford a home they liked by a white sales agent is a fact. That "driving while brown" exists is a fact. That our mayor and city-council majority support institutional racism is a fact. Perspective has nothing to do with them, lady. They're facts. F-A-C-T-S. Like the fossil record you probably don't believe in or global warming. Stone cold facts (and that's the bottom line).
Gonzales goes on to say that over time he's been accused of playing the race card, the very same device, he argues, that has allowed whites to thrive "economically, socially, and politically" in the United States. "To deny the reality of white privilege and its racist consequences is truly delusional," he continues, his pen aimed squarely at good ol' Cynthia M. Whatever it is that's responsible for institutional racism, it's definitely not something that's just a matter of perception.
Petition
Critic's choice: changing Jefferson Davis Park's name. Jefferson Davis was the president of the short-lived Confederacy. He was born in Kentucky and spent most of his life in Mississippi. He had absolutely nothing to do with Fort Worth, yet there's his name, attached to a 6.5-mile park in a mostly minority community in south Fort Worth. After the tragedy in Charlottesville, a local resident launched on online petition to replace "Jefferson Davis Park" with something a little less racist-y –– Emily Farris' goal of 5,000 signatories was crushed like a graycoat infantry regiment at Gettysburg in a matter of a couple days. The next step is for this true patriot to present all of those names to the mayor. Of course, knowing Betsy Price and the majority of our city council members, nothing will happen. Unless more hand-wringing and petition-signing from non-racists counts.
Facebook Group
Critic's choice: Stay Local, Get Vocal: Fort Worth. With a xenophobic president who tweets threats to nuclear-armed enemies and describes neo-Nazis as "very fine people," what's a sane person to do? For thousands of Fort Worthians, some relief can be found via Facebook. Stay Local, Get Vocal is an online bastion of progressivism where the discourse is civil and the topics on political activism are always popular.
Use of Taxpayer Money
Critic's choice: Montgomery Street improvements . Sure, it's a mess right now. But by 2019, when the dust settles and the orange cones return to their natural habitat on I-35, Montgomery Street will become a slick, cool-looking, five-lane, wide arterial just in time for the cowpokin' events at Dickies Arena (maybe the biggest waste of taxpayer money at $450 million). The project will also include a shared-use bicycle and pedestrian path and drainage improvements to the area, and it will act as an attractive gateway to the Cultural District. Just try and avoid it for a couple of years.
Neighborhood Group
Critic's choice: Tanglewood Moms. Tanglewood Moms is a social-media organism with a blog, a Facebook page, and a Facebook group where dads, moms, and childless neighbors can post questions and problems, make commendations for local businesses, and just generally connect with others. The group formed in 2011 after founder Victoria Wollman Wise saw a need to help families connect over local issues. Most recently, Wise has steered the community in a charitable direction, calling on members to donate needed items to local nonprofits. The spirit of suburbia lives!
Watchdog
Critic's choice: Jane Lynn. The Arlington activist keeps her eyes peeled for issues related to the Barnett Shale, then gets the word out via email to a whole lot of us to make certain we're in the loop, despite the appearance of quiet on the gas-drilling front. But she also rails on Facebook, discussing bad sidewalks in the Arlington school district, industrial sites spewing toxic chemicals, and a host of other wrongs that need to be addressed. Good looking out, Watchdog Lynn!
Best-Kept Secret
Critic's choice: Libby Willis. The longtime Democratic Eastsider went splat during her foray into politics, losing her 2014 Texas Senate bid to Tea Party candidate Konni Burton. But the state's loss is Fort Worth's gain as Willis continues to fight for things near and dear to her, including public education, historic preservation, government transparency, and her beloved Oakhurst neighborhood. Recently, she gave City Hall a well-deserved spanking for cutting a decades-old stand of forest along Oakhurst Scenic Drive.
Rockstar
Readers' choice: Vinnie Paul, Hellyeah
Critic's choice: Maren Morris. We have an embarrassment of riches in superstar talent coming out of Fort Worth, but Maren Morris is pure Grammy-winning gold. This Arlington native made her way to Nashville and into the hearts of pop-country music fans worldwide with hits like "My Church" and "'80s Mercedes." When you consider how long Morris performed locally before leaving Texas, she's a music vet though still young in years.
Judicial Action
Critic's choice: U.S. District Judge Orlando Garcia's preliminary injunction against SB 4. In August, Judge Orlando Garcia granted a preliminary injunction that effectively halted the implementation of SB 4, the "sanctuary cities" law that would have forced all peace officers to question the immigration status of anyone they detained. Departments that refused to go along with the law would have been subject to large fines, and the department heads would have been subject to losing their jobs. Garcia saw the new law, which would have gone into effect on Sep 1, for what it was: a racist move intended to target and harass Latinos throughout the state. The injunction was granted in a lawsuit that pitted several Texas cities –– except one that shall go unnamed, a'hemFortWortha'hem –– against the state. Texas is expected to appeal, so who knows what the final outcome will be, but for seeing SB 4 for what it was, Garcia deserves kudos.
New Law
Critic's choice: ban on texting while driving. Just when you think Gov. Greg Abbott couldn't be any more co-opted, compromised, and comatose, he goes and does something useful like signing into a law a statewide ban on texting behind the wheel. People who text and weave around while barreling down the road in big metal death machines are a public hazard. Here's hoping that police will enforce the law. Guilty folks will pay a $99 fine for the first offense and $200 for subsequent offenses.
Way to Hit Fort Worth Where it Hurts
Critic's choice: Boycott of the Fort Worth Stock Show and Rodeo. A lot of folks said "huh?" after Jacquelyn Craig, ministers, and activists announced they would boycott the Stock Show. A Fort Worth cop, who had bullied and manhandled Craig, received a 10-day suspension rather than being fired, which some residents deemed a slap on the wrist. They tore a page from the Martin Luther King Jr. book of peaceful protesting and hit the city where it hurts most –– the pocketbook. The effects were minuscule if even measurable, but it was a nice thought.
Reminder that We Are All in This Together
Critic's choice: the solar eclipse. Science! Amazing how everyone loved scientists for being able to predict down to the millisecond the moment when the moon would cover the sun, but when the discussion turned back to climate change, a lot of folks went right back to disparaging scientists as know-nothing alarmists. But for a few seconds, we were all united in our wonder at nature's beauty, and that should be something to build on.