Top 5 Art Exhibits
Critic's choices: The last 12 months of art had a lot of memorable moments, starting with Rawiya, an all-female collective of documentary photographers from across the Middle East who dropped a serious body of work on the Fort in early March. We Do not Choose Our Dictators was a collection of images that revealed the subtleties of contemporary life in the strife-torn region and was more nuanced than the tidy headlines would have you believe. Representing the entire group, members Tasneem Alsultan and Tanya Habjouqa also facilitated great conversations. … How can an artist explore American identity and make the experience taste so good? Cake at Gallery 76102 answered that question and asked more. Fabiola Valenzuela recreated presidential welcome letters and citizen test questions onto sheet-cakes that visitors were encouraged to consume, making us eat the ideals she believes we are being force-fed. Focus: Lorna Simpson, which we reviewed last winter ("Lorna Simpson: Head on Ice," Dec 28), was an important show that frankly could have — and perhaps should have — been bigger. Challenging preconceived views of racial and sexual identity, Simpson's decades-long oeuvre is composed of countless photographs, prints, and collages, some of which were featured in this show at the Modern Art Museum of Fort Worth. Well done. … In an unassuming house on El Campo Drive in Arlington Heights, some renegade artists occasionally make camp. The Grackle Art Gallery's This Must Be the Place was a reunion show of artists from the loose Fort Worth art collective F6. Funkytown's Mike Moffatt, Jessica Fuentes, Jeremy Joel, Adam Werner, gallery owner and organizer Matt Sacks, and a host of others threw down a variety of paintings, photographs, installations, and drawings. … The Amon Carter Museum of American Art's Polaroid Project: At the Intersection of Art and Technology was a treat all the way around. Way before we ever thought we would have Star Trek-style flip phones or *gasp* cameraphones we could talk both into and to, Edwin Land brought down magic from Mount Polaroid. The celebration of this technology and the slew of early adaptors who were artists made for some sheer artful alchemy here.
Art Exhibit
Readers' choice: Kaws: Where The End Starts, Modern Art Museum of Fort Worth, 3200 Darnell St, 817-738-9215
Art Gallery
Critic's choice: Fort Works Art, 2100 Montgomery St, 817-759-9475. Fort Works Art has quickly become one of the most popular places in town. Forging forward with opportunities for minority artists, owner Lauren Saba Childs is doing a lot to create a more diverse Fort Worth gallery experience than ever. There's still a long way to go, but we're enjoying the ride. This year, we particularly dug seeing work by Sergio Garcia, Michael Vasquez, Clay Stinnett, Jesse Sierra Hernandez, and Hillary Dohoney.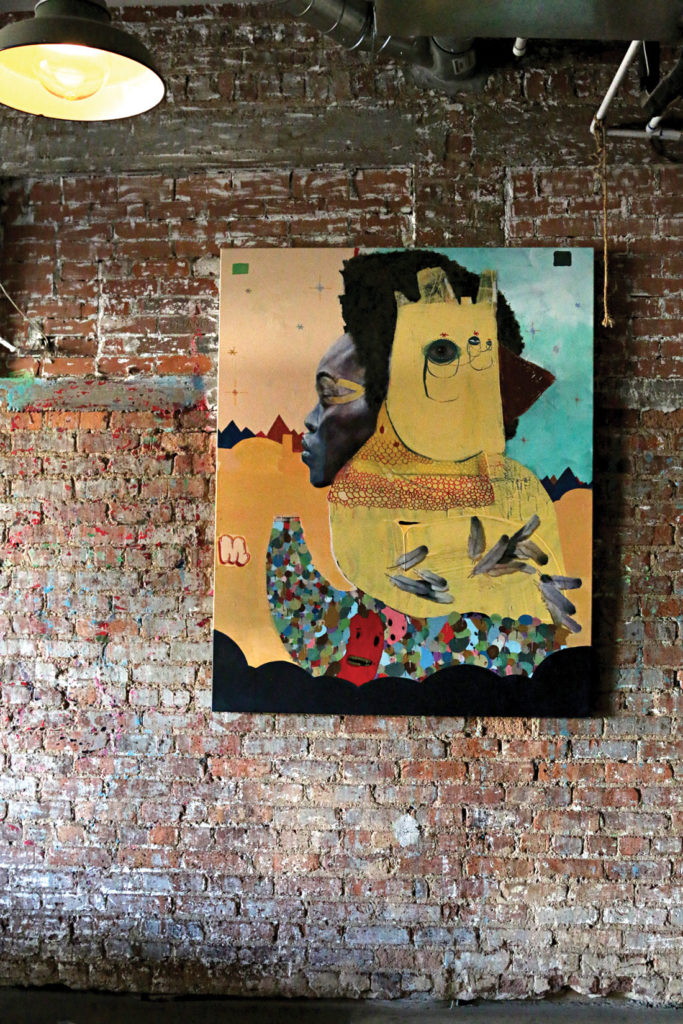 Visual Artist
Readers' choice: Jay Wilkinson
Critic's choice: Jay Wilkinson. Following his first solo exhibition earlier this year at Fort Works Art, local son Wilkinson has emerged as not only one of Fort Worth's leading visual artists but as one of the leading voices in the conversation around art. Co-founder of the collective Bobby on Drums (which with Exhibitionists became Art Tooth), Wilkinson has been an outspoken advocate for leveling the playing field for all artists, irrespective of background or education. Through his collaborations, pop-up installations, and cheerful disruptions of the status quo, he has worked to keep the art scene vital and inclusive. Meanwhile his solo work, candid explorations of family and personal relationships grown out of portraiture, continues to impress.
Art Collective
Critic's choice: Art Tooth, 682-233-BITE. Art Tooth is establishing itself as a force by throwing pop-up shows designed to give participating, often underground artists the kind of exposure they might not otherwise experience, introducing the public to a lot of up-and-coming talent.
Female Actor Performance
Critic's choice: Linda Kay Leonard, Ann (The Ann Richards Play). The year in theater belonged to Leonard, whose one-woman act in Ann was so funny it made political humor favorable again (both before and after the 2016 election). At Stage West Theatre last fall, she dazzled audiences with her artistic endurance, delivering a joke with every other breath and with impeccable comedic timing. She never fumbled a line, not even while strutting around stage in heels, balancing big hair and a Texan accent so believable that even the harshest critics couldn't claim she once fell out of character. For all the laughs she stole, Leonard managed to return the audience to the more serious moments of former Gov. Ann Richards' life, too, leaving theatergoers with an arc of character development that felt as meaningful as the comedy was memorable.
Male Actor Performance
Critic's choice: Jim Jorgenson, Northside Hollow. At Amphibian Stage Productions this spring, Jorgenson demonstrated the stamina of his character acting with unblemished constancy. As Gene in Northside Hollow, Jorgenson was tasked with the portrayal of a miner trapped below ground, one who ran the gamut of fearful tirades before returning to a place of trepidation and vulnerability which audiences found both believable and chilling. Having spent a great deal of the show on the ground with a broken leg, Jorgenson still managed to storm forth on thunderous emotional fronts with minimal blocking and despite the other main character in the play, a first responder acting as his foil, who buzzed around stage telling stories with more physical animation than Jorgenson. Having served as director of Dallas' New Theatre in the 1990s, he displayed the kind of craftsmanship you'd expect. And that we prize.
Theater Troupe
Readers' choice: Texas Star Dinner Theater, 816 S Main St, Grapevine, 817-310-5588
Critic's choice: Amphibian Stage Productions, 120 S Main St, 817-923-3012. The 2016-17 season drew some national attention to Fort Worth, and Amphibian Stage Productions stood at the forefront, soaking up some well-earned regard for the careful care the company puts into every performance. In March, we enjoyed the experimental play White Rabbit Red Rabbit, a one-person show featuring a new celebrity actor every evening who hadn't seen the script and did not have the slightest idea what to expect from the audience. This production brought big names to town, such as Xander Berkeley (Walking Dead) and Sarah Clarke (24, Twilight). Last summer and the start of this summer featured internationally recognized playwright Kieran Lynn, whose Crossing the Line garnered great acclaim, enough for him to return to Fort Worth and study lines for his next script, The Trap, which made its world premiere at the Phibs in May. All year long, the artistic director, her associates, and the talented actors associated with this troupe connect with the community, too, offering National Theatre Live screenings, community outreach services, and even stilt-walking educational courses. With a relentless commitment to refining and improving the dramatic arts scene in Cowtown, Amphibian Stage Productions easily captures this award.
Production Staged by a Local Theater
Critic's choice: Stupid F*cking Bird, Stage West Theatre, 821 W Vickery Blvd, 817-784-9378. Don't let the title deter you. This late-winter production warmed us with its genius approach to existential questions and a colorful adaptation of Anton Chekhov's The Seagull. The cast of seven boasted several quality performances of drastically different characters, and even the most static characters found favor with audiences when delivering their funniest lines or their most harrowing ones. Cast chemistry bubbled over thanks to director Emily Scott Banks' adherence to the Meisner Technique of acting, and set designer Brian Clinnin made his mark with an elaborate construction of a small home, a birch treescape, a working swing, and a stage-on-stage platform, to name only a few of many scenic details. What could have been an edgy, emo blubber fest, like so many Russian dramas are, was anything but thanks to playwright Aaron Posner's mastery of the wisecrack that comes at the expense of millennial weeping.
Performing Arts Organization
Readers' choice: Casa Mañana Theatre, 3101 W Lancaster Av, 817-332-2272
Critic's choice: Fort Worth Opera. The Fort Worth Opera remains a regional leader for innovative and creative programming thanks to its recently launched Noches de Ópera initiative. Fort Worthians got a glimpse of the city's operatic future last May when, as part of the company's annual festival, it premiered Cruzar la Cara de la Luna. The mariachi opera beautifully told the story of a family separated by the U.S.-Mexico border. Engaging audiences on issues of immigration and diversity couldn't be more timely. Or needed.
Solo Female Dancer
Critic's choice: Leticia Oliveira. After a passionate, mercurial portrayal of the title character in Texas Ballet Theater's season-opening production of Carmen, Oliveira excelled again dancing the classical Tiger Lily pas de deux in the company's season-ending Alice in Wonderland. In a surprising announcement, the 39-year-old retired from performing at the end of Alice. "I want to go out while I'm still on top," she has said. She will continue with TBT as principal teacher at the company's Fort Worth Dance School.
Solo Male Dancer
Critic's choice: Carl Coomer. Coomer gave a dramatic, heartwrenching performance of Don Jose, the doomed lover in the Carmen with which TBT opened the season. Coomer grows in acting and technical skills every year and has become one of the company's leading stars. (In real life, he is Oliveira's husband.)
Dance Production
Critic's choice: Alice in Wonderland, Texas Ballet Theater. Putting aside TBT's annual Nutcracker, which is second to none, the biggest and brightest ballet of the season was Artistic Director Ben Stevenson's adaptation of the Lewis Carroll classic. Filled with light and an army of characters in dazzling costumes, this Alice, with its classical choreography and exuberant music, created impressions of great 19th-century ballets.
Example of New Architecture
Critic's choice: Tandy Hills Pavilion, Dennehy Architects. There hasn't been much in the way of new architecture in Fort Worth to talk about this past year, so we are taking our lead from our local chapter of the American Institute of Architects in awarding this category to the (as yet unbuilt) submission by local firm Dennehy Architects for the Tandy Hills Pavilion Competition. Situated on a 160-acre natural area east of downtown Fort Worth, the pavilion is conceived as an elongated structure of supports inspired by the teepee construction of the Plains Indians, with perforated metal panels that compose views of the Fort Worth skyline and surrounding vistas. The structure will serve as a gathering spot for visitors and is intended to celebrate the relationship between the natural and the built environments. We look forward to seeing it built.
Drag Performer
Readers' choice: Frida Monet
Critic's choice: Frida Monet. Fort Worth's celebrated "trash queen" puts on one helluva show every Friday at The Urban Cowboy Saloon. As MC for The S*it Show, Monet is stand-up comedian, crooner, exotic dancer, and foul-mouthed curmudgeon. Under his/her watch, burlesque dancers Miss Eva Royal, Bleach, Chanel LaMasters, and other queens sway and saunter to a range of lively dance tunes. Be warned. This show gets pretty rowdy.
Photographer
Readers' choice: Songsview Photography
Critic's choice: Donnie Williams . Perhaps more widely known by his Instagram handle, willid420, Williams tends to keep a low profile, which suits his documentarian style, but he might start popping up on the radar in the wake of an exhibition of his photos at Fort Works Art this past March. Whether he's shooting in black-and-white or color, Williams makes his subjects pop, a neat trick considering his focus is life's minutiae, the kind of objects and instances most of us don't notice as we're booking down the street. While we may miss the significance of a parked car or a passing crowd, Williams' eye makes the mundane suddenly fascinating, leaving the viewer to contemplate the story before and after the moments in his frames.
Burlesque
Readers' choice: Velvet Kittens, Arts Fifth Avenue, 1628 5th Av, 817-923-9500
Critic's choice: Crème de la Crème Burlesque . Formed by burlesque revivalists Honey Sin Claire and Victoria Viking, Crème de la Crème showcases the art of the striptease by keeping it classy and body positive, focusing on the beauty of the female form while enthralling audiences with witty repertoire and creative routines.
Festival
Readers' choice: Main St. Fort Worth Arts Festival
Critic's choice: ArtsGoggle. Though everyone's (rightfully) excited about Fortress Festival's inaugural outing, we're going with an old Near Southside standby. Just because we had a righteous time there this year. (And last year.) The 5-year-old frolicked his little face off, and the grandparents, well, they survived. (The knees aren't so good on Mama Boo.) A couple pints of Dale's Pale Ale and some perfecto! pizza at Chimera Brewing Company coupled with some chalk-art and a glassblowing demo at nearby SiNaCa Studios were the highlights. No offense to the rocking bands and other stage performers. We'd just forgotten our earplugs.
Place to Take Your Kids
Readers' choice: Fort Worth Zoo, 1989 Colonial Pkwy, 817-759-7555
Critic's choice: Chimera Brewing Company, 1001 W Magnolia Av, 817-923-8000. This previous winner hasn't grown any less wonderful for the little ones. The cavernous space is perfect for when your tiny dude or dudette gets a little noisy, and the scrumptious pizzas always come out fast and pipin' hot, so he or she won't have to kill too much time (though letting your kids get bored is vital to their early learning). The best part: Even the weekend afternoons aren't too crowded, meaning you'll be in and out and back to the park or swimming pool in no time.
Mural
Critic's choice: "Inspiration Alley," The Foundry District, 200 Carroll St. Throughout a marathon evening during this year's Spring Gallery Night, multiple artists painted a series of five murals of various shapes, sizes, and themes as part of "Inspiration Alley." To date, 11 artists have contributed to this evolving tableau that Foundry District co-owner Jessica Miller calls "accessible modern art that everyone can enjoy."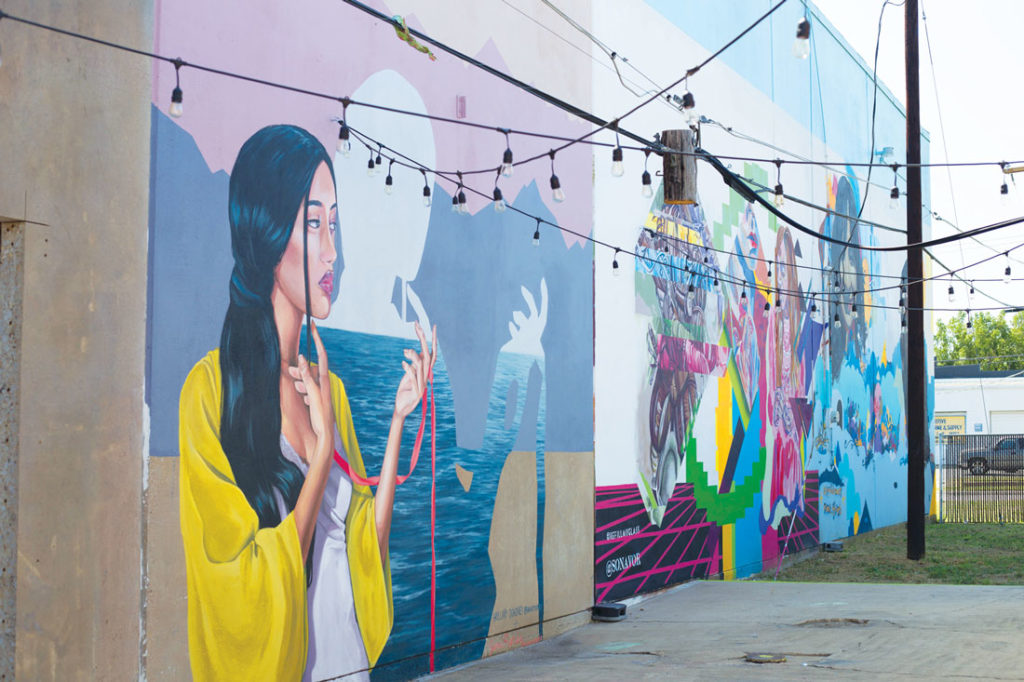 Outsider Artist
Critic's choice: Jerrel Sustaita. If we had to guess how many paintings Jerrel Sustaita has made, based on every time we've seen him make a painting, we would say 500, and we'd probably be off by a thousand. From street corners to street fairs, courtyards to city squares, parks to riverbanks, Jerrel paints and sculpts. No subject has escaped his gaze or his canvas, and his work ethic and dedication epitomize the hustle. He was recently a part of the These Are My Friends exhibit at Shipping & Receiving and featured on Channel 8 for his paintings of the now-removed Robert E. Lee sculpture in Dallas. Undaunted by his nonacademic style or lack of gallery representation, Jerrel continues to be a big part of the art scene here and beyond.
Public Art
Critic's choice: "Memory: Fairmount Park," 1500 S Henderson St. Back in 1990, six family homes on the Near Southside were demolished to create Fairmount Park. Local architect Bart Shaw saw an opportunity to repair the tear left in the neighborhood by recreating the approach to three of these homes. Gravel walkways lead to sculpted tables that visually acknowledge the front steps and porches that would have connected the homes to their community. Shaw intended to "re-establish a gathering space for neighbors and visitors," and the project (awarded through an initiative of Fort Worth Public Art) has been well-received by the denizens of Fairmount and by the design community at large, winning an Honor Award from the Fort Worth chapter of the American Institute of Architects.
Book by Texas Author Published in Last 12 Months
Critic's choice: The Last Painting of Sara de Vos by Dominic Smith. Fans of Donna Tartt's The Goldfinch will devour this Austin writer's tale of intrigue, art history, and social politics. Though not technically a work of historical fiction, The Last Painting of Sara de Vos is historical and fictional. It's set simultaneously in 17th-century Amsterdam and modern-day New York City, with Smith weaving a tale of how the omission of women from the historical record in The Guild of St. Luke (Rembrandt was a member) may have had lasting effects on the art community and female artists today. Ultimately, it is a thrilling narrative about the places where one's past cannot help but alter the landscape of the present.
Classical Music Performance
Critic's choice: Kenneth Broberg and Daniel Hsu. In this year's Van Cliburn Competition, no one lit up the stage as consistently as these two American contestants. Minneapolis' Broberg played with marvelous structure and clarity, capping his turn here in Fort Worth with a breathtaking performance of Rachmaninov's Rhapsody on a Theme of Paganini. The Bay Area's Hsu's accounts of Barber, Mussorgsky, and Tchaikovsky were thunderbolts from the sky. The Cliburn's gold medal eluded these two pianists, but we're happy to give them our top prize.
Locally Made/Shot Film
Critic's choice: Don't Frack With Denton. The planned first part of Garrett Graham's rousing documentary premiered at UNT, fittingly enough, this past spring and showed an appreciative crowd how the city had managed to resist the money and power of the natural gas industry and the state legislature that's in its back pocket. As the city's fracking ban faces challenges in Austin, Graham continues to work on his project with a social consciousness that seems right for our time.
Urban Digs
Critic's choice: South Main. Now that the seemingly interminable roadwork on South Main Street is more or less complete, the little neighborhood just south of downtown Fort Worth is ready to take off. Long overlooked, the collection of historic warehouses and converted brothels is a time capsule of old Fort Worth. As more development moves in, the quick ride to downtown or West Magnolia Avenue is sure to make South Main the hippest of hipster 'hoods for the urban bike-to-work set.
Show at Bass Hall in Last 12 Months
Critic's choice: Fort Worth Youth Orchestra's tribute to Willa Dunleavy. The Fort Worth Youth Orchestra, TCU Choral Union, and Chisholm Trail High School Chorale performed a memorable and heartfelt tribute concert for a popular supporter of the arts last May — after several years as the youth orchestra's executive director, Dunleavy retired earlier this year. A work for orchestra and chorus, "Give her Music," was commissioned by the youth ensemble in Dunleavy's honor. That premiere, deftly guided by FWYO music director German Gutierrez and masterfully performed by the young musicians of the FWYO, was a real tearjerker.
Rebirth/Relocation/Re-opening
Critic's choice: "Tribute to Our Boys: WWI Honor Roll," Congregation Ahavath Sholom, 4050 S Hulen St. A group of 10-foot marble tablets etched with the names of 81 Fort Worth Jewish doughboys, many of them immigrants, languished outside Congregation Ahavath Sholom for almost 40 years before the city's centennial commemoration of World War I brought some interest in preserving this small slice of local history. The tablets were created by the Ladies' Auxiliary of the now-defunct Hebrew Institute in 1919 as a way to memorialize hometown soldiers who died in what was then The Great War. The colored marble monument sat in state until the dissolution of the institute in the 1950s, when it was put in a closet, then hung outside one of Fort Worth's two Jewish congregations. With exposure to the elements over four decades, the etched words on the marble faded, as did the colors of the 48-star American flag. In preparation for the citywide exhibit honoring the 100th anniversary of U.S. involvement in World War I, archivist Hollace Weiner led a cadre of volunteers, including Ahavath Sholom landscaper Bob Sumien, a Catholic veteran, in the restoration efforts. Sumien hand-painted the marble to restore the honor roll to its former glory.
Golf Course
Readers' choice: Rockwood Golf Course, 1851 Jacksboro Hwy, 817-624-1771
Critic's choice: Rockwood Golf Course. A municipal golf course that's been around for eight decades looks perky fresh after a $5 million overhaul, a revitalization project that lasted more than a year. Conveniently located in the shadow of downtown, the new and improved Rockwood is attracting out-of-towners, business visitors, and tourists, as well as hanging on to its loyal base of locals.
Outdoor Workout Space or Running Trail
Critic's choice: Mayor Ripley Allen Arnold Statue, 489 N Taylor St. Park at the circle at the end of Taylor Street and enjoy easy access to the less-traveled areas of the Trinity Trails, meandering along the West Fork of the Trinity River. Bike/run across the northbound bridge and take a right past the newly painted mural with not-so-subtle nods to Panther City's past, where the trail is clear and uncrowded and provides panoramic cityscape views. Jog or pedal east across the low-water crossing. Follow the trail as it bears southeast across and then parallel to I-35. You can stop at Riverside Trailhead North for a grand view of downtown Fort Worth or head farther to Riverside Trailhead South, where you could spy someone trying not to fall off the second or third level of the TopGolf complex or mosey on into Martin House Brewery for a refreshing draft. If hiking, biking, and running aren't your favorite activities, head left to the Backwoods Paddle Sports at Panther Island to rent a canoe or kayak.
Day Trip
Critic's choice: Fossil Rim Wildlife Center, 2299 Co Rd 2008, Glen Rose, 254-897-2960. Four new giraffe calves were born this year, bringing the wildlife center's giraffe herd up to 11. Visitors on the tour might also spot a bison, blackbuck, cheetah, deer, emu, gazelle, ostrich, ram, rhino, wildebeest, wolf, zebra, and who knows what else. Fossil Rim is like an African safari but just an hour's drive from Fort Worth via the Chisholm Trail Parkway. The tour can last several hours, and it allows you to feed some of the animals through your car window. It is best to start early in the day, when the animals are more out and about. As they should be for us humans, afternoons for the animals are for cold nappin'.
Place to Get Sidetracked
Critic's choice: Modern Art Museum of Fort Worth, 3200 Darnell St, 817-738-9215. OK, say you need to let off a little steam. Start by heading to the Modern to stand in Richard Serra's "Vortex," the 67-foot-tall hollow outdoor sculpture made of 2-inch-thick steel planks. Pound your feet and scream and listen to the sounds as they echo while climbing the chimney-like artwork before finally disappearing into the air far above. Now relaxed, spend a few minutes in the actual museum, where you'll be surrounded by Picassos, Warhols, Oldenburgs, Pollocks, Kellys, Lichtensteins, and so many other legends' pieces. Before you know it, you'll have been wonderfully sidetracked.
Green Space
Critic's choice: Fort Worth Botanic Garden, 3220 Botanic Garden Blvd, 817-392-5510. Sometimes you just need to be next to nature to get that city grime off your soul. In the Fort, the best place to do that is at the Fort Worth Botanic Garden, where you can Zen out in the tranquil Japanese Garden, smell the flowers in the Rose Garden, or prick your ego in the Cactus Garden. There are a half dozen other gardens as well, each with its own distinct flavor. Once you park your car, it won't take long to feel your problems just waft away. Parking and most of the gardens are free, with the Japanese Garden charging a modest $7 entry fee — which goes to maintaining the koi fish in the pools there.