Whittling down Fort Worth's beer events into a top-anything list isn't easy these days.
September 30. Rahr & Sons' annual Oktoberfest 5K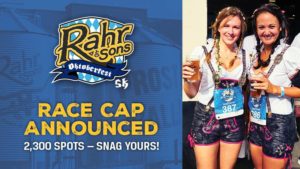 From Rahr: Lace up your running shoes and lederhosen for Rahr & Sons' 8th annual Oktoberfest 5K! Costumes are highly encouraged for the fun run, which has raised $69,250 to benefit local nonprofits since its start. Runners receive a dri-fit t-shirt, an on-course TX Whiskey shot, and a finisher medal. Following the race, participants will enjoy live entertainment in a festive "biergarten." This year's event will benefit the Fort Worth chapter of Brotherhood For The Fallen, a nonprofit that supports the families of police officers killed in the line of duty. To register, click here.
September 30. T&P Tavern's 7th annual Oktoberfest
Authentic German food (Jägerschnitzel, Knackwurst, Bratwurst, Pretzels) and bier (Andechser Weissbier Hell, Ayinger Oktoberfest, Märzen Dinkelacker, Märzen Oktoberfest, among others) are just highlights of this festive annual gathering. Contests include a stein holding competition, and there will be awards for best German costume, beer belly, and mustache. No cover. Visit the event page here.
September 30. WOBtoberfest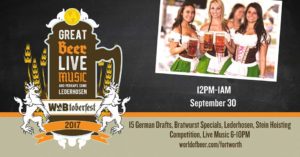 From WOB: Join us for WOBtoberfest! We'll have 15 German beers on tap, bratwurst, Jager shot specials, a stein hoisting competition, lederhosen, and live music from 6-10pm. Visit the event page here.
October 10. Chimera Brewing Company Paint-n-Party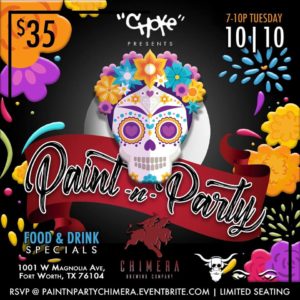 From Chimera: Your favorite North Texas artist "Choke" is back again. This time, she will bring the party out to Chimera Brewing Company. We're excited about this party because we will be able to enjoy the outside seating area! There will be plenty of drinks as well, so bring your friends and family as Choke guides us all through another great original piece of artwork. This month, we will be painting a sugar skull. Tickets include a seat, canvas, paints, brushes, food and drink specials, great music, and a fun atmosphere. Visit the event page here.

October 14. Flying Saucer 2017 BeerFeast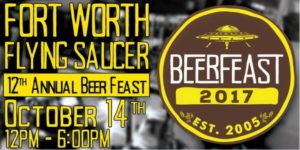 From Flying Saucer: Fort Worth Flying Saucer's 12th annual (VIP only) BeerFeast will take place inside of the restaurant and outdoors! Once again, it will be limited to just 600 lucky beer lovers, all of whom will enjoy the festival as VIPs. BeerFeast 2017 includes: More than 120 beers, a carefully curated selection of 80 Transcendent and Exceptional American and import craft draughts, a variety of bottled and canned beers on the patio, delicious food from Bird Café's executive chef Scott Curtis, and traditional BeerFeast fare of bratwurst and pretzels. Noon to 6pm. Live music on the 8.0 stage throughout the entire festival. Visit the event page here.
October 18. Beer, Beards, and Beethoven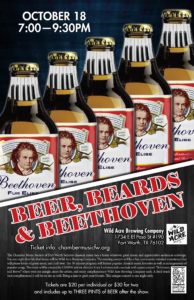 Beer, Beards, and Beethoven, a program of the Chamber Music Society of Fort Worth, was a sold-out success last year. The program will once again feature the Cézanne Quartet, SMU's ensemble-in-residence. Admission includes three pints of Wild Acre brews, and there will be a casual after party following the 30-minute concert. The Chamber Music Society is partnering with Presbyterian Night Shelter, so please bring unused, packaged socks for the donation drive. A food truck will also be available. I think Beethoven would have approved. Visit the event page here.
October 27. Halloween Party at Panther Island Brewing Company

Grab your favorite costume (corny outfits welcome) and head to Panther Island Brewing October 27. The spooky event features seasonal release Sweet Fang (a sweet, peanut butter stout), a costume contest, and frightening flicks. The release of Witch Ash, a smoked Imperial stout, is also slated for this event.
October 28. Martin House Booery Tour


From Martin House: The 5th annual Martin House Booery Tour is upon us! For $15, you get four Martin House pints plus free samples from multiple breweries, live music, delicious grub, a costume contest, and a whole lot of ridiculousness. Guest breweries include Black Star Co-op Pub & Brewery, BrainDead Brewing, Chimera Brewing Company, Denton County Brewing Company, and Dirty Job Brewing. Food vendors include Chez Flo, LUCK at Trinity Groves, and T & A Bacon Haven. Purchase tickets here.
October 28. Rabbit Hole Brewing Halloween Masquerade

From Rabbit Hole Brewing: Join us, if you dare, for our 4th Annual Haunted Halloween Brewery tour! This years theme is classic horror. Think: Poe, Lovecraft, Bela Lugosi, Lon Chaney, and Ed Wood. Come on over and sample great beers from Rabbit Hole and enjoy the costumed madness that occurs around Halloween at the brewery. Costumes are not required, but there will be prizes for those who come in costume for Funniest, Best Classic Horror Character, and Best Alice In Wonderland Themed costumes! Come hungry and thirsty; KB's Brats will be onsite for your ravenous hunger. Special Halloween-themed firkins will be available in the tasting room! Visit the event page here.
October 27 through November 5. Fourth annual North Texas Beer Week


NTX Beer Week is a 10-day celebration of all things craft beer-related in our neck of the Lone Star State. Now in its fifth year, the annual event includes (but is not limited to) beer dinners, bottle shares, festivals, glass giveaways, meet the brewer events, and tap takeovers. Last year, NTX Beer Week boasted hundreds of events at dozens of venues across North Texas. To see what your city has planned, visit here.
Don't forget to follow On Tap in Fort Worth's Facebook page.