The Near Eastside's version of West 7th Street or West Magnolia Avenue is the hipster-friendly Race Street, an urban village with a focus on creativity and fun. The mile-long stretch of road between Sylvania Avenue and Riverside Drive isn't exactly a boomtown. The Great Recession of the late 2000s sucker-punched the original developers, stalling progress for years. But current developer Pretlow Riddick has pushed the train back on track. Businesses such as Born Late Records & Tattoos, Gypsy Scoops ice cream parlor, and Rawsome, a Cannabidiol (CBD) shop, have opened in the past couple of years. And Good Food Co. recently jumped into the mix with Fuzzy's Tacos and other restaurants vying to attract diners. City officials have responded by pledging money to help with streetscaping.
Hugs and kisses to Riddick for reinvigorating that part of town.
The North Texas developer knows that cafes, coffee shops, tattoo parlors, art galleries, barbershops, and other mom-and-pop businesses rely on customers to survive. He is drawing warm bodies by building apartments, condos, and townhomes nearby. For his new multi-family residential project The Scenic at River East, he picked an impressive spot to build – land near a bluff that overlooks Oakhurst Scenic Drive, Riverside Park, the Trinity River, I-35, and the downtown skyline a few miles to the west. He included a fitness center, dog park, a pool deck with cabanas, and – thank god! – a yoga lawn to attract tenants.
More hugs and kisses!
Amid those successes, however, Riddick has made a few missteps. Race Street runs through the longstanding Riverside neighborhood. Riddick upset a few traditionalists after he tried to re-brand the area as "River East." Ouch. Imagine if Jerry Jones had renamed the team after buying the Dallas Cowboys. For some folks, "River East" sounds about as offensive as the Dallas Gas Frackers or the Dallas Papa Johns.
Riddick's latest boo-boo is something neighborhood locals have taken to calling "the great hillside clearing."
The bluff where Riddick is building his project slopes down an incline about 100 feet to Oakhurst Scenic Drive, a winding arterial road built in the 1930s. For many decades, that slope has been allowed to grow into a natural forest. Locals love that scenic street, which meanders about two and a half miles through the Riverside and Oakhurst neighborhoods.
"It's like that last little bit of country in the city," said Libby Willis, a past president the Fort Worth League of Neighborhoods and author of Fort Worth's Oakhurst Neighborhood.
The slope is city-owned right of way.
That's why Willis was "horrified" to leave her house one day in early summer and find a bulldozer clearing out bushes, vines, and small trees. In one day, a relatively small section of a near-century-old forest was turned into what looks like manicured landscaping. A bulldozer and work crew cleared out all but the large trees from the top to bottom of the slope adjacent to the apartments.
The Oakhurst neighborhood has about two-dozen houses with backyards that abut the wooded slope. They appreciate not only the beauty of the woods but the audio buffer it provides from I-35 traffic. The wooded slope is practically sacred ground to Willis and many others. To them, Riddick's clear-cutting exposed what they see as a flaw in the city's ordinance when it comes to protecting greenery.
The section of the wooded slope adjacent to the Oakhurst houses is included in the Oakhurst National Register Historic District. But that is only between Yucca Avenue and Watauga Road. The southernmost section of the forest lies closer to the commercial area near East Belknap Street and isn't part of a registered historic district. Still, Willis figured the wooded slope was protected. Chapter 6 of the city's zoning ordinance designates various scenic corridors across the city. That should have cued city officials to look closely into the proposed clearing and consult with neighbors before issuing a permit for Riddick to clear the city-owned land – "that land you and I and everyone else owns," Willis said.
"We expect the city to be good stewards of the public land," she continued. "We just figure something called 'scenic' historically should be, uh, scenic."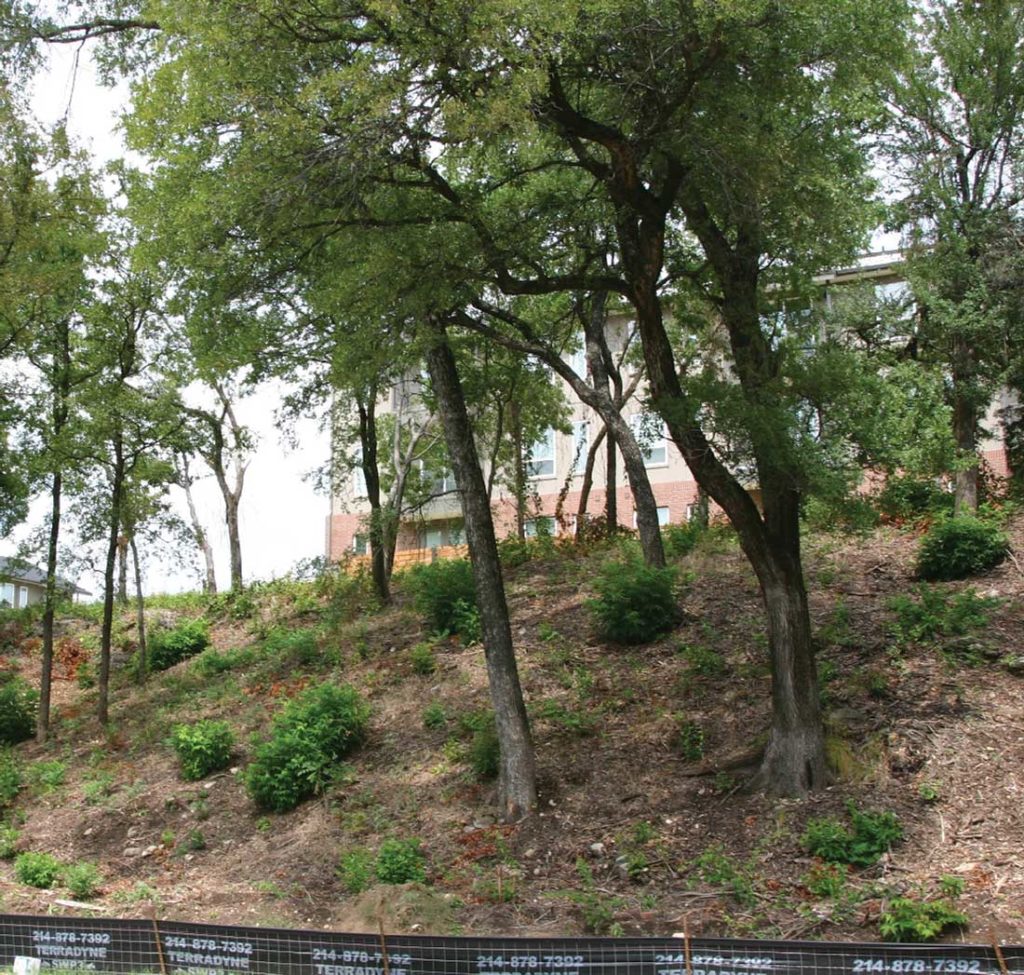 The designation, however, regulates signage and cell phone towers rather than vegetation and landscape, city forester Malinda Adams said.
People who own property adjacent to the city's right of way can remove weeds and invasive brush without asking permission, she said. Also, they can request a permit to remove trees. Public hearings aren't required.
The developer contacted Adams earlier this year to discuss ways to open up the wooded area around his property. His reasons? He wanted to "control illegal dumping and litter" – common problems with green spaces – and ensure the long-term health of the existing trees, Adams said.
Adams determined the best course of action was to remove overgrown vines that were killing trees and remove the undergrowth of invasive species such as chinaberry and privet. She issued the permit to the developer allowing him to remove trees less than 6 inches in diameter. Property owners whose land lies in the non-historic areas but is still adjacent to the forested slope can do the same legally.
Bottom line: Residents expecting a "scenic corridor" designation to protect their favorite stretch of greenbelt are hanging on to false hope.