It's been nearly a year since HopFusion Ale Works opened in the Near Southside, and co-owners Matt Hill and Macy Moore have a lot to show for it. HopFusion's beer is available in 453 locations, according to the owners. The brewery signed with FullClip Craft Distributors last March and began canning three months ago. Being on shelves at grocery stores and specialty shops has grown the HopFusion brand, Moore said.
"We've had people come in the taproom and say, 'Oh my God, I buy your cans all the time,' " he said. "They had no idea we were here in here Fort Worth" until they read it on our can.
The most popular beer, Feisty Blonde, accounts for around 60 percent of can sales, he added. Hill and Moore said Feisty Blonde's appeal comes from its unique flavor profile, but the duo won't settle for being known as a "one-beer brewery."
"We're constantly developing new beers," Moore said. "We work to not get pigeonholed into this style or that. As long as you're trying to hit across all the different styles and variations and you're trying to do those the best that you can, the rest is really up to the public."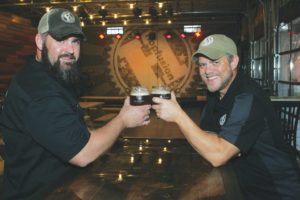 HopFusion's testing grounds is its taproom. Several taproom-only offerings show the breadth of Hill and Moore's brewing prowess — a farmhouse ale, German alt, cinnamon-infused milk stout, and a coffee stout. Go Easy (American IPA) began as an in-house offering before its popularity landed it on store shelves.
Toward the end of our chat, I tried several brews, including some from HopFusion's nascent barrel aging program. Many of those rare releases, along with most of the beers HopFusion has ever released, will be on tap November 25: That's when the brewery will celebrate its one year anniversary.
In 11 months, Hill and Moore have transformed their business into a bustling, family friendly space. There will be much to celebrate at the anniversary party. And there will be much to look forward to in HopFusion's second year.
Don't forget to follow On Tap in Fort Worth's Facebook page.
On Tap this Week:
October 18. Beer, Beards, and Beethoven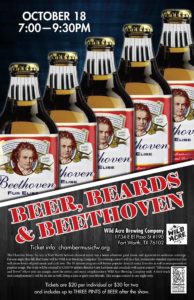 Beer, Beards, and Beethoven, a program of the Chamber Music Society of Fort Worth, was a sold-out success last year. The program will once again feature the Cézanne Quartet, SMU's ensemble-in-residence. Admission includes three pints of Wild Acre brews, and there will be a casual after party following the 30-minute concert. The Chamber Music Society is partnering with Presbyterian Night Shelter, so please bring unused, packaged socks for the donation drive. A food truck will also be available. I think Beethoven would have approved. Visit the event page here.
October 28. Flying Saucer Pintwood Derby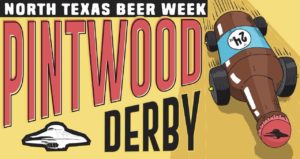 From Flying Saucer: We are teaming up with Deschutes Brewery to host Flying Saucer Pintwood Derby! It's all the fun of the classic Pinewood Derbies from your Boy Scout days but with delicious Deschutes beer! Come out on Saturday, Oct. 28, and compete in a bracket-style racing tournament for fabulous prizes, all while enjoying the amazing patio weather and tasty Deschutes beer. Did we mention it's for a good cause? To raise money for Hurricane Harvey relief, we're donating half of all Pintwood Derby entry fees and $1 for every Deschutes beer purchased.

We'll have two categories for racing: Brewery vs Brewery and Beerknurd vs Beerknurd. Winners from both categories will face off in a Beerknurd versus Brewery Showdown Race. The entry fee is $20, with $10 going directly to Hurricane Harvey relief efforts. The entry fee gets you your own pinewood racer and a token for your first delicious beer from Deschutes. Click here for more information.