Beneath glowing blue and yellow neon, there's a door that cuts off the corner of a low industrial building. The former warehouse now proudly dons a flashy new crown. A rustic black band runs the length of the red-bricked façade, and wall-mounted lamps spot the sidewalk below –– a picture-perfect riff on updated prewar Americana. In a part of the Near Southside with currently little else around, the paradigmatic structure represents a hope that the faint buzz and flicker of neon could serve to call thirsty patrons through that stylish corner door.
In the burgeoning South Main Street of the Near Southside close to the bustling West Magnolia Avenue, a favorite Dallas haunt has colonized roughly 3,300 square feet of Fort Worth. A year beyond its intended launch, Deep Ellum's popular Twilite Lounge is finally opening the doors to its second location, in the South Main Street area.
"Southside feels a lot like Deep Ellum did when we first went down there in 2013," said co-owner Danny Balis. "There are quite a few things around. Things are less spread out. It's maybe not walking distance, but whether you're on 7th or hanging out over on Magnolia, or by the Aardvark on [West Berry Street], you're a five-minute Uber ride away."
With their new location that sits just south of Vickery Boulevard, occupying the old Morrison Supply Outlet at 212 Lipscomb St., Balis (perhaps best known as producer of The Hardline on The Ticket), his longtime business partner Jess Barr, and new managing partner Jimmy Morton, look to capture the same laidback and cozy vibe that bar-goers have found during weeknights at the Elm Street location for the last four and a half years, while still catering to the younger, party-minded set that comes out on weekends.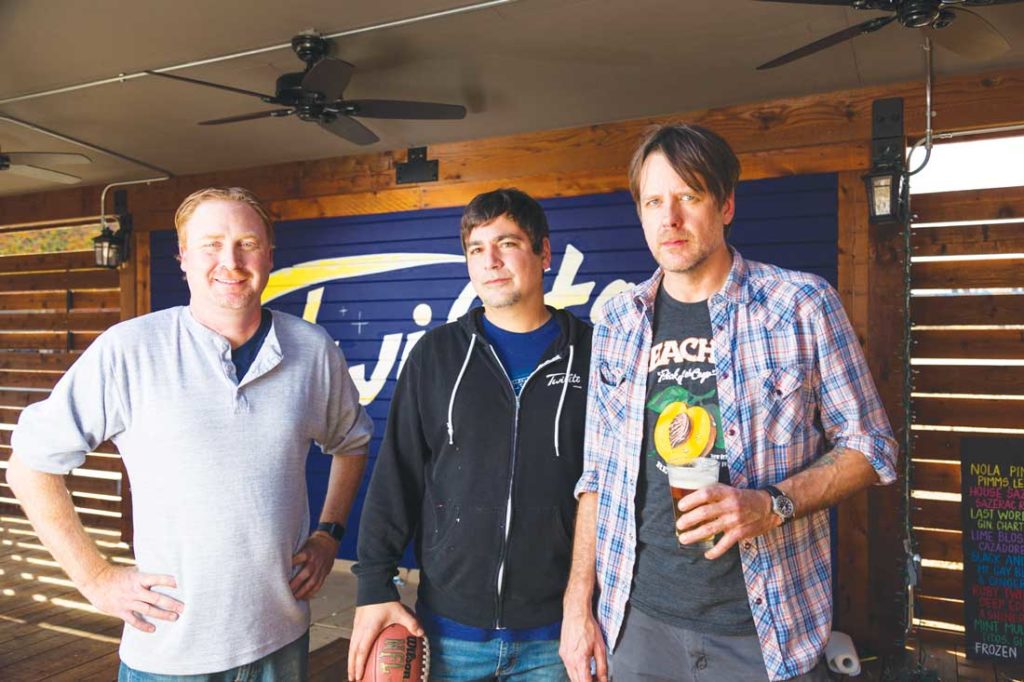 "What we wanted initially was sort of an Oasis-type, chill, dive-bar kinda place, where thirtysomethings and fortysomethings would feel comfortable going," Balis said. "But you have to evolve a little bit. Otherwise you're gonna be dead on the weekends, which is why we're doing more DJ-type stuff on those nights, although we don't ever want that to be our identity. Trends change, and I always want keep some sense of what we started as, which was maybe more of a grownup bar, I guess. "
From the matching crystal chandeliers, the thick, red, buttoned-leather booths, and gold leaf-over-crimson damask wallpaper, "Twilite West" is an aesthetic clone to the New Orleans-inspired original, down to the framed concert flyers for old-school soul and jazz musicians. The bar also boasts a similarly impressive selection of craft beers on tap and all of the requisite bottles but without the limitations of the Ellum location's shotgun bar size –– the usable space on Lipscomb is almost double. The owners have put in a kitchen offering Cajun-influenced fare like po' boys with hand-cut fries and red beans and rice. There's also a spacious, mostly covered patio out back with wall-mounted TVs, and there's plenty of parking around, whether in the large lot behind the building or on the street.
While certainly not a dedicated venue, Twilite Lounge has a nice PA system and a workable stage for live music.
"We like having the option of being able to have a live band," Balis said. "When we first opened the Ellum location, live music was so well received and we got such great feedback, we thought maybe we should try to fill out a calendar. We'll probably do the same type of thing here: See how people react to a live band playing in this bar, being kind of judicious and selective about who we have, and kind of feel it out. And if it's something we feel people are expecting, and it lends itself to people coming in as a live music destination point, we'll adjust."
The rest of the building that isn't occupied by Twilite is rumored to be the eventual home of two more bars: the Phoenix-like rebirth of long-cherished LGBTQ club Rainbow Lounge and a second location of Dallas-based Irish beer bar Anvil Pub, whose original location is next door to Twilite's Deep Ellum spot. That pub will take its customary place as Twilite's neighbor.
Twilite Lounge assumes its normal weeknight business hours (4pm to 2am) with a "soft opening" on Wednesday. The staffers are working out a potential brunch menu for their planned noontime opening on weekends. The grand opening events will be held this weekend. Friday night features Fort Worth/Dallas indie-rockers Calhoun (for whom Balis plays bass) and Americana stylist Jake Paleschic. Saturday's festivities include DJ sets from Wizardvizion (Son of Stan's Jordan Richardson and Oil Boom's Steve Steward).
Twilite Lounge Grand Opening Weekend

10pm Fri w/Calhoun and Jake Paleschic. [bullet] 10pm Sat w/DJs Wizardvizion. Twilite Lounge, 212 Lipscomb St, FW. No cover. 214-741-2121.