The moment I met Heather Larson, I knew we'd hit it off. The Dallas-based Noble Rey Brewing Company taproom director was sporting a purple TCU t-shirt when I visited on a recent weekend. (I'm not sure if her purple hair was also in solidarity with the horned frogs, but I think it might be a factor.) She knew a helluva lot about what is going on in Fort Worth's craft beer scene.
"Hop Fusion does some really good beers," she said. "I brought on their Feisty Blonde, and we sold out in one day."
The brewery saves taps for its craft beer "competitors." The Collective Brewing Project's Petite Golden Sour is getting notice in the Big D. As are sours in general.
"We see what's moving fast and what's trending," she said, referring to Noble Rey's sales records. "A year or two ago, it was IPAs. Sours overshot [IPAs] this last year. People are always asking for sours."
I sampled one of several sours Noble Rey releases throughout the year. Eagles Tears is a playful jab at Philadelphia. The hubbub started a month ago when Pennsylvania-based Weyerbacher Brewing released Dallas Sucks. (I heard the Philly beer sucked, by the way.) Nobel Rey's Vertigo, a Double IPA, was relatively tame on the bitter scale and welcomingly boozy at nearly 10 percent ABV. Barampus, a spiced-up peanut butter brown ale, single-handedly left me reevaluating the possibilities of that humble British ale style. Cheers to Noble Rey head brewer Tommy Miller for these fiendishly delicious beers.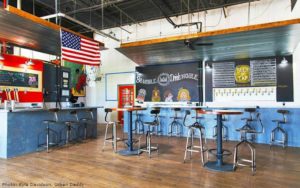 The North Texas beer market is seeing two trends, Larson said. One, more and more breweries are coming online and creating more competition. But there are also millions of potential craft beer converts out there who are discovering what quality brews have to offer. I was surprised to hear that customers still visit Nobel Rey every week who have no idea what the craft beer movement is about.
Noble Rey puts charitable giving high on its list of priorities, Larson added. She credits the brewery's owner Chris Rigoulot with making it part of the business' work culture. One example, Brew Year's Eve 2018, will benefit the suicide prevention and awareness nonprofit Foundation45.
"We wouldn't be here without the people in the community," Larson said. "It's only natural to give back."
Don't forget to follow On Tap in Fort Worth's Facebook page.
On Tap this Week:
Brew Year's Eve 2018
From Noble Rey: Are you ready to say goodbye to 2017? Of course you are, and so are we! Which is why we have partnered with the awesome guys and gals at Foundation45 to bring you a night of beer, food, fun, and music all benefiting charity! It wouldn't be a party without live music, so we will have Sno White spinning beats outside in a heated tent as well as Ducado Vega performing on the main stage followed by The Gypsy Bravado!