For the last several years, Fort Worth has been steadily building a network of on-street bike lanes to provide better connectivity and alternatives to driving. Bike lanes are now a larger part of city life in Fort Worth than ever before, particularly within the central city in places like the Near Southside. But for all the progress we've made on the bike-friendly front, we've been behind other cities in the form of bike lanes we've been building.
The majority of Fort Worth bike lanes are of the simple, paint-stripes-on-the-outside-lanes-of-a-street variety. This is, of course, better than not having bike lanes at all, but cities around the world have been seeing the benefits of going a step beyond and creating physically separated lanes that provide more than just a psychological barrier between automotive and bicycle traffic. Such physically separated lanes can be seen in places as nearby as Austin and in locations as far-flung as Portland, New York, and Amsterdam.
Now, Fort Worth is at last taking a step beyond paint stripes into something a bit more ambitious, and in a location that could be a useful connection between the city's on-street bike infrastructure network and the popular Trinity River trail system.
Construction has been underway on bike and pedestrian improvements on 10th Street in downtown's Upper West Side area, between Forest Park Boulevard and Penn Street. 10th Street and nearby Texas Street have had conventional on-street bike lanes for years now, but the new improvements go beyond the typical Fort Worth lane design: 10th is now home to a new two-way cycle track.
Together with a new sidewalk and improvements to the pedestrian and bike crossing experience on Forest Park Boulevard, the 10th Street cycle track means that cyclists coming and going from the Trinity Trails will be able to cross over at 10th Street and enjoy a wide, two-way set of bike lanes with some physical separation from car traffic. It's not as elaborate as the physically-separated bike lanes in places like Austin that feature full curbs between bikes and cars, but the 10th Street cycle track has a buffer space filled with noticeably larger-than-usual lane buttons (circular raised markers affixed to the pavement to divide lane spaces). It's more than we've seen in most of Fort Worth's bike infrastructure thus far.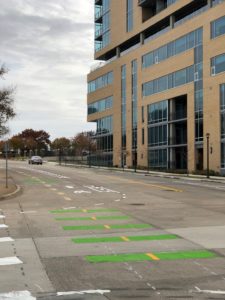 The Forest Park Boulevard crossing improvements and the new sidewalk will benefit not only cyclists, but also pedestrians walking to and from the river from the various residential developments on the Upper West Side (like the nearby Trinity Terrace retirement towers). Taken as a complete package, these improvements on 10th Street have been needed for years, and it's good to see the city taking steps to improve connectivity and alternative transportation safety downtown.
Hopefully, this step into bike lane separation, along with recent separated bike lane designs that have popped up in the Near Southside on Vickery Boulevard and West Broadway Street, is only the beginning. I can imagine quite a few places in Fort Worth that could benefit from true, fully physically separated bike lanes like the kind you can see in Austin, in places like South Congress and the University of Texas drag. Imagine a future where, for one example, West 7th Street has safe, attractive, physically separated bike lanes that aren't co-mingled with traffic. Since we're dreaming big, imagine ones that don't stop at the 7th Street bridge and continue downtown.
That's a dream for the future and a goal for advocacy. In the meantime, Fort Worth cyclists and commuters will have a safer and more attractive connection from the Trinity Trails to downtown. Here's hoping Fort Worth keeps stepping up their bike infrastructure ambitions as the Bike Fort Worth plan matures.