I'm always on edge when Texans drag me to any place that bills itself as "Chicago style." I once had a meltdown and literally flipped the bird at my cardboard-with-ketchup-flavored pizza the only time I suffered the abysmal Sundance Square location of Uno Pizzeria & Grill. Last week, I arbitrarily picked the new Clearfork gastropub City Works without knowing it would lead to a slight case of homesickness.
When I arrived, my friend was already elbow-deep into a curiously familiar appetizer of cornmeal-battered white cheddar cheese curds with smoked tomato coulis. Regarding the origin of this chain bar and restaurant, those particular curds were as solid a food clue as if they'd served Italian beef sandwiches festooned with Mike Ditka mustache-shaped toothpick flags. Our server quickly confirmed that, like me, this joint was born in Sweet Home Chicago.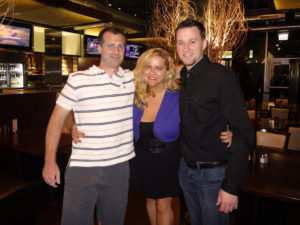 City Works is part of Bottleneck Management's vast Windy City restaurant portfolio, which includes South Branch Tavern & Grille, the location of my birthday dinner a few years back, where I first sampled the aforementioned cheese curds.
Sports bars are a dying breed, murdered by the double-edged foam finger of DirecTV's region-independent programming options and the fact that North Texas fans prefer to drink Shiner in their skivvies at home. City Works is a sports bar, theoretically, in that there is a wall of large screens hoisted above 90 beer taps. Thankfully, it's not the kind of "sports bar" that offers a menu of deep-fried-only delicacies brought to you by a server wearing hot pants and a toddler-sized team jersey.
I ordered the Bottlenectar, a pale ale with Huell Melon hops that Goose Island brews exclusively for Bottleneck restaurants. At that point, I wish I had ditched my heels for a Ryne Sandberg jersey and basked in the casual atmosphere.
Another differentiation point that proved this place wasn't BJ's Restaurant & Brewhouse II: Electric Boogaloo is the bar's scotch menu –– it's properly organized by region and type. Granted, the options are somewhat limited compared to its selection of bourbon and American whiskey, but you can score Auchentoshan 12-year and Lagavulin 16-year at a reasonable price per glass. There's also the requisite bottle of Johnny Walker Blue blended scotch, if you have exponentially more money than sense and taste.
The wine list is well curated and includes some on-tap options. During happy hour, wines are half price, but this led to the only moment my eye twitched all evening. One of my compatriots ordered prosecco and noticed she was charged full price. The server conferred with her manager and then reaffirmed that prosecco, by very definition "Italian sparkling wine," doesn't count as wine on the happy hour menu. We decided not to let that blip ruin our otherwise delightful night out.
I determined to return if for no other reason than to test the Churchill Bloody Mary, a goblet filled with spicy house mix and vodka and garnished with grilled shrimp, pepper jack cheese, cornichon, cherry tomatoes, cocktail onions, and, the pièce de résistance, a Slim Jim stir stick and a sidecar of Goose Island beer. The fact that those ingredients encompassed most of my diet during undergrad can be of little coincidence.
City Works

5288 Monahans Av, FW. 682-207-1500.