A packed room of business leaders, Hispanic Chamber of Commerce members, and several elected officials (including Mayor Betsy Price, District Attorney Sharen Wilson, and city councilmember Dennis Shingleton) witnessed an unexpected, peaceful protest this morning inside Fort Worth City Club.
As Tarrant County Sheriff Bill Waybourn was speaking about raids that have followed the passing and subsequent enforcement of SB4, the controversial state law that allows peace officers to question the immigration status of people they lawfully detain, he was interrupted by protesters from the grassroots group United Fort Worth.
Fort Worth Police Chief Joel Fitzgerald and Waybourn were guest speakers at the seated lunch, which was hosted by the Hispanic Chamber of Commerce. Fitzgerald, Waybourn, and Tristeza Ordex-Ramirez (a field representative for U.S. Congressman Marc Veasey) took the stage for the moderated panel discussion. Fort Worth is the largest city in Texas that has not joined an ongoing lawsuit that questions the constitutionality of SB4.
"SB4 was a hot topics for us because of the impact it could have on our community," Fitzgerald said. "We want to preserve the rights" of the people we serve.
Waybourn described SB4 and 287(g) as a "national security issue."
The 287(g) agreement dates back to July, when officials from ICE announced an agreement with 18 Texas counties to allow a limited number of county jail officers –– including Tarrant's –– to be trained by ICE agents.
Criminals "are what 287g deals with," he said. "We are not doing raids on good, hard-working people," he said, referring to law-abiding residents who are undocumented.
The sheriff was cut off as three protesters stood before the panel and unfolded a large banner that read, "Sheriff Waybourn Separates Families." Chants of "Up, up with liberation! Down, down with deportation!" temporarily disrupted the meeting. The protesters, after being escorted outside by Fort Worth police department officers, joined an outdoor rally against SB4 and 287(g).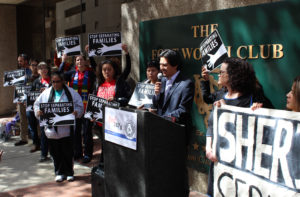 At the gathering and press conference near Fort Worth City Club, United Fort Worth co-founder Daniel Rodriguez addressed reporters and a small crowd."We are gathered to ask for dignity, respect, and justice for our neighbors in Tarrant County," he said. "It's up to us to organize to ensure a strong opposition to any policy that directly targets vulnerable members of our society. We will do whatever it takes to end the 287g agreement. We will demand that Tarrant County Commissioners [Court] put it back on the agenda."