As open tap space becomes scarcer, many breweries are embracing the evolving beer market by going hyperlocal. Keller-based Shannon Brewing Company is a longtime proponent of popular brewery events like 5K runs, movie nights, and (more recently) weddings. I caught Shannon Brewing founder Shannon Carter on his way to Houston. He's using the visit to scout a possible second location for his evolving business. Whereas the Keller space is mainly a production facility, he said the satellite branch will primarily provide a taproom experience with distribution being a secondary goal.
Several changes have happened at the brewery since my last article. Last November, the business amicably parted ways with distributor Andrews Distributing. The return to self distribution, Carter said, allows new beers to be brought onto the market quicker and with better oversight. Brewer Nick Warneke recently departed Tupps Brewery to join Shannon Brewing.
Carter said an English-style IPA and Blonde ale have been replaced by an American IPA (Mor IPA) and a pilsner that launches this month.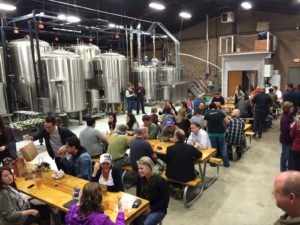 The brewery is booked with several events that'll lead up to Saturday's big St. Patrick's Day Celebration. Wednesday will see the release of Imperial Red Ale along with Irish trivia games. Thursday is the Shamrock & Shenanigans Run. Movie night returns Friday, featuring a popular "Leprechaun-themed" horror flick. Saturday's festivities will feature more than 20 beers (including barrel-aged and sour brews), live music, food trucks, and the release of Blackberry Crystal Wheat, a clarified hefeweizen fermented with fresh blackberries.
The beer market, Carter said, has become increasingly competitive. Expanding locations and promoting events allows the Keller brewery to "have a local footprint" while developing a meaningful relationship between beer producer and consumer.
"We feel the best way to experience our brand is through visiting the taproom," Carter said.
Don't forget to follow On Tap in Fort Worth's Facebook page.
On Tap this Week:
Saint Patrick's Day Celebration at Shannon Brewing Company. March 17.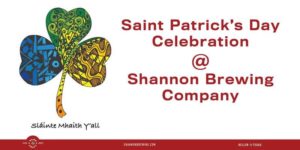 From Shannon Brewing: Ah, another year and another Saint Patrick's Day! This year, it falls on a Saturday, so it's time to party with your local Irish Brewery! We will have Hicks BBQ and Beef Eaters Grille out serving traditional Irish dishes as well as some of their amazing food!

We will have two musicians playing great music, Metroplex United Pipe Band, a bagpipe marching band, and Tom Loris in the late afternoon! Event info here.