The Brass Tap snagged the coveted title of "Best Beer Selection" in the Fort Worth Weekly's Best of 2017 compilation. It wasn't a numbers game. Brass Tap is outgunned in bottle and draught offerings by a few local heavyweights. What owner Ron Jankowski brings to his downtown business is a low-key neighborhood pub feel that carefully curates its beer menu while offering the night mix of food and, more recently, cocktails. Now Roanoke is enjoying what Fort Worthians have relished for several years now.
North Texas' urban core is getting a bit, um, crowded, Jankowski told me. Roanoke offered the right blend of density and opportunity.
"I feel it's a very unique community," he said. "Oak Street is the dining capital of Texas. I feel we are providing a place that people have been wanting for a long time."
Translation: The city is ready for a deluge of great craft beer.
The new venture expands on the Fort Worth concept while offering even greater beer selections and an expanded food menu (wings, sliders, street tacos). Jankowski sponsors a Fort Worth ameature hockey team and has made a similar commitment to the Seventeen Lakes softball team in Roanoke. The new venture is a late-night trailblazer, keeping the lights on until 1am during the week and 2am on the weekend.
The Fort Worth pub has been selling out of HopFusion's Feisty Blonde lately, Jankowski said. Another popular offering is Florida-based Cigar City Brewing's Jai Alai (IPA), which is brewed via a contract by Oskar Blues in Austin.
The latest beer craze is for NEIPAs (New England IPAs). Apparently, the American palate isn't burnt out on hopped-up pale ales quite yet.
Don't forget to follow On Tap in Fort Worth's Facebook page.
On Tap this Week
Punk In Drublic Fort Worth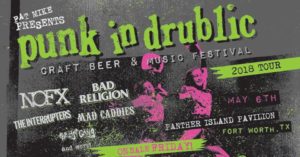 2nd Annual Sour Fest at Martin House Brewing

From Martin House: We'll have 20 sour beers, including five barrel-aged brews, delicious food trucks, and vendors all in our beautiful backyard. Tickets are $15. Snag your ticket online to skip the line and reserve our limited Sour Fest 2018 brandy glass (500 glasses available for pre-sell only). Those buying tickets the day of will receive a 16oz pint glass. Each attendee will get eight 8oz pours of beer (or four 16oz pours of our year round brews). Event page here.