If the James Beard Awards had a "gastro pub dish" category, these appetizers and entrees would be top contenders.
The Bearded Lady's Pork Wings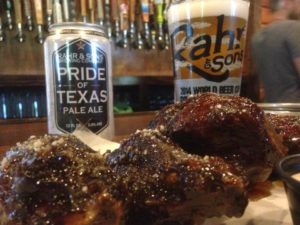 As long as The Bearded Lady keeps making them, this beer blogger will keep listlicling them. The Bearded Lady's Pork Wings are a sumptuous creation that satiates every craving category.
Need something meaty? Check. Need something salty? Check. Need something spicy? Check. It checks all the boxes. The succulent porksicles come with a tamarind beer or sriracha glaze and a light ranch-like dressing.
Brewed's Sriracha Stout Burger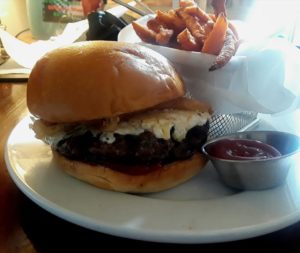 Now that Brewed serves everything, I find myself there at all hours. I sprung for the Sriracha Stout Burger on a recent lunch break. It wasn't as shocking an experience as I guessed. The sriracha was mercifully blended with barbecue sauce, adding a light heat at best. The mega pattie was juicy and topped with melted chunks of a "Temptress" beer cheese that tasted like white cheddar. Fried onions (hardly perceptible on my order) and a sweet challah bun rounded out the delicious entree.
Pouring Glory's Poutine Potatoes
"Poutine" entered my vocabulary about a year ago when everyone started talking about the Canadian dish. For all of poutine's newfound popularity, there are scarce few places in the Fort that make it. Pouring Glory's poutine starts with hand-cut fries that are fried golden then crowned with large chunks of cheese curds and generous drizzles of rich brown gravy. So what else are those Canadians hiding from us, eh?
The Brass Tap's Prime Rib Nachos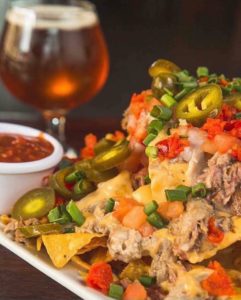 Have you ever had a great prime rib but part of you wishes you had ordered nachos? Or visa versa. These problems don't exist at The Brass Tap-Fort Worth where the Prime Rib Nachos (pile of tortilla chips topped with shredded lettuce, peppers, melted cheese, and generous portions of tender prime rib) are a popular order, especially for groups. Salsa and sour cream come on the side.
Twilite Lounge's Po' Boy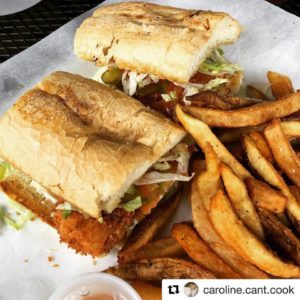 No one's complaining about this Dallas transplant. Beyond great service, a progressive live jazz show every Wednesday, and varied lounging options, Twilite Lounge serves one helluva po' boy. A hefty French bread roll on a recent visit was stuffed with lettuce, tomato, pickles, and mayo. The star attraction, though, was the plump and lightly blackened shrimp.
Chimera Brewing Company's Brie and Speck Pizza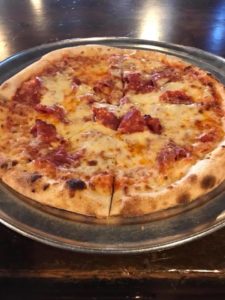 This thin, chewy crust sans sauce that's topped with a blend of buttery brie and mild mozzarella and slices of paprika-kissed speck is simply perfetto. Chimera's prosciutto, olive, and funghi is a close second in my book.
Don't forget to follow On Tap in Fort Worth's Facebook page.
On Tap this Week:
The Bearded Lady Anniversary. Saturday, May 19.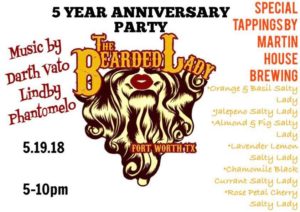 2nd Annual Sour Fest at Martin House Brewing

From Martin House: We'll have 20 sour beers, including five barrel-aged brews, delicious food trucks, and vendors all in our beautiful backyard. Tickets are $15. Snag your ticket online to skip the line and reserve our limited Sour Fest 2018 brandy glass (500 glasses available for pre-sell only). Those buying tickets the day of will receive a 16oz pint glass. Each attendee will get eight 8oz pours of beer (or four 16oz pours of our year round brews). Event page here.