Batman and Wonder Woman appeared center stage at The Rail Club on a recent Saturday night to renew their wedding vows. Six years have passed since their alter egos, Bruce and Jeanna Corbitt, got married on this very same spot, surrounded by some of the same family, friends, and fans who attended the show on this cool late April evening. Bruce Corbitt, who once led local metal rockers Warbeast, has been battling Stage IV esophageal cancer for nearly a year and seemed to be winning when he appeared onstage at The Rail most recently. 
Shedding his cowl for a signature do-rag, the 55-year-old Bruce looked the part of a groom who's spent his life onstage unloading lyrics like a machine gun. His hair was long, though brittle from the cancer treatments. He wore a black tux jacket and a white shirt unbuttoned to reveal the Batman symbol on his chest. A mic wasn't too far from his grasp. 
Jeanna stood next to him in a white gown. She's been standing by his side since the night they said "I do" six years ago, supporting his music when he led Warbeast, his heart when his childhood friend and bandmate Mike Scaccia died of a heart attack in 2012, and his current battle with cancer. He calls her his superhero. 
"I love you more than life," Bruce said as they stood onstage in front of the Rigor Mortis' mascot that resembles the grim reaper in a top hat. "The only reason that I am still alive and standing on this stage tonight is because of this woman right here."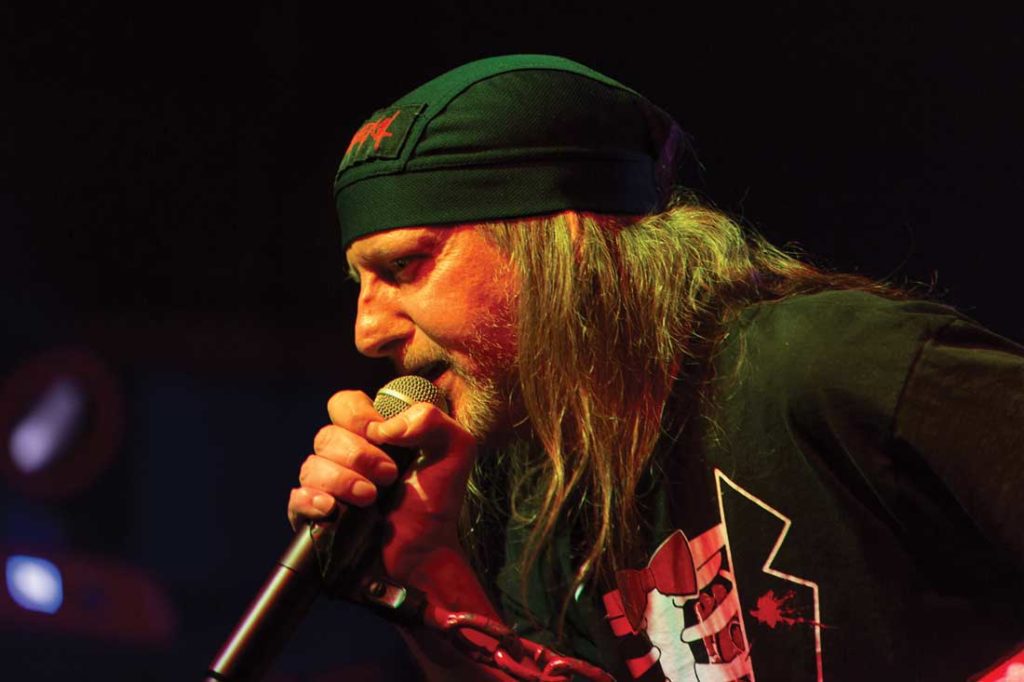 Like Bruce Wayne, Bruce assumes a persona onstage, the Dark Knight wielding a microphone instead of a Batarang. He first adopted the persona while fronting pioneering thrash-metal act Rigor Mortis in the 1980s and once again with Warbeast in the 2000s. He's helped shape a scene that's produced legendary bands and artists, like Pantera. But now, the doctors told him he'd be lucky to make it two years. Bruce is planning to be around for far longer if he has any say in it. "You know damn well," as he would say. 
Several local metal bands performed at the Rail – no cover – not only to celebrate the Corbitts' love and Bruce's cancer fight but also the release of Rigor Mortis' Freaks Demo. Chemicaust, Iron Jaw, Creeper, and Life of Scars all appeared wielding guitars as weapons, but they paled in comparison to Bruce's 17-year-old daughter Chyna Helene, who flew in from Nebraska and appeared onstage next to her father dressed in her own black and yellow Batman-like superhero costume. 
Grasping her father's signature red chain-linked mic, she addressed "Mr. C. Ancer" by name. 
"You're making him renew his vows," she said, "because if he doesn't do it now, he won't have a chance. You're making him miss his daughter's graduation, college visits, heartbreaks, concerts, wedding, and life. You're taking him from me before I even get the chance to know him as well as I want."
Chronicling his struggle with cancer on Facebook, Bruce offers a candid look of a war that kills millions of people worldwide each year. In an April 29 post, he thanked the writers of numerous articles that called his ability to sing onstage again a miracle and clarified a misconception. 
"They made it sound like I've beaten cancer," he wrote. "But, sadly, I'm still terminal for those that are sending messages like I'm about to return to the stage after already beating cancer. Wish that was the case but not even close." 
When he appeared onstage at Warbeast's final CD release party at The Rail in July, he had only enough energy to sing a couple of verses of "Punishment For Gluttony." But on Saturday night, it seemed as if a miracle had occurred when he joined Wizards of Gore onstage. "Cancer forced me to retire," he wrote on Facebook after the show. "But I was able to fight back, and I sang again. I guarantee it won't be my last miracle. You know damn well!"