Ask people in Fort Worth about the Fort Worth music scene, and they'll probably have lots of great things to say about how there's something special about it, tons of innovative bands, some great venues, and a few bona fide success stories. But what about asking someone who isn't in Fort Worth? What do they know about the scene here, and how are they finding out? 
Certainly, much of the scene's rep is disseminated by stars like Leon Bridges as well as the handful of local bands who get in the van and play out of town regularly. But in recent years, City Hall has also gotten onboard with local music, and as such, it has added promoting the local music scene to its official tourism portfolio – in that municipal capacity, the music scene is seen as a cultural component worth bragging about. 
The other day at Off the Record (where I also tend bar), I sat down with Brooks Kendall Jr., whose involvement with Fort Worth's music scene includes producing shows through his company, Afallon Productions, in addition to serving on the board of Visit Fort Worth, the marketing arm of the city's hospitality industry. Straight from its website, Visit Fort Worth's mission is to "connect leisure and business visitors with the unique Fort Worth experience."
Kendall is also president of Hear Fort Worth, an organization that partners with Visit Fort Worth as an advocate and liaison between artists and City Hall.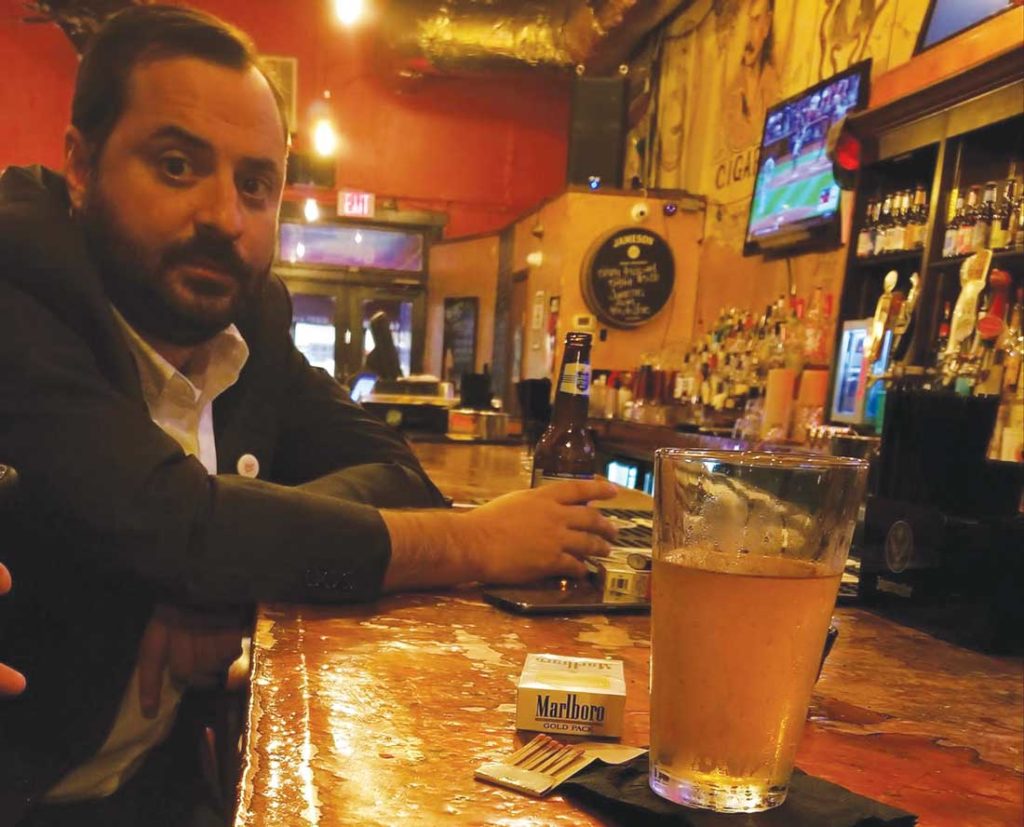 Fort Worth Weekly: I basically want to know how the City is promoting the music scene. What is Fort Worth Now?
Kendall: Fort Worth Now is just the Fort Worth house at [South by Southwest]. That brand has lingered because of the amount of energy that was put on it, but it's only that one thing that happened at South-by, which was a collaboration with a bunch of different entities.
I talked to Sam Anderson, who along with his band, the Quaker City Night Hawks, played at the Fort Worth Now event at this year's South by Southwest, and he said it had less to do with music and more to do with general tourism promotion.
That's fair. Particularly about the stuff that Tom [Martens, creative director for Visit Fort Worth] takes Sam and Bonnie Bishop and everybody out on [Visit Fort Worth-sponsored roadshows and similar events]. Those things are specifically to market tourism. Visit Fort Worth is really the motor behind all the energy that's being put into the music scene that appears to be coming from the City's side right now, because, first, what happened with Leon Bridges and his desire to put Fort Worth so much at the front of everything that he's doing was perceived by some of those kind of people as a wave to ride. 
The tourist department?
Just in general for visibility of the city. Like, 'Here's somebody cool putting us out front. Let's try to rally behind that.' And, secondly, because just nationwide or worldwide, a new way people are thinking about cities and places is sort of creative class-centric, and people are less interested in places that can talk about their amusement park or new stadium as far as tourism goes. They're more interested in a place that has a culture. They're focusing more on music, food culture, beer culture, neighborhood concept, things that make a place feel like somewhere you'd want to live, which also makes it feel like a place you'd want to hang out. And now [City Hall and Visit Fort Worth are] working with the chamber of commerce a ton, because the way people think about places is changing.
Changing from what to what?

When it was our parents, they would graduate college and say, 'OK, I have a degree in engineering. Let me send my resume out and figure out what job I get, and I'll move to that place.' Now, people graduate college and say, 'I want to move to Fort Worth because that's a cool town. I'll move to Fort Worth and apply to jobs in Fort Worth.'
A chamber of commerce used to market cities as places to open a business or move your factory or whatever, and the convention and visitors' bureau would market it as, 'This is a place to have your convention' or 'Come for tourism.' Now there's this realization that nobody's going to move their business here if they don't visit here first, and nobody's going to bring their convention here if there isn't good innovation or entrepreneurship here, so they're realizing that it's all kind of the same, and they're all teaming up on that. 
Me saying all that is maybe making their enthusiasm for music sound less of what it is, but they're doing a lot. Tom is spearheading the music marketing, but there's a ton that they're doing that's specifically about music. Then there's a ton that they're doing where they're like, 'We have budget to do this thing in New York. It's not about promoting music, but let's stick a music thing in there just because we have the money. Let's get Sam Anderson or whoever up there. It'll make us look cool, and it'll get those artists in front of some new people.'
I read this article on Bloomberg a week or so ago about cities trying to attract younger people, and Tulsa was an example of a town that was trying to promote its music scene. And it kind of bothered me, because I was like, 'Why isn't Fort Worth in this conversation?' In a music-specific way, how is Fort Worth telling people about music? What is Hear Fort Worth's verbiage? And, secondly, what do you think the out-of-state or even out-of-town perception of Fort Worth music is?
So I don't think they're working with any kind of a slogan. There is the Hear Fort Worth brand, which Visit Fort Worth is stamping on a lot of things, which, in turn, the chamber or the city government started putting on things. In the mayor's state of the city address last year, she purposefully made music a big part of it, but there's nothing specific like an ad campaign out of state. Those generally are wrapped around something else like the South by Southwest thing or the Texas Music Takeover thing in London. All the money that's being spent on marketing is being funneled from Visit Fort Worth. The CVB, now Visit Fort Worth, called a few people together because they wanted to know how to involve music more in their programs. 
That was supposed to be a one-time brainstorming session. Some of those people, one of them was me, said this is something that should be continued, so we took that and formalized a group, filed a 501(c)3, [and] involved Brendan Anthony, the director of the Texas Governor's Music Office. This was four years ago. He came up for that, we had an initial board of 12 people, did our bylaws, and he took the plan we made by having a loose relationship with the city organization, creating a nonprofit, and then having a sort of advisory board. He went to other cities and took the same guy who consulted with us to do it and taught them how to do it everywhere else, and that's the root of the Music Friendly City Program. It's a Texas state thing. Fort Worth is the first one to be certified. 
There's a certain number of hoops you have to jump through that are online, so to do that, the relationship between the city and Hear Fort Worth had to be formalized a bit, so that happened, which changed Hear Fort Worth from a nonprofit that's supposed to raise money to advocate, educate, advertise, whatever, into more of an advisory board via Visit Fort Worth to the city and the state.
So Hear Fort Worth's original incarnation, what was your purpose as a nonprofit?
Basically the same as it is now. It's just different how it gets done. The focus is advocacy and education. A different way to put that is we wanted to independently create programs that would bring visibility to our scene from other communities.
Like what?
Advertising out of state or helping people get on tour.
Were you able to get anyone on tour?
We've been able to offer some educational things that weren't very well attended to help people get on tour. It wasn't our goal to book people's tours. It was to help them have the resources to understand how and why they should get out of town, or if they're not even close to that point, how to be a band that could do that, because every band that becomes good should understand that they need to get out of town.
How are you depicting the music scene to people outside Fort Worth?
I think we're trying to reach people outside and inside of Fort Worth. We want people who live here to have a feeling of, 'We live in a music town, and we have pride in that.' And we want whatever communities we can reach to think of Fort Worth as a music town, which isn't a far leap, but there's not a specific marketing plan for that. When ideas for things come up like South by Southwest –– this was the third year we did it –– it just happened to be such a big deal because all these other components came on. Before, that wasn't a marketing campaign. It was just a showcase where a handful of Fort Worth artists could come down and play, with some marketing support. 
Pretty much anything we do, Visit Fort Worth hires a publicist that helps get media placement and stuff like that. They're starting to do things like [buy] a full-page ad in Texas Monthly or whatever, and sometimes it's not a picture of the Fort Worth Herd. It's a picture of Grady Spencer. There are a lot of things like that, whether your talking about music, food, the Stockyards, anything you think of about Fort Worth, the way the rest of the world sees it is because of Visit Fort Worth. That's the only entity that markets this city. Yes, it looks like a tourism thing, but it's not just that. It is the city's marketing department. The way it looks to me is that they're just trying to move that message to the front, like, 'Hey, there are good bands here.'
Do you think there's an image Visit Fort Worth or Hear Fort Worth are trying to sell people on? I guess what I'm asking is if the person who goes to shows in Nashville, or Brooklyn, or Los Angeles, or wherever, are they going to think about the Fort Worth music scene and only see one thing?
I know what you're getting at, and I know that it's not apparent, but what is truly happening behind the scenes with everyone I'm working with, we're all trying as hard as possible to not put out with what you're talking about. It's just hard.
It also goes along with the way things look now. To me, the way this bar [Off the Record] looks matches the short-crowned Stetson aesthetic that's been popular for a few years.

And that's kind of the vibe. And it's not just the music scene. You want to go out and take pictures of cool restaurants and culture stuff. This is still a part of Texas, so that image is prominent, but right now, one thing all of us are talking about is, 'How do we find more of the hip-hop artists who are serious?' And that's a problem with a lot of the genres. That's part of what I was getting at in your previous questions. We don't want to be a white-guy-with-an-acoustic-guitar town, but we need the people who are hip-hop performers, or indie rock, or punk rock, or whatever, who want to be participants in something and understand, 'OK, I want to work with the City on some stuff, so I might have to behave a certain way.'
I might also have to play a show that also has an F-35 simulator on it.
Right. And I know those people are there. We just need them to come to us and say, 'I want to participate.' With stuff like the [Hear Fort Worth mixer at Rahr & Sons Brewing Co.] event last Tuesday, that's the point of that, to try to get those people out to listen and then say, 'OK, now send us [at Hear Fort Worth an] email.' That's how now, Lou Charle$ is the darling of that thing, because at the first one of those things we had, he showed up and said, 'How come there's no hip-hop?' And we said, 'You're a hip-hop performer. Do you want to take some initiative and leadership?' Now they use his picture in advertising. Give me four more hip-hop artists who do that, and they'll be on equal footing with the white guys with the acoustic guitars. 
'If you're out there, come to us,' in other words?
Yeah. What I think is important about the Hear Fort Worth thing is that it's nowhere near what it could or should be. We're trying to lay down an infrastructure, so that as people figure out they can and should participate in what's happening in this city, there's a hub to send things through.
I've always been interested in the 'music town' branding. I've always felt like Fort Worth doesn't get to be in the same conversation as Denton, Dallas, and Austin, but it should be. That's why I got irked seeing Tulsa's name in that article and not Fort Worth's. Tulsa's a cool town and all, but so is Fort Worth. Obviously, Tulsa is marketing its music scene in a certain way.
They are, and I guarantee that their convention and visitors' bureau has a huge part in that. What we're trying to do is inspired by that, and that's the kind of town I envision us being. Tulsa may not be on your personal radar, because the Tulsa sound is an Americana thing  –– the singer-songwriter community there is basically like all geniuses. John Moreland, John Fulbright, Turnpike Troubadours –– these guys are Grammy winners, and they're all coming out at the same time, and they're all buddies. There's a scene there, and a story to write, which I think we have here. It's just that some of those Fort Worth names need to rise up a bit. 
After speaking with Kendall, I felt I needed some clarification from Martens, the creative director for Visit Fort Worth's marketing department.
The way I understand it from talking to Brooks, you are in charge of marketing the music component of Visit Fort Worth? Is that correct? And if so, how are you selling the city's music scene as part of Visit Fort Worth's overall marketing plan? 
Yes, I oversee the music initiative at Visit Fort Worth alongside the Hear Fort Worth board. Music is an important part of our city's vibe, and in the past few years, Visit Fort Worth has placed an emphasis on showcasing local music in a variety of marketing components, from our annual meeting to videos, brand activations, conferences, media and trade missions, and more. People like to travel where there's a good music scene, and we have outstanding talent [and] a variety of venues and festivals nearly year-round that showcase music in some capacity, so it's all about elevating and sharing that story with the world.
What kind of artists are you looking for in terms of promotion? 
We are excited about connecting and showcasing a variety of local artists. We really feel like this is just the beginning. We're looking forward to discovering more new music, sharing Fort Worth's music heritage, and finding new ways to get the word out about the Fort Worth music scene. Visit Fort Worth and Hear Fort Worth have built some great relationships with local artists, and we know there are more connections to make.
Do you or members of your team keep up with local bands or attend local shows?
Absolutely. The Hear Fort Worth board is comprised of local musicians, venue representatives, and individuals who have a vested interest in music. Personally, I attend on average two to three local shows a week.
In future promotional content, what would you like to be able to tell the world about Fort Worth music?
Fort Worth has a long history of music and a great story to tell, from being the birthplace of Western Swing to Van Cliburn, Ornette Coleman, and the incredible rise of Leon Bridges, just to name a few. Our variety of unique venues, from Bass Performance Hall to Billy Bob's Texas to Sundance Square Plaza, MASS, Shipping & Receiving, and the soon- to-open Dickies Arena, will continue to make music part of our fabric. Businesses like Niles City Sound and Music Bed and festivals such as Fortress Festival are elevating the Fort Worth music story even more, and we are excited to support those efforts. There is so much talent here, and we are lucky that we have a community that is ready to embrace and elevate the scene here. Becoming the first music-friendly community in Texas by the Texas Music Office in the office of the governor speaks to that commitment.
What would make the music-related piece of your job easier or more comprehensive?
The more communication from artists, the better! We want to know about new projects, collaborations, where musicians are touring, and how we can support. We love it when we hear from local artists interested in being involved and learning more about how we can collaborate.