I reckon most people know that the japanese term wagyu translates to "Japanese cow, " but I didn't. I know now, because I Googled it. Knowledge doesn't always translate into mature discourse, hence my headline.
Hurtado Barbecue Company is brand-spanking new. Owner/Pitmaster Brendan Hurtado describes his 'cue as "Tex-Mex," with Mexican-inspired flavors enriching a traditional Texas barbecue. No standing restaurant, Hurtado is building his rep on the pop-up and catering biz. That brought him to Division Brewing in Arlington. Division's Facebook page announced the pop-up and provided the proposed menu.
Yep, there it was – along with prime brisket tacos, smoked Hatch chile mac 'n' cheese, and jalapeño cheddar sausage  – Wagyu meat balls. Jokes aside, the beef reknowned for its rich marbling made into a Tex-Mex meatball was something worth the short drive to one of my favorite breweries.
The organizers recommended that we get there early, but everyone always says that, so I didn't. Hurtado had just posted that they would be serving at 5:30pm, so my wife and I showed up around 6. My mistake.
After easing up to bar, I spent five minutes pouring over the chalkboard overhead. More than 15 craft beers were available with names like Prodigal Saison, Fare Thee Well,  and Mother Effer-vescent. You can taste a sample prior to deciding. I went for the Blue Eyed Devil and my wife couldn't resist the Plum Espalier. The drafts were excellent. We traded sips while congratulating each other on our choices, and blew another 10 minutes before strolling over to where Brendan and his crew were cranking out the chow. Another mistake.
A chalk signboard gave the three items available. Wait a minute … three? Brisket, jalapeño sausage, mac 'n' cheese … and a freshly wiped space where I was sure the wagyu meatballs should be.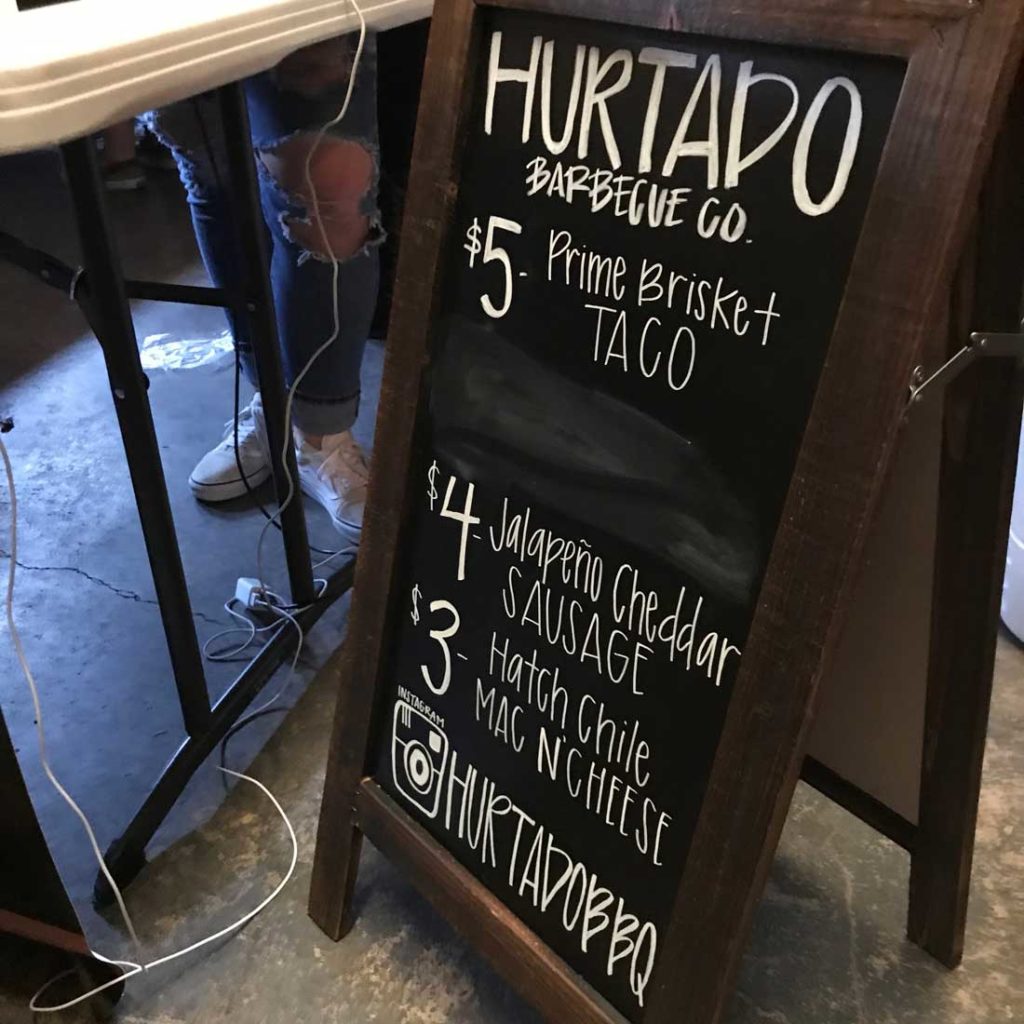 "We sold out of the meatballs," said the smiling woman taking orders. I found out later she was Hurtado's mother.
"Already?" I whined.
"I know, " she smiled, sadly. "They are really good."
Well, hell.  We ordered up one of each remaining. Not a mistake.
The prime brisket taco was melt-in-your-mouth tender, cradled in one of Hurtado's homemade tortillas. I skipped the made-from-scratch green salsa, and doubt it was necessary. The brisket's rich, smokey flavors stood tall on their own. The flour tortilla could be the envy of any restaurant I've been to.
The jalapeño sausage came split off the grill, and in the same flour tortilla. This made for easy eating of this stellar link, spicy and just the right snap to the casing. Again, no salsa, just a few pickles. Sorry, I didn't ask if Hurtado made these. I wish I had. If he didn't, I'd like to know where he got them.
I would have the mac and cheese all by it's lonesome. Anytime. Four cheeses and just the right touch of smoked Hatch chiles hold fast on tender macaroni. What cheeses? I wish I knew. Brendan wouldn't say, and his facebook page asked the same question of followers a couple of days later.  I deferred to my better half, and she posited, "Colby, gouda, gruyère, pepperjack." She got three right. 
Oh, and an estimated 700 people passed through before the night was over. Hurtado sold out within a couple of hours, so I wan't the only one who made a mistake.
*****
Three-year old Division Brewing got its start when two homebrewers with different approaches where introduced by a mutal friend. Wade Wadlington was an IPA man. Sean Cooley was passionate about sours. Both wanted to take their brewing to the next level.
"We didn't disagree much about our differences," Wadlington told me. "We learn from each other."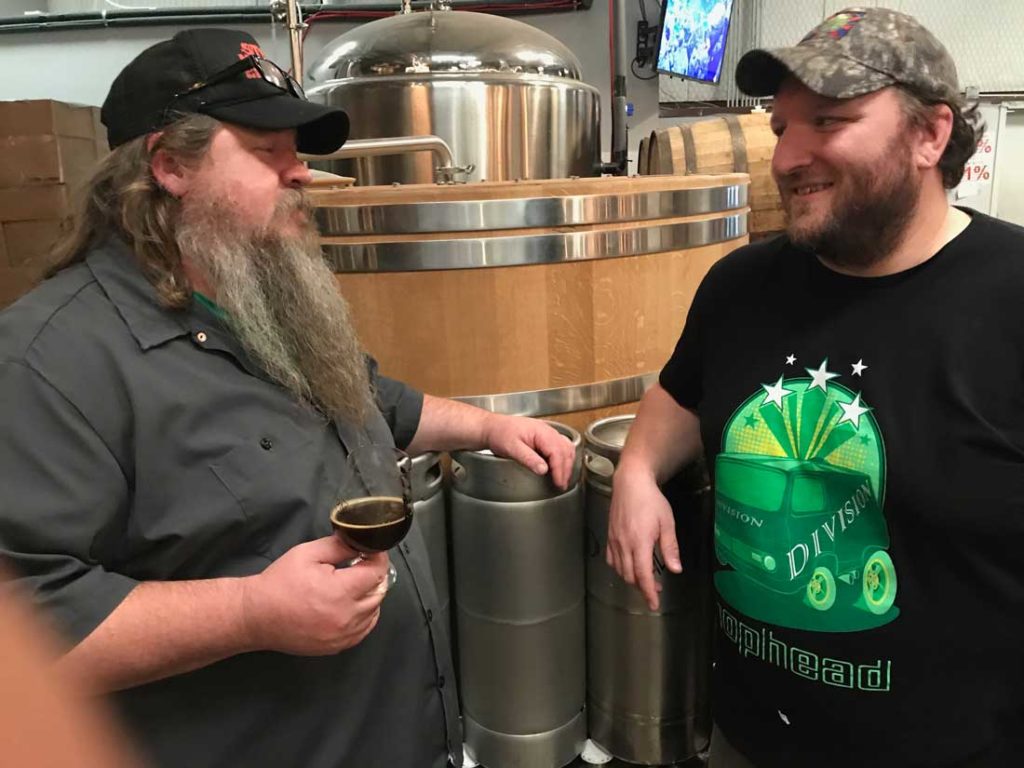 You won't find a lot of division at Division, just choices. Just north of Abrams in the downtown area, the small industrial industrial building on Main Street has a bevy of intriguing brews on its hand–written chalkboard: sours, stouts, blondes, and IPAs.  Distant Cousin, Pilicilin, Busted Lip, Ben Stout, The Fiji Mermaid call you to at least try a sample. Wadlington likened his place to a "snow cone stand, but with beer." The knowledgable beer-slingers can also steer you in the right direction. Once decided, grab a seat among the barrels, or head out the the patio. 
The patio lies on what had to be the parking lot between Division's building and the small shopping strip facing Abram.  Covered cable spool tables and stools offer seating, and the rear entrance to another attraction: GROWLS.
GROWLS faces Abram, but its rear entrance abuts the Division patio. The chain link gate is open, and many take a moment to walk through and check out the comic book selling, vinyl record selling, live-music-on-the-weekends venue. Seriously. I did. I'll do it again.
Whether in the brewery or the patio the patrons are a rum mix. Hipsters, Musos, college students, parents, geeks, and AARP candidates (like me). One thing in common, it seems. All really like good beer. And conversation. A lot of that going on, whether playing cards or sharing a laptop. Music plays through the speakers, but you can talk without shouting, and there is one television, When I've been there, the game isn't on. I mentioned the single, modest TV.
"I was at a place in San Francisco that only had one TV," Wadlington told me, "and the big game was on. Everyone was watching. Everyone watching together, and it was cool, it was a communal thing."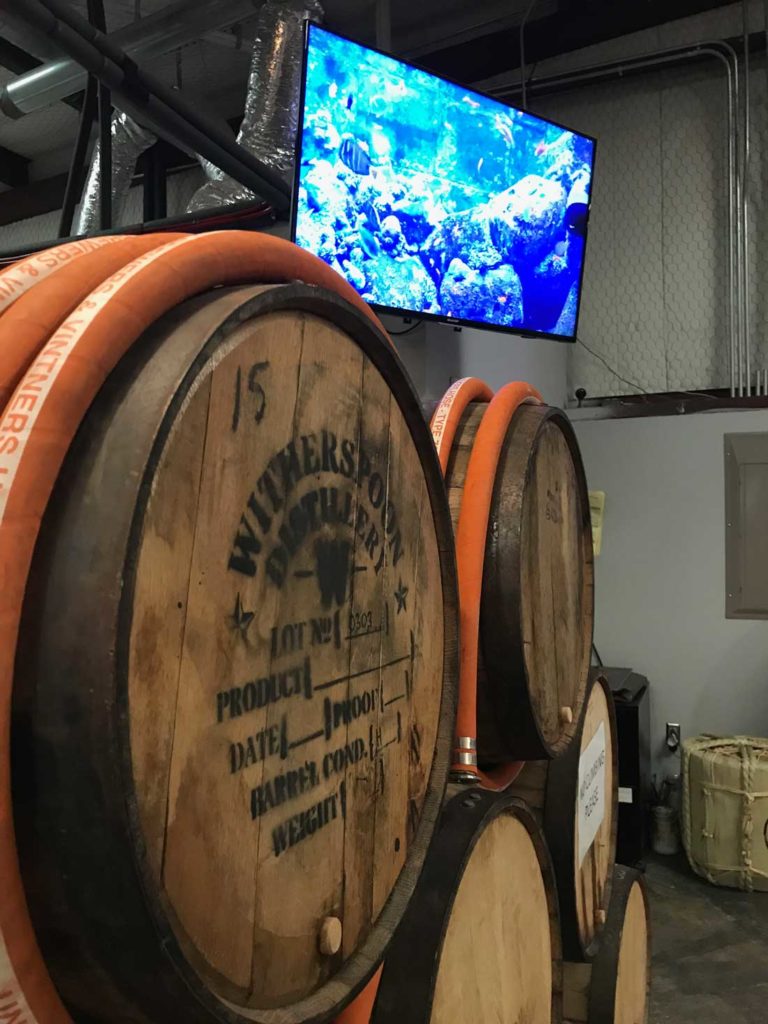 So, while this isn't a sports bar, you may be able to catch a game. Or not. You should check out their next event though.
Division Brewery's next event is the 2nd annual Farm Fresh Fruit Fest! Saturday, August 25.  They will release their Espalier series made from fully ripened fruit from local growers. This year's event will have Blueberry, Plum, Peach and Wine Grape varieties.