After several years of networking and honing her painterly craft, Ariel Davis' stars are aligning. Earlier this year, she snagged readers' choice for best artist in Fort Worth Magazine's Best of 2018 awards. TCU's Athletics Department recently commissioned her to paint four game day program covers. Davis is concurrently finishing an ambitious mural project in the Foundry District, and this Saturday, you can view her works as part of Fort Works Art's 100 for 100 exhibition.
We met for ciders at newly opened Magnolia Tree Tavern, which occupies the Bearded Lady's former abode in the Near Southside. The pub has largely kept the Lady's warm, homey environs. Davis said she has had to dodge the craft beer movement because of a potential sensitivity to gluten. Avoiding beer is largely a precaution, she told me. Her mother has Celiac disease, an autoimmune disorder that affects roughly one percent of Americans. The condition is aggravated by gluten. Luckily for Davis and her active social life, vodka and cider are gluten-free.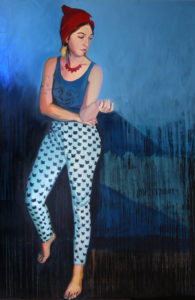 While her ongoing figurative painting series, Women Solo, focuses on solitude, her mural in the Foundry District's "Inspiration Alley" takes a different tack. She recently used her time working from home to catch up on audiobooks. Lewis Carroll's Alice's Adventures in Wonderland captured her imagination.
"The theme is about development, time, and how we can make ourselves large and small," she said. "It's a story about a young lady who is lost, but she has the courage to go through this journey and come out of it with a better understanding than when she went in. It complimented my women solo series."
The image of Davis' friend, Natalie Cochran, will fill in for Alice. Rain or no rain, November 18 is the looming deadline for the project. At the mural's unveiling that Sunday (12-3pm), nearby HOLLAND Collective will host a solo show of Davis' Women Solo series along with brunch. Followers of Davis' unfolding career know that the Fort Worth native occasionally delves into abstract works. While her commissions and broader reputation plant her firmly in the figurative world, free-form painting has broadened her approach to more traditional art forms.

"I'm less afraid to take risk in figurative work," she said. "On the Hillary piece, I used glitter. That came about from my abstract work. I think my use of color has become stronger [too]. It's usually very saturated and high contrast and employs [color fields]. For Hillary, I stripped away her environment. Coming back to it, I realized this piece is not about the environment. This piece is about Hillary and what is going on with her in this painting. The space behind the figure [was redone] as a field of blue."
Throughout our chat over ciders (Bishop Cider Co. Crackberry and Locust Cider dark cherry, to be precise), Davis gave advice that would serve young artists well: make your craft a priority in your life and go out and network.
"For the longest time, I had no social confidence at all," Davis told me. "I didn't know hardly anybody. Develop relationships and see where they take you. Most of the things I do lately is because of who I know."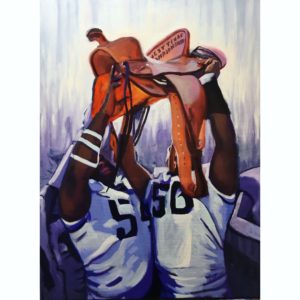 If Fort Worth has a ladder for emerging artists, it may be missing a few steps. Filling in those breaks often falls on grassroots-minded individuals and groups. For Davis, providing that support comes through her work as community outreach and development director with the artist-driven nonprofit Art Tooth (of which I am a member).
"I am drawn to Art Tooth's flexibility," she said. "Art Tooth is able to work with collectors and businesses in an efficient and smart way. We're putting that seed in people's minds on how to critically think about art while enjoying what they get out of it."
You can follow Ariel Davis on Instagram @arieldavisart and bid on her TCU paintings here.
On Tap this Week:
100 for 100 Exhibition
From Fort Works Art: We are excited to announce our "100 for 100" Exhibition presented by artist Jay Wilkinson, brought to you by Gallery of Dreams. This open call show will consist of 100 artists each having at least one piece of art in the show valued at $100. Tickets to the reception will be $10, with all proceeds going toward the non-profit organization Gallery Of Dreams to support future exhibition opportunities and events for local artists. Visit the event page here.
Art + Collective Featuring Katie McKay Jones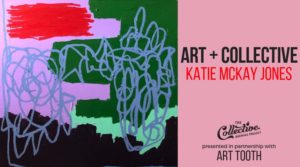 From Art Tooth/Collective Brewing: Art Tooth and The Collective Brewing Project are proud to announce the artwork of Katie McKay Jones on display Thursday, Nov. 1-29 as part of the feature series Art + Collective. Opening reception: November 1 (6-9pm). Visit the event page here.
Art Tooth Events at Fort Worth Community Arts Center
The month of December will feature works by several Fort Worth art collectives. To kick off Art Tooth's celebration of our city's new arts groups, a special event will be held December 7 at FWCAC. Fort Worth Art Collective's show Vertical will feature works by Ariel Davis. Follow Art Tooth's Facebook page for updates. Don't forget to follow On Tap in Fort Worth's Facebook page.