The building that now houses Fort Brewery & Pizza has been a West Magnolia Avenue mainstay since 2011 –– first as Zio Carlo, then Chimera Brewing Company. Chimera became Fort Brewery & Pizza after the business changed hands in March 2018, with Will Churchill and Corrie Watson bringing their dollars and know-how from Kent and Co. Wines a few doors down on Magnolia. The pair stripped back the interior while keeping the core intact, added a much larger pizza oven, and recruited a new head brewer, Jeremy Whitehead.
On this pre-Arts Goggle Friday, Fort Brewery was full but not bursting with a mix of relaxed-looking couples, friend groups, and families with young children. People were variously wrapped around the long bar, seated on the high and low tables, and playing an array of bar games, both electronic and manual. The dining room's bare-brick walls add a tumbledown chic ambience, while the solid wood of the bar and tables gave the heft of a traditional pub feel. My trusty beer companion came along for the Hefeweizen as that style of beer is in their wheelhouse, not mine. I was looking forward to trying the Kölsch, the hoppy lager IPA, and the Irish red ale. We agreed to both luxuriate in the oatmeal stout for dessert. Such extensive research required some carbs, so we duly ordered some garlic knots and a couple of personal pizzas to share –– one with meatball, the other potato and rosemary, which featured a translucent sliver of said vegetable, judiciously sprinkled herbs, and a pahoehoe of mozzarella. The meatball pie was solid, with fresh, clean-tasting protein and a rich tomato base.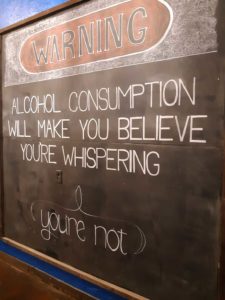 The six beers brewed in-house are $5 a pop, and each was given a cool name. I began with the Kölsch, while across the table the Hefeweizen started the party. My Clara –– named after the first baby born in Fort Worth  –– was all I hoped it would be. I find Kölsch to be the perfect first pint, as it is light in body and mild in flavor, leaving the palate free to move to bolder beers. Clara was moderately hoppy with a signature semi-dry finish. My oppo's Grey Eagle featured all the misty body and notes of clove and vanilla that I was assured are requisite, but the friend was a little disappointed when the Hefeweizen was served without a slice of lemon.
As the garlic knots made way for the personal pizzas, we moved on to the second round. The Border Shift was a hoppy lager that transported me right back to my real ale days in England. A few degrees warmer, and the beer would have had the profile of a traditional English IPA –– hoppy without being bullied by Citra, imparting a "summer is coming" gaiety. I rapidly busted through the border directly to the eight-legged flavor machine Ocho. This IPA is English in body but American of mind, cramming together eight types of hops in one citrus, floral, and pineapple pop. The Moonrider was dessert in a glass. The oatmeal stout carried a heft of chocolate on the front with scurrying coffee thereafter. Having been raised on draft Guinness, I love a sustaining, thick foam in a stout, but the Moonrider did not suffer for its lack. As I sat back, my mind's eye patting an imaginary belly in satisfaction, I was delighted to be reminded that I still needed to try the Irish red ale. The 1849 had the right amount of malt to create a toffee hug that sent me into the cold, damp night comfortably.
On the way to the door, I chatted with Rebecca, our server, who extended her enthusiasm and knowledge further by answering my opaque questions about growlers. The bottom line is that you can take away 64 ounces of any of the Fort's six beers for $20, while refills will run you $18. Oh! Don't forget $2 Tuesdays, when all beers and personal pizzas are two bucks each.
Fort Brewery & Pizza is a standalone, standout success. It's a laid-back bar and restaurant that appears to be comfortable in its own skin while understanding its clientele. More power to them for that. 
Fort Brewery & Pizza

1001 W Magnolia Av, FW. 817-923-8000.