Wednesday 21 – Vanishingly few music clubs are going to be open on Thanksgiving itself, so you'd better go out tonight and catch some tunes on the biggest drinking day of the year. Your best bet for debauchery is War Party, the well-established post-punk local band will be headlining the Dreamy Life Records and Music relocation party. Trauma Ray and Joe Gorgeous round out the bill. The music starts at 9pm at MASS, 1002 S Main St, FW. Tickets are $7. 
Thursday 22 – Instead of the Cowboys game, go to the Fort Worth YMCA Turkey Trot this Thanksgiving. You'll feel much less guilty about the stuffing and mashed potatoes you'll be eating if you've run a 10K that morning. Plus, it'll end in plenty of time for you to make it home and watch the game against Washington kick off. The run is at 8am at 6115 Camp Bowie Blvd, FW. Registration is $20-36. Call 817-244-4544.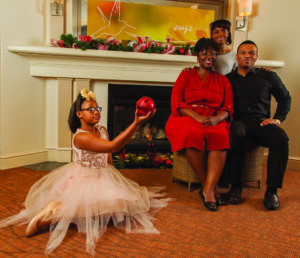 Friday 23 – Christmas at Jubilee Theatre enjoys a 1980s makeover in The First Noel, a revue set in Harlem during the Reagan era with carols and holiday favorites imagined for the time of Michael Jackson and Prince. If you've been reading this space at all, you know how highly we recommend the troupe's holiday productions. The show runs today thru Dec 23 at 506 Main St, FW. Tickets are $24-34. Call 817-338-4411.
Saturday 24 – Now that TCU's football season has flamed out, you can head to AT&T Stadium and watch two more Big 12 teams who are merely trying to avoid embarrassing themselves. Baylor vs. Texas Tech pits the defensively challenged Bears (who lost to TCU this past weekend) against the Red Raiders, who started well but went into a tailspin in the past month. Kickoff is at 11am at 1 Legends Way, Arlington. Tickets are $65-151.
Sunday 25 – Casa Mañana's 'Twas the Night Before Christmas promises something better than a dramatization of Clement Clark Moore's poem by that title. Instead, this show is about a girl and her mother engaged on a treasure hunt through New York City on Christmas Eve, with holiday-themed parodies of popular songs along the way. How about some ungrateful kid going through Christmas presents with a "thank u, next"? The show runs Fri thru Dec 23 at 3101 W Lancaster Av, FW. Tickets are $21-53. Call 817-332-2272.
Monday 26 – The Monday after Thanksgiving is usually quite dead, with everyone going back to work. Not so this year, though, as your local movie theater will show Pokémon the Movie: The Power of Us, the latest anime movie from Japan continuing the adventures of the lovable magical beasts. If you miss it tonight, don't worry, because the film will be showing on four separate occasions around North Texas. The screenings are Sat thru Dec 1 at various movie theaters. Check Calendar for showtimes. Tickets are $12.50. Call 818-761-6100.
Tuesday 27 – Marc Cameron is the author who's appearing today, yet his name is in much smaller print than either Tom Clancy's or Jack Ryan's on the cover of Tom Clancy Oath of Office. Still, if you're a fan of the late Clancy's series of spy novels, you'll relish Cameron's newest book, with President Jack Ryan dealing with unrest in Iran and at home. The author appears at 7pm at Half Price Books, 475 Sherry Ln, FW. Admission is free. Call 817-732-4111.