Magnolia Tree Tavern 

1229 7th Av, FW. 
One of the guys who brought us The Bearded Lady is introducing a new would-be hotspot to Near Southside revelers. Think more beer, less beard. Eric Clayton opened Magnolia Tree Tavern on West Magnolia Avenue in late October as a successor to the former neighborhood darling, occupying the same location. Clayton, a founding partner at the Lady, sees his new venture as the sort of place where people pull up a seat and stay awhile, a communal living room focused on offering a top-notch craft-beer program.
In December 2017, he and former business partner Shannon Osbakken split amicably, he said. The Lady closed in June and plans to stretch her legs in a roomy spot on South Main Street with an intensified spotlight on the food menu.
Magnolia Tree boasts a 230-plus beer list that will rotate a few times a year, Clayton said. The list includes 30 drafts and features a heavy emphasis on North Texas-local fare.
On my recent visit, friendly staff helped me navigate the enormous menu of suds, eventually directing me to a Honey Basil Hefeweizen (light on the honey, heavy on the basil) from Intrinsic Smokehouse and Brewery in Garland. Every staffer was fluent in beer but without any signs of pretense or snobbery. The lineup featured some unusual choices that had me planning ahead for my next visit.
Non-beer drinkers can turn to one of four wines on tap or the full bar, but those are just a courtesy. "BEERS" is spelled out in giant wooden letters on one wall, and "BEERZ" in smaller letters festoons another. This place is all about the brew. 
The kitchen opens in December and will serve a simple menu of hamburgers, a couple of variations of grilled cheese sandwiches, soups, and a few appetizers. Clayton slapped a fresh coat of paint on the exterior and put in new, dark-wood furniture. Still, the ambience will remain recognizable to patrons of the Lady.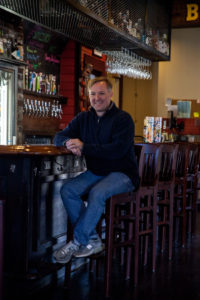 "There's a lot of nooks," Clayton said. "You can curl up here and read a book, or [go] in a corner and work on the laptop, or pull up a high table and play a board game with your friends. That's the cool part of the house – it has character."
On my trip, I started at the bar. Either slightly warmer weather or a couple of beers would have been enough to bait me into making use of the spacious patio, but I stuck to a pillow-lined window seat. Beer tins occupy the bulk of the wall space with the exception of some inspirational art. A trio of pictures in the women's bathroom implored me to "Shine," "Stay Weird," and "Don't Quit." Some Thanksgiving decorations lined the fireplace, and a — very sweet— photograph of boxer puppies hung on one wall.
The decor is aggressively uncool.
On the Near Southside, an area that's becoming increasingly slick with new out-of-place-looking development, Magnolia Tree Tavern serves as a no-frills reprieve, a spot to rest the eyes. West Magnolia Avenue lost a cornerstone when the Lady moved. At least now 'hood dwellers can enjoy a beer or two in that cozy, homey corner bungalow. Just think of it as a homecoming for the beer-obsessed.