Amongst beer folk, head brewers are semi-celebrities. Name a popular brew, and the craft beer cognoscenti can tell you who conceived Blood and Honey (Grant Wood), Petite Golden Sour (Ryan Deyo), Dadgum IPA (Nate Swan), or Feisty Blonde (Macy Moore and Matt Hill).
Several months ago, Wild Acre Brewing Company head brewer Mike Kraft departed for his home of Nashville. Two of Wild Acre's brewers (Zack Hawkins and Jerrod Womack) quietly took over as co-head brewers. The duo had already been overseeing much of the day-to-day brewing operations. With a cold pint of Wild Acre's new Brüt IPA in hand, I recently sat down to chat with the two gents about what's in store for the hundreds of hopheads who flock to Wild Acre each week and the thousands of fans who snag Wild Acre brews off shelves each week.
Hawkins earned a degree in biochemistry from the University of Alabama before working for Goat Island Brewing in Cullman, Alabama. (Their cheeky motto: Get your goat on because life's too short to drink baaaad beer!) He then moved to Fort Worth on what he called a whim and became the third employee hired at Wild Acre.
"I came on board not knowing exactly what [the brewery] was going to be," he recalled of the fall of 2015. "I was given a tour of these empty buildings. Things took off really quickly from then."
Womack had a more circuitous route to the brewer gig. He picked up homebrewing 12 years ago while living in Colorado. He later became actively involved with The Cap and Hare Homebrew Club after moving to Fort Worth. He then respectively worked the canning line at Deep Ellum Brewing Company, sold homebrew equipment at Stubby's Texas Brewing Inc, and bartended at the Collective Brewing Project. The homebrew job connected Womack with Kraft, who eventually brought him on as a brewer.
Womack and Hawkins oversee a busy brewing schedule. Wild Acre founder/owner John Pritchett set ambitious goals for new beer releases that have to be met while still servicing pubs, restaurants, and bars with Wild Acre's core beers. There's still time to experiment on a new pilot system, though. If you've been to the East Lancaster brewery lately, you've noticed new brands like Wreck Room IPA or Agave Americana. The beer I sipped that day, Brüt IPA, is dry and crisp with a not-so-subtle hop profile.
"It's a game changer," Womack said, poking fun at over-the-top advertising lingo. "A lot of these beers have more alcohol. They're basically brewed like a normal IPA. We add enzymes [that finish off all the sugar]. This one has the same density as water. Most beer is significantly heavier."
Hawkins added that North Texas breweries haven't released many Brüt IPAs to date.
"I think we're getting out there and being creative," Hawkins said. "We're continuing that tradition of consistent quality, but we're making sure people who don't want the same old beer have something new."
Wild Acre fans can expect a broader selection of summer-friendly beers, Prichett added.
"The fact that we had eight, nine months" of heat last year meant "I want to be loaded up" on summer beers going forward, he said. "Ranch Style Pilsner, Blonde, those brands are [down] the fairway. Tequila is a thing right now. We wanted something super refreshing" for our Agave Americana.
So what are the benefits of having two head brewers?
"We get to split the workload a little," Hawkins said. "I'm more in charge of raw materials, the brew schedule, and overseeing brewers and cellermen."
Womack takes care of the facilities, oversees packaging, maintains brewing equipment, and orders chemicals, among many other things. Both brewers craft recipe ideas. Usually, someone pitches an idea that the two then work together to hash out the details on. The new beer is then brewed once or twice on the pilot system before meeting the lips of folks who visit the taproom throughout the week.
When Kraft left the position of head brewer open, Pritchett said there was no doubt about who would take his place. Having two head brewers is a novelty in Fort Worth for the moment, but the model lends itself to certain perks.
"I didn't feel any need to pick one of these guys over the other," Pritchett said. "They had established their specialties. Jerrod had a background in packaging. Zach has a biochemistry background, so we put him in the lab with the yeast. These guys are a team."
Don't forget to follow On Tap in Fort Worth's Facebook page.
On Tap this Week:
Wild Acre Taproom Exclusive Releases. April 18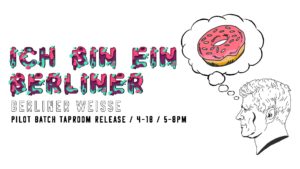 From WABC: Thursday, April 18th we are releasing R&D batch 16, aka "Ich bin ein Berliner," a Berliner Weisse. This is a very traditional Berliner Weisse with no fruit added. However, you will be able to order it "mit schuss" which means "with syrup." The syrup flavors that will be available will be raspberry and woodruff, with two more flavors to be announced closer to the release. Visit the event page here.