After ordering a $2 cheese pizza (Tuesday special only) and a $2 pint of New Brews on the Bock, I sat down to clink pints with Jeremy Whitehead. The head brewer at Fort Brewery & Pizza has packed a lot of brewing experience into a relatively short period of time.
After graduating from a community college in his hometown of Austin, Whitehead spent three-and-a-half years working as a paramedic. That schedule meant that he had 48-hour breaks between shifts. He picked up homebrewing, which led to volunteer stints at The Root Cellar Cafe & Brewery in San Marcos.
"I was having a blast," he recalled. "I later volunteered at Jester King. I thought, 'This is something that I can really get into.' I dug the community, the people, the passion, and the beer."
Whitehead went all-in. His first gig was stacking boxes for Blanco-based Real Ale. It was kind of a "sucky" position, Whitehead admitted, but it got his foot in the craft beer door. That gig eventually led to a brewing position at Twin Peaks then Diamond Bear Brewing Company in Little Rock, Arkansas and, most recently, Fort Brewery & Pizza.
Whitehead, who works closely with assistant brewer Charles Coca, was given complete creative control over Fort Brewery's on tap offerings.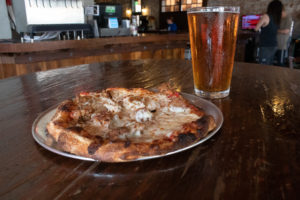 "We revitalized the beer program," he said. "The first couple of weeks, I sat down and drank the [previous] beers and took everything in. I asked myself, 'Would I come back?' I probably wouldn't have. The beers weren't horrible. They just weren't easy drinking beer. I want beers that will please every palate."
Around 90 percent of grains and malts used by Fort Brewery come from nearby TexMalt, the independently owned malting company that sources local grains for area breweries and distilleries. Fort Brewery's core beers are named after Cowtown history but not in any overt way. The Clara Kölsch, for example, is named after the first person born in Fort Worth in the mid-19th century.
Over the past year, Whitehead has worked to ensure Fort Brewery & Pizza had a reputation for beers are true to style, easy to drink, and not too alcoholic.
"We do like to experiment, but you can come here without having your palate destroyed by our beers," he added.
On June 6, Fort Brewery & Pizza is turning one. That might sound funny to locals who have known the brewpub through its past iterations (Zio Carlos then Chimera Brewing). While the beer recipes have changed with those passings of the guard, the historic building has always been an inviting pub where folks of all ages can rest, eat, and play. The anniversary party will feature free personal cheese pizzas (!) and a special wine barrel-aged saison release.
Whitehead plans to expand the barrel-aging program with bourbon barrels in the near future. Keeping Fort Brewery's core beers on tap is no easy feat with the modest brewing system that has called the brewing site home for several years now. The beer lineup may be changing, but the qualities that continue to draw crowds to the Near Southside brewpub remain.
"Locals remind me that this has always been a spot they could come in any day of the week to relax and have good food and beer," Whitehead said. "This place has that old pub feeling. The beer is important, but it's not just about the beer. Fort Brewery & Pizza is a spot to come and enjoy yourself."
Don't forget to follow On Tap in Fort Worth's Facebook page.
On Tap this Week:
Fort Brewery & Pizza One Year Anniversary. June 6
Fort Brewery & Pizza will have its one-year anniversary party in grand fashion with a special barrel-aged beer release and free personal cheese pizzas.