"You were powerful, Canadian, and wearing a black jersey with an orange number 30 on it. We flirted for more than half an hour and thought you were contained. Then you were gone. I know what I did wrong. Give me a chance to get back together and try again." This is the Frog defense's Craigslist post to Cowboys running back (No. 30) Chuba Hubbard. The former Canadian track star had been the most productive rusher in the country when the Horned Frogs visited Oklahoma State on Saturday. As the proverb astutely reminds: Stillwater runs deep.
Rope-a-doped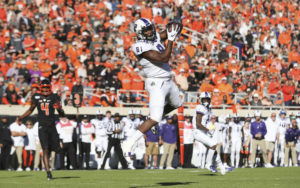 Hubbard came into this game as the obvious Cowboys offensive threat. Freshman QB Spencer Sanders (No. 3), of Denton, sported almost as many interceptions as touchdown passes. If the Froggies could bottle up No. 30, it seemed, they'd have a fighting chance to win on the road. The Pokes picked their moments and used Sanders' running talents to advance the chains and keep the purple defense on their heels. The Frog secondary is giving up at least one egregious blown-coverage touchdown a game, and this weekend was no different. The lively Sanders danced for extra time in the pocket while wide receiver Dillon Stoner (No. 17) pranced unencumbered for an easy 57-yard touchdown and a 10-0 Cowpoke advantage. TCU countered with balanced drives featuring a combination of Sewo Olonilua (No. 33) and Darius Anderson (No. 6) pounding the rock. Jalen Reagor (No. 1) and Pro Wells (No. 81) connected with quarterback Max Duggan (No. 15), who passed and scrambled efficiently throughout the first half to knot the score at 17 going into halftime for a reset.
Everything ran downhill after that. Duggan deftly rushed for an impressive 42-yard gain. A Froggy lead seemed imminent before purple receiver John Stephens Jr. (No. 7) fumbled deep in OSU territory. No immediate damage resulted from the turnover, and an exchange of punts pushed OK State Head Coach Mike Gundy's mullet militia into the shadow of their own goal post. Frog defenders misread a zone exchange and dived for Sanders while Hubbard darted through a covered wagon-sized hole for an untouched 92-yard touchdown. Deja vu occurred at the end of the third quarter – the sophomore charged through another inside gap for a 62-yard touchdown. Frog claws slipped from his jersey as he blew past them.
Gundy called on Hubbard to carry seven times during the first half for 33 yards. His bell-cow back ran 13 times in the second half for 190 yards, 154 of them on the aforementioned touchdown carries. Sanders and Stoner lulled Head Coach Gary Patterson's defenders into a false sense of security. Hubbard blew up late in the game as the defensive box fatigued.
Turnover Terror
Duggan threw his first interception of the season last week during the win against Texas. It was refreshing to see the frosh let loose and take risks. Passes flew to the wrong color thrice this week. Not a step in the correct direction. Those errant throws, coupled with Stephens' fumble, buried hopes for a comeback late in the game, when the result was still in question. Reagor accumulated more than 100 receiving yards. Play calling from Offensive Coordinator Sonny Cumbie was generally balanced, except during the fourth frame. Two possessions down, and with ample time remaining, the purple rushing game was abandoned for Duggan to toss repeatedly while under duress from orange-and-black defenders. No. 15 wasn't having his best game. Asking him to air it out before absolutely necessary seemed like a fool's errand on Cumbie's part.
Holy War
Our boys need two more victories for bowl eligibility. Who cares? I'm not banking on a bowl game as measure of a successful season right now. Yes, it would be advantageous for Duggan's development if we get there. I'll be excited for a 13th game while sporting one of many eggnog hangovers. But beating Baylor Saturday morning would salvage this season, even if they lost every other remaining game. The Bears are feeling more righteous than normal — hard to believe, I know – after a stark turnaround from a one-win season two years ago to an unbeaten record thus far. Baylor possesses the most favorable schedule of any Big 12 squad this season. They play or have played the top-tier conference teams in Waco, which, sadly, doesn't include TCU. Their strength of schedule is rated among the worst of all power-five teams, but you'd better believe every Fixer Upper fanatic believes they have a chance to go to the college football playoff. They don't even if they're undefeated. Their laughable pre-conference games combined with a weakened Big 12 that won't contain a one-loss squad should the Bears remain undefeated do not give them a polar bear's chance in hell. The Frogs should shatter this illusion and can with a clean and efficient offensive performance similar to the Texas game that saw the defense banish its mental misfires and give away touchdowns. Patterson has sanctioned Baylor the last four meetings and hasn't allowed their offense more than 22 points in any of those games. Coach Matt Rhule fancies himself a defensive coach also, but a low scoring affair favors Patterson despite the below average Frog offense.