I recently sat down with Micah Hayes to chat about craft beer and other "heady" topics that were on his mind. The film scorer, composer, and UTA recording technology professor picked The Collective Brewing Project for our meet up.
"I love farmhouse-style beers," he said. "Collective is probably my favorite."
Hayes' longtime friend, Eric Drew, is the head brewer and co-founder of Casa Agria Ales in Ventura, California where the two grew up. Both Collective Brewing and Casa Agria Ales have a penchant for delicious sours, funky ales, and foeder-aged varieties. 
"I appreciate anything people try hard to do well," Hayes said. "With beer, that comes across by how they age it. Both breweries spend so much time afterward to get the beers tasting perfect. I appreciate that." 
The University of North Texas' Wind Symphony recently performed Hayes' Possibly. The work was originally commissioned for full orchestra. Mutual friend/composer Adam Schoenberg told Hayes to rearrange the work for wind band. Schools, colleges, and professional wind bands are more likely than a string orchestra to perform a new work, Schoenberg said. The advice paid off. Possibly was picked up by a publishing company this year. 
Hayes splits his time recording projects, composing, and teaching. A grant recently led to the recording of works by late-romantic composer Charles-Marie Widor. Without the availability of a large concert hall, Hayes used a technique called close-miking before adding artificial reverb. It's the sort of sonic wizardry that comes naturally to the well-rounded composer. 
Film scoring is another professional outlet for Hayes' compositions. Many of his collaborations have been with director/writer/producer Ya'Ke Smith. Smith's films have been featured on HBO and South by Southwest, among others. 
"Film scoring is great because you are working for someone else," Hayes said. "If you are working for a good filmmaker, it's more of a collaboration. You can put [the final movie] online and on YouTube."  
The University of Texas Arlington's Department of Music owes a debt to Hayes for painstakingly building much if not most of the college's music industries program from scratch. When Hayes joined the program 12 years ago, the program had eight music industry majors and no recording studio. Hayes worked with an administrator to procure a $500,000 grant to build a state-of-the-art recording studio in 2010. Many of the hours that went into designing and building out the studio were hours that Hayes volunteered in order to see the nascent program grow. 
Now, the music industries program boasts 70 majors who contribute several hundred thousand dollars each year in tuition alone. Much of the curriculum those several dozen students now use was created by Hayes from scratch. Hayes took on his position as a full-time, non-tenured professor with the understanding he would be transitioned to a tenure track position when it opened, he said. That position did open this year, and Hayes, to the surprise of many, was passed over. 
After literally hand-building much of the music industry's program, Hayes was understandably shocked at the choice to promote a new employee while effectively demoting Hayes to adjunct professor. Hayes' experience is not uncommon in a national university system that increasingly pays for new buildings and upper-level administrator salaries off the back of underpaid professors.
The plight and downright mistreatment of adjunct professors across the country have made headlines in recent years. Adjunct professors are increasingly turning to food shelters, public assistance, Medicaid, and other desperate measures just to survive, according to the Guardian. The Weekly published a new story on the plight of "overworked, underpaid" adjunct professors last year. 
"I no longer have an office and am teaching at three institutions of higher learning, driving like a madwoman from one campus to the next in an effort to cobble together a living wage," one editorial in the New York Times read. 
Without the ability to make a living, adjunct professors "are not going to stay and invest themselves in a university," Hayes noted. "It is indicative of a larger problem. There needs to be a change of priorities. Universities need to prioritize faculty over new buildings. Don't get me wrong. I am not anti-university. I love universities and what they do for students and communities. If anything, I love being a professor too much. After UT Arlington demoted me to adjunct, people asked if I would want to quit teaching and go back and work in the industry, which in some ways would be easier and more lucrative. But I love teaching college and really, really love my students. I am very proud of my students and find a lot of meaning in mentoring and helping them begin their careers."
Don't forget to follow On Tap in Fort Worth's Facebook page. 
On Tap this Week:
Beer and Yoga at Martin House Brewing Company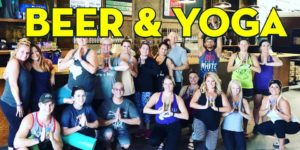 Join us Saturday, December 14th for another round of Beer and Yoga. Will take place at Martin House Brewing Company from 10:30am-11:30am. If it's chilly, we'll stay inside the taproom with the heat. If it's a beautiful day, we'll head out back to the covered patio. $20 will get you a pint glass, four 8oz pours, and one hour long yoga session taught by Alli Carpenter . Don't forget to bring your own mat! Visit the event page here.