"So, I heard we're getting drunk tomorrow …" 
While my brother-in-law posed this with a wink and a metaphorical rib-nudge, he was not, in fact, wrong. 
With my immediate family in town to celebrate an early Christmas, a few of my kin joined me on my adventure to Wild Acre Brewing Co. (1734 E El Paso St, Ste 190, 817-882-9453) for the taproom release of its latest concoction. Thunder Hug is a barrel-aged imperial stout, stewed within barrels of Firestone & Robertson Distilling Co.'s TX Bourbon for more than a year — and, boy, can you tell. To put it into perspective, the brew's whopping 13.7-percent ABV is triple that of the average beer. 
The unveiling of this particular batch of the award-winning Thunder Hug was more of a launch party. As we approached, the ground pulsed from the band performing on the outdoor stage, and we spotted people lounging on the patio, grooving to the music, playing lawn games, and enjoying the afternoon in jackets and flannel. Despite the ashen sky, the weather was pleasant enough, if a bit nippy. 
Just $20 bought us three pours and our own snifters. The stemless, gold-embossed glasses featured "Thunder Hug" in retro lettering on one side and, on the flip side, a lightning bolt between two hands lazily reaching toward one another. While I understood the design, I couldn't help but think it was some cheeky homage to Michelangelo's "The Creation of Adam." For the kiddos in our group, my niece and nephew, the woman handing out goblets and wristbands informed us of some kid-friendly activities inside.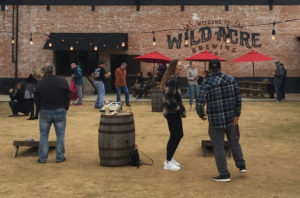 What few "cool aunt" points I may have scored by bringing Benny and JoJo to the brewery, they made me work for. Benny "accidentally" pegged me squarely in the back with a frisbee during disc golf, and JoJo asked me to escort her to the bathroom no fewer than three times, including the moment we arrived. The tech-savvy tots even figured out Instagram Stories, posting photos replete with twinkly filters and hearts to my brother's account. I can't say I wasn't impressed — or amused. 
At the tap, our first pour was, of course, the featured brew. The rich stout initially went down smooth, then packed a powerful punch of TX to finish. The pungent spirits lingered after each sip, and slowly but surely that familiar sensation of warmth spread throughout my core and up into my cheeks. After just one, the name starts to make total sense.
For their remaining pours, my guests over 21 opted to try Wild Acre's other beer offerings — Merry Cain, a Belgian golden ale; Snap'd Gingerbread, a wheat beer with a distinct, spicy gingerbread flavor; and Agave Americana, a summery citrus ale. I rejected all else in favor of another winter warmer. 
As my group hopped between disc golf and cornhole, we admired the band, which was led by a strawberry blonde in velvet bell-bottoms and a poofy fur-lined coat. After a couple songs, it became clear they exclusively covered Led Zeppelin, so it was only fitting when we discovered their name — The Battle of Evermore: A Led Zeppelin Tribute Experience. 
As the sun descended behind the clouds, the temperature began to drop, and people either split or retreated to the packed taproom. My crew decided to call it a night, so, tuckered-out tykes in tow, we snagged a two-pack of the specialty stout for my sister and headed out. Thank God for beer to-go, amirite?
Though I'd put away just two of my three pours, I knew what awaited me in the morning — and this particular storm usually didn't end with a hug. Cheeks flushed and lips tingling, I put it from my mind, buckled myself in next to a row of car seats, and let the Thunder Hug envelop me in its signature, cozy embrace