Gone are the days when my group of college friends would shut down the bars on Northgate and naïvely battle our impending hangovers with greasy goodness in the wee hours of the morning. By today's standards of how someone my age should experience the weekend, I might as well be wearing a muumuu and taking Jell-O shots at a retirement home. 
As a twentysomething going on 80, I didn't dare venture to STIRR Fort Worth on a Friday night. Instead, my companion and I braved stock show traffic the following afternoon to patronize the tavern on Crockett Street where Kona Grill used to live. The unexpectedly 60-degree forecast left me rubbing my palms together at the thought of enjoying refreshments on the place's sunny rooftop patio.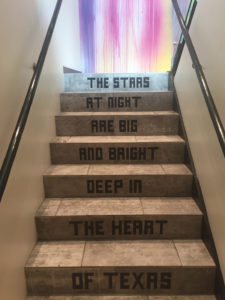 Unfortunately, the employees must have anticipated more cold weather, because the upstairs patio was completely enclosed and heaters blasted. Dispirited, my friend and I descended the steps toward the bar, briefly pausing to read the staircase philosophy and behold the Instagrammable graffiti at each landing. I failed to fight back an eye roll at the first flight's Hobby Lobby-ism: "Every journey begins with just a single step."
With a minimalist layout and simple, modern furniture in neutral colors, STIRR seems like a cookie-cutter establishment with cookie-cutter patrons. Clusters of college-age girls, along with a smattering of young hipster couples, had gathered for brunch, and seated at the bar directly across from our party of two were a trio of nearly identical platinum blondes in their 20s, each with a Yes Way Frosé (a frozen version of rosé wine) at their manicured fingertips.
While the menu's fried options might trick you into thinking STIRR is the perfect place to recover from the previous night's festivities, the music indicates otherwise. With the exception of the throwback "Torn" by Natalie Imbruglia, for most of our stay, club music bellowed at a volume that would make any sot's head pound. If you're looking for a diner in which to quell the residual booze sweats, I'd stick with Ol' South Pancake House. 
After we'd gawked at the "Large Format" cocktails, featuring shareables like the exorbitantly priced Giant Moscow Mule served in a copper mug the size of my head and requiring a minimum of five people to split, we placed our normal-sized drink orders. My Fall in the Orchard, a mix of Knob Creek Rye, orange bitters, and Deep Ellum Jam Apple Butter — who knew they made jam? — tasted like your typical Old Fashioned deliciously accented with crisp fall spices.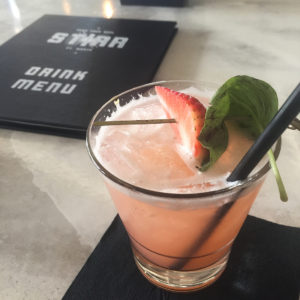 As we chit-chatted, I nommed on the juicy brunch burger topped with a fried egg, while my compadre nibbled on her chicken and biscuits paired with the Femme Fraise. When I took a sip and likened the concoction of Grey Goose, lemon juice, and strawberry basil syrup to a strawberry mojito, she replied, "But it doesn't taste like a plant, and that's what's important." Fair enough.
I rounded out the afternoon with The Girl Next Door, a fruity, sweet spritzer. Based on the description alone, I should have loved this blend of Lillet Blanc dessert wine and strawberry purée. Truthfully, I can't explain why I didn't.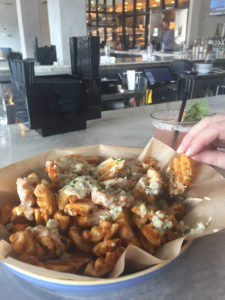 That had to be the theme of the day. I wish I had a solid reason for disliking STIRR, like the drinks were weak or the food was shit, but neither was the case. The service was satisfactory, our appetizer of gorgonzola fries had me licking my fingers, and the floor-to-ceiling windows beautifully ushered in the natural sunlight. 'Twas a fairly pleasant experience. 
Maybe it was STIRR's lack of personality or its feeble attempts to be "Fort Worth" by haphazardly throwing "Stockyards" beside a couple of menu items — or perhaps it was the fact that its overpriced options meant my guest and I easily spent more than a hundo in a matter of hours — but I'm not sure I'll be returning anytime soon.
Still, should I get a raise, you will 100-percent find me gulping down that Giant Moscow Mule with 10 of my closest friends — and inevitably hitting up Ol' South the next morning.
STIRR Fort Worth

3028 Crockett St, FW.

817-770-0947