And so it came to pass that after three solid weeks of protests against racial violence by the police and a vote by the city council to take down the city's most prominent Confederate memorial, a film by a Fort Worth native that's set among our city's African-American community comes to an actual theater screen. Even more than that, Miss Juneteenth arrives on schedule even with a pandemic forcing movie theaters around the world to go dark. This Friday, precisely 155 years to the day after slaves in Texas discovered that they had been freed, Channing Godfrey Peoples' drama starts on streaming platforms and at the Grand Berry Theater, which opened to the public last week at partial capacity. If you're worried about tickets running out because of that last bit, you'll be glad to know that the film will continue its run there into July.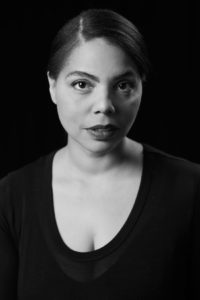 Channing Godfrey Peoples grew up in Fort Worth and went to Our Mother of Mercy Catholic School (now Cristo Rey Fort Worth College Prep) in the southern part of the city. She won't give her age, saying, "You don't ask a Southern woman that!" but describes herself as "seasoned." A stint at historically black Bennett College in North Carolina was enough to get her into the theater program at Baylor. She wanted to act, a passion she credits to her mother, who worked with the Sojourner Truth Players, Fort Worth's first African-American theater troupe, whose cofounder, Rudy Eastman, would go on to found Jubilee Theatre.
"Acting was what I saw was possible," she said from lockdown on the West Coast. "I got to see African-American plays there, and you saw aspects of being onstage."
Only when she started splitting time between Fort Worth and Los Angeles did she glimpse other possibilities. "I didn't understand the specifics of cinema. I was writing little plays and short stories, and later I acted in short films in Southern California. I became fascinated by what was behind the camera."
She wound up entering USC's storied graduate program for filmmakers, where she had her pick of professional mentors and chose Charles Burnett, the black director of the 1990 masterpiece To Sleep with Anger. The experience, she said, "really gave me the tools to apply my ideas to cinema."
Miss Juneteenth isn't Peoples' first film, but it is her first feature. The movie is set in the summer of 2019 as Turquoise Jones (Nicole Beharie, best known as the female lead from the Fox TV show Sleepy Hollow) is wrapped up in preparations for a Juneteenth pageant as her daughter Kai (Alexis Chikaeze) is about to turn 16. Estranged from her auto mechanic husband (Kendrick Sampson), Turquoise works two jobs, one applying cosmetics to corpses at a funeral home and one waiting tables at a barbecue place on Rosedale Street, trying to scrape together enough money so that Kai can win the pageant that she herself won years ago. However, Kai isn't about the pageant life and is more interested in hip-hop dance, not a hobby that sits well with Turquoise and her genteel circle. Kai suspects that beauty pageants are silly and outdated, but Miss Juneteenth isn't so easily shrugged off with its history.
Peoples determined that her first feature would be shot in her hometown and take in the Texan tradition of Juneteenth.
"People have been aware and supportive of my journey," she said. "I was putting this community on screen that is not often seen. I wanted to make sure and get it right, to portray them with dignity and respect."
Indeed, while there have been other films about African-American life in the genteel (or not-so-genteel) South, Miss Juneteenth emphasizes the particular Western aspects as well as the Southern ones in Fort Worth, with black rodeo cowboys trailing through the barbecue joint and scenes among the black churchgoing crowd that Turquoise finds herself alienated from.
While Peoples was developing the project at the Sundance Institute, Anne Lai contacted Sailor Bear Productions to gauge their interest in helping this Fort Worth project be filmed in the city.
"I met up with Channing and [producer] Neil [Creque Williams] at Spiral Diner, and we just really hit it off," said Sailor Bear cofounder James Johnston. "I hadn't even read the script, but I decided to go with my gut, so before we left, I told them that I'd love to partner with them and produce the film if they would have me."
Peoples was particularly keen to work with the actors, coming from an acting background herself. She found Dallas native Chikaeze through her casting directors.
"It's hard to believe that this is her first feature film," Peoples said. "She blew all expectations away."
Johnston had the chance to watch Peoples work with her cast: "Her approach to filmmaking is so grounded in building up the story through various layers of performance."
After premiering at the Sundance Film Festival last January, the movie saw its distribution rights sold to Vertical Entertainment with plans for a full theatrical release to coincide with the holiday. Such is no longer possible, but Johnston says the promotion hasn't changed too much, with phone calls and videoconferencing replacing the customary press junkets.
Of course, both the holiday and the film celebrating it come to us at an unusual time, as Black Lives Matter protests over the recent murders of George Floyd, Breonna Taylor, Rayshard Brooks, Atatiana Jefferson, and so many others at the hands of law enforcement have swept both Texas and the entire world. Sampson was shot by rubber bullets during the demonstrations in Los Angeles, while Chikaeze reported being teargassed along with her family in Dallas.
"We're still navigating our freedom," Peoples said. "I'm happy to have another black story in the world. I'm also saddened that we're here yet again."
At such a time, Peoples yearns to repeat her experience making a film in North Texas. "Many of my films are about black women taking a step forward. They have so much world in them. You'll see black Texas again."